The Hunting and Nature Museum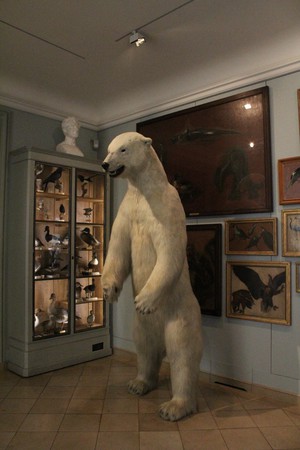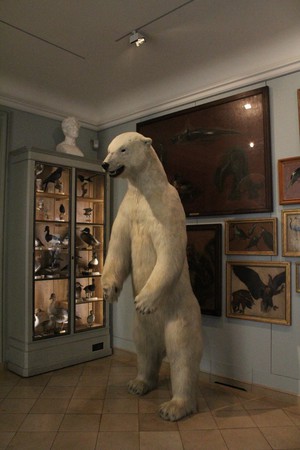 The very name itself may be enough to send the politically correct into a spin.  But contradictions aside, this delightful menagerie, of sorts, remains a marvel for those looking to avoid the crush at the Louvre. Housed within the grand Hôtel de Guénégaud (1651) in the third arrondissement of Paris, hangs an extensive collection of exotic taxidermed animals and antique hunting weapons.
Against the beautiful backdrop of an 18th Century traditional decor, are a number of small rooms positively teaming with antlers, heads and hooves.  Not to mention, a hoard of hunting-related sculptures and 18th and 19th century paintings, depicting nature and hunting scenes by Desportes, Chardin, Oudry and Vernet.  Sharply dressed and friendly staff flash smiles at the entrance doors and are eager to share their wealth of knowledge on the exhibits.
Of particular interest, is one small alcove, showcasing a ceiling covered with feathers and owls' heads, whose eyes earnestly glare at you from every direction.  A wealth of other quirky surprises also await in other rooms including; an extravagant antler ceiling chandelier, a standing polar bear found on the mezzanine and even a pair of monkeys in a bizarre tea-party setting.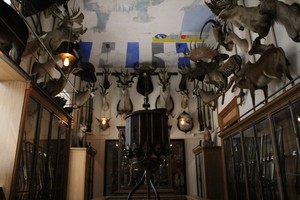 And just when you thought you'd had your fill of stuffed and mounted mammals, enter The Trophy Room – where you won't know where to look, or be able to look away.  The heads of every exotic animal adorn the four walls, from antelopes, to leopards, and even one head of a stuffed wild boar that springs into life, via remote control, to surprise and terrify those visitors entering the room.  Lining the walls are also a number of display cabinets, incasing an impressive collection of antique rifles and hunting firearms dating as far back as the 16th century.
The other rooms are equally as lavish, and are themed for each animal, such as The Salon of the Dog and The Birds of Prey.  Hanging in each corner of the rooms are neat little clipboards, in English and French, detailing the animals' evolving relationship with man, their place in history and mythology, as pets, and of course, in hunting.
The nature component of the museum upstairs is a little less represented in comparison, but still merits a peek.  Various artworks are displayed in cabinets alongside animal information boxes, displaying everything from their evolution to even excrement samples.
The museum surprisingly, also invites quite a lot of hands-on inspection with a number of pullout drawers filled with paintings and information to discover.  Alongside this are peerhole boxes showing videos of wild animals, enabling you to feel like a birdwatcher or dare I say, a hunter.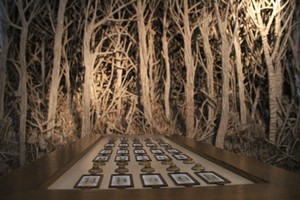 There is also a room featuring a delightfully decorated cardboard cut-out forest, with a charming bird-call box, complete with buttons to press, which sends a different bird chirp echoing around the room.
The museum was co-founded by a wealthy industrialist Francois Sommer and his wife, Jacqueline in 1964, borne out of their passion for both hunting and perhaps ironically, to conservation.  Though some may initially feel conflicted about enjoying a museum dedicated largely to hunting, it remains a fascinating contradiction that cannot be overlooked.
The Hunting and Nature Museum
Le Musée de la Chasse de la Nature
62 rue des Archives 75003
Open Tues-Sun 11am-6pm
Closed Mondays and Public Holidays
General admission: 6€
Métro: Rambuteau

Subscribe for
FREE

weekly newsletters.
BonjourParis has been a leading France travel and French lifestyle site since 1995.
Readers' Favorites: Top 100 Books, imports & more at our Amazon store
We update our daily selections, including the newest available with an Amazon.com pre-release discount of 30% or more. Find them by starting here at the back of the Travel section, then work backwards page by page in sections that interest you.
Current favorites, including bestselling Roger&Gallet unisex fragrance Extra Vieielle Jean-Marie Farina….please click on an image for details.
Click on this banner to link to Amazon.com & your purchases support our site….merci!
Leave a reply
Your email address will not be published. Required fields are marked *