Bob Dylan: The Rock Explosion 1961-66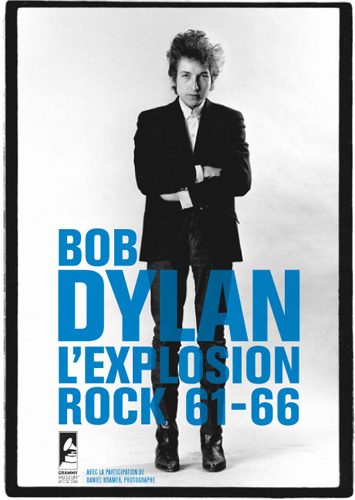 For me, Bob Dylan is an acquired taste. As a former music journalist, who even worked for Rolling Stone, people would often stare open-mouthed at me when I said I appreciated what he had done for the evolution of music, but I just wasn't a fan (I feel the same way about The Beatles too). But along with everything else that becomes better when aged in France, my musical taste has followed suit. "Bob Dylan: Rock Explosion 1961-66" at Cite de la musique until July 15, serves as an extremely well-curated exhibition that will not only excite intense Dylan fans, but allows those of us with further curiosity to uncover more. The exhibition opens with a long corridor, painted entirely in an energetic blue, that displays black and white photographs of Dylan from 1965-66 by renowned music photographer, Daniel Kramer. Dylan not only owns the room by sight, but by sound as well, as songs from this decisive period play over the sound system. What visitors see are up-close portraits of Dylan in Woodstock, New York, clad in his classic (and well-controlled) image of tailored black suits, sunglasses, and either a cigarette or harmonica dangling from his mouth, and in one photo, the two at the same time. The vibrant photographs not only show Dylan's serious side, intensely reading a newspaper and making his next move in a game of chess, but also depict the singer standing on a swing, climbing trees, and smiling next to Johnny Cash. The corridor continues on to feature pictures of Dylan on his East Coast tour with Joan Baez, in the studio in 1965 recording "Bringing it All Home," and a picture of him with his rarely-seen wife, Sara, outside a decorated Woodstock cabin. There is so much life in the photographs, that Dylan's small frame almost seems touchable through the glass. The photographs stop at 1966, due to the fact that this was the year that Dylan was involved in a near-fatal motorcycle crash and didn't appear again on the music scene until 1968. After marveling in the corridor, visitors enter various side rooms that start with Dylan's early life and influences, and conclude right before his accident. Born in 1941 in Duluth, Minnesota, Robert Zimmerman, changed his name in 1959 in homage to the Welsh poet, Dylan Thomas. Before this transformation, however, visitors are treated to yearbooks, early childhood photographs, and relics from Dylan's early influences such as a monogrammed sweater from Elvis Presley from 1950, an acoustic guitar from 1944 intricately decorated in brown leather that belonged to Buddy Holly, and various memorabilia from The Kingston Trio. Perhaps no two artists, however, had a bigger influence on Dylan than that of folk legends Pete Seeger and Woody Gutherie, who are each given a room of discovery in the exhibit. Drawings, manuscripts, and original vinyl covers are on display as well as a banjo from Seeger which is decorated with the phrase, "This machine surrounds hate and forces it to surrender." The American folk music of the 1930's and 1940's was dominated by politics, but with the emergence of the second World War and the Cold War, politics took a back seat until the arrival of Dylan who focused on the misgivings of society, most notably the Civil Rights Movement, in the early 1960's. Dylan dropped out of college in Minnesota in 1961 to move to Greenwich Village in New York, where he drank coffee and wrote poetry by day and performed in the district's Gaslight and Gerde's venues by night, where at the end of each performance a hat was passed around for tips. A year later in 1962, Dylan caught the eye of a reporter from The New York Times who was at Gerdie's during one of his performances. The ensuing feature on the artist struck not only the attention of other club owners in New York, but Columbia Records as well. Dylan's political and social protest songs such as "Times They are a-Changin'" and "Masters of War" can be heard and read (in English and French translations) through suspended headphones and lyrics printed on the wall. Visitors can also see Dylan's guest pass for the March on Washington in 1963. In two accompanying viewing rooms, guests are treated to excerpts from the 2007 documentary "The Other Side of the Mirror," which showcases Dylan's performances at the Newport Folk Festival from 1963-65 with The Band. Perhaps the most notable moment in the documentary is during Dylan's 1965 performance when he brought out an electric guitar. The move was met by the musician being audibly booed on stage by fans who thought he had "sold out" to the changing commercialism of folk music that was beginning to evolve at the time. With Dylan's 1965 hit "Like a Rolling Stone" amounting to more than six and a half minutes, those in the music industry determined that the songwriter was not for the popular mainstream crowd, but rather for those individuals who felt alienated by it. But what if groups could make three minute pop songs that still encompassed Dylan's signature folk sound? Enter a room featuring contracts and vinyl albums from the likes of The Mamas and the Papas, The Byrds, and the Lovin' Spoonful, and visitors can easily see how this was done. The last of the cubed exhibition rooms is filled…
SUBSCRIBE
ALREADY SUBSCRIBED?
BECOME A BONJOUR PARIS MEMBER

Gain full access to our collection of over 5,000 articles and bring the City of Light into your life. Just 60 USD per year.

Find out why you should become a member here.

Sign in

Fill in your credentials below.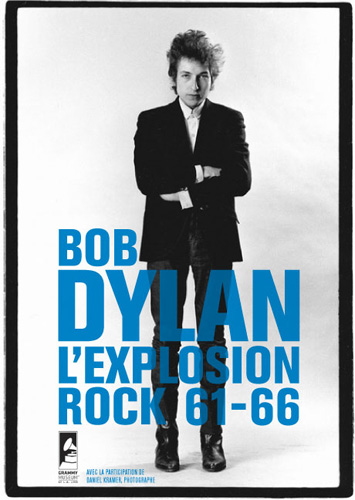 For me, Bob Dylan is an acquired taste. As a former music journalist, who even worked for Rolling Stone, people would often stare open-mouthed at me when I said I appreciated what he had done for the evolution of music, but I just wasn't a fan (I feel the same way about The Beatles too). But along with everything else that becomes better when aged in France, my musical taste has followed suit. "Bob Dylan: Rock Explosion 1961-66" at Cite de la musique until July 15, serves as an extremely well-curated exhibition that will not only excite intense Dylan fans, but allows those of us with further curiosity to uncover more.
The exhibition opens with a long corridor, painted entirely in an energetic blue, that displays black and white photographs of Dylan from 1965-66 by renowned music photographer, Daniel Kramer. Dylan not only owns the room by sight, but by sound as well, as songs from this decisive period play over the sound system. What visitors see are up-close portraits of Dylan in Woodstock, New York, clad in his classic (and well-controlled) image of tailored black suits, sunglasses, and either a cigarette or harmonica dangling from his mouth, and in one photo, the two at the same time. The vibrant photographs not only show Dylan's serious side, intensely reading a newspaper and making his next move in a game of chess, but also depict the singer standing on a swing, climbing trees, and smiling next to Johnny Cash.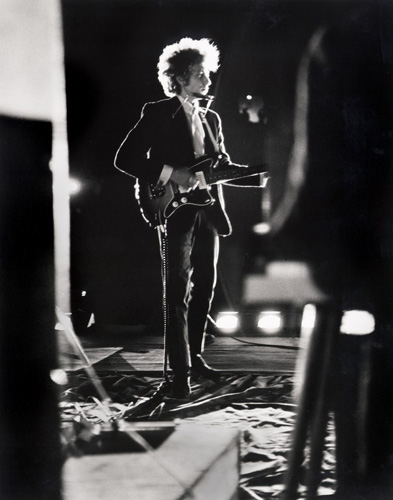 The corridor continues on to feature pictures of Dylan on his East Coast tour with Joan Baez, in the studio in 1965 recording "Bringing it All Home," and a picture of him with his rarely-seen wife, Sara, outside a decorated Woodstock cabin. There is so much life in the photographs, that Dylan's small frame almost seems touchable through the glass. The photographs stop at 1966, due to the fact that this was the year that Dylan was involved in a near-fatal motorcycle crash and didn't appear again on the music scene until 1968.
After marveling in the corridor, visitors enter various side rooms that start with Dylan's early life and influences, and conclude right before his accident. Born in 1941 in Duluth, Minnesota, Robert Zimmerman, changed his name in 1959 in homage to the Welsh poet, Dylan Thomas. Before this transformation, however, visitors are treated to yearbooks, early childhood photographs, and relics from Dylan's early influences such as a monogrammed sweater from Elvis Presley from 1950, an acoustic guitar from 1944 intricately decorated in brown leather that belonged to Buddy Holly, and various memorabilia from The Kingston Trio.
Perhaps no two artists, however, had a bigger influence on Dylan than that of folk legends Pete Seeger and Woody Gutherie, who are each given a room of discovery in the exhibit. Drawings, manuscripts, and original vinyl covers are on display as well as a banjo from Seeger which is decorated with the phrase, "This machine surrounds hate and forces it to surrender." The American folk music of the 1930's and 1940's was dominated by politics, but with the emergence of the second World War and the Cold War, politics took a back seat until the arrival of Dylan who focused on the misgivings of society, most notably the Civil Rights Movement, in the early 1960's.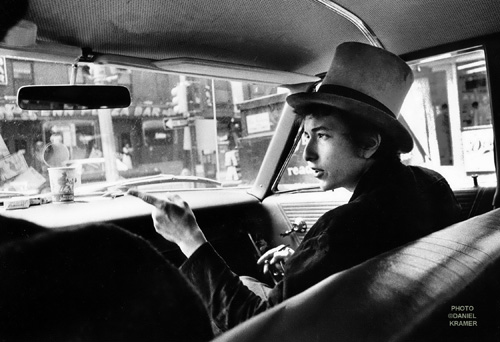 Dylan dropped out of college in Minnesota in 1961 to move to Greenwich Village in New York, where he drank coffee and wrote poetry by day and performed in the district's Gaslight and Gerde's venues by night, where at the end of each performance a hat was passed around for tips. A year later in 1962, Dylan caught the eye of a reporter from The New York Times who was at Gerdie's during one of his performances. The ensuing feature on the artist struck not only the attention of other club owners in New York, but Columbia Records as well.
Dylan's political and social protest songs such as "Times They are a-Changin'" and "Masters of War" can be heard and read (in English and French translations) through suspended headphones and lyrics printed on the wall. Visitors can also see Dylan's guest pass for the March on Washington in 1963. In two accompanying viewing rooms, guests are treated to excerpts from the 2007 documentary "The Other Side of the Mirror," which showcases Dylan's performances at the Newport Folk Festival from 1963-65 with The Band. Perhaps the most notable moment in the documentary is during Dylan's 1965 performance when he brought out an electric guitar. The move was met by the musician being audibly booed on stage by fans who thought he had "sold out" to the changing commercialism of folk music that was beginning to evolve at the time.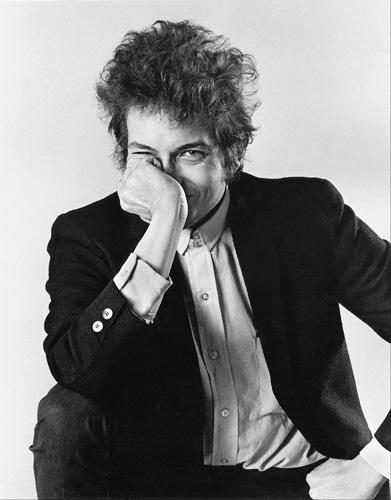 With Dylan's 1965 hit "Like a Rolling Stone" amounting to more than six and a half minutes, those in the music industry determined that the songwriter was not for the popular mainstream crowd, but rather for those individuals who felt alienated by it. But what if groups could make three minute pop songs that still encompassed Dylan's signature folk sound? Enter a room featuring contracts and vinyl albums from the likes of The Mamas and the Papas, The Byrds, and the Lovin' Spoonful, and visitors can easily see how this was done.
The last of the cubed exhibition rooms is filled with numerous original vinyls from Dylan, manuscripts from his 1972 novel, "Tarantula," and video screens featuring glowing testimonials from the likes of Gerry Beckley and Dewey Bunnell from the group America. Walking back down the long corridor of photographs featuring an already-successful Dylan in 1965-66, one can't help but feel overwhelmed at just how much was accomplished by the folk hero in such a short period of time. It left me wanting to continue the story, and arriving back home with a glass of aged red wine, and an iPod packed with Dylan songs, I did just that.
All photos © Daniel Kramer, courtesy of Cité de la Musique
More in Bob Dylan, Cite Musique, exhibition, Exhibitions, Museum, music, Paris exhibitions, Paris museums
---
---