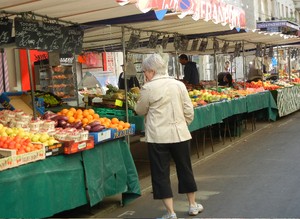 On your first or second visit to the City of Light, you may overlook the markets of all kinds that are a prominent feature of Paris. But at some point, when you have been to the top of the Tour Eiffel and the Arc de Triomphe, seen the Louvre and the Palais de Justice from the deck of a Bateau Mouche on the Seine, and subjected yourself to the musty attractions of the sewers and catacombs, markets will begin to appeal as a real and relevant aspect of everyday life in the capital city. Instead of going to the enormous and established flea market at Clignancourt, where everybody goes and the prices are close to those of high-end antique shops in the 5th and 6th arrondissements, visit the traditional but ever-expanding flea market at the Porte de Vanves. Like flea markets all over France, this one takes over the sidewalks and invades the side streets every weekend on the south side of the city. A visit to this flea market is a bit like peering in the windows of elderly neighbors who are about to move into a retirement home. They've kept everything from their marriages and their visits to foreign countries. Vanished passions are displayed like outgrown clothing, whether ceramic jugs or African wood carvings. Family traditions are displayed too: linen napkins with embroidered initials of earlier generations, and table settings handed down from mothers-in-law. You can't help feeling a bit like a peeping Tom, but you can't help looking. In a different mode, take a trip to the fabric stores near the gleaming white domes of Sacré Coeur de Montmartre. Le Marché Saint-Pierre, the biggest and best of them, is in an old wooden building that houses five floors of fabrics of every imaginable color, texture, weave, and print. Le Marché Reine across the street is a strong competitor, but the prices, variety, and quality at Saint-Pierre make it the top choice. Each floor is devoted to fabrics for different purposes. On the ground floor are leftovers and bargains. The first floor (2nd in American parlance) is your destination if you want to take away something colorful and portable: among the alternatives are dishtowels and table settings, napkins, chair covers, sheets, pillowcases, and small cushions. Be aware that the dimensions are established for French customers. Throughout the store, salesmen in jeans and tee shirts circulate with the tools of their trade: a meter stick, a pair of scissors, a ballpoint pen, and a receipt book. They measure and rip off the length of material requested, and fill out a payment form that you take to the cashier before collecting your purchases. Admonitions such as "Nous ne donnons pas d'échatillons" (We don't give samples) are painted on the overhead beams and on the stair risers. It's impossible to miss the frequently stenciled warning, "Every sale is final." If you're interested in food markets and ready to explore beyond the familiar ones on boulevard Raspail, or by the Bastille (also known as Richard Lenoir), or the tony Marché Président Wilson, then venture out to some of the double-digit arrondissements. A large open-air food market commonly known as "Marché Aligre" in the 12th offers a chance to experience a street market (along rue d'Aligre), a covered food market at its center (called Beauvau), and a flea market that spills out behind the clock tower in place d'Aligre, all in the same outing. Shoppers of all ethnicities and ages converge here. Children wobble by on bicycles and brake quickly for pieces of sliced fruit that are generously handed out. Clusters of men, each wearing a classic fez, congregate to discuss the day's news. Mothers push infants in strollers. Everyone seems to find satisfaction here. As closing time approaches, merchants lower the price of remaining produce, happier to sell it cheap than to cart it home. Anyone interested in organic products will hear first and foremost about the Sunday Raspail market, but many of the same vendors sell their goods at the less touristy Batignolles market on Saturday. Located along the boulevard des Batignolles at the border of the 17th and 8th arrondissements, this market is one of the city's best kept secrets. There's a high proportion of producteurs at Batignolles open-air organic market—meaning vendors who bring freshly picked organic produce straight from their farms. Dirt still clings to the carrots and potatoes. There's a good selection of wholesome breads, raw nuts, dried fruits, and locally-produced honeys and jams, as well as tasty prepared foods made with healthy ingredients. Essential oils soaps, teas, and cosmetics made from plants with healing properties abound as well. Another of our favorite and lesser-known food markets is the covered Marché La Chapelle on rue l'Olive in the 18th arrondissement. Vendors offer quality items and a good selection, but equally interesting is the building itself. This splendid specimen of the architecture of Victor Baltard, dating back to 1885, may be the finest covered market still functioning in all of Paris. It reopened in 2010 after several years of renovations that restored the building to its former glory. ©  Dixon Long and Marjorie R. Williams, 18 April 2012 In the
second edition of Markets of Paris
, publishing on May 15th, Dixon Long and Marjorie R. Williams take readers to more than one hundred markets, including open-air food markets, historic covered markets, and the city's legendary flea, antique, craft, and ephemera markets. Dixon Long is a novelist and short story writer as well as the author of the
Markets of Provence
and the
first edition of the Markets of Paris
. He has lived in Paris and Provence and now lives near San Francisco.   Marjorie R. Williams has been attending markets since her childhood. Her writing has been featured in Edible magazine and travel blogs. She has lived in Paris and now resides in Cambridge, Massachusetts.
SUBSCRIBE
ALREADY SUBSCRIBED?
BECOME A BONJOUR PARIS MEMBER

Gain full access to our collection of over 5,000 articles and bring the City of Light into your life. Just 60 USD per year.

Find out why you should become a member here.

Sign in

Fill in your credentials below.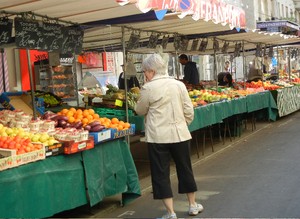 On your first or second visit to the City of Light, you may overlook the markets of all kinds that are a prominent feature of Paris. But at some point, when you have been to the top of the Tour Eiffel and the Arc de Triomphe, seen the Louvre and the Palais de Justice from the deck of a Bateau Mouche on the Seine, and subjected yourself to the musty attractions of the sewers and catacombs, markets will begin to appeal as a real and relevant aspect of everyday life in the capital city.
Instead of going to the enormous and established flea market at Clignancourt, where everybody goes and the prices are close to those of high-end antique shops in the 5th and 6th arrondissements, visit the traditional but ever-expanding flea market at the Porte de Vanves. Like flea markets all over France, this one takes over the sidewalks and invades the side streets every weekend on the south side of the city.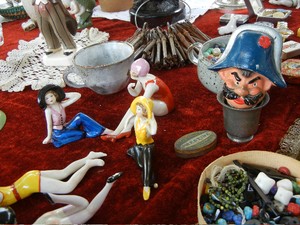 A visit to this flea market is a bit like peering in the windows of elderly neighbors who are about to move into a retirement home. They've kept everything from their marriages and their visits to foreign countries. Vanished passions are displayed like outgrown clothing, whether ceramic jugs or African wood carvings. Family traditions are displayed too: linen napkins with embroidered initials of earlier generations, and table settings handed down from mothers-in-law. You can't help feeling a bit like a peeping Tom, but you can't help looking.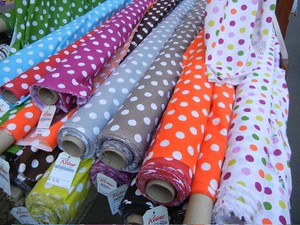 In a different mode, take a trip to the fabric stores near the gleaming white domes of Sacré Coeur de Montmartre. Le Marché Saint-Pierre, the biggest and best of them, is in an old wooden building that houses five floors of fabrics of every imaginable color, texture, weave, and print. Le Marché Reine across the street is a strong competitor, but the prices, variety, and quality at Saint-Pierre make it the top choice.
Each floor is devoted to fabrics for different purposes. On the ground floor are leftovers and bargains. The first floor (2nd in American parlance) is your destination if you want to take away something colorful and portable: among the alternatives are dishtowels and table settings, napkins, chair covers, sheets, pillowcases, and small cushions. Be aware that the dimensions are established for French customers.
Throughout the store, salesmen in jeans and tee shirts circulate with the tools of their trade: a meter stick, a pair of scissors, a ballpoint pen, and a receipt book. They measure and rip off the length of material requested, and fill out a payment form that you take to the cashier before collecting your purchases. Admonitions such as "Nous ne donnons pas d'échatillons" (We don't give samples) are painted on the overhead beams and on the stair risers. It's impossible to miss the frequently stenciled warning, "Every sale is final."
If you're interested in food markets and ready to explore beyond the familiar ones on boulevard Raspail, or by the Bastille (also known as Richard Lenoir), or the tony Marché Président Wilson, then venture out to some of the double-digit arrondissements. A large open-air food market commonly known as "Marché Aligre" in the 12th offers a chance to experience a street market (along rue d'Aligre), a covered food market at its center (called Beauvau), and a flea market that spills out behind the clock tower in place d'Aligre, all in the same outing.
Shoppers of all ethnicities and ages converge here. Children wobble by on bicycles and brake quickly for pieces of sliced fruit that are generously handed out. Clusters of men, each wearing a classic fez, congregate to discuss the day's news. Mothers push infants in strollers. Everyone seems to find satisfaction here. As closing time approaches, merchants lower the price of remaining produce, happier to sell it cheap than to cart it home.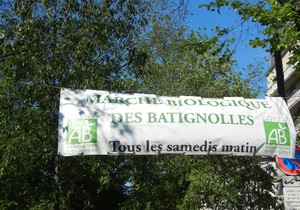 Anyone interested in organic products will hear first and foremost about the Sunday Raspail market, but many of the same vendors sell their goods at the less touristy Batignolles market on Saturday. Located along the boulevard des Batignolles at the border of the 17th and 8th arrondissements, this market is one of the city's best kept secrets.
There's a high proportion of producteurs at Batignolles open-air organic market—meaning vendors who bring freshly picked organic produce straight from their farms. Dirt still clings to the carrots and potatoes. There's a good selection of wholesome breads, raw nuts, dried fruits, and locally-produced honeys and jams, as well as tasty prepared foods made with healthy ingredients. Essential oils soaps, teas, and cosmetics made from plants with healing properties abound as well.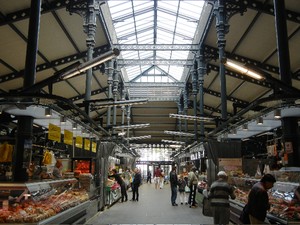 Another of our favorite and lesser-known food markets is the covered Marché La Chapelle on rue l'Olive in the 18th arrondissement. Vendors offer quality items and a good selection, but equally interesting is the building itself. This splendid specimen of the architecture of Victor Baltard, dating back to 1885, may be the finest covered market still functioning in all of Paris. It reopened in 2010 after several years of renovations that restored the building to its former glory.
©  Dixon Long and Marjorie R. Williams, 18 April 2012
In the second edition of Markets of Paris, publishing on May 15th, Dixon Long and Marjorie R. Williams take readers to more than one hundred markets, including open-air food markets, historic covered markets, and the city's legendary flea, antique, craft, and ephemera markets. Dixon Long is a novelist and short story writer as well as the author of the Markets of Provence and the first edition of the Markets of Paris. He has lived in Paris and Provence and now lives near San Francisco.   Marjorie R. Williams has been attending markets since her childhood. Her writing has been featured in Edible magazine and travel blogs. She has lived in Paris and now resides in Cambridge, Massachusetts.
More in covered market, Flea markets France, food markets, market, Paris food markets, village market
---
---