Tales from a Paris Podcaster: An Ambassador's View, The Man with the Best Balcony in Paris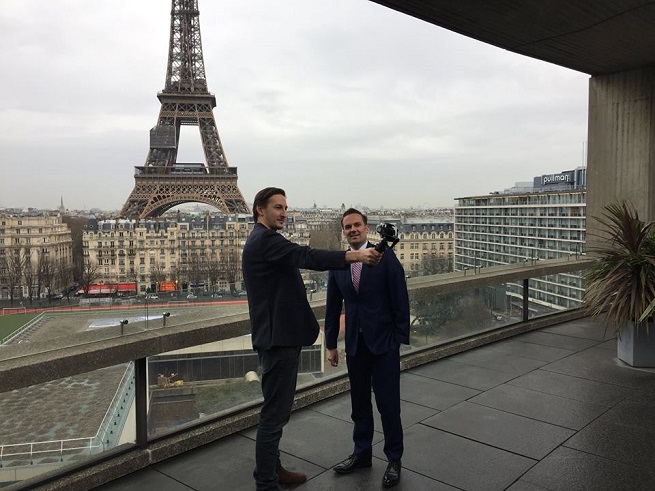 Here's a dispatch from Oliver Gee, the host of The Earful Tower podcast. This time he talks about what it's like to have tea at the residence of the Australian ambassador, right in front of the Eiffel Tower.
Usually I don't get nervous before recording a podcast episode. The guest usually comes into the studio, we usually have a friendly chat, then we usually move on with our lives.
But it wasn't like that when I met with Brendan Berne, the Australian ambassador to France.
For a start, I had to do all the communication through his press team and they were very serious-sounding indeed. Imagine, every email had the word "UNCLASSIFIED" in capital letters at the bottom and they requested that I sent a list of my questions ahead of the interview. Usually, even I don't know the questions I'm going to ask until they come out of my mouth.
But I was really curious to meet Brendan because not only did he have an intriguing job, but a video of his proposal to his partner went viral not long before.
And believe it or not, the ambassador invited me to record the episode in his own apartment. Now, when I say apartment, that's an understatement. It's a residence. It's enormous. And it's magnificent.
And I hardly need to mention the view – the picture tells it all really – but his residence is just 400 meters from the Eiffel Tower and it's on the top floor of the Australian Embassy, a mammoth building on the banks of the River Seine.
So anyway, like I said, I was nervous to go in. And not just because of the interview. I'd been told I wasn't allowed to do a film, but I was hoping to convince the ambassador to do one anyway. I wanted to share a slice of his life with the public, a side not many people get to see.
Anyway, I approached the imposing building, passed through airport-like security, then was escorted to the top floor of the building. And when the doors opened, I was greeted by one of the best views I've ever seen in Paris.
Across a huge living room – big enough to store an elephant or two – there were ceiling-high windows displaying Paris in all her glory. And there, unmissable in the middle of it all, was the Eiffel Tower, seemingly an arm's length away.
Today was a great day for Australia and for me. HE SAID YES! #MarriageEquality pic.twitter.com/liaXiw0FYh

— Brendan Berne (@AusAmbFR) December 7, 2017
And of course, the ambassador was there too, and what a lovely man he was. We had tea, talked about Australian things like Vegemite and Tim Tams, and discussed gay marriage, his marriage proposal, and Paris in general. He even agreed to show me around on video, much to my surprise. You can see the trailer below, but the full video is only available for Earful Tower subscribers on Patreon.
Before I knew it, an hour had passed and it was time to head home to my 35-meter squared apartment on the bottom floor of an unassuming building in the 11th arrondissement. I have no view of Paris; in fact, there's no view of anything, but I once again hit the haystack glad to have discovered another unique side of Paris for the podcast.
And heck, if we can't live like ambassadors, it's nice to know they'll share their tea and their balcony views from time to time.
Follow the Earful Tower here, and be sure to subscribe to the podcast here and the new YouTube channel here.
Lead photo credit : photo: The Earful Tower
Leave a reply
Your email address will not be published. Required fields are marked *