La Verticale de la Tour Eiffel: Race to the Top of the Eiffel Tower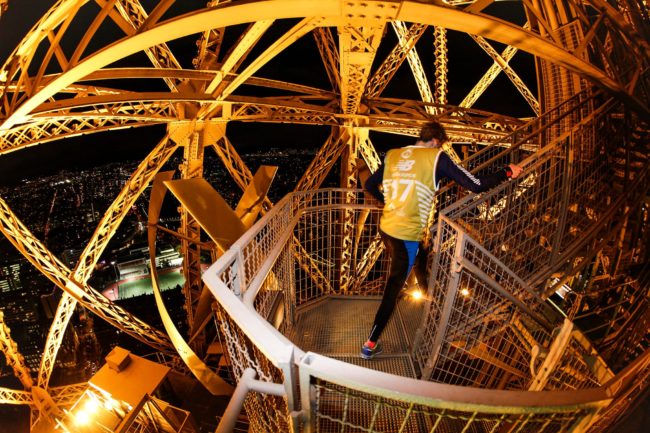 Oui, you heard that right. There is an annual race in Paris where professional runners take to the steps of the Iron Lady to race to the top. Called
"la Verticale de la Tour Eiffel" or the "Eiffel Tower Vertical"
, this amazing feat will take place on March 15th. (We'll just choose to overlook the fact that that day is the Ides of March.) Who are the athletes taking part in the race's fourth edition? Among the 129 runners representing 21 different nationalities, there will be 40 elite runners from the world of running, 79 runners drawn at random and 10 wildcards selected by the event organizers, EcoTrail of Paris and SETE (the Eiffel Tower Operating Company). These competitors will seek to beat the records set by the Polish Piotr Lobodzinski (men) and the Australian Suzy Walsham (women), as they climb the 1,665 steps (324 meters) in time trial format. The Eiffel Tower is not new to sporting events; in fact, the "Le Sport" newspaper organized the 1st floor stair championship in 1905. Other fun feats: In 1923, journalist Pierre Labric, the future mayor of Montmartre, biked down from the first floor without permission. In 1964, mountaineers Guido Magnone and René Desmaison climbed up the Tower to mark its 75th anniversary. To celebrate the centennial of the monument in 1989, the tightrope walker Philippe Petit crossed the 700 meters separating the Palais de Chaillot and the Eiffel Tower on a wire. Oh, and in 2017, visitors could try a
zipline suspended from the Eiffel Tower!
Related articles:
The Eiffel Tower: The Largest Renovation Project in its History
The World's Greatest Scam? How a Con Man Sold the Eiffel Tower
Towering Above it All: The Eiffel Tower
Bird's Eye Views of Paris from the Eiffel Tower's New Summer Terrace
SUBSCRIBE
ALREADY SUBSCRIBED?
BECOME A BONJOUR PARIS MEMBER

Gain full access to our collection of over 5,000 articles and bring the City of Light into your life. Just 60 USD per year.

Find out why you should become a member here.

Sign in

Fill in your credentials below.
Oui, you heard that right. There is an annual race in Paris where professional runners take to the steps of the Iron Lady to race to the top. Called "la Verticale de la Tour Eiffel" or the "Eiffel Tower Vertical", this amazing feat will take place on March 15th. (We'll just choose to overlook the fact that that day is the Ides of March.)
Who are the athletes taking part in the race's fourth edition? Among the 129 runners representing 21 different nationalities, there will be 40 elite runners from the world of running, 79 runners drawn at random and 10 wildcards selected by the event organizers, EcoTrail of Paris and SETE (the Eiffel Tower Operating Company). These competitors will seek to beat the records set by the Polish Piotr Lobodzinski (men) and the Australian Suzy Walsham (women), as they climb the 1,665 steps (324 meters) in time trial format.
The Eiffel Tower is not new to sporting events; in fact, the "Le Sport" newspaper organized the 1st floor stair championship in 1905. Other fun feats: In 1923, journalist Pierre Labric, the future mayor of Montmartre, biked down from the first floor without permission. In 1964, mountaineers Guido Magnone and René Desmaison climbed up the Tower to mark its 75th anniversary. To celebrate the centennial of the monument in 1989, the tightrope walker Philippe Petit crossed the 700 meters separating the Palais de Chaillot and the Eiffel Tower on a wire. Oh, and in 2017, visitors could try a zipline suspended from the Eiffel Tower!
Related articles: The Eiffel Tower: The Largest Renovation Project in its History
The World's Greatest Scam? How a Con Man Sold the Eiffel Tower
Towering Above it All: The Eiffel Tower
Bird's Eye Views of Paris from the Eiffel Tower's New Summer Terrace
Lead photo credit : courtesy of La Verticale de la tour Eiffel
More in Eiffel Tower
---
---