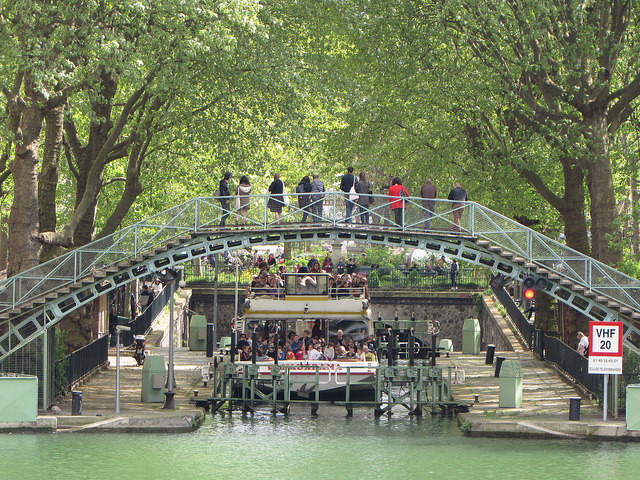 I was scheduled to give a food tour near the
Canal Saint Martin
last Saturday, one week and a handful of hours after the terrorist attacks in Paris that left 130 dead and hundreds more wounded. My route winds through the 10th arrondissement, ambling along rue de Lancry before hooking a right on rue Bichat to pass Le Petit Cambodge, then meandering along the quai de Valmy. It's one of my favorite tours because the places we stop at are small businesses, each the fruit of someone's passion and perseverance. I was sorry that whoever had canceled their tour at the last minute wouldn't get to meet the couple who run the tiny, fragrant cheese shop on rue de Lancry (he's a butcher, she's a vegetarian), or taste a flaky orange-blossom pastry at the bakery with the pearly-black 19th-century facade, or experience the strange alchemy of a runny Saint Nectaire and a garnet-inflected Pauillac at the wine cellar where two young Parisians share their expertise without pretension. I don't know why that couple canceled; maybe it had nothing to do with what happened at the Bataclan or outside Le Petit Cambodge. But they weren't the only ones to back out of a tour or rethink traveling to Paris in the wake of the attacks: the small company I freelance for received an overwhelming number of cancelations last week; a good friend of mine called, exasperated, to say her mother wanted to cancel her spring trip to Paris. The comments feed on certain Paris travel pieces reflected panic from would-be travelers whose first instinct seemed to be to draw their shutters and lock their doors. All this made me very sad. Because despite a feeling of understandable grief that hangs over the city, Paris is still Paris. It's still beautiful and imperfect. And full of people living, breathing, laughing and loving, even as they grapple with a new sense of vulnerability. I've heard that after experiencing trauma, like a bike accident, the best thing to do is to get back to doing whatever you were doing when the accident happened, as soon as possible. Otherwise you risk developing a tenacious fear of something you once loved. I don't want that to happen to me, my friends, or any of the people who have a special relationship with Paris, whether that's a year spent abroad at the Sorbonne 20 years ago, or an as-yet-unrealized dream of sipping a glass of wine on the Canal Saint Martin on an impossibly long summer evening. Paris, like bike riding, has always had its dangers; but we shouldn't give it up now, just because we've been frightened in the flesh by possiblities that we have always known were there. We should take it slow and with respect to our new vulnerabilities, but we must take back the road. We must keep on riding. Since November 13th, my Facebook page has been awash in French flags, Pray for Paris banners, and a vitruvian Eiffel Tower stretched into a peace sign. The sentiment is kind, but what really sent a surge of gratitude through my news-weary mind Tuesday afternoon was seeing a group of young American girls striding through Montmartre as I made my own way home. They giggled and groaned as they trudged up the winding staircase to Sacré-Cœur. They hadn't stayed home, or in their hotel rooms. I smiled; we were out there together. They got their perfect picture at the top, three Crest-white smiles glittering in the bruise-purple of Parisian twilight, and I headed down the other side of the butte to meet a friend for a beer because, merde quoi!–life must go on. Photo credits: Canal Saint Martin by
Marko Maras
/Flickr; Sacré-Cœur as seen from the Eiffel Tower by Antonis Lamnatos/ Flickr
SUBSCRIBE
ALREADY SUBSCRIBED?
BECOME A BONJOUR PARIS MEMBER

Gain full access to our collection of over 5,000 articles and bring the City of Light into your life. Just 60 USD per year.

Find out why you should become a member here.

Sign in

Fill in your credentials below.
I was scheduled to give a food tour near the Canal Saint Martin last Saturday, one week and a handful of hours after the terrorist attacks in Paris that left 130 dead and hundreds more wounded. My route winds through the 10th arrondissement, ambling along rue de Lancry before hooking a right on rue Bichat to pass Le Petit Cambodge, then meandering along the quai de Valmy. It's one of my favorite tours because the places we stop at are small businesses, each the fruit of someone's passion and perseverance.
I was sorry that whoever had canceled their tour at the last minute wouldn't get to meet the couple who run the tiny, fragrant cheese shop on rue de Lancry (he's a butcher, she's a vegetarian), or taste a flaky orange-blossom pastry at the bakery with the pearly-black 19th-century facade, or experience the strange alchemy of a runny Saint Nectaire and a garnet-inflected Pauillac at the wine cellar where two young Parisians share their expertise without pretension.
I don't know why that couple canceled; maybe it had nothing to do with what happened at the Bataclan or outside Le Petit Cambodge. But they weren't the only ones to back out of a tour or rethink traveling to Paris in the wake of the attacks: the small company I freelance for received an overwhelming number of cancelations last week; a good friend of mine called, exasperated, to say her mother wanted to cancel her spring trip to Paris. The comments feed on certain Paris travel pieces reflected panic from would-be travelers whose first instinct seemed to be to draw their shutters and lock their doors.
All this made me very sad. Because despite a feeling of understandable grief that hangs over the city, Paris is still Paris. It's still beautiful and imperfect. And full of people living, breathing, laughing and loving, even as they grapple with a new sense of vulnerability.
I've heard that after experiencing trauma, like a bike accident, the best thing to do is to get back to doing whatever you were doing when the accident happened, as soon as possible. Otherwise you risk developing a tenacious fear of something you once loved. I don't want that to happen to me, my friends, or any of the people who have a special relationship with Paris, whether that's a year spent abroad at the Sorbonne 20 years ago, or an as-yet-unrealized dream of sipping a glass of wine on the Canal Saint Martin on an impossibly long summer evening. Paris, like bike riding, has always had its dangers; but we shouldn't give it up now, just because we've been frightened in the flesh by possiblities that we have always known were there. We should take it slow and with respect to our new vulnerabilities, but we must take back the road. We must keep on riding.
Since November 13th, my Facebook page has been awash in French flags, Pray for Paris banners, and a vitruvian Eiffel Tower stretched into a peace sign. The sentiment is kind, but what really sent a surge of gratitude through my news-weary mind Tuesday afternoon was seeing a group of young American girls striding through Montmartre as I made my own way home. They giggled and groaned as they trudged up the winding staircase to Sacré-Cœur. They hadn't stayed home, or in their hotel rooms. I smiled; we were out there together. They got their perfect picture at the top, three Crest-white smiles glittering in the bruise-purple of Parisian twilight, and I headed down the other side of the butte to meet a friend for a beer because, merde quoi!–life must go on.
Photo credits: Canal Saint Martin by Marko Maras/Flickr; Sacré-Cœur as seen from the Eiffel Tower by Antonis Lamnatos/ Flickr
Lead photo credit : Canal Saint Martin by Marko Maras/Flickr
---
---
Comments