Our Guide: Exploring the Canal St. Martin, a Village in Paris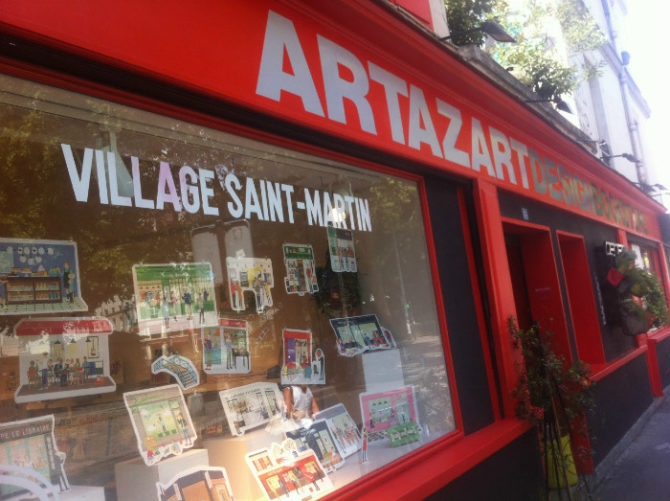 The Canal St. Martin has always attracted visitors and an eclectic group of Parisians, combining a quaint, off-the-beaten path quality with the perfect amount of postcard Paris charm. Neighborhood institutions such as Le Verre Volé and Chez Prune have tempted diners to this part of Paris for the past few decades, but a recent boom in new shops, cafés and restaurants surrounding the canal has made this area, casually referred to as Village St Martin, not just a place to go for lunch or dinner, but a destination to spend the day.
While classic canal-side destinations still retain their charm, here are some newcomers to the neighborhood that are worth adding to your itinerary.
Start off with a good cup of coffee (Paris has that now!)
The new wave of cafés opening up across the city are dedicated to sourcing quality coffee beans that are often locally roasted. The Canal St. Martin area is no stranger to this trend, with a handful of high quality, cosy cafés opening up in recent years. Ten Belles (10 Rue de la Grange aux Belles) features craft roasted coffee and seasonal cuisine in a tiny, typically Parisian space. Café Craft (24 Rue des Vinaigriers) is technically a co-worker space, but if you're travelling sans laptop, or just enjoying some time off, you can grab a spot at the front of the coffee shop and enjoy quality coffee with lovely baked goods for breakfast.
It's hard to visit Holybelly (19 Rue Lucien Sampaix) and just have a coffee, though that's a good enough reason to go on its own. Nico Alary serves up all kinds of cafés using locally roasted Belleville Brulerie beans; get there early to pair your coffee with their to-die-for pancakes or eggs & sides.
Take time to stroll… and shop!
Get to know some of the main streets of the Village St Martin– where cafés, to-go food options, and great shopping come together. For a huge and eclectic selection of magazines, books, guides check out Artazart (83 Quai de Valmy), a design bookstore. Along with publications on art, food, and design (as well as an amazing selection of children's books), the shop also stocks unique items that make perfect gifts for the photographer, cook, or francophile in your life.
For made-in-France fashion, head to Ambrym (22 Rue des Vinaigriers), where you'll find clothing made using organic cotton and a selection of handmade jewelry and other accesories. Continue to shop local at Centre Commercial (2 Rue de Marseille), which features European clothing brands and vintage items ranging from furniture to bikes. For more vintage finds, head to Les Petits Meubles de Marie (38, rue Lucien Sampaix), where impeccably renovated furniture and accent pieces combine vintage charm with a modern Parisian touch.
Source a stellar picnic…
The canal is a favorite spot for picnicking among Parisians, and the surrounding neighborhood has conveniently adapted to this pastime. To-go food options have become abundant and internationally influenced. Jules et Shim (22 Rue des Vinaigriers) proposes fresh korean food in picnic friendly containers. The Sunken Chip (39 Rue des Vinaigriers) specializes in authentic English fish and chips, also a great option for eating canalside.
Grab a bottle of wine to go at Le Verre Volé (67 Rue de Lancry). If you want a more DIY dining experience, put together and cheese and charcuterie plate in two stops: La Crèmerie (49 rue Albert Thomas) has a wide selection of artisanal cheeses along with a friendly knowledgeable staff and Viande et Chef (38 Rue de Lancry) has a mouthwatering meat counter of high quality meats, prepared in a variety of ways.
…or grab a table
Traditonal French cuisine with a contantly changing menu keeps Le Verre Volé (67 Rue de Lancry) and interesting and dependable neighborhood address for lunch and dinner. Chez Prune (36 Rue Beaurepaire) offers bistro fare in a people watching friendly environment. Finally, if you're feeling adventurous, wander a little ways from the canal to get great Cambodian food at Le Petit Cambodge (20 Rue Alibert) which fills up quickly, but is worth the wait!
Lead photo credit : Artazart by Emily Dilling
More in picnics on the Canal St Martin, restaurants near Canal St Martin, shopping in Paris
---
---
Comments