La Première Fois: A Paris Room Under the Eaves by Valerie Copelan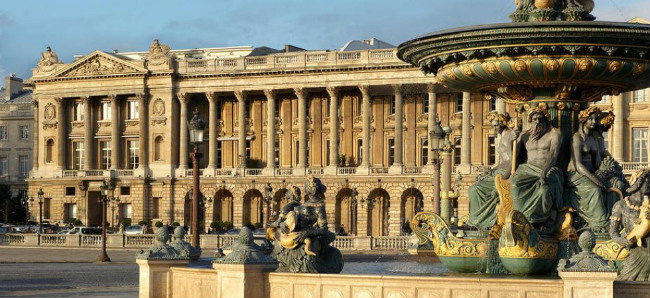 The Bonjour Paris editorial team recently requested reader submissions with memories from first trips to Paris. We were overwhelmed with wonderful responses, which we are publishing in a special series. (Read other installments here.) Below, Valerie Copelan reminisces about her first hotel stay in Paris in "une chambre sous les toits"… at a luxury five-star hotel.
My first trip to Paris in 1965: I was 20 and traveling around Europe on a Eurailpass. I arrived at the Paris train station without a place to stay. I went to the desk that booked hotels and they found me a room within my budget at the Hotel de Crillon. I was shocked when I walked into the elegant and upscale lobby an hour later.
The elevator took me up to the top floor to a modest room with a bath down the hall. I quickly learned that the hotel reserved rooms for guests that traveled with their servants and yes – I was in one of the rooms "sous les toits." I walked over to the Place de la Concorde, looking down the Champs-Élysées to the Arc de Triomphe and fell in love with the city.
I go back to Paris every year, staying at different hotels and apartments but every time I drive past the Crillon I smile fondly thinking of that first night.
Editor's note: The Hotel de Crillon is a legendary palace hotel on the Place de la Concorde. Currently it is closed for a massive restoration project, and is expected to open at the end of the year as part of the Rosewood Hotels collection.
Born in New York City, Valerie Copelan was a child model, then moved to Cuba where her father had movie theaters. (They returned to the US after the Revolution.) Today she is a Francophile psychotherapist with a practice on the Westside of L.A. She is married to a commercial producer. She takes weekly French conversation/grammar classes at the Alliance Française, and she's also done French language immersion in Sancerre and outside Aix. Over the last decade, Valerie has taken almost yearly trips to Paris. In June 2015, she took her daughter and 8-year-old grandson for their first trip. (Her first was 55 years ago!) The Seine flood and transportation strikes did not stop them from having a great time.
Lead photo credit : courtesy of the Hotel de Crillon
Leave a reply
Your email address will not be published. Required fields are marked *
Comments