Sleepover in Wood Cabins in the Center of Paris: Institut Finlandais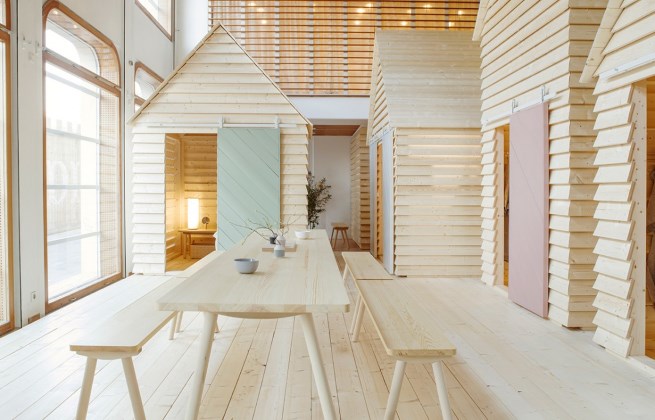 Since the 1950s Scandinavia has been synonymous with cool, minimalist design, providing an alternative to the often cluttered architecture and interiors of mainland Europe.
Arguably the best place in Paris to sample this way of life is at the Institut Finlandais in the Latin Quarter, where sophisticated minimalism is everywhere, as well as fantastic coffee from Coutume Café.
In celebration of the centenary of Finnish Independence, the design house KOTI has brought a 'living installation' to Paris allowing visitors to sleep in quintessentially Finnish communal wood cabins, inside the Institut Finlandais. The Designer Linda Bergroth is involved in the Mobile Home 2017 project which aims to provide simple alternatives to current living spaces.
These cabins are designed to promote a sense of togetherness and peaceful simplicity, in the heart of a city which is often overwhelming. The breathable pine cladding, in a Venetian Blind kind of pattern, is designed to reduce any sense of exclusion and allow the ambient sounds of the little community to permeate the cabins.
In the mornings, guests will sit around a communal table and breakfast on yogurt, Nordic berries and Finnish Rye-bread– all served in beautiful ceramics by Finnish designer Nathalie Lahdenmäki.
The cabins are available to rent on AirBnB, with single, double and family sized options. There will also be a number of events during the 100 day residence of this project, from concerts to film screenings. For more information visit the Institut Finlandais website.
Lead photo credit : Photo by KOTI
---
---