La Première Fois: A Paris Memory by Claudette Primeau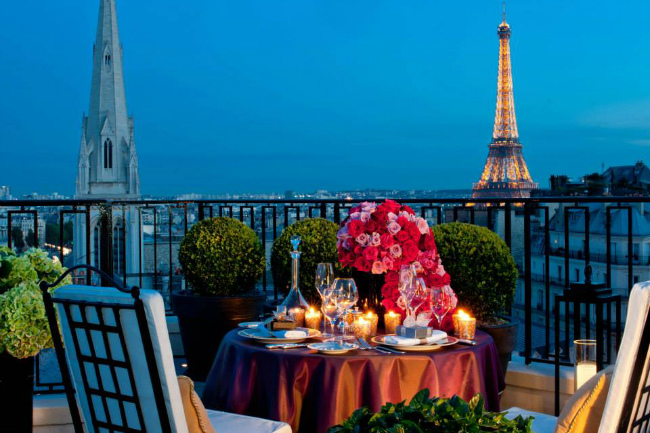 The Bonjour Paris editorial team recently requested reader submissions with memories from first trips to Paris. We were overwhelmed with wonderful responses, which we are publishing in a special series. (Read other installments here.) Below, travel agent Claudette Primeau reminisces about her first trip four decades ago, and a fortuitous hotel experience.
My first trip to Paris was probably 40 some years ago and most of it is still clear to me. Being a travel agent, we receive invitations to visit different cities and I was excited to receive an invitation from Air France and the French Tourist Board to spend a long weekend in Paris. As I was in my early 20s, I didn't fully grasp how lucky I was to be staying at the George V Hotel! I remember the beautiful antique furniture in the public areas and my bedroom. What stands out in my mind was the heated towel rack in the bathroom. I thought that was pretty special. If I only knew then how truly fortunate I was to be staying at this iconic palace hotel.
Here are some snippets from my memory bank…
I remember dining at a neighborhood restaurant, ordering frites and frog legs for dinner that were drowned in butter and heaps of fresh garlic – oh so good!
The
Eiffel Tower
was the highlight as I felt I had to pinch myself in disbelief that I really was in Paris staring at this beautiful monument.
I remember taking a train to Versailles and stopping to buy some wine that was displayed in wicker baskets outside a shop in town.
I remember ordering a croque monsieur wrapped in paper from an outside street stand.
I love that you can still picnic along the Seine with a French baguette and a chunk of cheese, popping the cork on a bottle of wine out in the open.
I love that
les bouquinistes
are still lined up along the Seine selling their wares and that the beautiful Art Deco metro signs have remained the same.
There is nothing like people watching at a sidewalk cafe sipping a café crème or une coupe de champagne.
Timeless are the tour boats that still glide along the Seine showing the tourists the beautiful sights.
I miss seeing the gendarmes wearing their kepi caps directing traffic on the busy streets.
I miss the organ grinder (Hurdy-Gurdy man) that played tunes on the streets.
I often take vacations with my lady friends and not long ago I spent a special birthday with four of my dear friends in a beautiful apartment on the 
Île Saint Louis
. To this day we still talk about what a magical week we had together and know there will be more to come. I love visiting Paris and truly feel at home no matter how many years have passed.
Claudette Primeau has been in the travel industry in London, Canada for over 40 years and travels extensively. She now works at Robert Q Travel and is slowly winding down to semi-retirement.
Lead photo credit : Photo: Four Seasons George V in Paris
Leave a reply
Your email address will not be published. Required fields are marked *