Dispatch from Paris: Fluctuat Nec Mergitur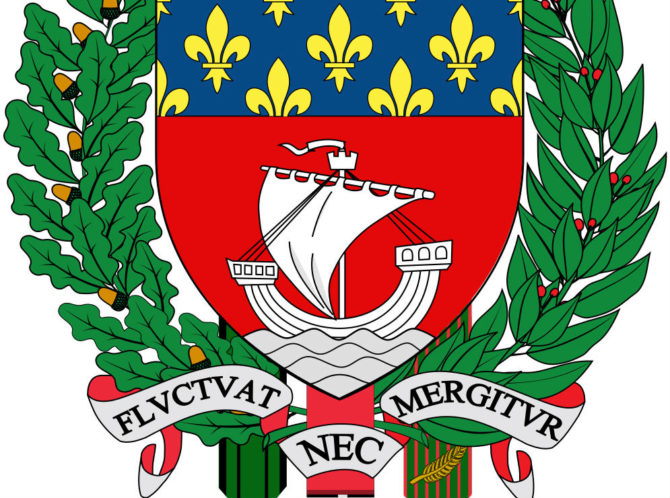 On Friday, November 13, Pierre and I went out to dinner in Paris. We had debated heading across the river to the trendy Canal St Martin where we used to live, but instead enjoyed a stroll through the 14th to a convivial neighborhood bistro, packed with Parisians partaking in great food, glasses of Faugères wine, and lively conversation. Not unlike the scene across town in the 10th and 11th where fellow Parisians gathered at Le Petit Cambodge and Le Carillon. It was when we tuned into the France-Germany soccer match that we heard the news. Confusion and concern escalated to fear and panic as the events unfolded. We realized our dear friend Theresa had gone to hear the American band, Eagles of Death Metal, at the Bataclan. She had purchased the tickets to celebrate a friend's 40th birthday, leaving her partner home with their two young children for a well-deserved soirée.
Her last tweet showed a photo of the neon sign outside the concert hall. Heart racing, I scoured the web for news. Theresa's partner called—she had dialed from the Bataclan and he told her to hang up immediately so as not to be a target—and Pierre went over to comfort him. We plotted out the safest route for Pierre to run over to their apartment. As I heard sirens in the distance, I monitored BFMTV on the television, Twitter on my laptop for real-time updates, while my iPhone pinged with messages from friends around the world. Thus began one of the longest nights of my life.
Theresa survived because the tall man standing inches away from her was shot in the head and his dead body tumbled on top of her. She remained in this position for over an hour, witnessing the horrific, senseless carnage that made Paris a war zone that night. Drenched in blood, she was evacuated by French SWAT teams, then packed into an ambulance with badly injured victims whom she encouraged with all her strength, "Hang on!" Theresa made it home after 4 am, deeply shaken and traumatized. Interviewed by multiple international media outlets, Theresa described the thousands of guardian angels watching over her. The following day, I watched her 20-month old son playing with her hair—running his fingers through the long strands—and I cried.
The terrorists didn't strike government buildings nor tourist sites; instead they targeted progressive, spirited neighborhoods populated by a mélange of people of all different backgrounds, religions, and political beliefs: Muslim, Christian, Jew, Left, Right, young and old…. They struck at the free, liberal society that makes France great.
Agence France-Presse has published a (nonexhaustive) list of the dead. Among them: Nicolas Classeau, a 40-year old father of three from Bagnolet; Guillaume Decherf, a freelance journalist for Les Inrockuptibles; Halima Ben Khalifa Saadi, a 34-year-old from Tunisia; Asta Diakite, the Malian cousin of French footballer Lassana Diarra, who was playing the match at the Stade de France that night; Nohemi Gonzalez, a Mexican-American student from the university in southern California; and Véronique Geoffroy de Bourgies, a former journalist, founder of a humanitarian nonprofit, and mother of two children adopted from Madagascar.
Despite warnings from the police to avoid mass mobilizations, Parisians are standing up en masse against these atrocities. The Place de la Republique has been packed with people paying homage to the victims. The Paris motto has never been more appropriate: in Latin, "Fluctuat Nec Mergitur" is translated as "She is tossed by the waves but does not sink"—often depicted beneath a ship in the Paris coat of arms. The morning after the attacks, we gathered together for a meal with friends, then took the children to a park, while calling up to our Tunisian nanny's window. She blew kisses from her balcony, describing her sleepness night full of tears and anguish.
I took the metro this morning, along with thousands of other working Parisians. We will not succumb to fear.
The best thing we can do to show our support for Paris and France is to celebrate the city. To celebrate life, love, good food, joie de vivre, and culture—because that is what makes us human, and that is what Paris is all about. Don't cancel your trip to Paris; continue to travel; come and revel in this magnificent city, a global cultural capital, where people from around the world find so much inspiration and joy.
In this vein—and with an undying belief in the freedom of the press—we will continue to publish articles and stories about the Paris we know and love well. And as always, we welcome your feedback.
Lead photo credit : Paris Coat of Arms by Wikimedia/Bluebear2
---
---
Comments