How to Give a 90-Year-Old a Fabulous Time in Paris
"A walk about Paris will provide lessons in history, beauty, and in the point of life," said Thomas Jefferson, but what if the desire to visit France is as strong as ever but one's limbs no longer co-operate?
My father, an artist since his retirement, adores the painter Matisse, as do I, and we didn't want the small matter of him being close to turning 91 to get in the way of going to the just opened exhibition at L'Orangerie on Matisse in the 1930s. But how easy would it be to negotiate Eurostar and generally get around, especially as visiting galleries is top of the agenda, and what is a realistic kind of itinerary?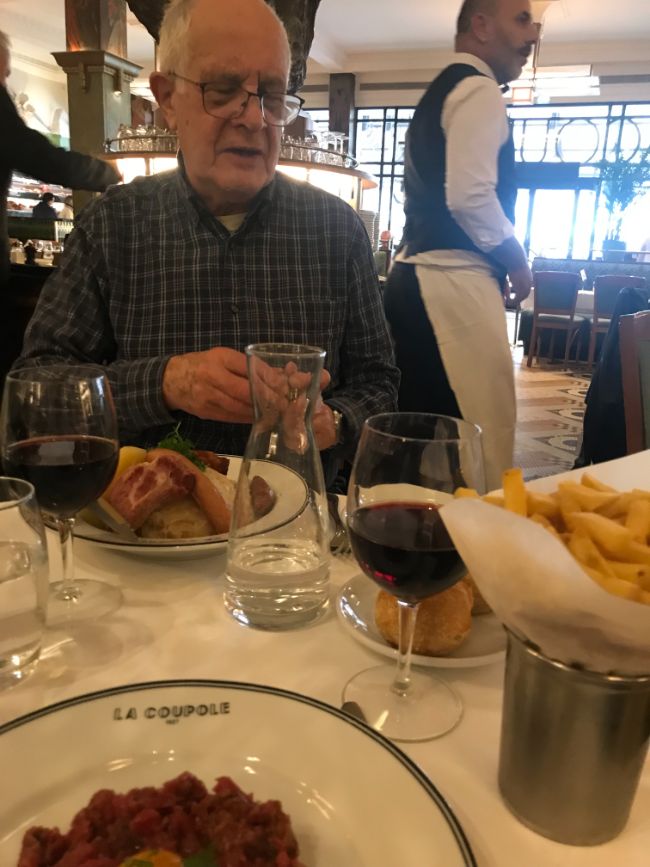 The first revelation was just how helpful Eurostar can be if you plan ahead and book wheelchair assistance. It meant arriving to check-in a little earlier than usual, then we were both whisked, like complete VIPs, right through baggage and passports and taken onto the train first, then met at the other end with wheelchair assistance from outside our carriage and taken right through to the point of jumping the taxi queue!
We chose the Hotel des Academies et Des Arts for its artistic connotations and quiet Montparnasse location as well as the comparatively rare distinction, for a smallish Parisian hotel, of having a lift. Staying somewhere away from the far more crowded Marais area where I usually stay, proved far better for Dad as his progress along the pavements is slower and the streets are wide in the 6th arrondissement. As well as being stylishly decorated with covetable prints and art books, our hotel served a superb breakfast – with those very special French yogurts, hams, smoked salmon, decent croissants  and coffee. Older travelers like my Dad definitely prefer to know where their first meal of the day will be served, rather than my default of wandering, looking for the perfect cafe for that first cappuccino, and realizing that it is midday and you're still on the hunt!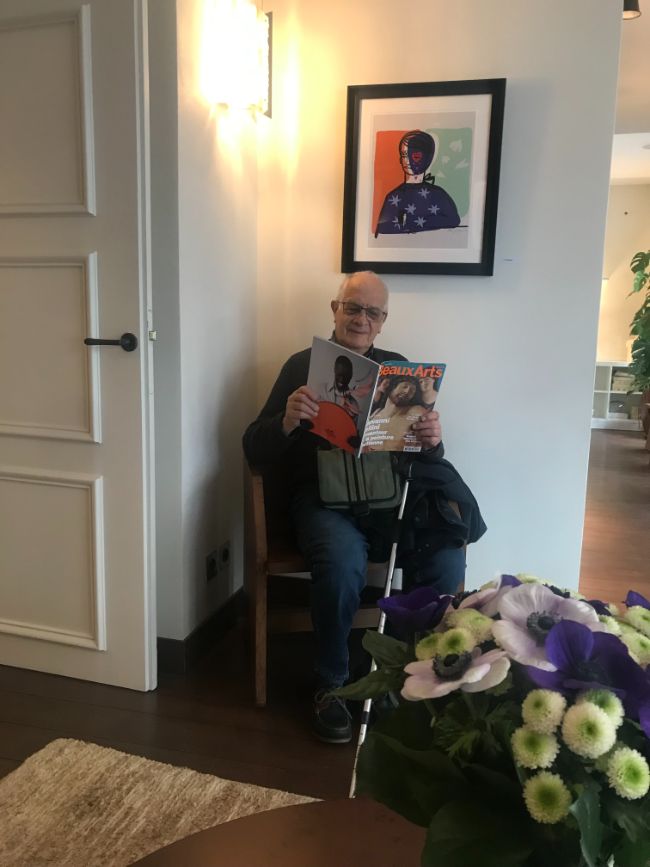 Priority treatment extended to art galleries. Despite long queues outside L'Orangerie, we were directed straight inside and given a wheelchair at the cloakroom. What's more, as long as you have an identity proving your disability, entrance is free, including a companion. It meant that Dad could truly immerse himself in the ravishing paintings and drawings in the exhibit "Matisse during the 1930s and Cahiers des Arts." The Cahier was a magazine that was the mouthpiece for international modernism, and featured Matisse alongside the artists of his time, including Georges Braques, Wasilly Kandinsky, and Joan Miró.
View this post on Instagram
Likewise at the Marmottan, which houses the largest collection of Monet works anywhere, wheelchairs were smilingly provided to tour the ground floor. Here you'll find the painting Impression: Sunrise that gave the entire artistic movement its name – for the misty play of light on water that Monet was endlessly fascinated by. The work certainly made a lasting impression on us. The lift to the first floor was too small to fit a wheelchair, so Dad gamely hauled himself up the elegant curved sweep of the staircase to see the gorgeous collection of Berthe Morisot's intimate portraits. It is a beautiful 19th-century mansion, originally owned by collector Paul Marmottan, and small enough to see everything comfortably.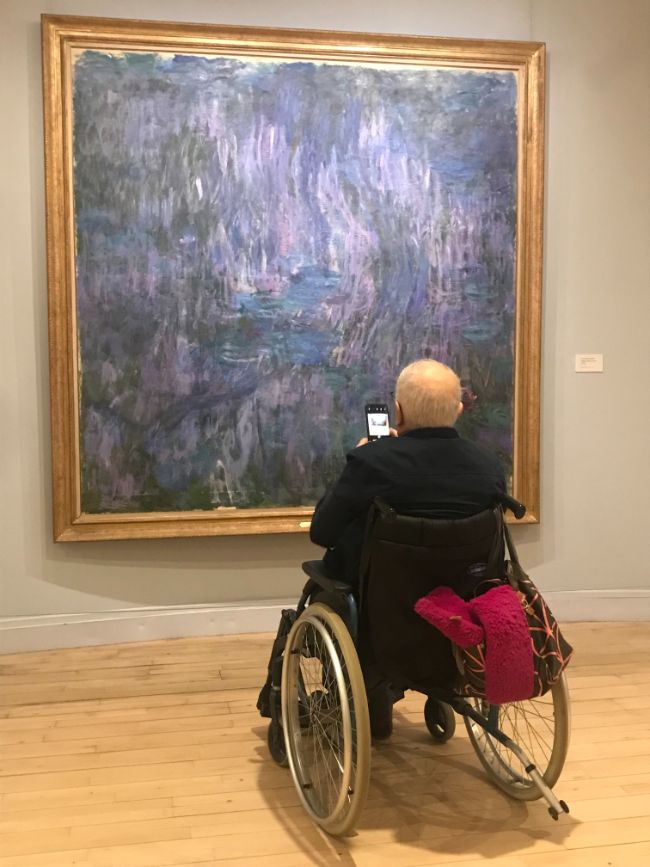 The very friendly owner of the antique art and poster shop opposite our hotel told me that we were close to where Giacometti's studio had been reconstructed. It is a very special place housed within the former studio of artist and interior designer Paul Follot, in a listed heritage building, a private mansion in the Art Deco style.
View this post on Instagram
I found that Dad invariably needed a siesta after our gallery mornings, so we chose to lunch close to the hotel where we found plenty of alluring choices. Caught in a moment in time, Bistro Wadja with its original tiled floors, 1930s lithographs and zinc bar, seemed very much a Parisian insider choice (we were the only English voices): there's an excellent set menu and my pâté en croûte was superlative.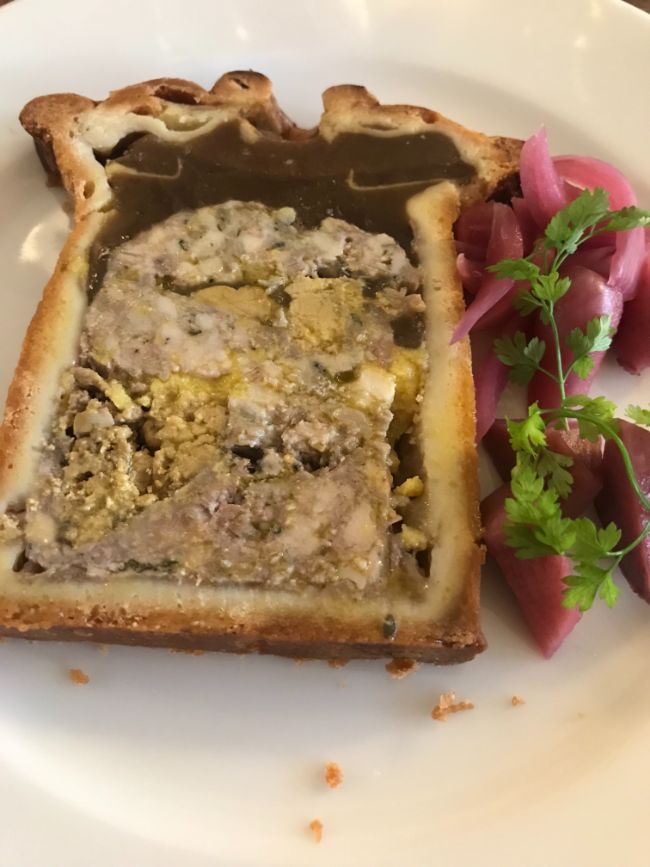 Being right next door to L'académie de la Grande-Chaumière, the bistro is where artists used to go to eat. And, as an artist, Dad just couldn't resist checking into an art class in the vast main studio of the academy which looked as if it hadn't changed in centuries.
The open life drawing class (20 euros at the door) was pretty full, yet Dad managed to heave himself onto a high stool with an easel. Even I got a thrill up my spine (and I wasn't participating) thinking about this being the very studio where some of the artists whom we most admire, including Matisse and Giacometti, had worked.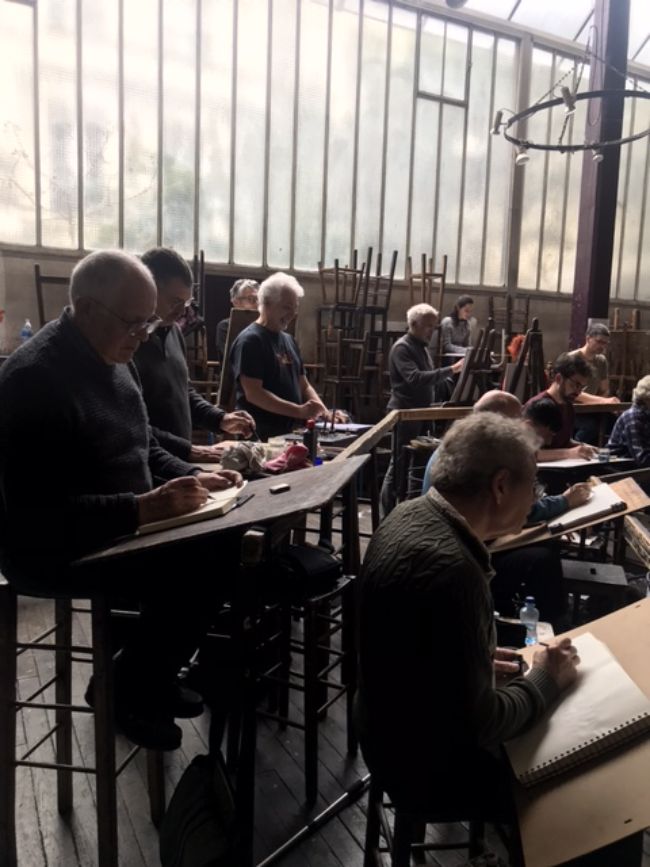 A real discovery for us was the quintessential Parisian Brasserie La Rotonde on our doorstep. Its archetypal wicker chairs – all facing out, flaneur-style, into some welcome spring sun – drew us in. We happily whiled away an hour or so drinking coffee and enjoyably semi eavesdropping on a mother singing to her young daughter and feeding her crab from an enormous platter of fruits de mer.
The historic restaurant had been a favorite meeting place of Picasso and Modigliani, who often paid for his meals in paintings. However, the reproductions now hanging are not especially convincing. Still, we loved its lush fin de siècle decor with fringed lights, lots of mahogany, luggage racks above banquettes, and crisp white tablecloths. There were complimentary olives, radishes, a stick of proper butter and French bread before ordering from waiters of a certain age in their long white aprons. They served the best French onion soup I've ever tasted, and exceptional baba au rhum and left the whole rum bottle on the table!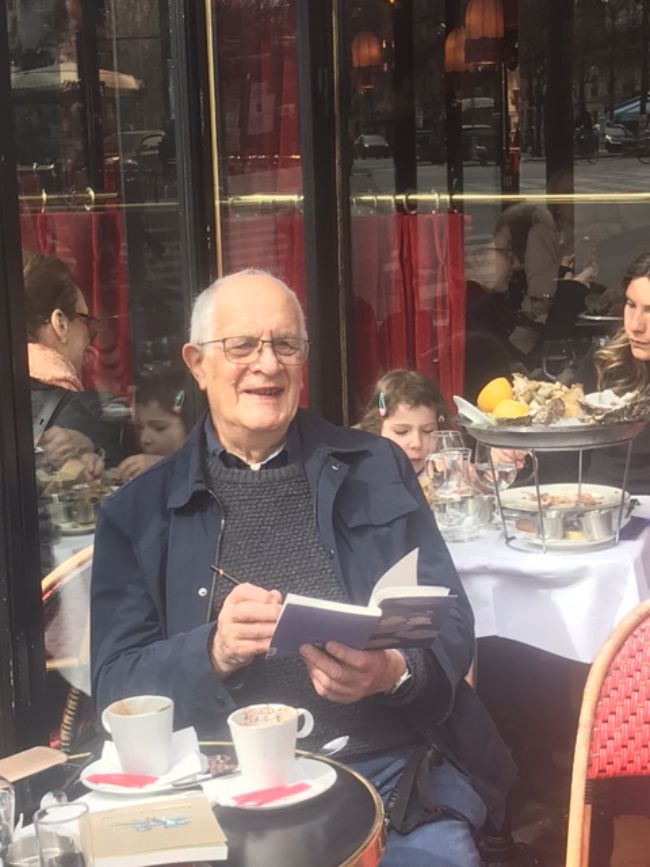 I hadn't ever used as many taxis as we took on this trip and though that adds up, we found the drivers unfailingly courteous and solicitous towards Dad. The Paris metro has a lot of stairs and we simply couldn't contemplate it. Still it didn't stop us visiting some culinary gems out of the center.
We dined at the much recommended bistronomic Le Servan (which I booked well ahead) where two Filipino sisters and a young team cook dishes that thrillingly mix French and Asian influences.
Table was the absolute highlight of our stay. Chef Bruno Verjus, a former food writer, now TV star and chef-restaurateur, is a fervent believer in letting the best and most seasonal ingredients sing. (Full disclosure: we'd been on trips together in the past and he invited me.) Dad gamely sat up on a stool at the counter, a first for him to be so immersed in an open kitchen, and was mesmerized by the chefs preparing a daring succession of two Michelin star dishes quite unlike anything Dad had ever tasted before (with dazzling wines to match): from Isle d' Yeu lobster poached in clarified butter to squid with a red cabbage and dashi vinegar jus, baby goat cutlets to a Porcelana chocolate tart topped with caviar.
It is never too late for decadence, especially in Paris.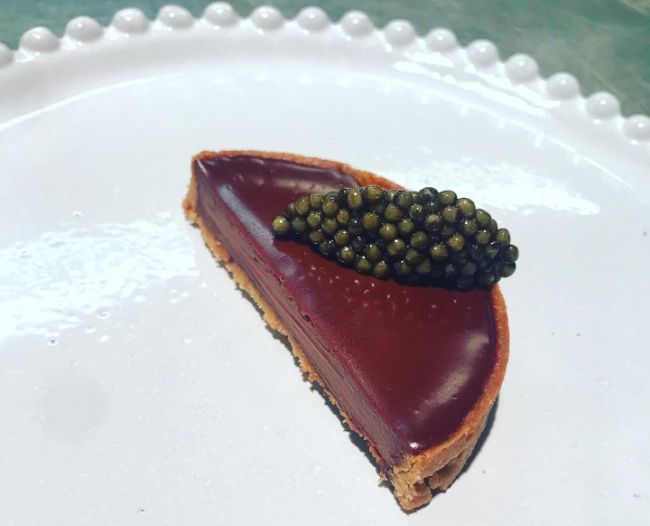 Lead photo credit : Eiffel Tower. Photo credit © Anthony Delanoix, Unsplash
---
---
Comments