Free Guided Tours of the Marais District in July with Le BHV Marais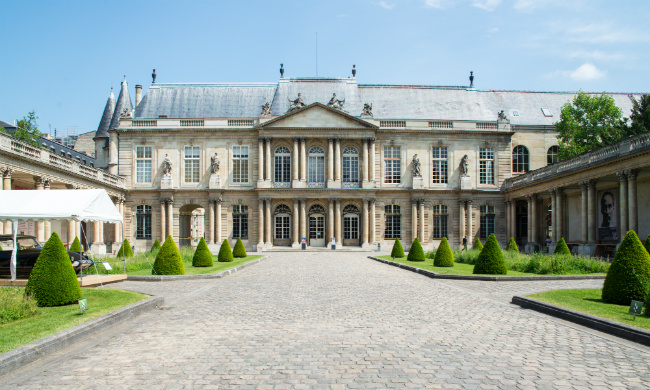 For the entire month of July, Le BHV Marais is offering FREE guided tours of the Marais. Starting at 10 am, the tours last 1 hour and 30 minutes, departing from the department store's Welcome Desk. But act fast! This offer will surely fill up quickly. You must sign up for the free tour by filling in your preferred time at this link here.
The lively Marais district has long been a favorite neighborhood in Paris; the historic sites, stellar shopping, and great nightlife are catnip for locals and visitors alike. Medieval alleyways are lined with fashionable boutiques and hip bars. Not to mention the amazing concentration of museums: the Centre Pompidou; the Carnavalet, devoted to the history of Paris; the Musée de la chasse et de la nature; the Picasso Museum; the Musée Cognacq-Jay; the Musée Européenne de la Photographie; and the Maison de Victor Hugo, overlooking one of the prettiest squares in Paris, the historic Place des Vosges.
Home to a thriving gay community, the quartier is also home to a large Jewish neighborhood, and the rue des Rosiers is the go-to place to pick up delicious falafel and traditional Jewish baked goods. The nearby Jewish Art and History museum is not-to-be-missed, housed inside the 17th century Hotel de St-Aignan.
But no matter how well you (think you) know the Marais, there's always something more to learn. We recently hopped on a guided tour offered by Le BHV Marais, the iconic department store at 52 rue de Rivoli that's an anchor of the Marais district, and were thrilled to experience the neighborhood in a new way. The tour was led by Maeva, a licensed, professional guide who also leads tours at the Louvre. We tucked into hidden gardens, spoke with local residents, and took time to admire artwork by Invader with the Centre Pompidou in the backdrop… Fun and enthusiastic, Maeva was a wealth of information– from city history to street art.
Le BHV Marais, 52 rue de Rivoli, 4th arrondissement. Metro: Hotel de Ville (line 1). Open Monday through Saturday from 9:30 am to 8 pm. Late night opening every Wednesday until 9 pm. 
Special Offer:  CLICK HERE TO GET A 15% DISCOUNT AT THE PARISIANS' FAVORITE
DEPARTMENT STORE
Photo credit : Guided tour of the Marais district. Photo: BHV Marais
Leave a reply
Your email address will not be published. Required fields are marked *
Comments