Caudalie Teams Up with Jason Wu: Connaissez vous l'Eau de Beauté?
Inspired by Queen Isabelle of Hungary's famous elixir of youth, the refreshing spritz lotion is made with grape extracts and clarifying ingredients which give skin an immediate burst of radiance.
Fans include Cara Delevingne, Sarah Jessica Parker, Victoria Beckham, Alexa Chung, Liv Tyler, Margaret Kemp and make-up artists worldwide. Revised and corrected using the royal formula in 1997, Eau de Beauté (sometimes called Beauty Elixir) combines bitter orange flower water, rosemary leaf oil, peppermint oil, orange flower oil, myrrha extract, balm mint leaf oil, rosa damascena flower oil, grape extract and is free of parabens, sulfates and phthalates.
And not only women, men love it too – it's the perfect aftershave. Now Caudalie founder Mathilde Thomas has partnered with her friend, the designer Jason Wu – a longtime client at the Bordeaux Vinotherapie Spa and the spa at the Plaza NYC – to create a limited edition designer bottle, which hits the shelves mid-August. Wu sees his creation with Mathilde as a symbol of modern femininity. "The Eau de Beauté limited edition bottle we've created for Caudalie is dressed in finely worked, very delicate lace to complement my Spring / Summer 2016 collection", he explains.
A lightweight mist, the Eau de Beauté sets makeup, gives an instant burst of radiance and tightens pores. It also makes the ideal priming base and setting spray for a long-lasting and smooth finish. The therapeutic scent is invigorating throughout the day – use mid-day for an instant pick-me-up and in the evening to refresh makeup.
"I always keep the little bottle in my handbag – it's a brilliant travel partner. It has quite a lot of essential oils, so what I like to do is spray it on my hands, rub them together, then breathe it in, it smells so amazing and uplifting. And then, I just pat it on my skin," says Lisa Eldridge, celebrity makeup artist.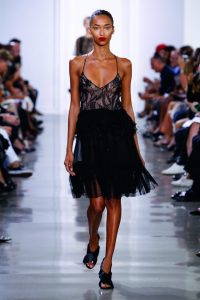 Jason Wu recalls the first time he spritzed Eau de Beauté. "A friend gave me a bottle for Christmas and I was so excited by the energy of the product.
I use it first thing in the morning – after showering – then during the day the notes of mint are so refreshing."
And Mathilde Thomas– thrilled to be working with her favourite designer– says: "It's perfect for normal, oily, combination and sensitive skins. I keep a big bottle at home and never get on an aircraft or train without the tiny one in my bag – I think I spray about 20 times a day!"
Available from 15th August worldwide
Price €10.80 – €31.10
Caudalie – Les Sources de Caudalie
Leave a reply
Your email address will not be published. Required fields are marked *