Biking in Paris: The Scoop on the New Vélibs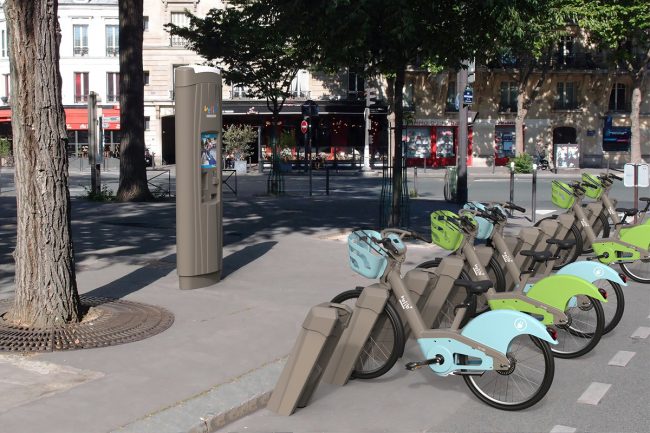 [Editor's note: The transition to the new vélib system has not been smooth. In fact, Parisians are in an uproar about the delays, as docking stations were dug up, but not replaced in many areas of the city, and the new high-tech versions are yet to be seen. The service has effectively ground to a halt, as glitches continue. Some say that "velibgate" could have political consequences… We'll keep you posted.]
It's official. The city of Paris has unveiled its new vélibs. For those unfamiliar with the city's bike-sharing program, the first vélibs were launched a decade ago. The word is a mash-up of vélo (bike) and liberté (freedom). Insanely popular, the inexpensive program inspired copycat versions around the globe. (For more information, check out this article by contributor Andy Quan, "Biking in Paris: I'm a Véliber".)
In big news in January 2018, the city's contract with operator JCDecaux has come to an end, and now Smoovengo, a French-Spanish company who handles bike share schemes in 26 other cities, has taken over. What's particularly exciting about the new-look bikes is that 30% of them are electric, meaning it'll be easier on the legs to get across town and up hills like the Butte-aux-Cailles and Montmartre (previously, there were issues with the vélib docking stations in uphill locations because bikers would happily cruise downhill, but be less willing to make the uphill trek- so these spots would frequently be empty of bikes). The electric bikes can reach a speed of 25 km/h.
A recent Guardian article addressed the challenges faced by JCDecaux over the last 10 years, specifically noting that theft and vandalism rates had been higher than anticipated. The new Smoovengo bikes will have better locks to help avert this problem. The bikes will also be two kilograms lighter, and baskets will have USB ports to charge your smartphones while cycling.
As part of her ambitious environmental initiatives, mayor Anne Hidalgo aims to transition Paris into a cycling city with major bike lanes (and less car traffic).
Note: The official Paris vélib is not the only bike share model in town. You might have noticed other bike rental systems popping up all over the city, including "dockless" models where the bikes can just be left on kickstands on sidewalks.
Prices: Vélib à la demande: 1 euro/ 30 minutes for the normal bikes; 2 euros/ 30 minutes for the electric bikes. Monthly forfaits start from 3,10 euros for normal bikes and 8,30 euros for electric. For more information, visit velib2018.com.
Photo credit : Photo: Vélib' Métropole-Alain Longeaud – Mieux
Leave a reply
Your email address will not be published. Required fields are marked *