Jours of Our Lives: Beth Arnold on Travels and Life in France
In 2001 award-winning journalist Beth Arnold and her husband, writer James Morgan, had a bold and beautiful idea. They decided to spend six months traveling around France, following a path laid out by the life and work of Henri Matisse, one of Jim's favorite painters. Their adventures are described in the book Chasing Matisse (one of my favorite books about France), which was published in 2007.
However, like many Americans before—and after—them, they decided that six months was simply not long enough: and they ended up staying in France for ten years.
Now settled back into their home state of Arkansas, they have recently started a new publishing company, Alastair & Arnold, and the first book to be published is Jours of Our Lives: On the Road in France and Beyond, which began life as the blog posts Beth wrote during the Chasing Matisse part of their ten-year adventure.
An interesting complement to Chasing Matisse, Jours of Our Lives is a wonderfully engaging story, infused with the author's clear and deep love of France and all–well, most–things French. It is inspiring to see how these two brave souls took a huge risk in stepping forward to live a dream, and how it all turned out so well. There were plenty of moments of doubt and stress along the way, times when they wondered whether this had been a good idea after all, and plenty of mishaps that are probably much more amusing in retrospect than they were at the time of living them. But, as Beth concludes at the end of one of the chapters, "All it takes is for a little something to go right—a chance meeting, a charming street, a sunshiny day, a moment of beauty, in whatever form—and I feel like we're back on track again."
Beth recently took the time to answer my questions about their time in France via email. Here is our interview.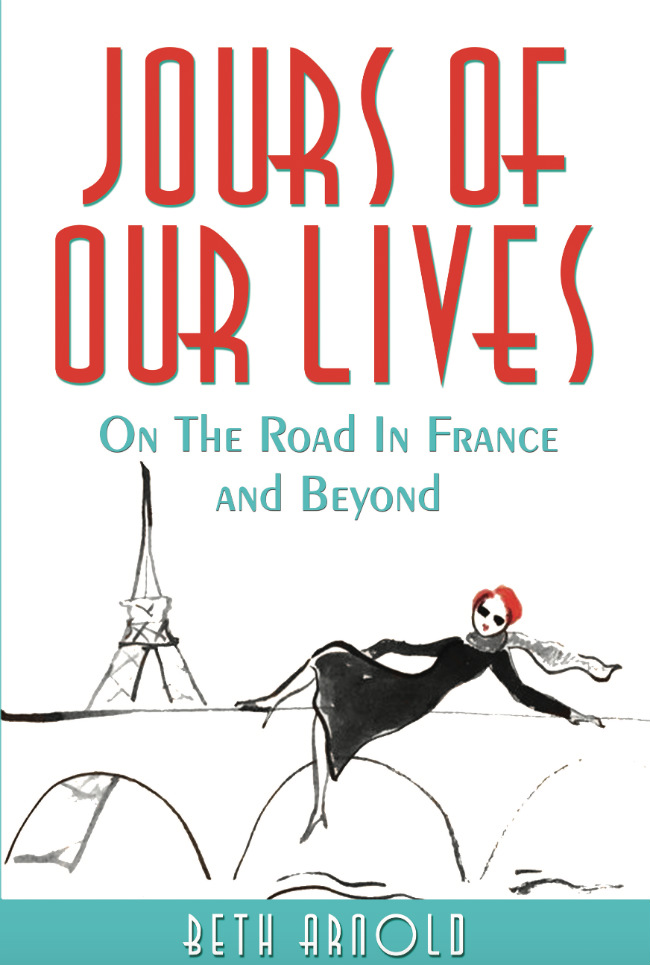 When you first went to France did you have any idea you would end up living there for 10 years? If not, how did that happen?
When Jim and I were first planning our time in France, we thought we'd spend six months or so there and come back to the USA. At that point, we'd move from Little Rock to Hudson, New York. A friend had told us that Hudson was the spot for us, because writers and artists were moving there. We'd be close to NYC. The culture was excellent, and we had many friends in the area. My friend had a country house in Hudson and invited me up for a weekend that included a shad roe party that one of his friends threw every year.
I flew up and attended beautiful dinners and lovely festivities, met interesting people, and looked at houses. But on that weekend, instead of finding a house to buy, I had an epiphany. Why did we have to come back at all? I'd wanted to live in France for years. I'd wanted our family to have the experience of living in Europe. So why didn't we just stay in France once we got there? It truly was like a light bulb becoming charged with electricity above my head. I felt absolutely euphoric! We could live in France and not come back! Why not?! We were writers and could live anywhere.
You lived in a few different neighborhoods in Paris during your time there, and you traveled all over the country in Chasing (after) Matisse. Do you have a favorite arrondissement, or neighborhood in Paris? And do you have a favorite village, town, or region of France? 
Oh, there is something wonderful about every Paris neighborhood. I once met a couple who had bought an apartment in Paris, but before they did, they literally walked every street in Paris. How cool is that!
Before we lived in France, we always stayed on the Left Bank. When we moved there, we lived on the Right Bank. The history of the Lost Generation on the Left Bank is so appealing—their hangouts and restaurants—but the Right Bank would have to be my favorite side of the Seine.
We moved from Collioure, France, to the 2nd Arrondissement in Paris before it was trendy. We found a gorgeous little apartment above Chez Georges in a building where it was said Napoleon once lived. Our flat was about 70 square meters, and it was gloriously classic yet modern with built-in closets and a small dishwasher in the tiny kitchen.
We were right by the Place des Victoires, a couple of blocks from the Palais Royal, and, well, I could go on and on. A perfect spot in the center of Paris, close to good metros and access to everything. Who could ask for more? The first Valentine's Day we were there, we had a Valentine's party and invited 90 people, and about 60 came. We were smashed into this apartment like sardines, and everyone loved it.
After five years we moved from the 2nd to the 20th. A friend said to me that this was the real Paris, which I had taken with a grain of salt. I was wrong. The 20th was delightful—and it was the real Paris, where working people/working class people (among others, of course) lived.
We used Cimetière du Père-Lachaise as our private park, where we walked daily. The food shopping was wonderful. There were fewer tourists. We took buses, which gave us motor tours of Paris, getting from one place to the next. People were friendly. In the 20th, we had an apartment on the ground floor with a terrace open to the sky, as if it were a little house in Provence. Wisteria draped around it in the spring.
Since we lived there and truly got a chance to appreciate them, the 2nd and 20th would have to be my favorite arrondissements. But I often recommend that visitors to Paris stay in the 3rd or 4th, so that tells you something about how I feel as well.
As far as a village or region goes, all of France is marvelous. As we drove around the country, we would try to decide where we would have a country house. It could have been so many places yet we could never decide on just one.
I will always love Provence. How can one not? I adore the Languedoc. Living in Collioure was terrific. Exploring that region was a joy. The Pyrenees felt like my mountain range in France. When we were on the highway, seeing the Pic du Canigou was a sign that we were almost home. In some sense, the Pyrenees truly were mine. Long ago, part of my family—the Martins—came from a village called Belcaire in the Aude. This village is about two hours from where I lived in Collioure.
The Loire is gorgeous. Normandy is bucolic and lush, and Brittany is of the sea. The Auvergne, the Midi, the Christmas markets in Alsace…I always found something to love in every region and village we visited.
What did you love most about living in France? What was the hardest thing about it for you?
That's a hard question. From the very beginning, each day was exciting to me. In Paris, just walking down the street brought me joy. Beauty may be in the eye of the beholder, but one is surrounded by it in Paris. Walk down a street and then turn around and head in the opposite direction. There are different scenes to see, hidden charms, and luscious winsomeness. E.v.e.r.y.w.h.e.r.e. Beauty should not be written off as nice but unnecessary. Beauty is important on a soul level.
When we were traveling, every new village presented an opportunity to discover new micro-cultures as well as new parts of myself. I determined that if I could stay in a town or a city for three nights I could get a pretty good feel for it. It was the discovery and adventure I felt that propelled me forward. But also France—especially Paris—literally felt like home, where I belonged. I subscribe to this Hemingway quote, "I loved this country and I felt at home, and where a man feels at home, outside of where he's born, is where he's meant to go." And I would add, "and stay for a while."
The hardest thing? Probably dealing with companies like Orange. The whole concept of customer service in France is opposite of what it is to Americans, and the opposite of what it should be. The very phrase "customer service" seems to be an oxymoron in France. I can only imagine the training Apple had to do for their employees to help them understand how to actually help and please their customers—good experience + happy customer = good word of mouth and more sales—as opposed to making things as difficult as they possibly could, and not bending one iota to help someone or to retain his or her loyalty.
What do you think is the most important thing you gained or learned from living in France? 
Living and traveling in France was a true pleasure because of the culture that exists everywhere one goes, the value of eating good food and seeing wonderful art and, well, a culture that appreciates taking the time for actually living and life being a journey and not just wham-bam—thank-you-ma'am-let's-get-this-done.
Let me say this about what I gained from living in Paris: the world is a big and diverse place. The more one experiences it—the broader the understanding of other people and their cultures—the more knowledge and wisdom, not to mention sophistication, one possesses. When our minds and hearts are opened by experience, we truly can become global citizens. Living in that big diverse world with people of so many other cultures was a scale I also felt at home in. I was quite happy in the worldliness of it.
What do you miss about it now? 
Everything. The way of life.
What I don't miss: The beauty of the French culture is a double-edged sword. We don't want it to ever change, but ultimately France is being held back by this archaic attitude.
Do you have a philosophy of travel that you care to share? 
My parents instilled a love of travel in me. When I was growing up, every other year we would take three-week vacations to see the United States. In our white station wagon, we drove from Batesville, Arkansas, to the New York World's Fair and up into Canada. We drove to Colorado, Utah, Idaho, Wyoming, and Montana to see the American West—to get a sense of the characters who explored it and populated it. We spent time in Crested Butte when it was still a ghost town. We drove from Batesville, Arkansas, to San Miguel de Allende, Taxco, and Mexico City. Even as a child, I could see that Third World poverty was so much worse than the poverty I'd seen in Arkansas. We were in Chicago for the 1968 Democratic National Convention when all hell broke loose. My father was a delegate. From there we went to Mackinac Island, Michigan. My father died when I was 15 years old. If he hadn't, we were going to take six to eight weeks during the next summer to drive from Batesville to Alaska. What a lifelong gift they gave me.
Since we've been back from France we've spent a lot of time in Colorado and New Mexico. The Rocky Mountains have amazing, healing energy. The big skies open us up to a world beyond our own. The Native American energy in New Mexico is natural and palpable.
We're headed to Taos next week, and I'm headed to Nepal, Bhutan, India, and Tibet in the fall. But we still have plans to venture East or West. New York probably still beckons the most. I have a few tinges of rocky seacoasts that call me. That would probably be Maine. I am a wanderer, a nomad after all.
If I have a philosophy of travel, it is to do as much as you can, in the ways you want. We don't have to be the same in how, where, or why we travel. But get out and see the world. It will enrich your life in ways one can't even imagine. It will make you a better person.
Lead photo credit : Étretat, Normandy. Image credit © Pixabay: Bigfoot
Leave a reply
Your email address will not be published. Required fields are marked *
Comments