A Sparkling City of Light: Photo Essay by Meredith Mullins
The magic of fêtes de fin d'année seemed to arrive earlier than usual this year in Paris, or perhaps we were just wishing it so. We were aching for some sparkle in our lives, after our long periods of confinement.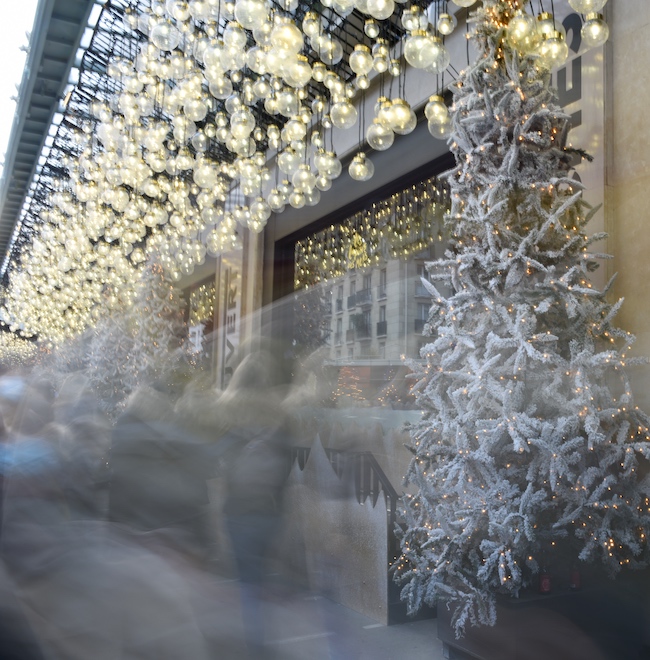 The City of Light is alive with holiday spirit, from the creative store windows—full of color, haute designer style, dancing figures, and other-worldly creatures—to the twinkling lights woven throughout the trees and strung high over the streets.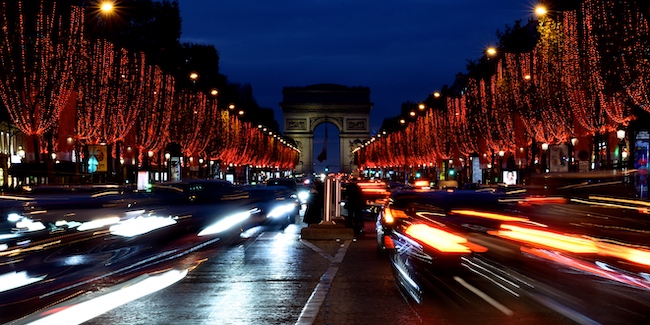 Thanks to the government déconfinement schedule, the shops re-opened on November 28, with special COVID health protocols in place. (Shoppers beware: that means queues at some department stores.)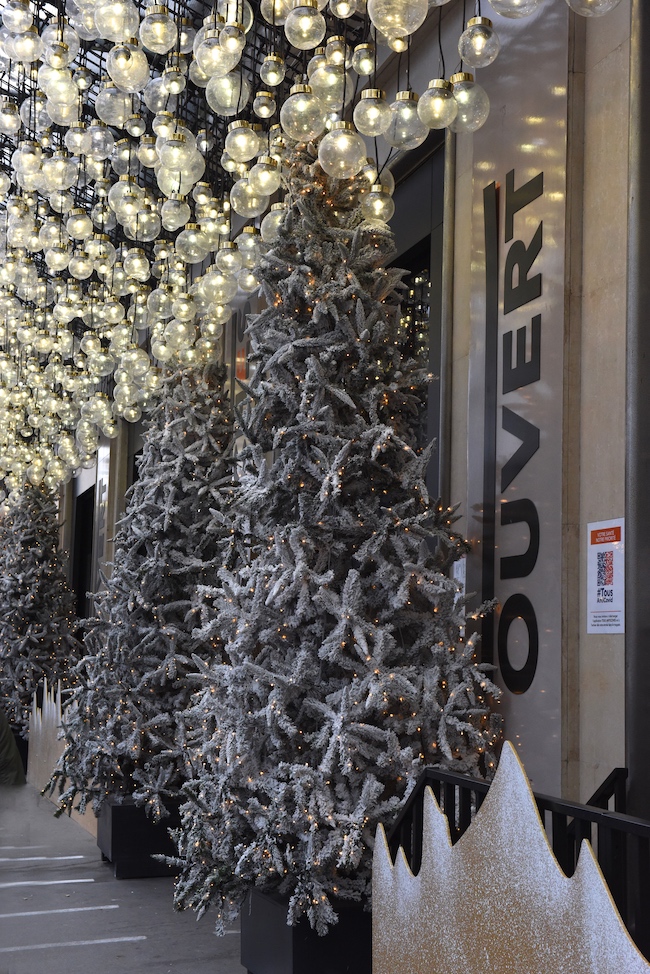 "Black Friday" was given eternal life, much to the advantage of holiday shoppers and to the relief of shopkeepers and department stores throughout the city.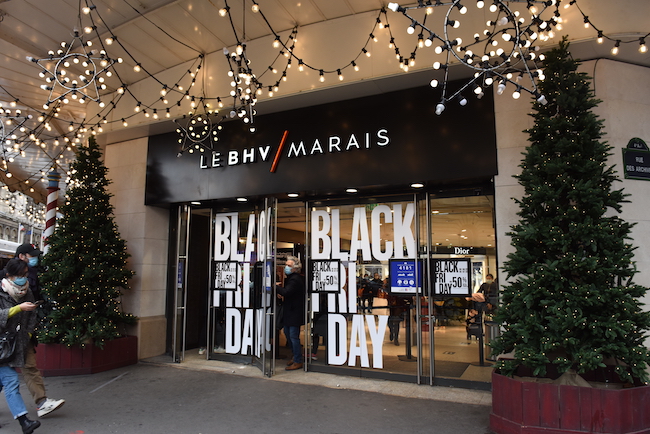 Sparkle Highlights
The legendary Paris department stores did not disappoint in the holiday decoration department.
Le Bon Marché presents stories in a palette of gold and white, with windows filled with snow and glittering fir trees.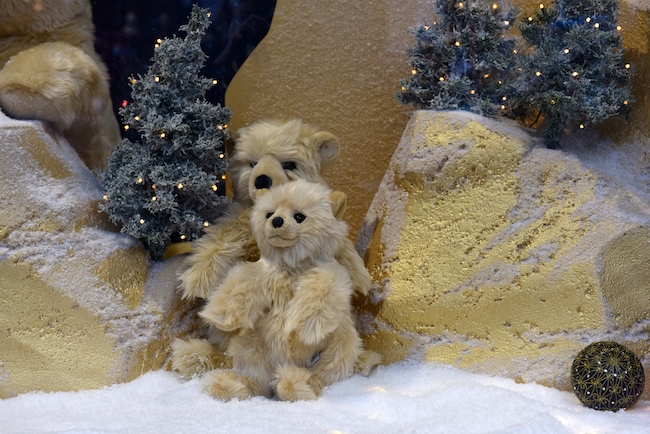 BHV Marais opts for an Italian Noel (Buon Natale), with Verdi's heartwarming Va Pensiero floating over the rue de Rivoli and Pinocchio (with a telltale long nose) tumbling through the windows, no doubt, falling into the "Naughty" column of Santa's list.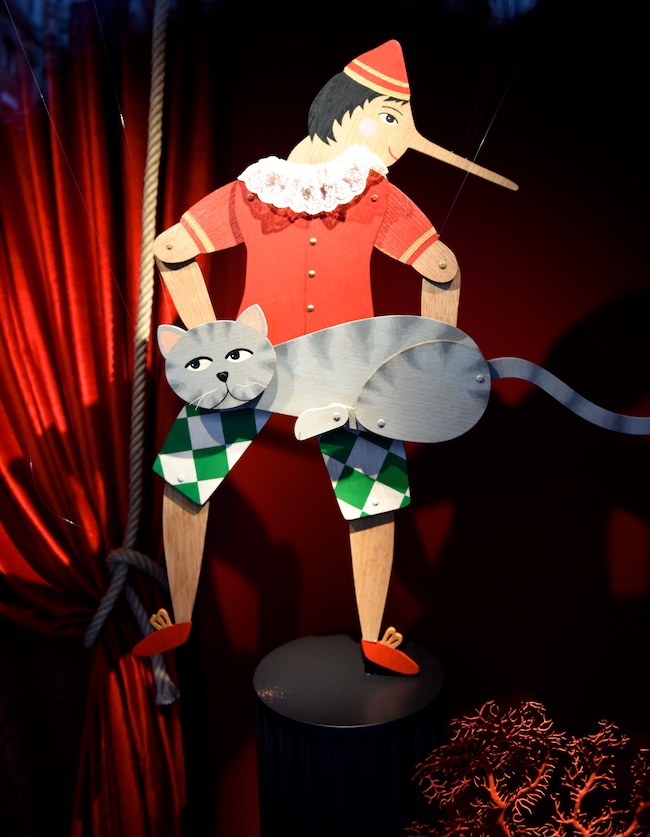 The holiday pièces de résistance of the Galeries Lafayette and Printemps on Boulevard Haussmann attract hundreds of daily visitors (in a corona-risky Times-Square-like crowd).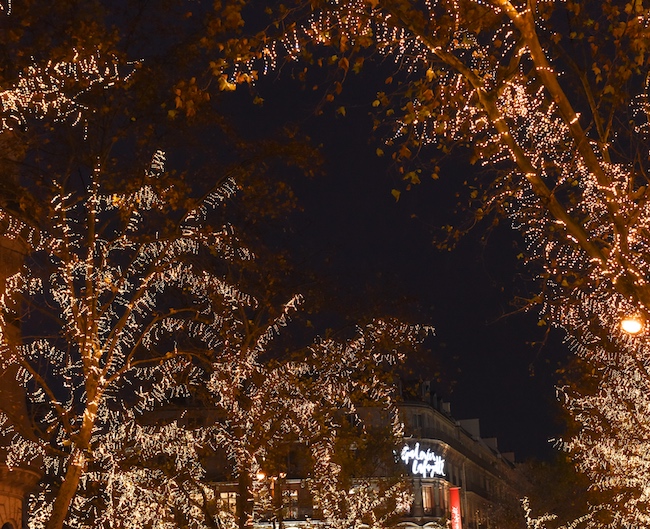 The stately Galeries Lafayette Christmas tree almost touches the top of the Art Nouveau glass dome and is loaded with color and creatures, as Céleste, a young adventurer, takes an imaginary flight to lands of wonder. The 11 store windows outside continue the fanciful journey.
Reminiscent of Saint-Exupéry's The Little Prince, we get the message: If we can't travel in reality right now, we can take a virtual voyage of the imagination.
Printemps also offers stories of adventure, with vignettes of camping and a tempting ski scene (a bit cruel, since French ski slopes are closed due to COVID precautions). An animated jazz band plays a perpetual set to remind us that music soothes the searching soul.
The Hôtel de Ville is creating not one giant tree, but a forest of fir trees, all of which were grown in France according to sustainable principles and all of which will be mulched after the holidays and used in the city's green spaces.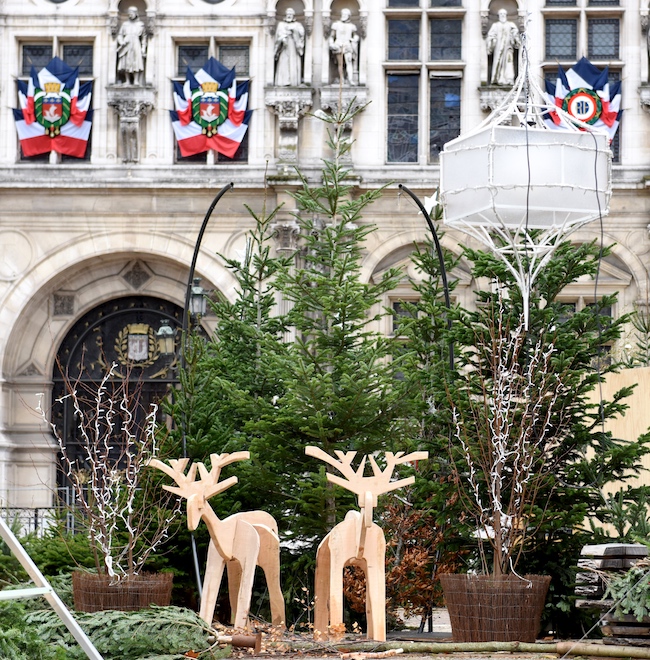 Around and About
In addition to the traditional holiday highlights of the grands magasins, every quartier displays its own festive decorations.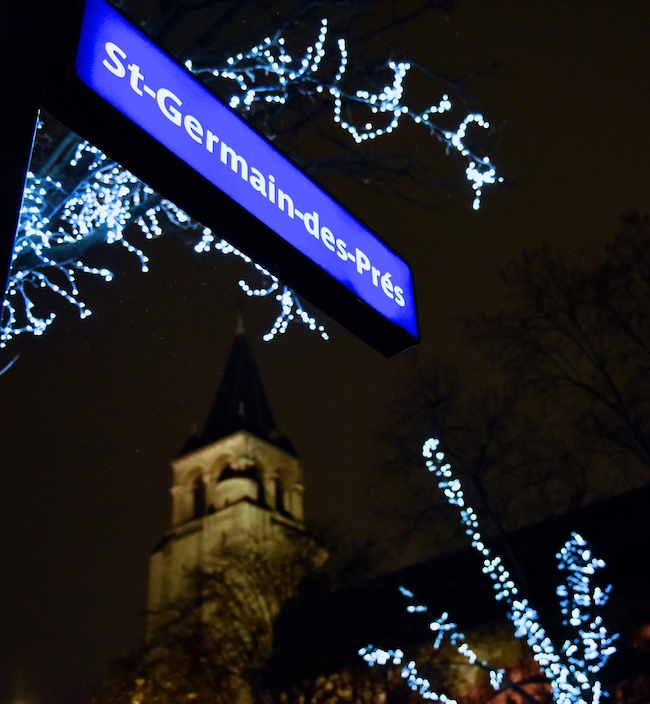 Whether you're here in Paris or visiting from afar, we are reminded of what is important during the holiday season. Here's to good health and the love of friends and family. There is light at the end of the tunnel. And it sparkles.
Love Paris as much as we do? Get some more Paris inspiration by following our Instagram page. 
Lead photo credit : The legendary holiday tree at Galeries Lafayette. © Meredith Mullins
More in Christmas, Christmas in Paris, Christmas shopping, shopping in Paris
---
---