A Romantic Parisian Wedding Doesn't Need to Incur the Clichés and Costs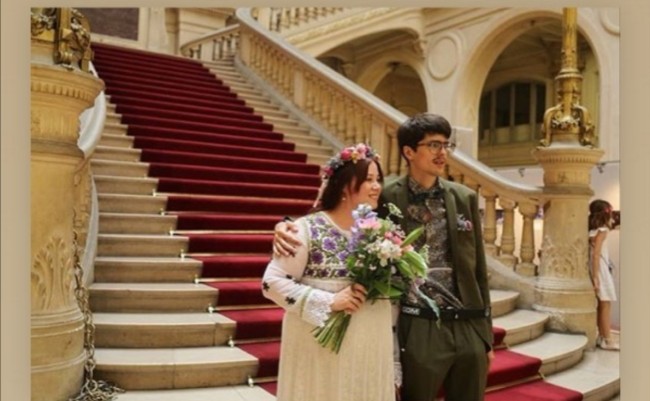 Often when we picture a dream wedding, Paris makes an appearance. Romantic architecture, champagne and a twinkling Eiffel Tower seem to be the perfect formula for a très romantic wedding. Sex and the City, Sabrina, An American in Paris, Something's Gotta Give, Oneday, Anastasia and Charade are just a few of the movies containing iconic kisses in Paris. We have all grown up with images of the perfect Parisian romance and wedding but it is also possible to break with the clichés, however charming they may be, and have a wedding in the City of Light that is personal, laid back, quirky and not set to bankrupt you. I know, because we did it and, even at four months pregnant in the midst of a heatwave, we had the most memorable day ever.
On my trips to Paris over the years, I had sat among many cheery Scouse or Parisian hen parties on budget flights from Liverpool, and you can never miss newlywed couples from the USA or Asia posing for pictures in spots such as the Trocadero, Montmartre or near our place on the Canal Saint Martin. I'd be lying if I said Paris hadn't been top on my list of places to tie the knot long before I'd met my now husband, moved here or decided that marriage was for me after all. Simply put, there was no doubt, for my French fiancé and I, that we would get married in Paris because we wanted a laid-back city wedding that would be easier for people to travel to, plus an excuse for a weekend break for many.
Sadly, at this point I may disappoint any die-hard romantics with our lack of a proposal story, as we simply decided during a discussion over dinner on a gloomy January evening. It felt like the right time and we chose the month of July because we wanted a summer wedding because we'd met during the Parisian summer, and thought that it would be best after the schools had finished and before the August scorch and mass exodus for holidays began. Romantics, as a consolation I will quickly tell you a little more about how we met; it was while I was doing my annual apartment sitting on the northern part of the canal. Our first date was on the canal, where we played pétanque at Paris Plage, hired a boat and went to watch a movie. After a first date like that, the rest is, of course, our history.
Step one of getting married in France, like anywhere else, is the ceremony. France is a predominantly Catholic country and I was christened Church of England, while my husband is technically Catholic, although neither of us are practicing. A church ceremony was never on the cards to begin with, though, and to be married in the eyes of the French government, you can't just wed in a church or private ceremony. We had to get married at the mairie (city hall) of the district in which we live, so the ceremony was already a given. We live in the 10th and having PACSed (a civil marriage that's available to same and different sex couples in France) a couple of years before, we already had a lot of the paperwork, or at least knew the protocol involved in acquiring it.
The rumors about how nightmare-inducing bureaucracy is in France are all very much true, so we got our stacks of papers together and braced ourselves for an experience straight out of The 12 Tasks of Asterix. Fortunately, we got to see someone straight away, but alas the woman was far from friendly and very thorough; clearly not a fan of "foreigners" she took great pleasure in announcing that my witnesses were not allowed to sign anything because they don't speak French. I should mention at this point that I am British. By the time we left the town hall my nose may well have been as out of joint as Depardieu's but we had a Saturday slot in July, so I sucked it up because that mission was complete and we could start planning and sending out the "Save the Dates"!
It is important to mention that when it comes to wedding ceremonies, France adopts the same amount of flexibility it applies to restaurant opening hours: that is, total rigidity. If you decide to get married on a weekend you are limited to Saturday morning/lunchtime and usually there are only about 3-4 slots a day. We missed the golden 12pm but managed to secure a 11.15am start time. My idea of a fun morning casually getting ready with friends was quashed but we took solace in the fact we would have a long summer day to enjoy with all our friends and family, learning quickly that when wedding planning in France, it's important to remain resilient and positive.
When it came to the rest of the organization we checked all our resources, asking a friend to be our photographer, and decided to keep it as low-key and DIY as possible. Of course, the numbers rocketed from that initially envisaged quiet ceremony and a meal with a few nearest and dearest, but we kept it at around the 80 people mark.
Our Paris, as in the one we live in day to day, is not the touristic center and so we avoided the incredible costs of venues around the Seine or landmarks, opting for a quirky péniche (barge) on our beloved canal. We got quotes from a few boats but already knew which one we wanted – Grande Fantaisie – because it's where we had a last drink before I hopped on the Eurostar back to London, during the first days we met. Fortunately, the péniche was available and the perfect size so our wish to have a chilled afternoon and evening on the canal was a go.
One of the biggest costs, besides the venue, was catering and we didn't want a sit-down meal, which given that we were having the reception on a long barge on a hot July day was out of the question anyway. My husband's friend's parents own a Durant Traiteur and were getting into catering so we planned a very hearty French buffet, including charcuterie, cheeses and salads including piemontaise and tabbouleh for the less carnivorous, the veggies and vegans. Needless to say it was delicious and went down an absolute treat.
The price of wedding cakes and logistics of serving them put us off so we ordered a macaron tower from Patisserie La Romainville for the evening and they were so sweet and tasty. My French in-laws utilized their superior fromage knowledge, setting about putting together an attention-grabbing cheese cake, which consisted of actual stacks of reels of cheese. You can never have too much cheese at a French wedding! Then, for the evening, we hired a hotdog stand from Monsieur Saucisse, which was a huge hit too. The meat and veggie hotdogs were delicious, and the cool vintage stand was set up quickly by two friendly servers.
The literal cheese cake was a strong feature (not just to smell!), with the addition of some awesome, hand-painted figurines my sister and partner made, positioned next to a picture of my Nan, who sadly passed a few months earlier, a custom blackboard that I'd made and lots of pom poms, bunting and lavender, making for a very quirky, personal and French looking table. Speaking of the touches, after reading on numerous wedding planner sites that favors are a bit overlooked, I was pleased to go with the idea of using our instax camera and a gold backdrop from Tiger – saving on a photo booth – to encourage people to take and share pictures, which they could take home as souvenirs.
For the rest of the decorations I put aside my usual allergy to crafting and made pompoms and a large chandelier of ribbon to hang from the window to the upper deck of the boat. The color scheme was summery and full of color. My family helped me source vintage lace tablecloths from E-bay and I bought bunting and liberty materials on Etsy, with the simple idea of the wedding having a vintage summer fair vibe that would work with my 60s embroidered dress, that I casually picked up from one of my fave vintage shops in Paris for 25 euros long before I thought I'd be getting married. Call it a hunch, if you like. We also added some Indian flower garlands from Tamil shops in La Chapelle, as a nod to my love of India and our trip there the summer before.
As I mentioned, I covered the tables in dried lavender to feel like summer in Provence and as another link to my Nan, who loved the flowers as much as I do. The lavender was inexpensive and easy to order online. Many people took some home too. For the bouquet and bridal crown, I went to Pampa, a very cool florist located near us across the canal. I'd loved the installations they did during fashion week for brands such a Kenzo and their informal and modern style. They did a great job and the flowers were one of the highlights of the day, with the deputy mayor, who conducted the ceremony with impromptu translation from my uncle, telling me that he thought my outfit was fun and looked very British, a contrast to the very minimal dresses of most French brides.
My uncle kindly organized a gypsy jazz manouche band, called Les Freres Bouchard, to play during the afternoon. They were so friendly and awesome musicians. Guests were enjoying a dance despite the heat, with the joyfulness lasting throughout the day, from 11 to 1am. After the evening champagne and toasts people chilled enjoying the warm evening on the water, surrounded by twinkling lights. Not everything went according to plan, which was absolutely fine; some things were missed but we had a nice surprises, like the international bike tour going past the boat and a wedding video my brother-in-law had made with help from friends, which they screened during the afternoon. It was a casual day with a focus on having a good time with all the people we love and it made for a really memorable day.
Looking back, organizing a wedding in Paris was stressful at times but well worth it. I am far from an expert but we winged it pretty well. Here are things we learned from our big day…
Don't try to plan everything precisely because this is France where even if you're paying for a service you will not receive any prioritized treatment or be guaranteed basic levels of customer service, no matter how much wad you splash. Just try to relax and keep timings and expectations flexible unless you plan to fork out a fortune for a wedding coordinator.
Speaking of assistance, even if your wedding's DIY like ours, know your limitations and do accept help, because you can do a lot on your own but not everything. We are so grateful for the priceless help of my sister-in-law who came to stay with us during the week before the wedding and, along with cousin and bro-in-law set up the decks before the reception.
Keeping it simple is key because a lot of the joy of the day stems from people coming together and having a great time in each other's company, with the backdrop of a stunning and vibrant city. You don't have to plan lots of activities or micro-manage people; just keep them fed and watered so that they can enjoy a chilled and memorable day for you. We kept numbers relatively low so that we could skip the tiered invite system and just invite everyone to join us for the whole day.
We did wobble though, and started to add things like tea and games, but this never happened because people were having fun hanging out on the boat so, in hindsight, one cost we could have saved was on the cups and crockery, which was pricey and from a rental company who caused us quite a lot of stress with delivery. We did have timings that we published on the wedding site and I wrote out on a blackboard on the dock. We loosely stuck to them, but this was so that people could come and go and catch or miss stuff as they pleased, rather than feel part of a strict regime.
Try not to paint too rigid a picture of the day in your head because a wedding is never paint by numbers and its better just to let the day pan out and maybe surprise you. Funnily, the cheap fans that I ordered last minute, after seeing the scorching weather forecast, and scattered across the tables, were one of the biggest hits of the day.
It's usually easier and cheaper to break with tradition and preconceived expectations, and doing so can lead to a day that is customized to reflect your own personalities and not a magazine spread. It's your day, it will go fast and it's all about being with the people you love and doing your thing, your way.
Of course, like every marriage, every wedding is different, and that's a great thing. At the end of the day, if you want to get married in Paris then do it your way and create your own fairytale. I can vouch: it's a great city for a wedding.
Lead photo credit : Kerry Flint's wedding. Photographer: Fanny Roger
Leave a reply
Your email address will not be published. Required fields are marked *