Interview with Kristina Keenan, Commander of American Veterans in Paris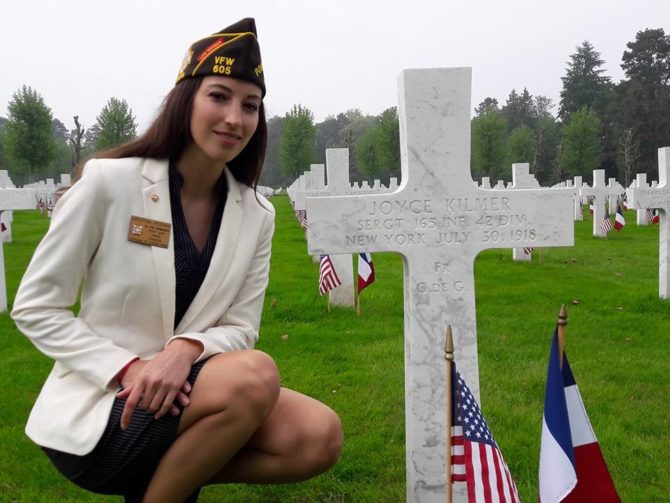 American veterans in Paris, long been dominated by the World War II generation, have found a fresh new face to represent them as commander of Veterans of Foreign Wars (VFW) Post 605. Kristina Keenan, a 35-year-old veteran of the Balkans conflict, was first elected commander of the Benjamin Franklin Memorial Post in 2016, re-elected in April 2017. She also recently was named chaplain for the European Department of the
VFW
. There are 6,536 VFW posts worldwide, with nearly 1.7 million members (out of an estimated 21 million American veterans). The Paris chapter counts 210 members, the oldest a 95-year-old WWII veteran, the youngest a 27-year-old Iraq veteran. Only six members are women. But Kristina Keenan enjoys doing the unexpected. As a senior in high school, she signed up with the Minnesota National Guard rather than go to college. She was deployed to Bosnia for two tours of working with NATO peacekeeping troops, and loved the international involvement. After returning to civilian life, she moved to Paris (blame the French boyfriend), finished bachelor's and master's degrees and went to work in development at The American University of Paris. In 2013, she joined the VFW post, and now, as its commander, she is the voice of American veterans in the City of Light. Ellen Hampton: Why did you want to join the National Guard so young? What drove you to do that? Kristina Keenan: "I wanted to do something different, something that was challenging. All my friends were going to college, and they planned to get married and have kids right after, and for me that whole plan seemed kind of boring. The Army looked interesting. I spoke with a recruiter, and he laid out a plan that was really good for me, they would pay for school, but I could travel a bit, do some training, and the training would give me work experience, so when I was done with college, I'd be ahead of the game compared to other graduates. It wasn't just summer jobs; it was real, professional training." "Then my unit deployed to Bosnia, that was my first overseas deployment. I ended up volunteering for a second one right after. was six months, so back-to-back I spent about 13 months in Bosnia, with several months before for training. That was a NATO peacekeeping mission, although it was considered a hostile environment. I'm proud that my legacy in the military is as a peacekeeper." EH: What are the missions of the VFW? KK: "There are essentially three parts to what we do. First, there's the patriotism role, which is all the ceremonies, the commemorations, the national holidays, things like that. Then we have support for VA benefits, and medical-related things, where we have a counseling role. We do have a trained service officer for every post in the VFW, those are people who can give a certain level of advice when it comes to VA claims. They know the bureaucracy, and can at least provide resources for people who need to make claims, or are in the claims process. "Then the third part is the community. We meet regularly, once a month, we'll have official meetings to deal with business, to vote on activities, or things that we want to spend money on. We have lunch, we do
Thanksgiving
dinner every year, we have a spring banquet every April. We do activities with the Girl Scouts, the Boy Scouts, we come to their awards ceremonies, we have a scholarship program, we do outreach with schools, and other community projects." EH: How different is it to be in the VFW here in France than to be in a post at home? KK: "We're in a unique position in France. We can go into the actual cemeteries, which are in the vicinity of battles that happened in France. There are 11 American cemeteries in France, so that's a lot to cover, and we have additional monuments like the Lafayette Escadrille Memorial. We go to the Picpus Cemetery, where the
Marquis de Lafayette
is buried, and there's an American flag which is permanently hung over his tomb. We attend the ceremony which the embassy organizes to change the flag every year. So we're unique in France that we have all of these things to commemorate, or are in the location where a lot of history has happened, including the Normandy landing beaches. "Here in Paris we interact a lot with the American community, through the embassy, the American Church, the American Cathedral. I'm trying to do more outreach with universities. Awareness is part of my personal mission here, to let people know who we are and what we do. I think in the States everybody already knows the VFW. "We do attend French ceremonies as well, and our office is in an entire office building which is dedicated to French veterans' organizations. We've been graciously given our office by the Mayor of Issy-le-Moulineaux. Those organizations often invite us to their ceremonies, which we try to attend." EH: What brought you to France? KK: "Umm… A French boyfriend. But when I came, I transferred to the American University of Paris (AUP), so I finished my degree at AUP. I was at the University of Maryland at College Park, and I had gone there because I was looking at D.C., and thinking probably that was where I wanted to work. But then I moved to Paris, for personal reasons,…
SUBSCRIBE
ALREADY SUBSCRIBED?
BECOME A BONJOUR PARIS MEMBER

Gain full access to our collection of over 5,000 articles and bring the City of Light into your life. Just 60 USD per year.

Find out why you should become a member here.

Sign in

Fill in your credentials below.
American veterans in Paris, long been dominated by the World War II generation, have found a fresh new face to represent them as commander of Veterans of Foreign Wars (VFW) Post 605. Kristina Keenan, a 35-year-old veteran of the Balkans conflict, was first elected commander of the Benjamin Franklin Memorial Post in 2016, re-elected in April 2017. She also recently was named chaplain for the European Department of the VFW. There are 6,536 VFW posts worldwide, with nearly 1.7 million members (out of an estimated 21 million American veterans). The Paris chapter counts 210 members, the oldest a 95-year-old WWII veteran, the youngest a 27-year-old Iraq veteran. Only six members are women.
But Kristina Keenan enjoys doing the unexpected. As a senior in high school, she signed up with the Minnesota National Guard rather than go to college. She was deployed to Bosnia for two tours of working with NATO peacekeeping troops, and loved the international involvement. After returning to civilian life, she moved to Paris (blame the French boyfriend), finished bachelor's and master's degrees and went to work in development at The American University of Paris. In 2013, she joined the VFW post, and now, as its commander, she is the voice of American veterans in the City of Light.
Ellen Hampton: Why did you want to join the National Guard so young? What drove you to do that?
Kristina Keenan: "I wanted to do something different, something that was challenging. All my friends were going to college, and they planned to get married and have kids right after, and for me that whole plan seemed kind of boring. The Army looked interesting. I spoke with a recruiter, and he laid out a plan that was really good for me, they would pay for school, but I could travel a bit, do some training, and the training would give me work experience, so when I was done with college, I'd be ahead of the game compared to other graduates. It wasn't just summer jobs; it was real, professional training."
"Then my unit deployed to Bosnia, that was my first overseas deployment. I ended up volunteering for a second one right after. [My first deployment] was six months, so back-to-back I spent about 13 months in Bosnia, with several months before for training. That was a NATO peacekeeping mission, although it was considered a hostile environment. I'm proud that my legacy in the military is as a peacekeeper."
EH: What are the missions of the VFW?
KK: "There are essentially three parts to what we do. First, there's the patriotism role, which is all the ceremonies, the commemorations, the national holidays, things like that. Then we have support for VA benefits, and medical-related things, where we have a counseling role. We do have a trained service officer for every post in the VFW, those are people who can give a certain level of advice when it comes to VA claims. They know the bureaucracy, and can at least provide resources for people who need to make claims, or are in the claims process.
"Then the third part is the community. We meet regularly, once a month, we'll have official meetings to deal with business, to vote on activities, or things that we want to spend money on. We have lunch, we do Thanksgiving dinner every year, we have a spring banquet every April. We do activities with the Girl Scouts, the Boy Scouts, we come to their awards ceremonies, we have a scholarship program, we do outreach with schools, and other community projects."
EH: How different is it to be in the VFW here in France than to be in a post at home?
KK: "We're in a unique position in France. We can go into the actual cemeteries, which are in the vicinity of battles that happened in France. There are 11 American cemeteries in France, so that's a lot to cover, and we have additional monuments like the Lafayette Escadrille Memorial. We go to the Picpus Cemetery, where the Marquis de Lafayette is buried, and there's an American flag which is permanently hung over his tomb. We attend the ceremony which the embassy organizes to change the flag every year. So we're unique in France that we have all of these things to commemorate, or are in the location where a lot of history has happened, including the Normandy landing beaches.
"Here in Paris we interact a lot with the American community, through the embassy, the American Church, the American Cathedral. I'm trying to do more outreach with universities. Awareness is part of my personal mission here, to let people know who we are and what we do. I think in the States everybody already knows the VFW.
"We do attend French ceremonies as well, and our office is in an entire office building which is dedicated to French veterans' organizations. We've been graciously given our office by the Mayor of Issy-le-Moulineaux. Those organizations often invite us to their ceremonies, which we try to attend."
EH: What brought you to France?
KK: "Umm… A French boyfriend. But when I came, I transferred to the American University of Paris (AUP), so I finished my degree at AUP. I was at the University of Maryland at College Park, and I had gone there because I was looking at D.C., and thinking probably that was where I wanted to work. But then I moved to Paris, for personal reasons, and I really enjoyed AUP because of how international it is. I found that Paris has a really great international community, that not all cities have. After being in the military, and being in Bosnia, which was extremely international, I was working with NATO troops there, from all different countries. Coming to Paris was quite nice, to land into an international world here."
EH: Where no one was shooting at you. For the most part.
KK: "I still had to go through that transition. It was less than a year after I got out of the military that I moved here, so in my mindset, I was still transitioning to pure civilian life. Which isn't the easiest thing. It's hard to talk about the military with friends and family. Even my deployments, I had so many profound experiences, I was in Bosnia, I was meeting with locals on a daily basis, I heard all these war stories from them, terrible things. I saw how the U.S. military operates outside the country, and how they interact with Europeans, the French and the Brits, it was very interesting to observe, the good and bad.
"But I didn't really have a venue to speak about these things. People didn't really understand when I would talk about it, they would be, we don't know about this military stuff, sorry. But when I was at AUP I took classes in politics, I focused on human rights courses, international law, conflict resolution, so at least on an academic level I could try to process things, and I focused a lot of my research on the Balkans and the collapse of Yugoslavia, and what that meant in terms of conflicts, and genocide, and human rights issues.
"It really wasn't until I joined the VFW four years ago that I realized there are other veterans in Paris. I had no idea. Now I'm in a group of people who are often talking about military stuff. Some of them are still going through what's good and bad, some of them are retiring, so I hear about a lot of issues. And then people who are older, there's a certain commonality we can relate to, of how things were then and how they are now, for us."
EH: Do you feel like the U.S. military takes care of its soldiers? You're kind of their agent, in a way. Are you fighting another war with the government to get them what they need?
KK: "I think there's a lot of good will, but the VA [Veteran's Administration] itself is still a work in progress. The VFW is one of the big lobbies for improved veterans' rights. What I often tell people who are sort of on the fence about joining VFW is that the VFW, for example, helped transform the old Montgomery GI Bill, which provided education benefits, but it didn't apply to AUP when I was here, it was such a shame. I had all these benefits and I couldn't use them. The text of the GI Bill was old, so they've now updated it to the post-9/11 GI Bill, and most people have been able to transfer their benefits. So I was able to use them for my master's at Sciences Po, it was virtually free, and I had some money to live off of, too.
"The VFW, along with some other veterans' organizations, pushed for that. It was such a big thing for a few years, and it's such a great accomplishment. The VFW is still doing a lot to try to improve things, and at least bring to light problems within the VA. But we know that people are not getting benefits from the VA that they're supposed to. The VFW is trying to do more, especially for overseas veterans. Being outside the United States, we're not close to any VA facilities, we still need benefits in order to receive medical care."
EH: How many veterans are attracted to living abroad, if their experience makes them kind of outsiders to civilian society in the States?
KK: "Having the right to live somewhere is a bit complicated, but for many veterans abroad, they served most of their careers in that location, married somebody locally, and started a family there. In Germany that's definitely the case, there are a lot of American veterans who have married German nationals, and then their children are both European and American. In the VFW Department of Europe, that's the case for almost all the members. In Paris it's a mix, there are some people like that, and others who are working or studying here for various reasons."
EH: Any aspect of being female, as a veteran or at the post, that's been a funny story?
KK: "People are surprised. The French don't seem to believe it! I never wear my uniform, even though I could for ceremonies, because it's too big on me now, I've actually lost weight since being out of the military, usually it's the opposite for people! I normally just wear my VFW hat. I've recently ordered some medals, because the French usually wear their medals. I wasn't really into that for a long time, but now, for ceremonies, people ask me so many times, and not in the nicest way, either: 'How is it possible that you can do this? Only veterans can wear medals, obviously you're not a veteran.' You know, because the word vétéran in French is usually associated with WWII or retirees. It's really set aside for older people. The French understand the word 'veteran' in that context. Even if it's a young guy like the students, who look like soldiers, if you said they're former Army or former Marines, the French person would believe it. They would probably correct me and say, they're not veterans, they're anciens combattants. So it's really hard for me to say that I'm a veteran, I often have to explain, 'Non, en fait, je suis ancien combattant, comme les autres.'
"But the French still don't believe it for me. I'm 35, but I don't look 35, I look quite young, I don't fit some stereotype of what military women are supposed to look like. There's still a misconception about women in the military, that feeds into the problem of women who are veterans. There's also a misunderstanding of the military itself, that it's mostly war fighters, when that's not the case. It's mostly support. There's a select group of people who are Special Forces, or forward-on-the-ground infantry guys, but that is not by far representative of people who are in the military. There are mail carriers, there are truck drivers, everything you would need for a large-scale standing army.
"I deal with it. It's mostly people who aren't aware of who we are and what we do, as an organization. But everyone within the organization is super supportive. In Paris we had a World War II veteran who was commander just before me, and he was fully supportive of me becoming commander. I had been his vice-commander for two years, so I was able to sort of gain from him a lot of knowledge and experience before I became commander. I didn't just jump into the role, I had quite a bit of on-the-ground experience."
Lead photo credit : Kristina Keenan at the Oise-Aisne American Cemetery. Photo: Pierre Mary Bachelete
---
---
Comments