Interview with Guy Hibbert, Author of "Paris Postcards"
Author, editor, and journalist Guy Hibbert has written a beautiful book about Paris entitled Paris Postcards. His debut looks at Paris in the form of charming, intricate short stories which immediately transport the reader to the City of Light that so many love, yet so many have never experienced in this unique way. The 11 interwoven stories found in the book's pages present Paris as an irresistible puzzle, waiting to be pieced together. One reviewer praised the book's narrative style, saying: "… I found it pulling me forward through the stories with an eager pleasure…" and said of the author himself: "…Hibbert has a gift for forcing the reader to contemplate the complicated gray areas…" Hibbert was kind enough to take the time to speak with Bonjour Paris about his book, his favorite thing to do in Paris, and much more.
Anne McCarthy: How would you describe Paris Postcards in one sentence?
Guy Hibbert: Poignant short stories about hopes and dreams which are kindled by the powerful lure of Paris.
What inspired you to write this book?
When I walk the streets of Paris I definitely feel an affinity with the past. I watch the tourists drawn to the city as well as all the residents going about their everyday lives. I think about people over the centuries whose footsteps I may be following, whether they are humble and long-forgotten citizens or those who had their moment of fame and made a small mark in history. What special place did the city hold in their hearts? What memorable moments took place here?
Who are some of your writing heroes and why?
The classic "realist" authors like Balzac, Zola, Flaubert, Charlotte Bronte, George Eliot and Arnold Bennett. I admire a lot of 20th century fiction but I feel the high watermark of psychological realism was reached in the 19th century. In terms of plot, character development and prose-craft I find I can learn so much from these great authors. Having said that my tastes are very diverse– I read a book a week– and so I also enjoy the work of many contemporary writers. For example, Peter Carey's Oscar and Lucinda is an enduring modern classic and his Illywhacker is a kaleidoscope of memorable characters; Rose Tremain is inspiring – I especially love her historical fiction – Merivel is an absolutely wonderful character. Hilary Mantel is also a favourite – Wolf Hall draws you into the fantastic, dark spiders web of Cromwell's world, internal and external. And nobody does fictional biographies as compelling as William Boyd.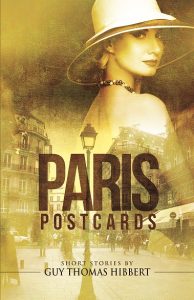 What are some of your favorite films and books set in Paris? (Besides yours, of course!)
Films: I would have to start with the incomparable Les Enfants du Paradis for its epic romance and also the staggering fact that it was made in Nazi-occupied Paris! Among more recent films I enjoyed include: Diva, Moulin Rouge, La Haine and of course, Amélie!
Books…so many! But some standouts for me are The Hare with Amber Eyes, George Orwell's Down & Out in Paris & London, Nana by Zola and Hemingway's A Moveable Feast.
What are you currently reading?
The Old Wives Tale by Arnold Bennett. Part of the action is set in Paris of the 1870s where one of the two main protagonists runs a pension, lives there during the Prussian siege and the Commune – and, as a macabre bonus, there is a very striking description of an execution by guillotine!
What type of reader will love Paris Postcards?
Francophiles, obviously! But I hope it can be enjoyed by anyone who appreciates the poignant aspects of my characters who are drawn to the city by some kind of quest for identity or meaning. Paris is forever associated with love and romance, so I wanted to explore what that might mean for very different characters who come from different countries and social backgrounds in search of something or to discover their place in the world.
Which story in Paris Postcards was the most enjoyable for you to write and why?
I'm very fond of "The Whip Hand" and "Les Bouquinistes." But I confess that is only because I was trying to channel a bit of Virginia Woolf in those first person "brief moment" narratives and I felt rather pleased with myself! Readers will judge!
Where in France did you grow up? What drew you to visit/live in Paris as an adult?
Actually, I grew up in many different parts of the world including India, Pakistan, Dominican Republic, Iran, Bermuda and Italy. I only made it to France when I was 17! But I spent two summers in la belle France at that age and the hospitality of the people and the beauty of the country had a lasting impact on me. In 2003, I was able to move to live with my family in France, in the Dordogne, and from that move ultimately emerged a media business, my journalism, and now my writing.
What is your favorite thing to do in Paris?
People watching. Several of my stories in Paris Postcards were inspired by intriguing characters I observed while sitting in a café. "The Waiter," "The Blue Dress" and "Russian Doll" all came from being interested in people I saw, and allowing my imagination to build a world around them.
What advice would you give to aspiring writers?
Write from your own experience. Try short stories – they force you to confront many important challenges of writing. Put your characters under stress. Don't be afraid of writer's block; great writing isn't made when you type the first draft. Just put one word in front of another and keep going. The quality will emerge in the re-write and the edit. Mostly this advice is aimed at myself, because Paris Postcards was an exercise in learning the craft – and I expect to be learning for the rest of my life!
What is your next project?
I have been working on a set of short stories that are closely linked and tell the story of two French families across a 100-year time span, of how their lives are entwined and their fates are determined by the conflicts of ownership of a grand provincial manor. One of the female characters has begun to make a strong claim on my imagination, so much so that I have decided to morph some of the stories into a novel spanning approximately forty years from World War II to the 1980s.
Photo credit : Author Guy Hibbert with his dog Milo
Leave a reply
Your email address will not be published. Required fields are marked *