Baguettes Taste Better in Paris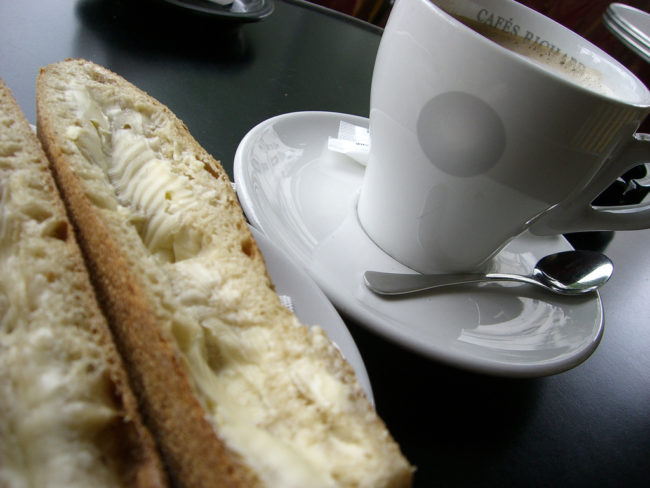 Bread and butter and jam in Melbourne is merely bread and butter and jam. In Paris, a baguette and butter and jam is a whole other thing.
"Bonjour! Une baguette traditionnelle, s'il vous plaît." I manage to get the words out without blushing, pointing to what I want in the award-winning boulangerie near my hotel. "Un euro, s'il vous plaît." The small gold coin is offered and my prize is handed over the counter. "Merci, madame. Au revoir!"
Rushing back to my room, kettle hastily filled and on the boil, one third of the stick is sliced and slathered with butter and "intense" jam, made with just mixed berries and not much else. The tea is made. Anticipation high; you could sit down, Helen! The first crusty bite hits my taste buds like I've never tasted food before. Was that a contented sigh I heard escape my lips? OK, now I sit and savor the rest with my cuppa.
What is it about bread that the French love? I heard that the price of bread is kept low so that everyone can afford it. Many shops are stocked with filled baguettes at very reasonable prices and Parisians form queues outside their favorite boulangeries. Not long ago, I savored a roast beef baguette from a French bakery in The Rocks in Sydney, in preparation for my trip to Paris. It wasn't cheap. Wrapping my mouth around the spongy texture with its crisp exterior, squeezing just enough so that the sauce dribbled a little onto my chin, the anticipation of having this bread available to me soon in Paris was thrilling.
It's strange really. I don't eat much bread at home. Too many teenage magazines and diets in the past have instilled in me the idea that bread is bad and full of calories. I have sourdough toast with a poached egg or the occasional 'vegemite on toast' comfort food. What a travesty! Well, no longer. Here in Paris, real bread comes with every meal and it is available at every turn. I am finally giving myself permission to munch on this French staple with gusto. And I love that.
Lead photo credit : Café creme and a delicious baguette with butter by WordRidden/Flickr
Leave a reply
Your email address will not be published. Required fields are marked *
Comments