Where to Stay in Paris: Hôtel Saint-Jacques, Jewel of the Belle Époque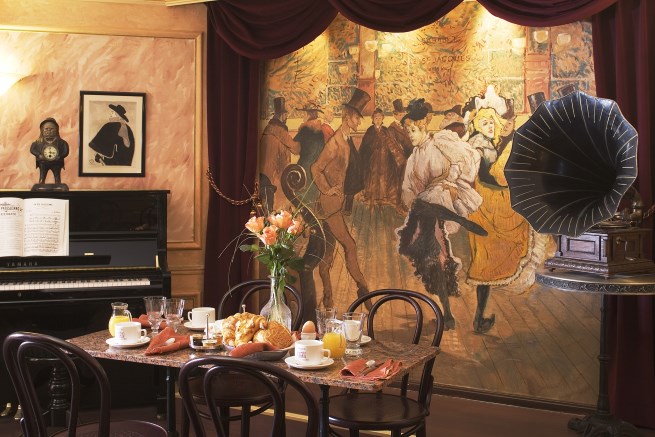 Attention, dear readers! Get a 10% discount on your room at Hôtel Saint-Jacques with Bonjour Paris. Use promo code: BJRPARIS2017
You'd be hard-pressed to find a better Left Bank location in Paris. Just a cobblestone's throw from the Panthéon and the Sorbonne, the Hôtel Saint-Jacques is surrounded by pretty Hausmannian facades and fun boutiques (including one of our favorites: Au Vieux Campeur, which outfits the city's sporty types before their camping or skiing adventures). There's also the lovely co-working cafe called Nuage, housed in an old church that was once the high school of Cyrano de Bergerac. This is a tranquil neighborhood, just a quick stroll from Notre Dame cathedral and the Seine.
After a day hitting the boulevards, it's a joy to come back to a lovely gem of a hotel that's serviced by a great staff. The Hôtel Saint-Jacques stands out for the professionalism of its multilingual staff. Keen to pick up an artisanal, "made in Paris" gift for that special someone back home? Looking to try an authentic bistrot de quartier? Need to book online museum reservations for a hot new exhibition? The hotel's staff is on hand to help.
Whether you are in the capital for business or leisure, the Hôtel Saint-Jacques serves as a lovely retreat. Amenities include free wireless Internet, the "Toulouse-Lautrec" lounge bar where you can sample a glass of absinthe while admiring the ancient works from the mahogany bookcase, and a copious buffet breakfast. (Think eggs, organic bread and viennoiseries, freshly squeezed juices, and more!) Enjoy the hotel's warm welcome as well as the original decor, inspired by the Paris of the Belle Époque.
The Saint-Jacques hotel is filled with art: Renaissance paintings and most notably works by Impressionists and artists like Toulouse-Lautrec, Degas, Henri Rousseau, and also Chagall… There are even ceilings decorated by Haussmann.
The hotel offers 36 rooms, spread out over six floors, uniquely decorated in a refined and elegant style, from single to family sized. Appointed with crystal chandeliers, ceiling mouldings, and delicate fabrics, the rooms come with all the creature comforts like flat-screen TVs and free wireless Internet. Booking tips: Some rooms have balconies; others have gorgeous views of the Pantheon or Notre Dame. For family stays, there are connecting rooms; the Reservations department is happy to assist. Rooms start at €86 per night.
Use our exclusive promo code BJRPARIS2017 and get a 10% discount on your room.
For more information, visit the Hôtel Saint-Jacques' website. Address: 35 Rue des Écoles, 75005. Tel: +33 (0)1 44 07 45 45
Lead photo credit : ©Hôtel Saint-Jacques
---
---