Sleep in the Paris Catacombs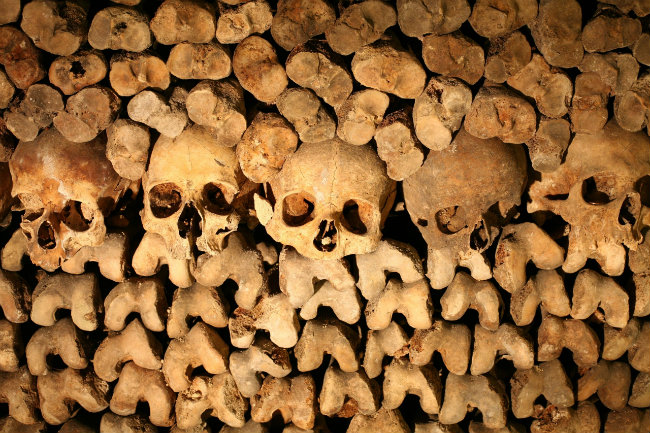 No, this isn't a joke. As reported by Conde Nast Traveler, Airbnb has launched a contest  "to sleep in one of the spookiest locations in the world on Halloween night."
"Bienvenue to the bowels of Paris!" shouts the Airbnb listing. "Looking for a change from the usual Halloween festivities? Escape the pint-sized pirates and mini goblins in the world's largest grave— Paris's famous catacombs, the final resting place of 6 million souls."
This subterranean labyrinth first opened to visitors in the early 19th century, becoming one of the city's earliest tourist attractions- a contemplative (and spooky) place to ponder the meaning of life and death. The ancient quarries are stacked with skulls and bones that were originally transferred from the Cemetery of Innocents in 1786 when it was closed for public health reasons.
Today it remains a top spot for visitors (there's always a line snaking around the block outside the entrance in the 14th arrondissement). Read more about visiting the Catacombs over at France Today.
The Airbnb competition explains that the lucky winner will "savor a dazzling culinary experience while enjoying a private concert in the most incredible acoustics under the earth. Before bedtime, a storyteller will have you spellbound with fascinating tales from the catacombs, guaranteed to produce nightmares. Finally, enjoy dawn with the dead, as you become the only living person ever to wake up in the Paris catacombs."
For more information about this competition, check out the website.
Photo credit : courtesy of the Paris Catacombs
Leave a reply
Your email address will not be published. Required fields are marked *