On the Trail of Vincent Van Gogh in Paris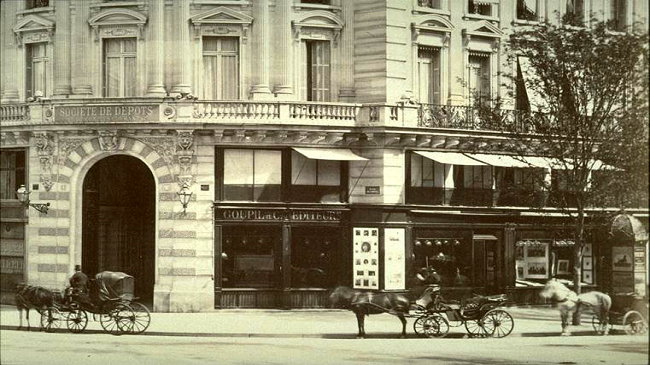 "Paris is Paris. There is but one Paris and however hard living may be here … the French air clears up the brain and does one good."  -Vincent Van Gogh, autumn 1886  The celebrated painter
Vincent Van Gogh
lived in Paris on two separate occasions. Vincent first arrived in the city on October 26, 1874 when he was appointed to work at Galerie Goupil at 2, place de l'Opera. His uncle Cent Van Gogh was a very successful art dealer and nepotism played a part in the placement of his 21-year-old nephew.    In a city reborn post-Commune and post-Haussmann, Vincent made the most the the Paris art scene, walking the new streets to visit the
Louvre
, the
Musée du Luxembourg
and the Salon de Paris. At the
Drouot auction house
at 9 rue Drouot, Vincent felt he was standing on holy ground.  Vincent van Gogh, Self-Portrait, oil on board, 1887. Public domain Vincent rented a small room in
Montmartre
overlooking a pleasant garden filled with ivy and Virginia creeper. At this unknown address, he coverd the walls with engravings of his new favorites and listed them in a letter to his brother: Rembrandt, Corot, Millet.   A young Englishman shared this room with Vincent. Harry Gladwell was also a trainee at Goupil. Close in age, the two read bible chapters aloud in the evenings. Vincent encouraged Gladwell to abandon his career as an art dealer and turn to the Church. Vincent endeavored this for himself a few months later. Gladwell, however, became a successful art dealer in England at the family gallery that still bears his name.  At first Vincent was very proud of his work at Goupil et Cie. But his worrying personality traits became apparent. Vincent grew increasingly resentful about the commodification of art. AWOL over Christmas time, he was asked to work out his notice and he left Paris for the Netherlands on April 1, 1876.   Goupil & Cie, rue Chaptal (c.1860). Public domain During the next decade, the itinerant Vincent tried his hand at many things. From preaching to teaching, nothing took hold. His  theological studies were incomplete and while working as a missionary in the poverty-stricken area of the Borinage, he became as one with his parishioners. However, church authorities dismissed him for undermining the dignity of the priesthood.   Despite his dislike of formality, Vincent enrolled in Brussel's Académie Royale des Beaux-Arts where he studied anatomy and perspective. Around this time Vincent's younger brother Theo began to send him painting supplies and an allowance.   Vincent wrote over 650 letters to Theo over a period of 15 years. However, Vincent's letter writing trailed off in 1886. Why? Because Vincent, now a self-proclaimed artist, returned to Paris, Theo's new home base. The brothers were despondent over the sudden death of their father in 1885, and when Theo invited Vincent to join him in Paris, Vincent jumped at the chance. Vincent's arrival however was expected a few months later. Theo was surprised to receive a note Vincent had dashed off from the train station, advising, "…don't be cross with me that I've come all of a sudden."  
SUBSCRIBE
ALREADY SUBSCRIBED?
BECOME A BONJOUR PARIS MEMBER

Gain full access to our collection of over 5,000 articles and bring the City of Light into your life. Just 60 USD per year.

Find out why you should become a member here.

Sign in

Fill in your credentials below.
"Paris is Paris. There is but one Paris and however hard living may be here … the French air clears up the brain and does one good." 
-Vincent Van Gogh, autumn 1886 
The celebrated painter Vincent Van Gogh lived in Paris on two separate occasions. Vincent first arrived in the city on October 26, 1874 when he was appointed to work at Galerie Goupil at 2, place de l'Opera. His uncle Cent Van Gogh was a very successful art dealer and nepotism played a part in the placement of his 21-year-old nephew.   
In a city reborn post-Commune and post-Haussmann, Vincent made the most the the Paris art scene, walking the new streets to visit the Louvre, the Musée du Luxembourg and the Salon de Paris. At the Drouot auction house at 9 rue Drouot, Vincent felt he was standing on holy ground.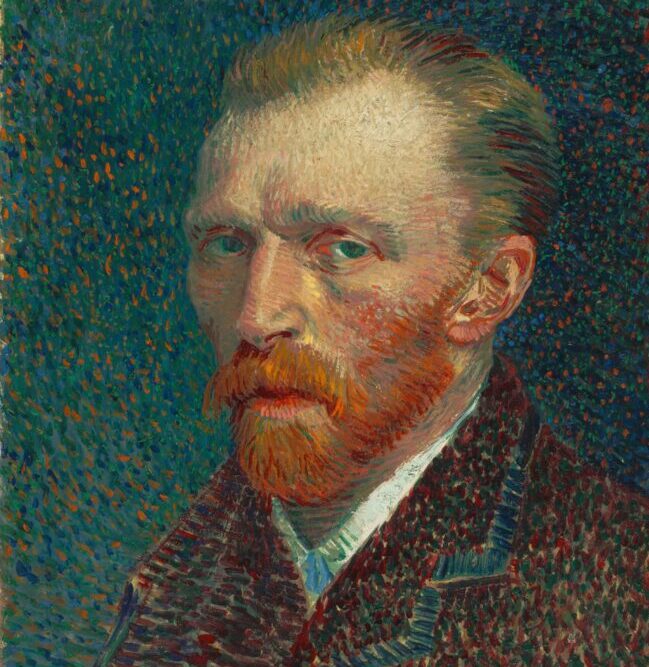 Vincent rented a small room in Montmartre overlooking a pleasant garden filled with ivy and Virginia creeper. At this unknown address, he coverd the walls with engravings of his new favorites and listed them in a letter to his brother: Rembrandt, Corot, Millet.  
A young Englishman shared this room with Vincent. Harry Gladwell was also a trainee at Goupil. Close in age, the two read bible chapters aloud in the evenings. Vincent encouraged Gladwell to abandon his career as an art dealer and turn to the Church. Vincent endeavored this for himself a few months later. Gladwell, however, became a successful art dealer in England at the family gallery that still bears his name. 
At first Vincent was very proud of his work at Goupil et Cie. But his worrying personality traits became apparent. Vincent grew increasingly resentful about the commodification of art. AWOL over Christmas time, he was asked to work out his notice and he left Paris for the Netherlands on April 1, 1876.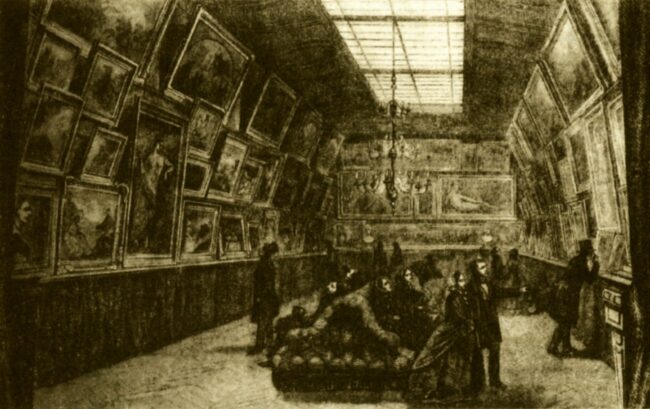 During the next decade, the itinerant Vincent tried his hand at many things. From preaching to teaching, nothing took hold. His  theological studies were incomplete and while working as a missionary in the poverty-stricken area of the Borinage, he became as one with his parishioners. However, church authorities dismissed him for undermining the dignity of the priesthood.  
Despite his dislike of formality, Vincent enrolled in Brussel's Académie Royale des Beaux-Arts where he studied anatomy and perspective. Around this time Vincent's younger brother Theo began to send him painting supplies and an allowance.  
Vincent wrote over 650 letters to Theo over a period of 15 years. However, Vincent's letter writing trailed off in 1886. Why? Because Vincent, now a self-proclaimed artist, returned to Paris, Theo's new home base. The brothers were despondent over the sudden death of their father in 1885, and when Theo invited Vincent to join him in Paris, Vincent jumped at the chance. Vincent's arrival however was expected a few months later. Theo was surprised to receive a note Vincent had dashed off from the train station, advising, "…don't be cross with me that I've come all of a sudden."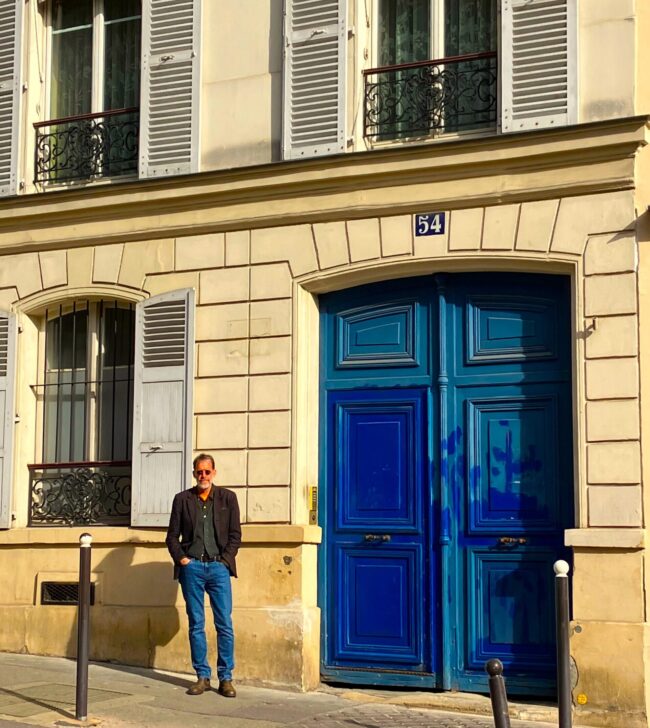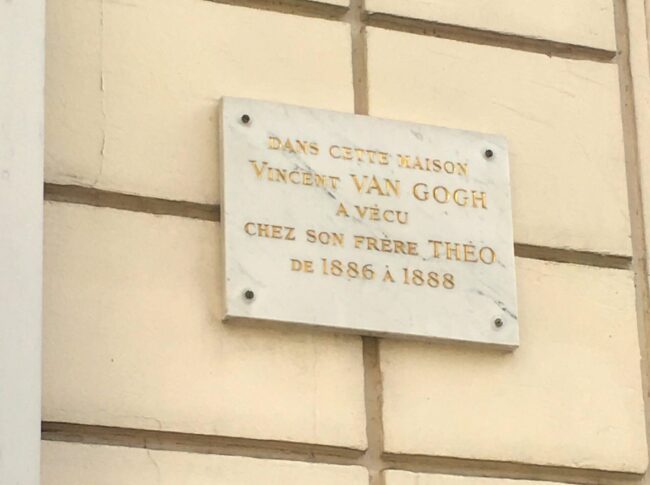 Theo worked for Boussod, Valadon & Cie, located at 19 Boulevard Montmartre, a firm of art dealers that sprung from Goupils –  the training ground of both Van Gogh brothers. The duo briefly shared Theo's small apartment at 25 Rue de Laval – today Rue Victor Masse, throughout the spring of 1886. The lodgings were so small that Vincent couldn't even set up his easel. The brothers moved to a larger flat at 54 rue Lepic in June of that year. The once conspicuous plaque had been removed from the building when I was there in 2022 and paint was sprayed over a frustrating remnant of graffiti on the royal blue door. Van Gogh's View of Montmartre is painted from his apartment window.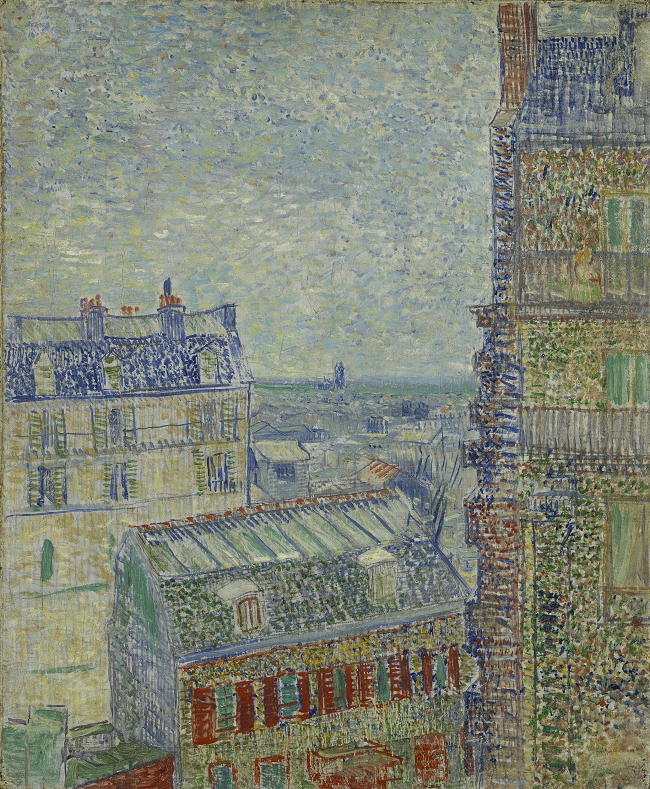 Paris had a an inspiring artistic community. Hoping this setting would help him grow as an artist, Vincent joined the atelier libre of the academic painter Fernand Cormon in the spring of 1886. Cormon's private school was located at 104 Boulevard Clichy mere steps from where the Moulin Rouge stands today. Attending just once or twice a week, Vincent, known by his first name only, made friends there, one of whom was Toulouse-Lautrec.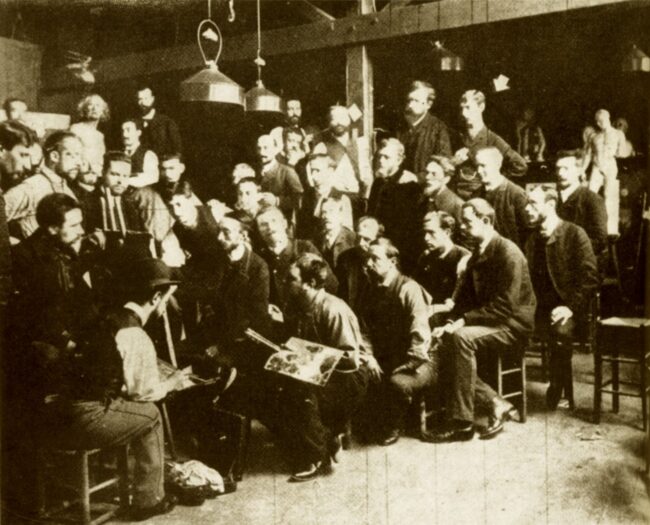 The odd duo frequented Café du Tambourin at 62 Boulevard de Clichy – the café where in 1887 Toulouse-Lautrec spontaneously drew a charming pastel of Vincent in profile. Rumour had it Vincent was in a relationship with Agostina Segatori, the café's proprietor. She gave him some meals in return for a few paintings a week. The walls were lined with Van Gogh's work, but, when the café went bankrupt and a fight broke out, Vincent left with all his paintings in a wheelbarrow.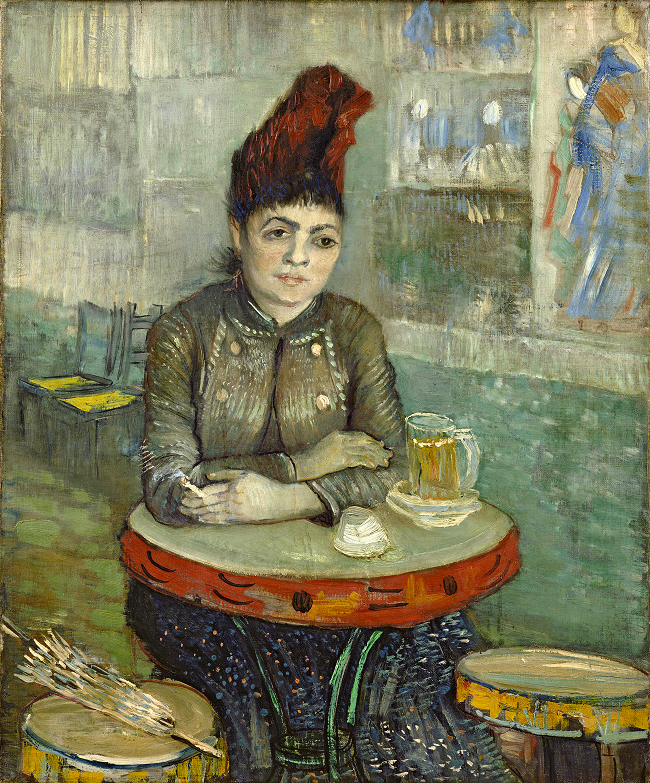 The array of colors at Julien's, AKA Père Tanguy's, paint shop at 14 rue Clauzel, fascinated young painters and became an important meeting place for them. In lieu of payment, Tanguy displayed the work of the up-and-comers in his shop window. Thus Tanguy's storefront became a pop-up gallery where painters were introduced to the work of their colleagues. Here Vincent became acquainted with the works of Emile Bernard, Paul Signac and Paul Gauguin. In 2023 the address is a jeweler bearing Tanguy's name.  
In the spring of 1887, model and painter Suzanne Valadon recalled Vincent bringing one of his paintings to a party at Toulouse-Lautrec's second-floor studio at 7 rue Tourlaque. Valadon said that Vincent arrived "with a large canvas under his arm, which he set up in a corner in a good light. And then he waited to be noticed. No one looked. No one said anything. He sat in front of it, trying timidly to coax a word of encouragement from their conversations. Then at last, wearied, he left, taking his picture with him."  
Despite Valadon's rather sad recollection of him, Vincent did have friends and acquaintances other than Toulouse-Lautrec. One of his lasting friends was Emile Bernard. He also became friends with pointillist Paul Signac. His friend from Cormon's, Australian artist John Russell, painted a very accurate likeness of Vincent in his studio at 15 Impasse Helene, the Villa des Arts, off today's rue Hégésippe Moreau.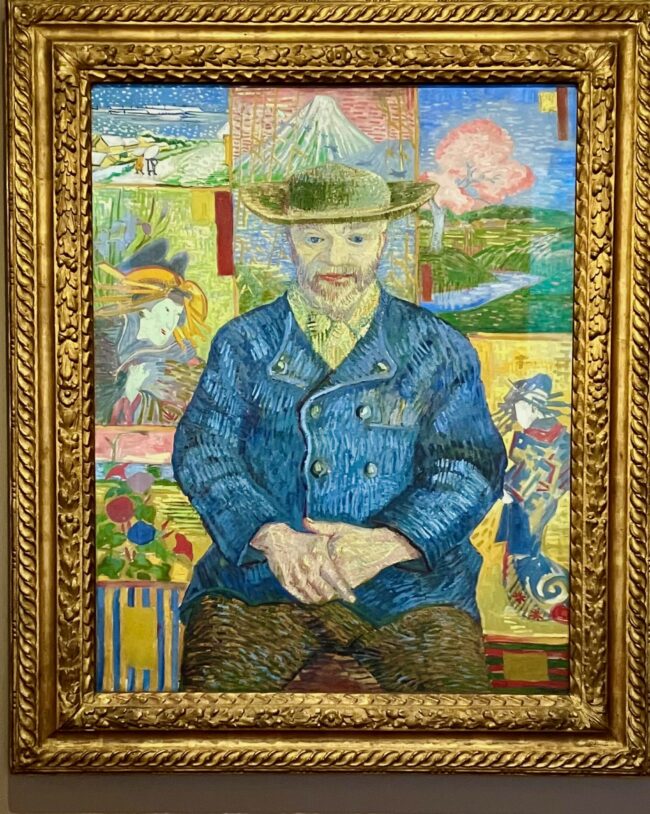 Vincent took his easel up the slopes of Montmartre to paint this still very rustic quarter. He went down to Clichy, Saint-Ouen and Asnières to the banks of the Seine where the paint-spattered artist sometimes painted with Signac, Bernard and Impressionist Armand Guillaumin.  
In his two years in Paris, Vincent completed over 100 paintings. In November of 1887, Vincent organized an exhibition at the Grand Bouillon-Restaurant du Chalet, 43, avenue de Clichy, featuring the works of Louis Anquetin, Bernard, Toulouse-Lautrec, Arnold Hendrik Koning, and Guillaumin. Georges Seurat and Paul Gauguin visited the exhibition. Vincent formed a bond with Gauguin; their friendship gave rise to some lively discussion.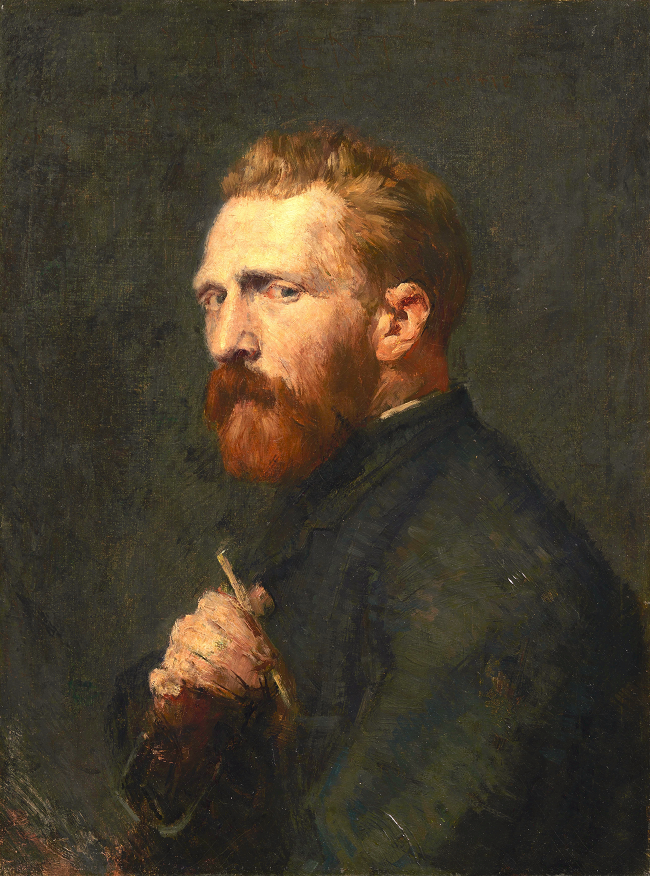 By this time Theo was so tired of Vincent's argumentativeness that he wished he'd moved out, which made Vincent all the more determined to stay. But leave he did. On February 21, 1888 he left Paris for Arles with the dream of creating an artist's commune with Gauguin and others.  
Posthumously in 1891, the diminutive Toulouse-Lautrec rose to challenge a critic of Vincent Van Gogh to a duel. Signac declared coldly that if Lautrec were killed he'd gladly take over the affair himself. Needless to say, the duel didn't take place.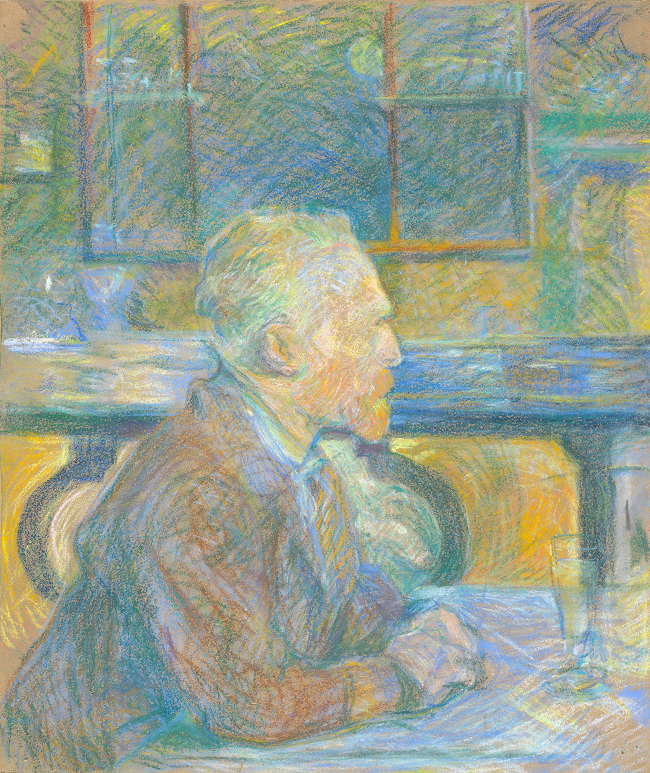 Lead photo credit : Galerie Goupil, place de l'Opéra Paris. Public domain
More in Art, Paris history, Van Gogh
---
---
Comments