Henri Matisse and Lydia Delectorskaya, An Extraordinary Partnership
The extraordinary partnership of Matisse and Lydia Delectorskaya started inauspiciously enough in 1930 when she was hired to take care of his invalid wife Amélie.
Matisse had married Amélie in 1898. He had been born in Picardy in 1869 and was encouraged to study law by his father but after starting drawing lessons at the local école Quentin de La Tour, he quickly progressed to oils in 1891 and gave up any pretense of continuing law. Matisse returned to Paris determined to become a professional artist. Unlike many typical left bank artists, Matisse's rigid work ethic was already irrevocably set and he studied and painted with an almost obsessive discipline. Easy to understand then, that some 40 years later, Lydia Delectorskaya was to become an irreplaceable figure in his life.
They met in the South of France. Delectorskaya was a penniless Russian émigré who had been left an orphan in Siberia in 1922 and had fled to France with her aunt to escape the Russian Revolution. Intelligent enough to be accepted at the Sorbonne to study medicine, but too poor to pay the fees, Delectorskaya was impelled to trade on her good looks to make a living, working as a dancer, model and film extra on the Riviera. Initially she modeled for Matisse and was paid 500 francs which her then partner blew the same evening at the Casino. Delectorskaya immediately entered a marathon dance competition to repay the debt. Matisse, impressed by her ingenuity and hard work later hired her to look after his wife.
Matisse mirrored the failures and successes of many of his contemporary artists in his early years. He studied initially at the Académie Julian, a rather old fashioned, bourgeois academy before enrolling for classes at the Ecole des Arts Décoratifs, the atelier of the symbolist painter, Gustave Moreau. This was the era of Post Impressionism in Paris, heavily influenced by the likes of Cézanne, Gauguin and Van Gogh. Matisse studied painters and paintings all his life but always remained his own man true to his instincts and beliefs irrespective of fashion.
In 1896, he exhibited four paintings at the Salon of the Société nationale des beaux-arts. So successful were his exhibits, he was elected an associate member of the Salon Society with the government even purchasing his 'Woman Reading'. This was undoubtedly the affirmation Matisse needed to embolden his own artistic style and probably the confidence to marry Amélie two years later.
Between his marriage to Amélie and meeting Delectorskaya, Matisse traveled extensively, exposing himself to the styles of diverse painters of the time. In Brittany he admired the works of Pissarro and Gustave Caillebotte and subsequently submitted 'The Dinner Table' to the Salon, causing a minor scandal. In London he studied Turner's paintings, but it was perhaps Matisse's journeys to Corsica and the Mediterranean– being surrounded by the bold, vibrant colors of the sea and countryside– which were to influence him even more.
Back in Paris and drawn to the effects of Pointillism on color, Matisse began painting outdoor scenes from the window of his apartment overlooking the Seine.
Matisse was often on the verge of financial disaster and despite the recognition of his peers, the precariousness of his situation was exacerbated by the need to support his wife and their three children. The failure of his one man show at Vollard's gallery in 1904 was an especially bitter blow.
1905 found Matisse in Collioure, the small picturesque fishing village in the south of France beloved then (and now) by painters. Matisse had always been open to new methods of painting and here in Collioure he abandoned pointillism and embraced instead a less structured representation using vibrant swirls and slabs of color. Reinvigorated, Matisse painted, 'Open Window, Collioure' and 'Woman with Hat'. He exhibited both at the Salon d'Automne in Paris. The group of artists who were painting in this looser, bolder style were inevitably given a name, 'Les Fauves' (wild beasts) and Fauvism was born. Georges Braque, André Derain and Raoul Dufy were prominent members of Les Fauves.
However being a leading figure in the Fauves, did not ensure financial stability, but due to the exhibition in Paris, Matisse came to the attention of the most influential American art collectors in Paris and his fortunes changed almost overnight.
Gertrude Stein
, along with her brothers Leo and Michael, were without doubt the most important art collectors living in Paris and began collecting among others, the works of Matisse. The Steins were not only the saviors of many an impoverished Parisian artist of the time but also used their influence to expose them to a wider international public, ensuring them varying degrees of fame and fortune.
By 1930, when Delectorskaya joined the Matisse household, Matisse's precarious financial situation had abated. Delectorskaya evolved with frightening efficiency from simply being Amélie's caregiver, to Matisse's factotum, in charge not only of household affairs but of all things pertaining to his studio.
Three years later, Lydia became Matisse's sole model. What was even more unusual for the time, the relationship between artist and model did not stray into the sexual. Both Matisse and Delectorskaya always denied they were ever lovers. Matisse, 40 years Lydia's senior, stated that he was too committed to painting to waste his time on having sex with his models. There has never been a hint of proof to the contrary. Indeed, in a TV interview with Delectorskaya after Matisse's death, she stated that he was so committed to his painting that she would be roundly chastised if she appeared 10 minutes late for a modeling session.
Despite any lack of evidence that there was a sexual relationship between Matisse and Lydia, Amélie became jealous and unhappy with Delectorskaya's role in the household. Feeling usurped in her own home, Amélie arose from her invalid bed and gave her husband the age old ultimatum-'it's me or her'.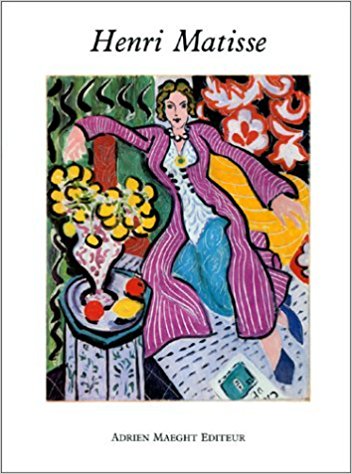 Matisse chose his wife and sacked Delectorskaya. Delectorskaya was so distraught, she attempted to shoot herself. Matisse was more than fortunate that Delectorskaya forgave him and returned when Amélie left him, abandoning the marriage.
From then on it was to be Matisse and Delectorskaya, bound together in something stronger than even marriage ties. It was Delectorskaya who saw Matisse through an operation for cancer in 1941, that Matisse was not expected to survive.
Delectorskaya's influence on Matisse is inestimable; her calm support, unerring companionship and orderliness removed all the tedium of day to day living for Matisse, allowing him to concentrate solely on his passion for painting. However for Delectorskaya, her passion for looking after Matisse, gave her a sense of purpose and power she had never before experienced and she credited Matisse for a life fulfilled.
Matisse never lost his urge to paint, to reinvent himself. His art changed and evolved; he refused to stay still. His innovative cut-out flower shapes were not the works expected of a man in his 80s. His stunning installation in the chapel at Vence was overseen and coordinated for the four years until completion by his ever present, talented factotum and companion, Delectorskaya.
Matisse's last painting was of Lydia– finished the day before he died in 1954.
Delectorskaya, with her innate sensibility, and never having been accepted by Matisse's family, left the home she had shared with Matisse the next day, leaving the funeral arrangements to his family.
Delectorskaya lived another 34 years, dying in Paris in 1998. Her homage to Matisse was two autobiographical books on the artist and man she had shared her life with, and knew better than anyone else. She had already donated her paintings to the Hermitage Museum in St Petersburg.
It is impossible to imagine any other artist being blessed with a Lydia Delectorskaya in his life.
Matisse had much to be grateful for.
Leave a reply
Your email address will not be published. Required fields are marked *