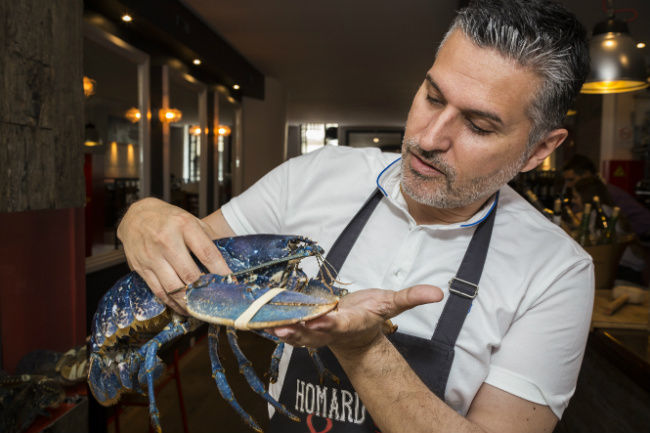 Homard&Chips
"It's the Frenchie variation on a theme of 'ze English Fish & chips'," says Stéphane Dumont, whose lobster concept restaurant launched in Paris recently. Previously Stéphane lived and worked in the Seychelles and Brittany and, returning to France, launched the first Homard&Chips in Dinard before beginning his Parisian adventure.
In an atmosphere that's friendly, but not haute design, European blue lobsters from Breton, Irish or Welsh coasts live in seawater tanks installed in the restaurant. "I like my lobster plain, slightly buttered and grilled with a touch of fresh pepper," Stéphane admits. Yum!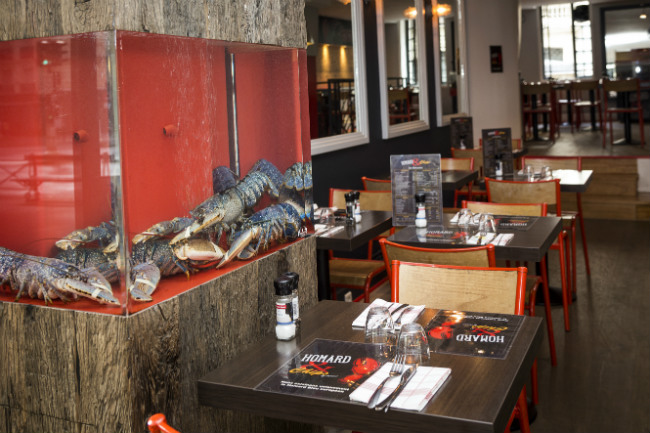 Choose your crustacean – cooked fresh for you. Flamed with whisky, cognac, or armagnac if you want. Match with fragrant sauces: coconut milk / mango or porto blanc / coriandre.  For lunch and dinner (20€ including coffee at lunchtime), there's half-lobster (250g) and perfect fries made with sweet Charlotte de Bretagne potatoes. While waiting snack on warm lobster bisque, accras, rillettes, salads with warm baked bread from the bakery opposite. House made desserts include excellent cheesecake, rum baba, Souffle glacé au caramel, gluten free warm chocolate cake. Wines, include the house "Le Blanc (or Le Rouge) du Homard" (€4.50 or €15). Or, there's beer and lager on tap. If they like the cut of your jib they'll pour you a glass of excellent rum – made by the patron – and a doggy bag ! A La Carte three (huge) courses about €44 + wine – and via www.deliveroo.fr
165 Boulevard de Montparnasse, 6th. Metro: Vavin. Tel: 01 42 39 08 28. Open 7/7. Website: www.homardandchips.com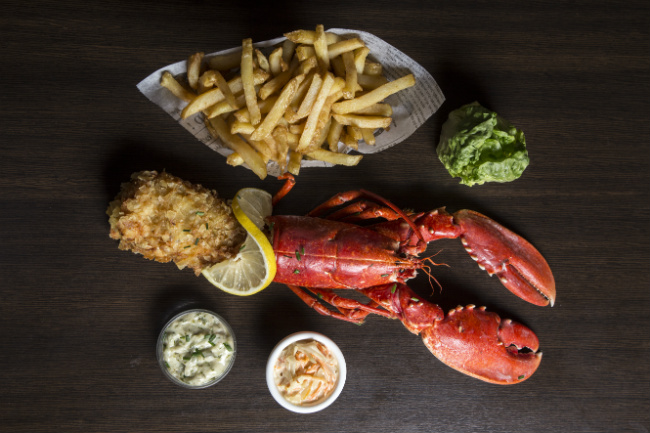 RadioEat
Opened last July, overlooking the Seine and the Eiffel Tower, RadioEat is located in the iconic 1960s roundhouse that is The Maison de la Radio building – designed by architect Henry Bernard. Head up to the first floor Galerie Seine and discover the exciting project brought to life by Eric Wapler, with Franck Benguigui, Claudio Épiscopo and – at the pianos – chef Thierry Bassard.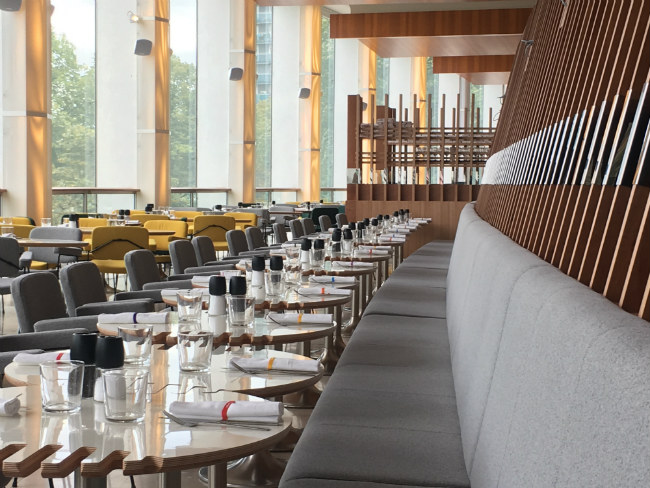 With contemporary decor by Stéphane Maupin, the bright room seats 140 (the best tables are in front of floor-to-ceiling bay windows with views of the Eiffel Tower).
There's the daily changing lunch formula (from €21). A La Carte choose "Avant Tout" fresh pressed juices and smoothies (from €5.50) or a glass of Petit Chablis (€9 bottle €35). Starters include plump Burrata, multicolor tomatoes (€15), Creole shrimp salad with citrus and avocado plus rice and spicy Vietnam pepper (€10), plus Artichoke carpaccio, vinaigrette, ricotta and shizo (€13). Mains today were: Sole meunière with vegetables (€35); Vitello tonnato (€19) salad and sautéed potatoes with herbs or fries. Portions are generous, service spot on. As is the no sulfite organic Costières de Nîmes AOP – Domaine de la Jardine (€7 or €32). Other options include the Cheeseburger (€22), Caramel chicken with lemon condiment and basmati rice (€18), and Beef tartare Thai style (€21).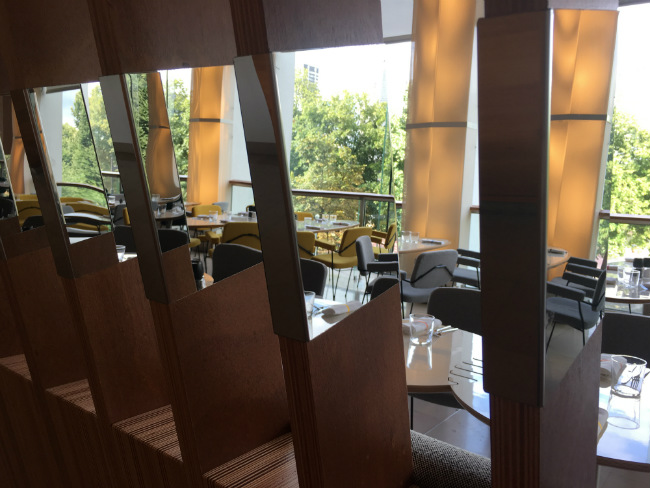 Finish with cheeses by Eric Lefèbvre (€12); lemon cheesecake & strawberry ice cream (€12); or Grandma's apricot, almond and hazlenut cake, with vanilla ice cream (€9). 
Post lunch/dinner pop, upstairs to the newly opened bar space for a digestif and, for cigar aficionados – the fumoir (and live music) awaits.
Need to Know: Maison de la Radio offers numerous cultural projects – concerts, events, public broadcasts, tours, family workshops, shows, etc.
116 Avenue du President Kennedy, 75016. Metro: Ranelagh. Open 7/7. Tel: 01 47 20 00 29. Website: http://www.maisondelaradio.fr/page/restaurant-bar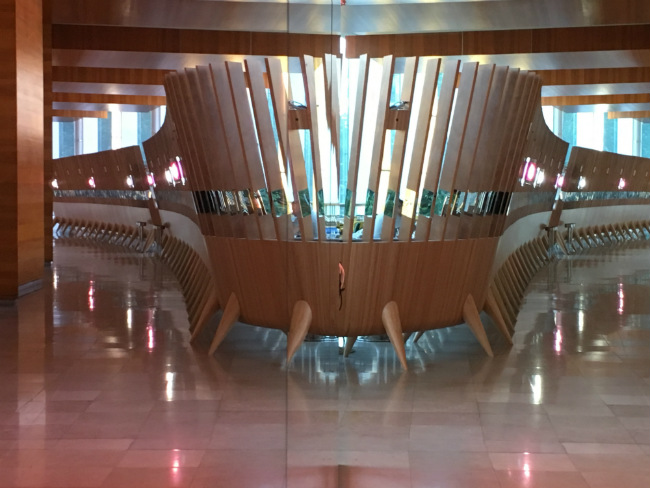 Cafe de la Paix & The Carlton Cannes
To extend the summer at least until October 15, 2017 – The InterContinental Paris Le Grand is "hosting" the iconic Carlton Cannes in the restaurant… offering Parisians a glimpse of Cannes. In addition to its traditional menu, Café de la Paix (opened in 1862) will offer a selection of each restaurant's signatures with La Croisette attitude in one direction and Place de L'Opera in the other.
Executive chef Laurent André will be sending out Riviera inspired chickpea tuna panisses, caviar d'aubergine, tomatoes, sweet peppers and caper vinaigrette (€34); Saddle of tender Provençe lamb crusted with basilic pistou, polenta and figs (€42); and Tarte au Citron Carlton (€14).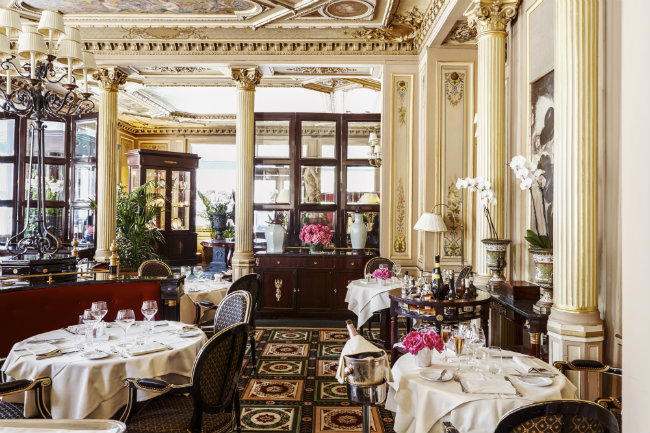 Returning the compliment, Executive chef Laurent Bunel and his brigade at The legendary InterContinental Carlton Cannes (circa 1910) will cook selected signature dishes of Café de la Paix. Facing the blue Mediterranean, the classics of the famous restaurant located opposite Garnier's Opera House will include Burgundy snail with hazlenuts (€31); Chicken quenellles (dumplings) Parisienne style (€33; and vanilla mille-feuille "Café de la Paix" (€20).
5 Place de l'Opéra, 9th. Metro: Opéra. Tel: 01 40 07 36 36. Open 7/7. Website: www.cafedelapaix.fr/en/cards-menus.html 
Intercontinental Hotel Cannes, 58 Boulevard de La Croisette, 06400 Cannes. Tel: 04 93 06 40 06. Website: http://www.carlton-cannes.com/en/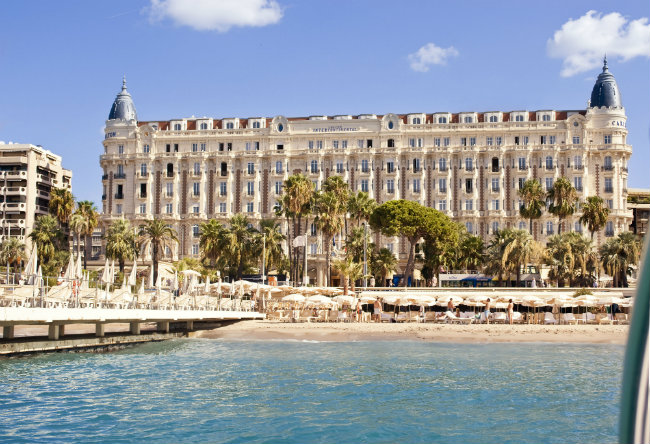 Le Bouclard
This translates as 'the boutique" in French slang and incorporates la Confrerie du Pastrami. Owner bon viveur Michel Bonnemort, who spent 25 years in New York, is responsible for the lively and unique atmosphere in this charming 35-seat bistro dedicated to his French grandmother Rosalie. Located near the Moulin Rouge and the cabarets and theatres of Montmartre, pre-show dinners are served from Monday-Saturday from 6- 7:30 pm.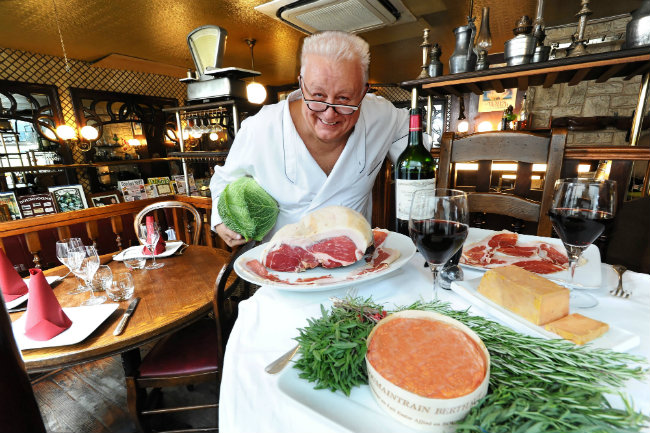 The cuisine taps into soothing Southwest farmhouse cooking: Begin with, say, Cabbage wrapped foie gras, with a touch of pastrami or oeufs meurette. Continue with rib-sticking crawfish gratin cooked in Mâcon wine or Poulet Rosalie, braised chicken with mustard vanilla and tarragon. Save stomach space for Omelette Norwegian flambéed at your table! (Menu/Carte 49€) And also salt beef, foie gras, Dallas Ruben, Montecristo sandwiches to eat in or take out from €17-€28.  
1 rue Cavalotti, 18th. Metro: Place Clichy. Tel: 01 45 22 60 01. Lunch Tues.-Fri,, Dinner Mon.-Sat. Open until 10:30pm Website: http://www.bouclard.com/restaurant/english-version/the-restaurant/
And also:
Bistro Brute (Organic) by Mickael Poyault: 36 rue de Berri, 8th. Metro: Saint-Philippe du Roule. Tel: 01 42 25 02 76. Website: www.bistrobrute.com