Valentine's Day 2021: Chocolate and Dinner Ideas in Paris
All you need is love – and a little chocolate.
This year, Valentine's Day may look a little different, but that doesn't mean that the most romantic day of the year will be any less special! Paris chefs and pâtissiers have devised some tasty ways to celebrate. Whether you're looking for a chocolate gift or a gourmet feast to enjoy at home, here are some recommendations.
[Pictured above: Les Pommes d'Amour by Cédric Grolet at Le Meurice. Photo: Pierre Monetta]
Le Meurice
The palace hotel's Valentine festin is delivered, chez vous, by the triple talents of Alain Ducasse, Executive chef Amaury Bouhours and Cédric Grolet, the world's best pastry chef. Start with an amuse bouche of salsify tart with black truffle. Then there's marinated scallops served with pear & cardamom, followed by Sea bream with smoked beet and tarragon. Not forgetting the fish course (grilled Saint-Pierre with butternut squash and olive) and meat course (organic, milk-fed veal with chard, dill and sweet onions. Dessert? Grolet's lovely Love Apple, of course. Champagne? Moët & Chandon Brut Imperial. (The price is €180 per person). The menu is available for delivery on February 12th and 13th. Orders can be collected on February 12th, 13th & 14th at 228, rue de Rivoli (1st arrondissement) between 10 a.m. and 5:30 p.m. Then, follow the chefs' notes and smile, "yes, darling of course I made it."
Tel: 01 44 58 10 44 or email: [email protected]
Another option is Le Meurice à la Maison. Book lunch or dinner via their website. Menu: €70 per person – starter, main, dessert. Head somm Gabriel Veissier is there to discuss wine and bubbles.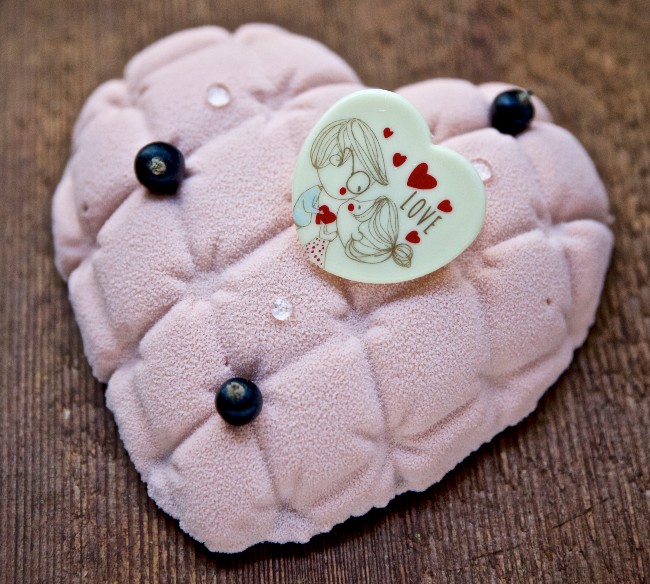 "Bring out your inner child with Marshmallow bears," says chef Michalak. Or try La Box Special (€78), brimming with goodies such as Valentine's Day Crumble Cake with lime ganache, passion guava coulis and macaron/ biscuit base. "Hearts" of hazelnut praline with dark chocolate coating / coconut and milk chocolate coating or praline pecan nuts and milk chocolate coating. And, the irresistible must-have, chic, Chanel-inspired, blackcurrant, lychee hearts (€24 for 2). Delivery throughout mainland France via Chronofresh.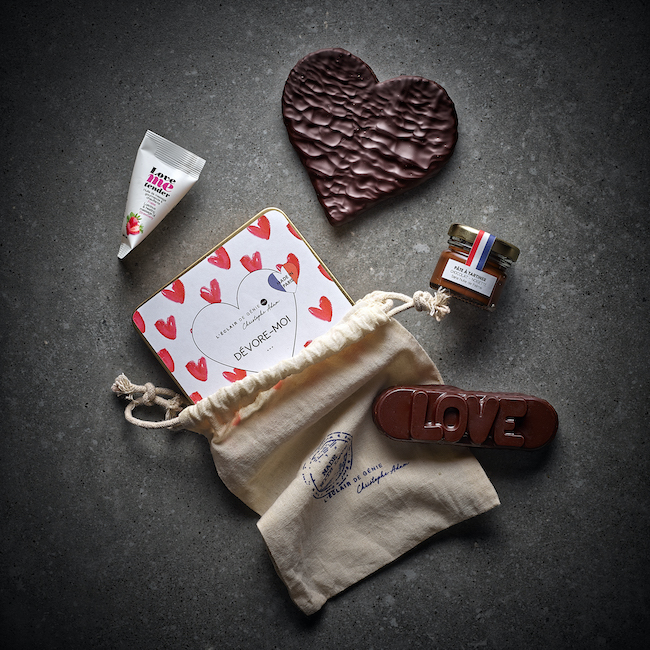 We've been huge fans of Christophe A since he launched his brilliant brand in 2012 – and his sexy Valentine Collection does not disappoint. This year consider the yummy XXL Electrochoc three-chocolate éclairfilled with love!  (€13.50) And/or the "one-night-stand pouch" (€15), comprising massage oil, a mini-jar of chocolate-hazelnut spread, a praline-coconut chocolate heart, and chocolate-raspberry-Iranian pistachio. Oh la la…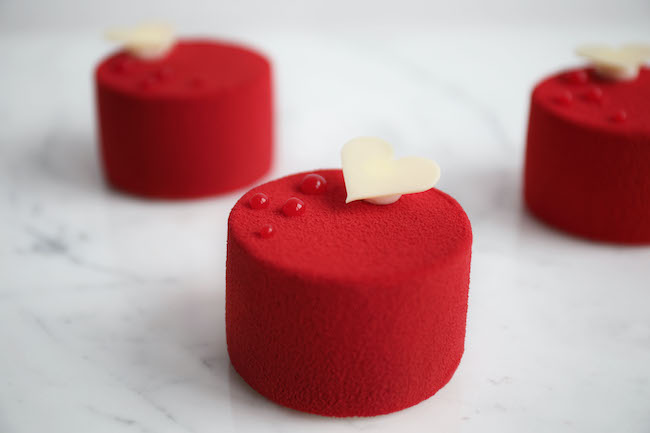 La Pâtisserie et La Chocolaterie Cyril Lignac
With fond memories of baking his mum's recipe fluffy marble cake as a child in the Aveyron region, TV chef and national treasure Cyril Lignac admits to a craving for marshmallow (who doesn't!?). For Valentine, in collab with pastry chef Benoît Couvrand, look for limited edition marshmallow hearts (from €9.50) and signature L'Equinoxe gateau (from €6), poised on a base of crushed Spéculoos. With a sexy red exterior, the interior's fragrant vanilla Bourbon cream. Available at all Lignac boutiques and via the website Gourmand Croquant.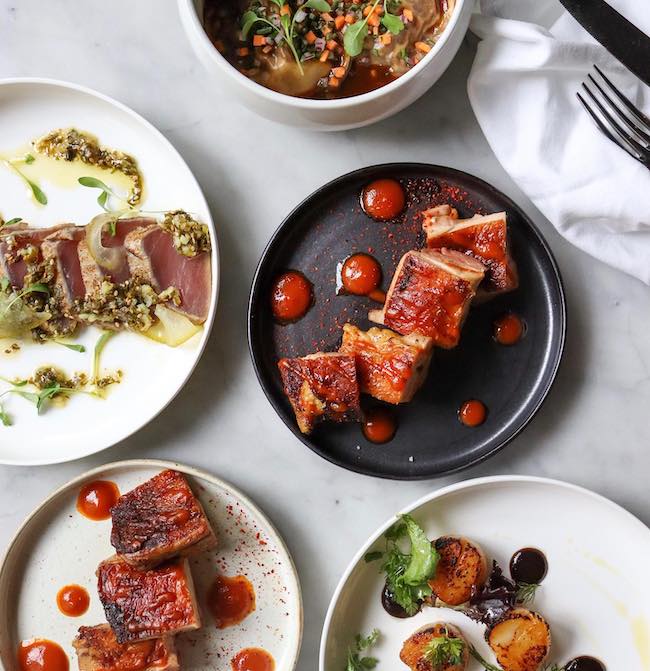 Fitzgerald
How many times have you looked longingly at your partner's plate, with food envy, sighing, "I ordered the wrong dish?" So, with a sense of humor, chefs Pierre-Thomas Clément and Lucas Felzine suggest a menu that solves the eternal problem. Wagyu & Shittake, balsamic sesame cream or Carpaccio of Saint Jacques. Mains include Linguine with crab and lobster bisque or Landes poultry supreme. Desserts: Lychee and rose flower or chocolate truffle tart? Priced at €190, the menu includes a bottle of bubbles by Billecart Salmon. Available chez Fitzgerald, 54 Boulevard de la Tour Maubourg, 7th by click & collect on February 14th from 5 p.m. Head to the Fitzgerald website, because you're worth it.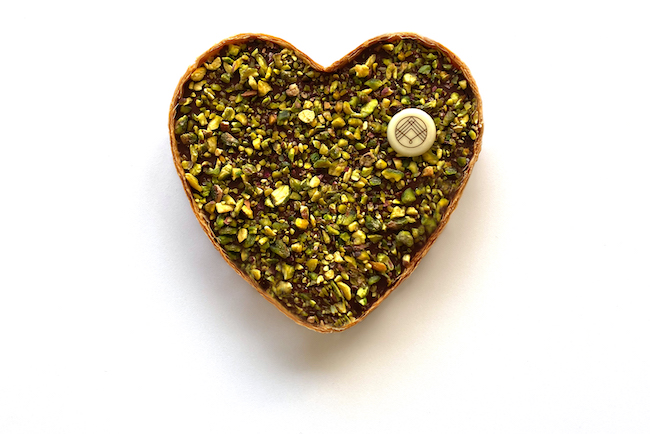 Maison Aleph
Find Myriam Sabet – Maison Aleph's founder – on the ground floor of Maison & Gourmet, Galeries Lafayette Haussmann, joining awesome culinary artisans including YC by Yann Couvreur, Maison Boissier, and Ferber jams. Myriam's spin, for Valentine's Day, is a heart-shape cake for two (€15), made with flaky pastry, golden Normandy butter filo pastry, and caramelized leaves. The crisp dough has an airy texture contrasting with the smooth and tender filling. Add pistachio Iranian praline and pure dark chocolate ganache plus a pinch of fleur de sel. Maison Aleph's other signatures are also available (like the Nids pâtissiers and Nids voyage, 1001 feuilles, Florentins, and delicious cakes).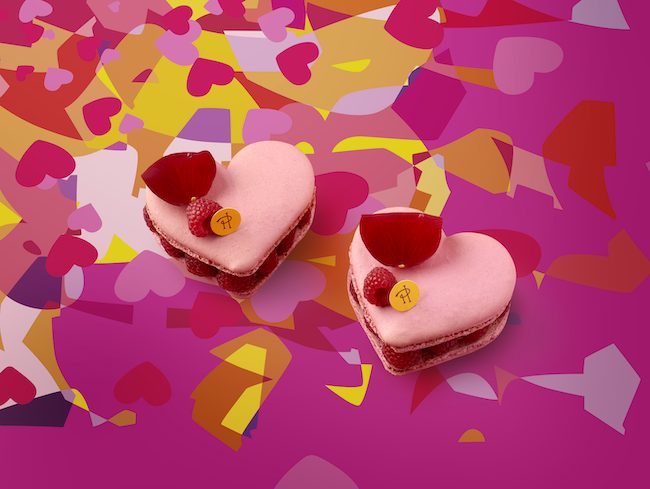 Pierre Hermé
Feeling the love, Pierre Hermé called out graffiti artist Cyril Phan, better known as Kongo, the self-taught painter, whose art draws on graffiti, stylized lettering and bright colors. Phan has etched an exclusive, attractive, chocolate-scape on Maison Pierre Herme's boxes of macarons and chocolate candies. Playing with the letters making the word "macaron", he gathers the graphics with symbolic hearts, "setting the hearts and gluttony of lovers on fire." Kongo's art provokes reactions, sensations, identical to the pleasure provided by the Picasso of pastry's confections. The graffiti boxes (macarons from €32 – chocolate bon bons from €21) are in all PH boutiques – while stock lasts – and via click n'collect at Pierre Hermé.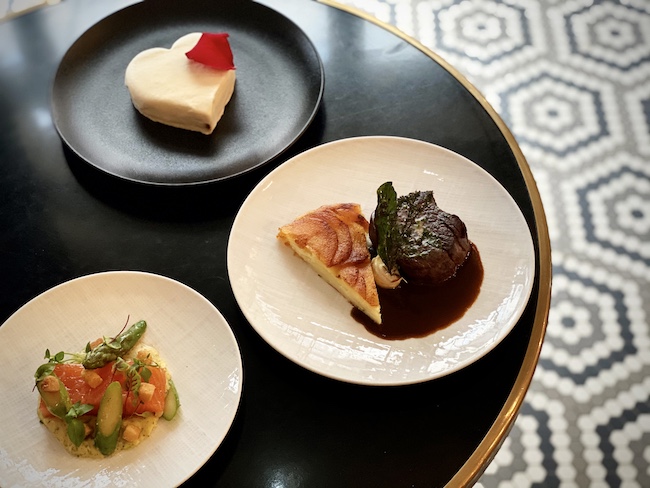 Lazare Chez Vous
From the Parvis of Gare Saint Lazare, Eric Frechon shares Valentine's dinner ("this is what we'll be eating chez moi") with you. The price is €69 per person. Don't forget the bubbles, say, Duval-Leroy Fleur de Champagne Brut Premier Cru (€37). The chef and his brigade look forward to welcoming you back to the storied brasserie soonest.
Tel: 01 44 90 80 80 Order now on Lazare Chez Vous.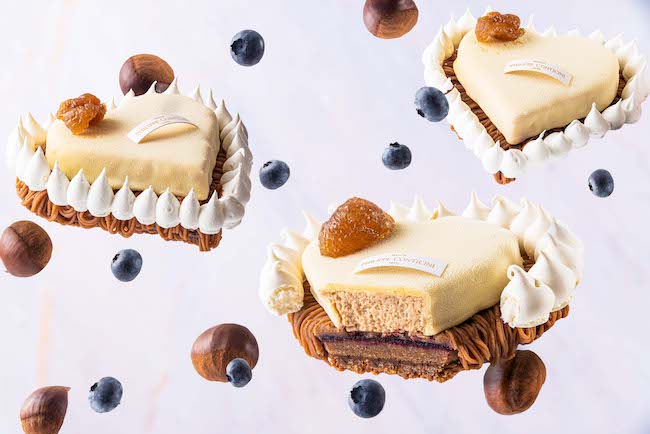 Maison Philippe Conticini
The traditional Mont-Blanc dessert – version Conticini – comprises delicate flavors with seasonal inspirations: chestnut mousse and vanilla. A smooth white chocolate coating tops the heart shaped Mont-Coeur gateau, add blueberry compôte, piped meringue and the crunch that comes from the perfect chocolate cookie. The Mont-Coeur serves two people and costs €18. Available until 19th February. Click & Collect order and delivery on the Philippe Conticini website or from Conticini's Paris boutiques.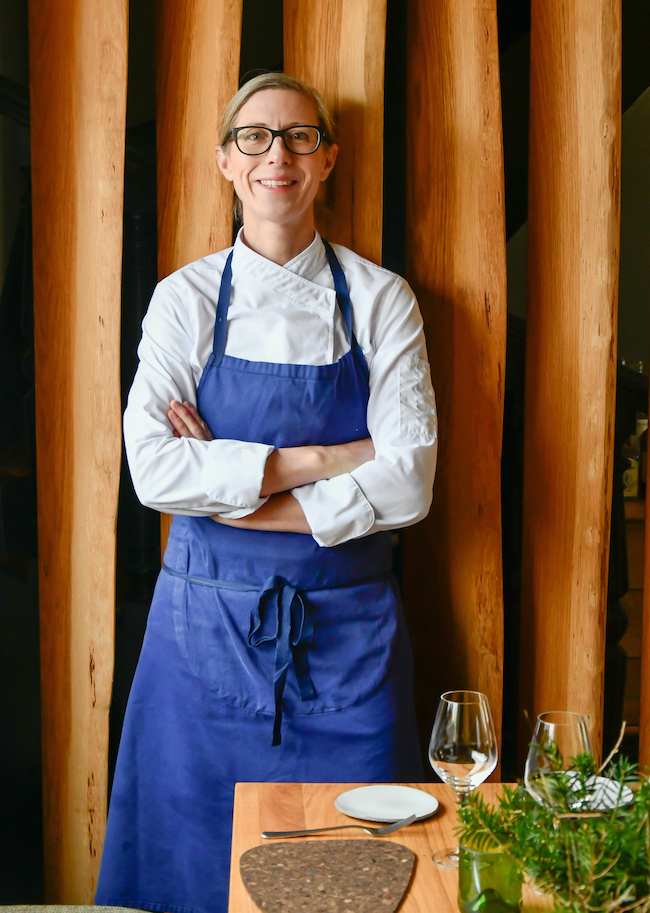 San Francisco-born cheffe Cybèle Idelot launched her eponymous restaurant at Boulogne-Billancourt in 2013 with husband Frank. Mission statement: "locavore, vegetal and zero waste". Vegetables are freshly pulled from Cybèle's allotment in the Yvelines at Domaine less Bruyeres. Sadly closed due to Covid-19, La Table de Cybèle hopes to open around the 4th February; until then they focus on take away and delivery with a daily, market-driven, seasonal carte. The four course + dessert (€75) Valentine's menu can be enjoyed either in the restaurant on Saturday 13th and Sunday 14th February – on click & collect or delivered.
38 rue de Meudon, Boulogne-Billancourt
Metro: Billancourt (Line 9)
Tel: 01 46 21 75 90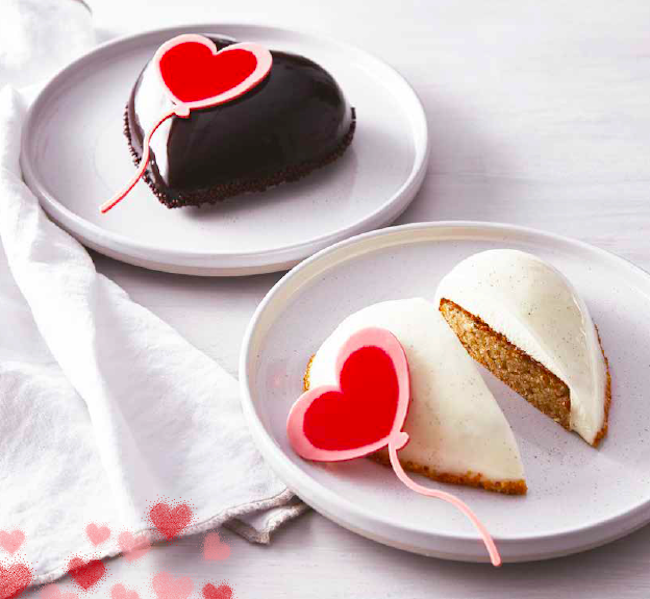 Lenôtre
"Love is in the air" tra la la…. via two delicate sweetheart confections by Lenôtre's pastry chefs in collaboration with Guy Krenzer, our favorite, talented Creative Director. One is the Pannacotta mousse dessert with Madagascar Bourbon vanilla,  the other's a tempting chocolate (non gluten) dessert. €20 each from Lenôtre boutiques.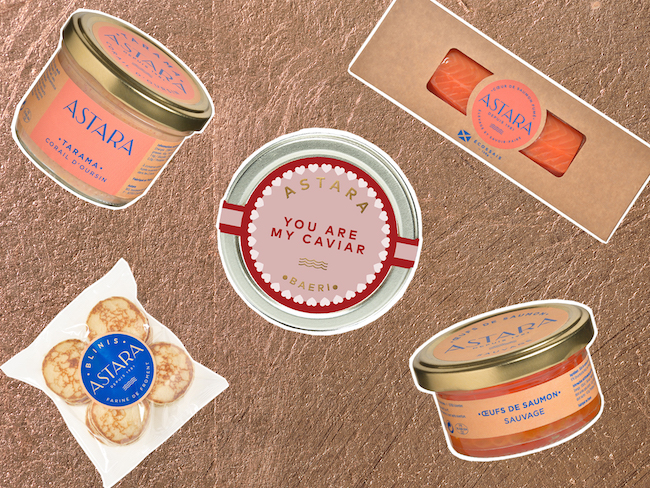 MAISON ASTARA
Splurge on a limited edition tin, YOU ARE MY CAVIAR (€35), packed with 30 grams of Baeri x 2 spoons. This black/grey caviar melts sensuously on the tongue and has a distinct flavor… so romantic. Want a little more? For €79, the luxury Valentine Box includes: Minis-Blinis, Mashed potatoes with summer truffles, Baeri caviar and two spoons, Norwegian smoked salmon heart, Tarama with summer truffle, Poulard pâte with foie gras, Praline chocolate hearts – order on La Halle des Gourmets.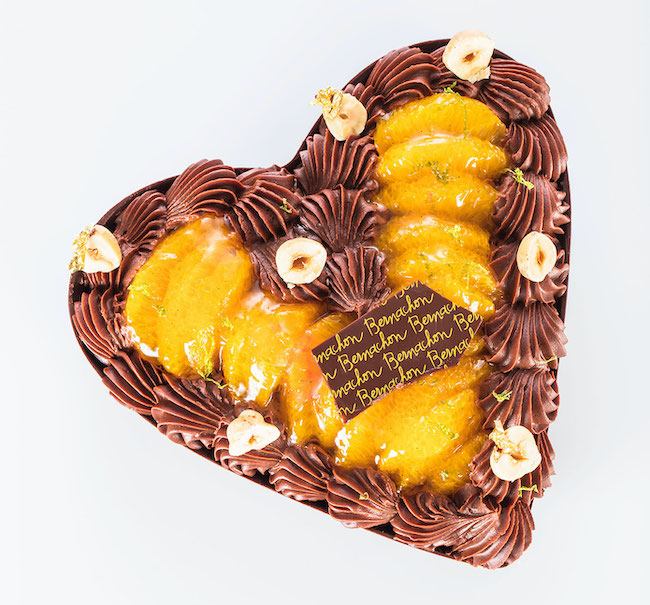 Lyon's favorite bean-to-bar chocolate maker (de père en fils depuis 1953) recently opened a chic Paris boutique and hits perfect notes with sublime hearts. Dark chocolate shell, hazelnut crust, creamy dark chocolate and hazelnut rosettes, cut with orange and supreme d'oranges.
127, Rue de Sèvres, 6th
Tel: 01 88 33 79 59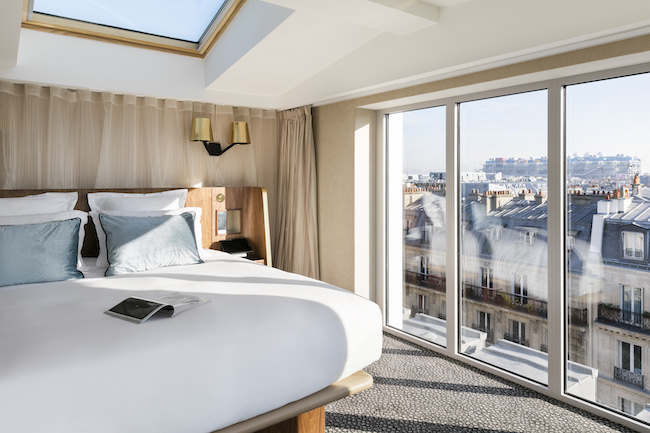 Get A Room
"Maison-Albar Hotels- Le Pont Neuf," is the romantic address on rue du Pont Neuf. A special tarif for Saint Val's is offered from €418 with all the trimmings such as champagne and macarons. Dinner, cocooned in-room, is by "Odette" (run by Maison Rostang), for €65 per person with dishes like Marinated salmon, Truffled gnocchi, Turbot meunière, and Millefeuille with rose litchi. You also have access to the Cinq Mondes Spa and the gym – but as it's Valentine's ignore this and work off the calories in other ways – maybe a moonlight walk across the Pont Neuf remembering when Christo wrapped it – and you met your first love?
23-25 rue du Pont Neuf, 1st
Metro: Pont Neuf
Tel: 01 44 88 92 60
Want to be inspired by more French foodie experiences and enjoy classic French food, wine and recipes? Head to our sister website, Taste of France, 

here

.
Lead photo credit : Les Pommes d'Amour by Cédric Grolet at Le Meurice. Photo: Pierre Monetta
More in chocolate, Paris pastry, Paris patisseries, patisseries, Valentine's Day
---
---
Comments