Taste of Paris 2021 at the Grand Palais Éphémère
Politics divide – good tables unite…
Mark your calendars. The 6th Edition of Taste is fast approaching… and it's a pop up! The popular event usually takes place at the Grand Palais, but after 120 years, the monument needs serious restoration, so Taste of Paris will move to a temporary location on the Champ-de-Mars Esplanade. And being French it's not just any old shack but a remarkably elegant, wood structure designed by über architect Jean-Michel Wilmotte. The curved double-vaulted frame fits perfectly into the landscape whose history is, like that of the Grand Palais, closely linked to the 1867 Universal Exhibition World Fair. The Grand Palais Ephémere will host exhibitions and defilés de mode through 2024.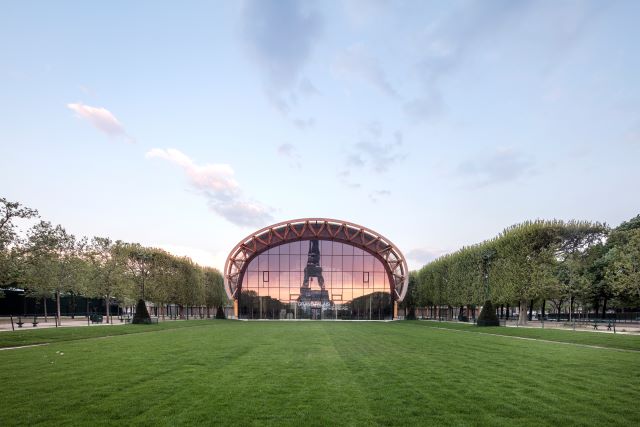 Quoi de Neuf?
This year the fab Food Festival opens the ball with cheffes Amandine Chaignot, Beatriz Gonzalez, Alessandra Montagne, Nina Metayer, Adeline Grattard, Ophelie Bares and Manon Fleury. They'll be on site at the « Ferrandi Restaurant » prepping daily signatures alongside students (tomorrow's talents) from Ecole Ferrandi.
Taste of Paris also salutes chefs who have made their marks throughout this especially difficult year, Mory Sacko, Matthias Marc, Adrien Ferrand and Antonin Bonnet.
Look for the « Ecotable Restaurant » bringing together environmentally committed chefs such as Alexandre Marchon and Victor Mercier, from Paris and Florent Piétravalle from La Mirande, Avignon.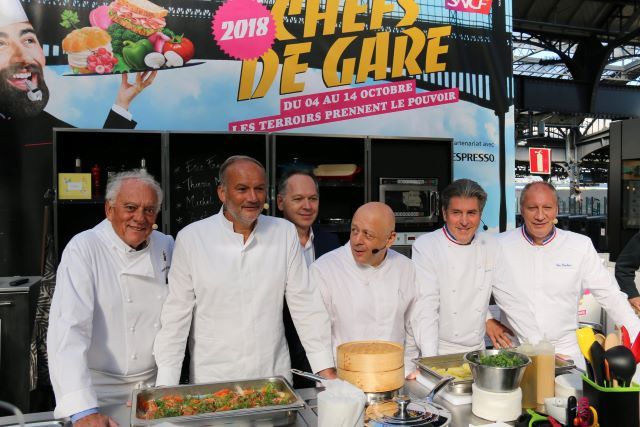 On September 16, 2021, Philip Chronopoulos, Executive Chef of the Michelin-star Palais Royal Restaurant and Nolinski Le Restaurant is giving three 45-minute cooking lessons in the Electrolux Workshop at 8 pm, 9:15 pm and 10:30 pm – check in at the Electrolux Booth on the day.
In the spotlight: The nonprofit organization Tout le Monde Contre Le Cancer with METRO welcomes French-born, American-based supercheffe Dominique Crenn (World's 50 Best cheffe) and Simone Zanoni of Le George, Four Seasons George V plus Yoni Saada and Ryuji Teshima & Co. Proceeds of their dishes are generously dedicated to the nonprofit.
"Chefs de Gare" gathers top chefs who have launched eateries in various railway stations like Eric Frechon, Christian Le Squer, Thierry Marx, and Michel Rostang. Event regulars will be eager to meet and greet with Kei Kobayashi, Frédéric Anton and Romain Meder spinning new ideas and creations.
This year Shangri La, La Bauhinia Restaurant Executive Chef Christophe Moret (**Michelin stars) heads a pop-up restaurant together with Samuel Le, chef at the Michelin * Shang Palace – and award winning Pastry Chef Maxence Barbot.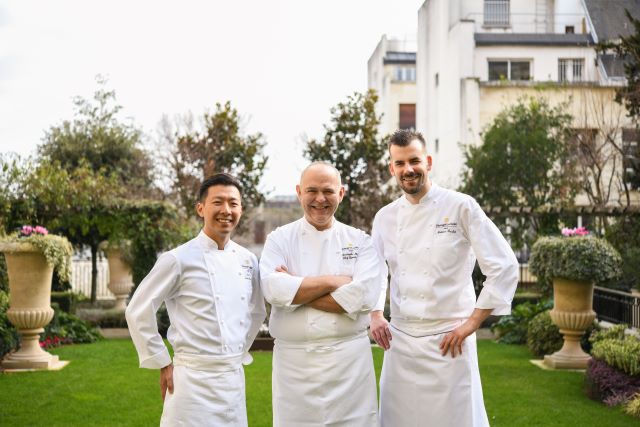 Ambitious, creative, passionate- the trio promise. "We'll introduce Taste of Paris gourmets to the subtle fusion of French and Asian gastronomy."
Add top-notch pastry chefs such as The Ritz Paris' François Perret, Claire Heitzler (Lasserre etc), Nina Metayer (The Delicatesserie, Printemps du Gôut), Fauchon's François Daubinet, Jeffrey Cagnes (Casse-Noisette, avenue de l'Opera), foxy Yann Couvreur (Paris, London) – it looks like a vintage year.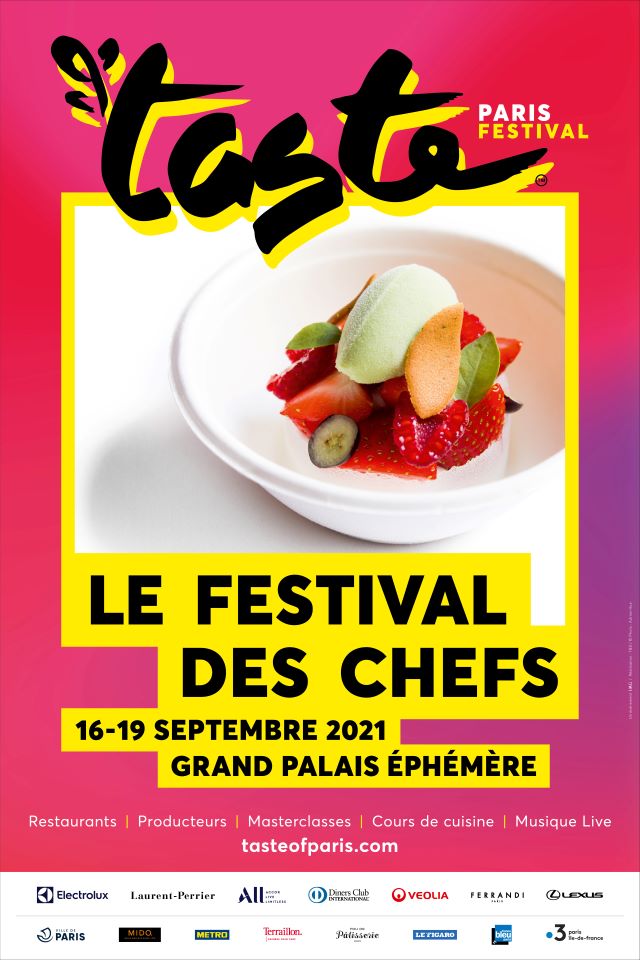 The Program:
Thursday 16th September: Eric Frechon – Lazare and Chefs de Gare: Antonin Bonnet / Quinsou Julia Sedefdjian / Baïeta et Cicéron/ Alan Geaam / Qasti Emmanuelle Riboud – Ressources – et Nicolas Conraux – La Butte / Restaurant Ecotable Pierre Marcolini / Pierre Marcolini Brussels Nicolas Paciello / Fouquet's Paris
Friday 17th September: Christian Le Squer – Paris Brest / Chefs de Gare: Romain Meder / Sapid Alessandra Montagne / Nosso Julien Sebbag / Forest Thibaut Spiwack – Anona – and Gaël Prigent – Le Labo Gustatif / Restaurant Ecotable Claire Heitzler / Pâtisserie Claire Heitzler Kevin Lacote / KL
Saturday 18th September: Matthias Marc / Substance Terroirs de Lorraine / Chefs de Gare: Stéphane Buron – Le Chabichou / Manufacture Kaviari Amandine Chaignot / Pouliche Moïse Sfez / Homer Lobster Alexandre Marchon – Marchon – + Clémence Gommy – Gomi / Restaurant Ecotable Jeffrey Cagnes / Pâtisserie Jeffrey Cagnes Quentin Lechat / Le Royal Monceau
Sunday 19th September: Mory Sacko / MoSuke
Le Train Bleu – Michel Rostang / Chefs de Gare: Guillaume Goupil – Le Burgundy / Manufacture Kaviari Beatriz Gonzalez / Coretta Adrien Ferrand / Brigade du Tigre Victor Mercier – FIEF – et Florent Piétravalle – La Mirande Restaurant Ecotable François Perret / Ritz Paris Le Comptoir Yann Couvreur / Pâtisserie Yann Couvreur
Book: Daytime session 11:30 am – 4 pm or from 7 pm – 11 pm, €25 per session or Tarif Premier VIP €80. Age 10-18 €15. Free for under 10 years old. Note all demos and masterclasses are included in the entry fee. For the free. cooking classes, sign up before each session.
Thursday 16th to Sunday, 19th September, 2021.
Grand Palais Ephémere,
Place Joffre, 7th
Metro: La Motte Piquet Grenelle/Bir Hakeim
www.tasteofparis.com
Lead photo credit : Taste of Paris - Participants © Vincent Nageotte
More in food festival, French chefs, Michelin star, Michelin starred restaurants in Paris, taste of Paris, The Ephémere
---
---