Summer in the City 2021: Food News in Paris
As the pandemic situation has improved in France, the health restrictions have been eased, with restaurants opening indoor spaces starting on June 9th. The curfew has also been extended until 11 p.m. To celebrate, here's a lovin' spoonful of delicious "quoi de neuf" destinations. "Breathe Paris in – it nourishes the soul," said Victor Hugo.
With shiny brass, polished woodwork, velvet banquettes, and ivory lacquer walls, this historic gem bistro (since 1932) is now owned by super siblings Margot and Félix Dumant who also head beloved eateries like Aux Bons Crus (11th), Aux Marches (16th), and La Pizzeria d´Auteuil (16th). Of course accents are on excellent Burgundy wines. "The odor of Burgundy, the smell of French sauces, the sight of clean napkins and long loaves knocked as a very welcome visitor at the door of our inner man," wrote Jerome K Jerome. Look for Macon-Fuissé from Domaine Giroux, Rully white by David Moret, and Givry red from Domaine Joblot. And, tap into the classics of French cuisine: oeufs mayo, La Paté en Croute, whole artichoke vinaigrette, Frog's Legs, Quenelles Natua, Catch of the Day (say sole Meunière), chicken with morels and epic French fries! Dessert? Soufflé Grand Marnier, bien sûr. The picture postcard terrace overlooks the Montorgueil 'hood. Who could ask for anything more? Lunch €25. Dinner from about €30.
3 rue, Bachaumont, 2nd
Metro: Sentier
Tel: 01 42 33 48 24
Open 7/7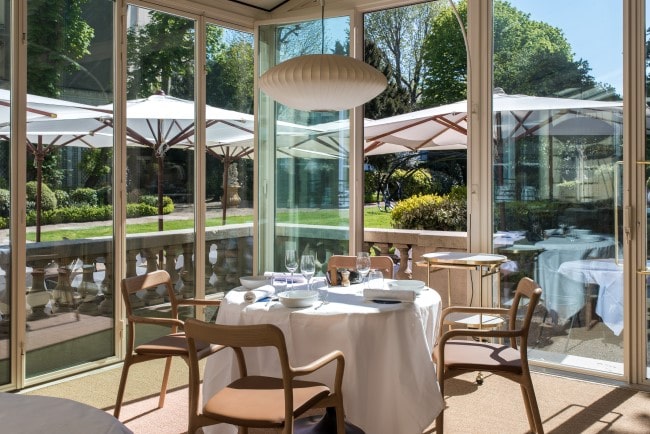 This handsome residence which houses La Maison de d'Amérique Latine is the new address for Alain Ducasse's restaurant Rech. Monsieur Rech first opened the epic fish and seafood destination in 1925- an Art Déco landmark in the 17th arrondissement, so it was a shock when it closed its doors. There's a happy ending, dear reader. Rech has now relocated to the left bank and MDLA has one of the most beautiful gardens in Paris. The Rech kitchens at La Maison de d'Amérique Latine are helmed by chef David Vignaud, who was chez Rech and the Louis XV Ducasse L' Hôtel de Paris in Monaco. Lunch menu from €36. Wine selection by Gérard Margeon, head sommelier of Alain Ducasse restaurants. If only they had a few rooms!
The House of Latin America Rech
217, Boulevard Saint Germain, 7th
Metro: Solférino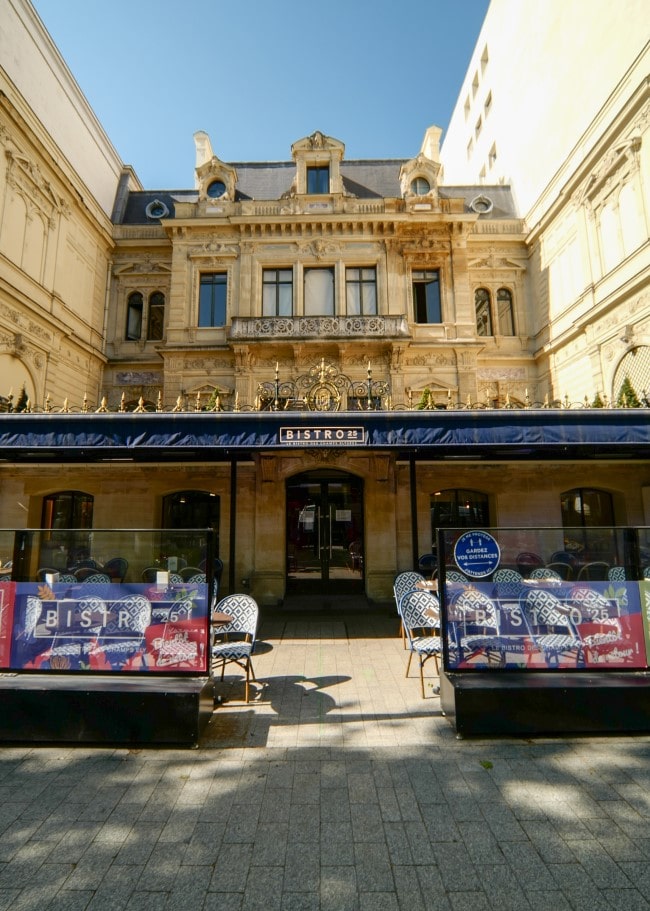 La Terraza – Giuseppe Cutraro x le Bistro 25
Check out the terrace fronting the listed building (Hôtel Païva) that houses The Travellers Club, close to the Rond Pont of the Champs Elysées. Giuseppe Cutraro, the proud "world pizza champion" from Napoli, says "France is my adopted country and Paris the capital of my heart, the city of my dreams." Order Peppe's World Champion pizza – Yellow tomato sauce, parma ham, provolone, mozzarella di bufala, grilled almonds, fig jam (€22) with a Bellini (€17). Sit back and dream of Napoli !
25 Avenue des Champs-Elysées, 8th
Metro: Franklin Roosevelt
Open 7/7
Terrace
Tel: 01 53 53 04 04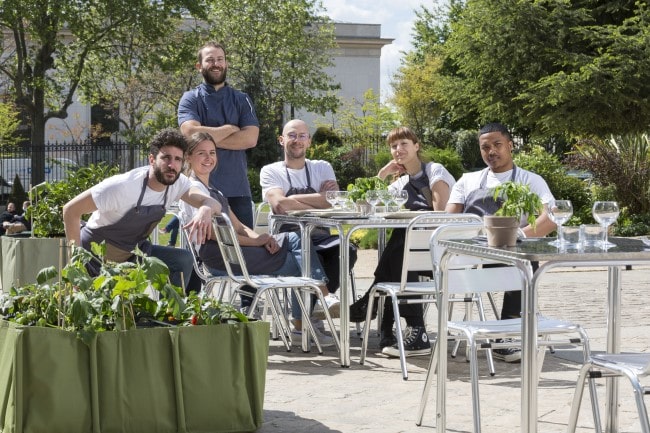 Framed in the pretty gardens of Palais Galliera, Musée de la Mode de la Ville de Paris, the chic terrace restaurant called "Les Petites Mains" is overseen by chef Vincent Mallo.
The blockbuster Gabrielle Chanel Exhibition  has been extended until July 18 and Les Petites Mains, named in homage to Chanel's haute couture dressmakers, is an oasis of calm in the middle of the 16th arrondissement.
You admired self-taught Vincent Mallo on M6 TV's Top Chef Season 5. For the summer season, Vinnie is super color co-ordinated with a market-driven menu. Vegetables (locavore) are "a la plancha," meats and fish seared with a flame of fire. There's also a "menu nibbles," served with a cocktail, glass of wine or iced tea. Or choose a starter like the asparagus, brioche, candied egg yolk, ginger oil (€14); followed by the Cod confit, fennel mousseline, combawa, baked Annabelle potato, bisque (€21); finishing with the strawberry wasabi basil tartlet (€16).
10 avenue Pierre Ier de Serbie, 16th
Metro: Alma-Marceau
Open 7/7 from 11am – 8.30pm until October 31 (open in August)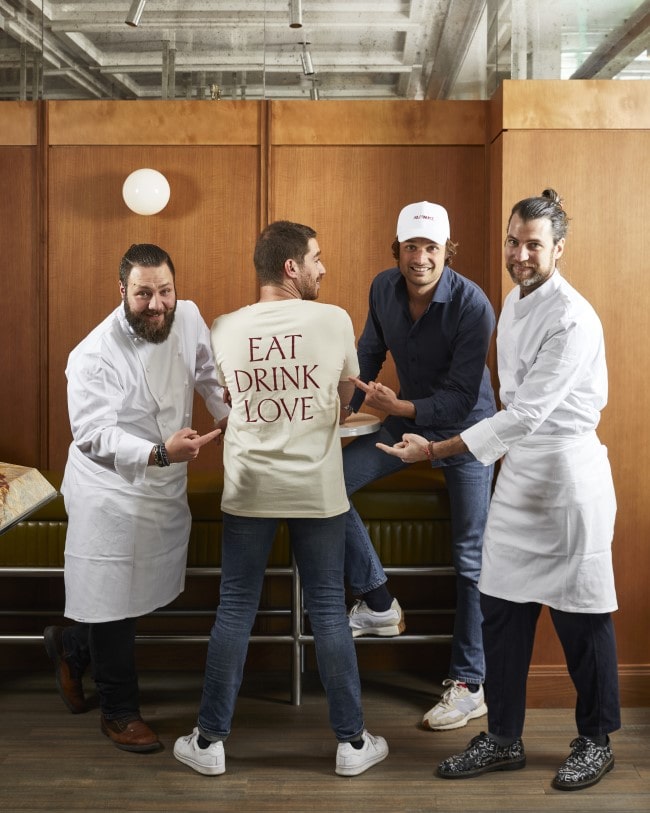 The mantra here is Eat – Drink – Love. The menu changes daily; match with wine and/or signature cocktails such as Abstinence Spritz, a pineapple-infused, aperol, ginger beer and prosecco delight. Wines by the glass are priced from €9. There's an "according to my mood" menu by chef Lucas Felzine at €35 (starter, main, dessert) or choose A La Carte dishes, say, white Landes Asparagus, jasmine and egg yolk confit (€14); Soft shell crab and chips (€17); Vanilla millefeuille, caramel grilled peanuts (€12). "Umami", it's all about the umami," insists chef Felzine.
47 avenue de la Motte Picquet, 7th
Dine In – Take out – Delivery
Tel: 01 42 77 80 09
Metro: La Motte Picquet
Open 7/7
Ducasse Culture, a major player catering for museums and cultural establishments in France and beyond, is happy to welcome guests for the summer season in the green landscape garden setting created by Gilles Clément. The museum's concept sends visitors on a world voyage; this space is their first step, from Paris streets into a garden and then onwards towards their fantasy.
Expect perfect eggs Benedict with smoked salmon. A casserole of seasonal vegetables, herbs and cereals. Sea bream, spelt with tomato. Beef tartare, Caesar Salad. Desserts include the epic rum baba, vanilla whipped cream – fruit salads or strawberry / raspberry tarts.
MENU OPTIONS:
Starter + Main or Main Course + Dessert formula, €27.
Snack formula: Hot drink + Pastry + Fruit juice, €18
Formula – up to 12 years: Roast chicken fillet, ratatouille or new potatoes + fruit salad or ice cream, €10
37, quai Branly, 7th
Tel: 01 47 53 68 01
Terrace
Closed Monday
Metro: Bir Hakeim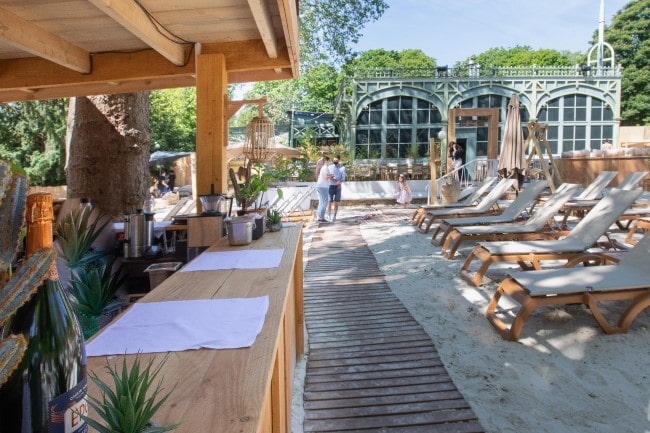 Located lakeside on the edge of Bois de Vincennes, with Tulum, Mykonos and Copacabana vibes, Chalet du Lac announces its "Beach Club," a chic hang-out with golden sandy beach, sunbeds and a bucolic Bohemian Garden. Weekends, brunch buffet from 11.30 – 4pm with DJ (€49 includes a flute of champagne). A La Carte, the menu has starters from €12, Salads from €17, Seafood platters from €16-€95, Veggie dishes, Le Beach Burger (€19), Deserts from €11. Sexy choco lava cake, anyone? (With white chocolate, coconut heart, and coconut sorbet?) Yes please! Add Barbecues, Beach Volleyball, pétanque tournaments, deckchairs, massage, showers, ice cream corner and cocktails – that's summer sorted.
Open 7/7 until the end of September.
Orée du Bois de Vincennes, Avenue de Bel Air, 12th
Tel: 01 43 28 09 89
Metro: Saint Mande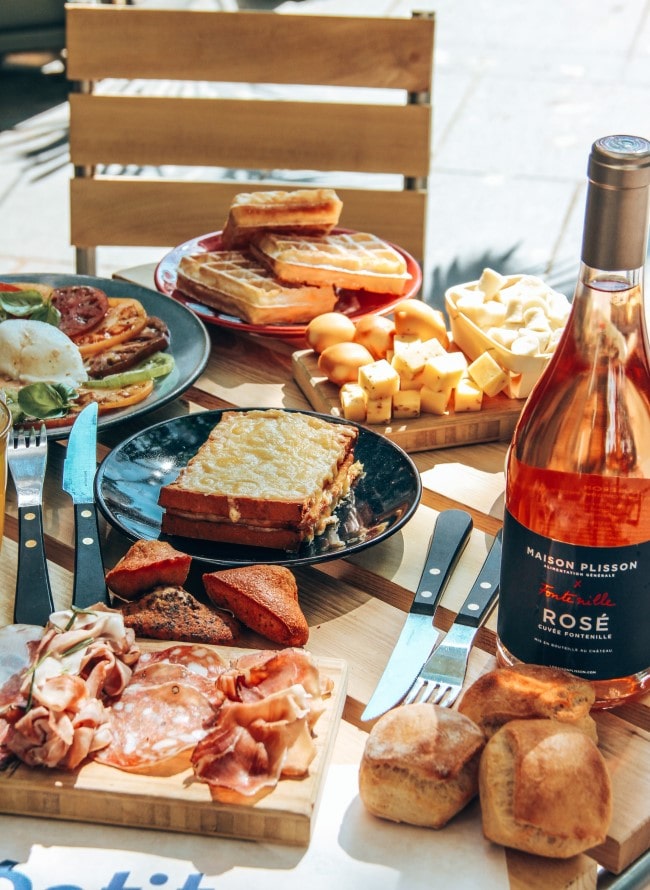 Your healthy lifestyle summer program begins here with Delphine Plisson's excellent concept. Where? Jardin des Tuileries – Kiosque Nord between L'Allée de Diane and the Central Allée.
Take a trip to Los Angeles – no suitcase required! At this address, owned by two sisters enamored by the West Coast, enjoy California cuisine created with fresh, seasonal ingredients. Think Gnudi Baby ricotta spinach; Corn tacos with caramelized free-range chicken, fresh feta, red onion pickles, and crunchy cancha corn; beef meatballs; line-caught sea bream, radish, lemon + crunchy corn ceviche. Add Spring Crostata with rhubarb and whipped cream or Chocolate tart, grilled buckwheat, pistachios, pomegranates. Wash it down with house cocktails, smoothies, wines, LA Mule…Frozen Santa Monicolada (€12). And on the weekends, the brunch features signature granola with vegan coconut milk yogurt or whipped ricotta, seasonal fruits, manuka honey and dukkah seasoning. Yippee for Wild West Pancakes served with whipped ricotta, lemon and seasonal fruits! Capucine, Juliette, and the California Dream Team are waiting for you. And, just open, their second address: Cali Uptown, an "oasis of coolitude," is open 7/7 at 36 rue de Paradis in the 10th.
17 rue Notre Dame des Victoires, 2nd
Metro: Bourse
Open 7/7
Sunday California Brunch €30 from 11 A.M- 3:30 P.M.
Tel: 06 72 48 76 28
Village Village x Bar de la plage d'éte
With a "guinguette" attitude, close to Ile Saint Louis and Place de la Bastille, Gilbert and Thierry Costes and Beaumarly Group celebrate summer on Seine – from 5 pm until curfew permits. Cocktails, champagne, wine and yummy food by  Village Village.
M: Sully Morland
Port Henri IV, 4th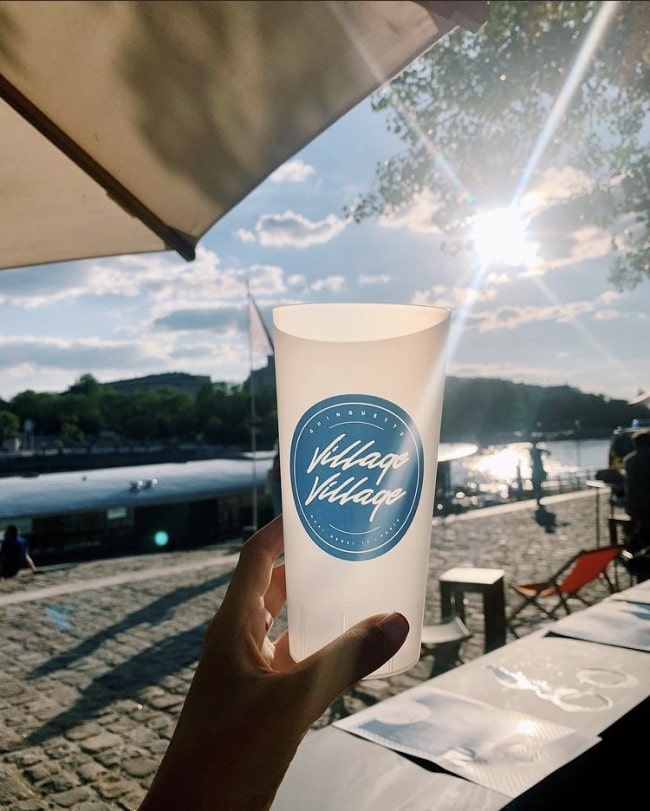 Mimosa x Moma Group
Mimosa is the soon-to-open restaurant in the magnificently restored Hôtel de la Marine, overlooking Place de la Concorde. Constructed in the 18th century by Ange-Jacques Gabriel, the building then housed the Garde-Meuble de la Couronne at 2, rue Royale.
At Mimosa, super chef Jean-François Piège is a block from L'Hôtel de Crillon where he was head chef until 2009. Opening in September, Mimosa will seat 100 indoors, 120 on the terrace at lunch and 190 for dinner.
"Mimosa will feature the cuisine I love to eat," explains Jean-François Piège, "it will be an ode to France, to its exceptional products, to its heritage and its identity."
More to come…
Want to be inspired by more French foodie experiences and enjoy classic French food, wine and recipes? Head to our sister website, Taste of France, here.
Lead photo credit : Aux Crus de Bourgogne (C) Aux Crus de Bourgogne
More in food, gastronomy, Latest, News, restaurant
---
---