Spring Dining: Where to Eat in Paris
"If you are lucky enough to have lived in Paris as a young man, then wherever you go for the rest of your life it stays with you, for Paris is a moveable feast." – Ernest Hemingway
"We're determined to get our third star (awarded in 2002) back next year," said Guy Savoy, gazing out of the window at La Seine, the Pont Neuf (famously wrapped by Christo in 1985) and les bouquinistes – a view that only enhances the magnificent space of Savoy's epic restaurant.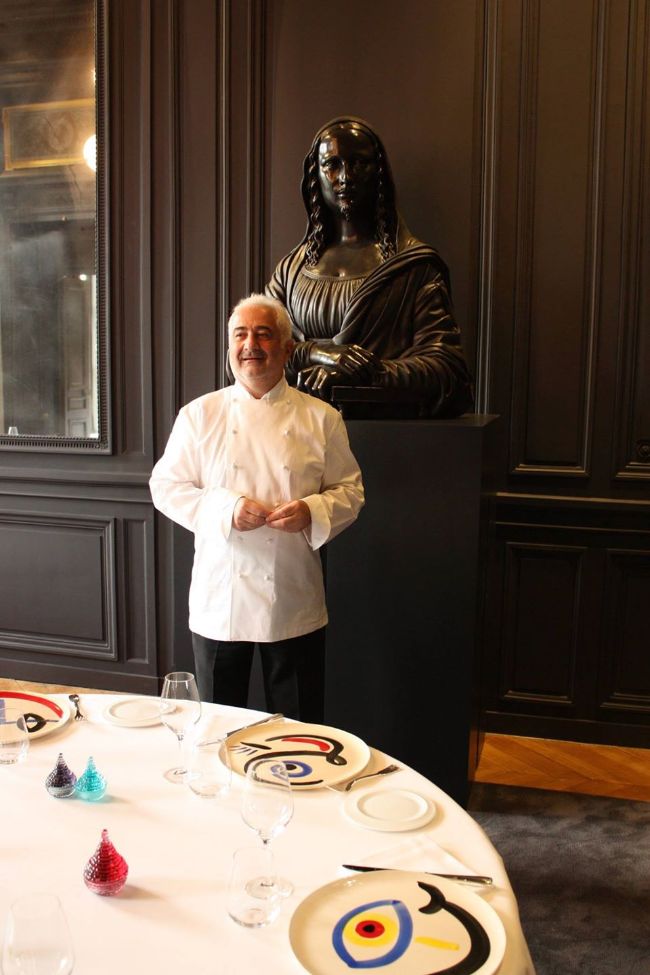 Mâitre d'hotel Hubert Schwermer has been welcoming guests chez Savoy since 1996, with elegance and discretion. Head sommelier Sylvain Nicolas (since 2008) will suggest perfect vintages to match the occasion.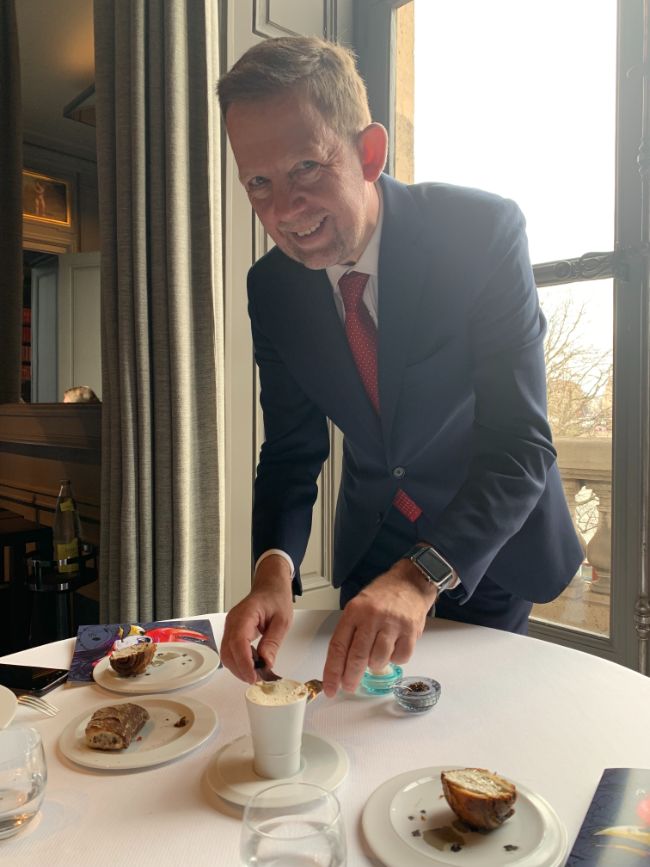 The six high-ceiling dining rooms, tables well spaced, are perfectly punctuated with impressive modern art and sculptures, from the private collection of French billionaire businessman François Pinault. "Cooking is the art of transforming historical products into pleasure," is Savoy's mantra, written large in red neon outside the restaurant.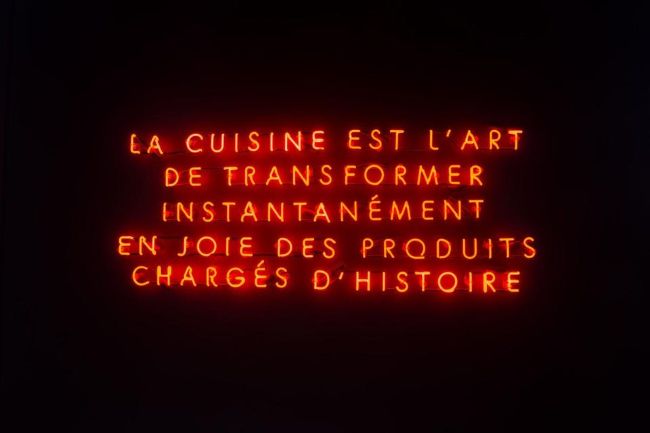 Accessed by a royal red carpet on a white stone staircase, the restaurant resides in La Monnaie (the Paris Mint), a brioche throw from the French Academy. In 2009, Savoy moved from rue Troyon in the 17th arrondissement. Transfer cost: 5 million euros! In the elegant setting, "the dishes are the center of attention," insists Savoy.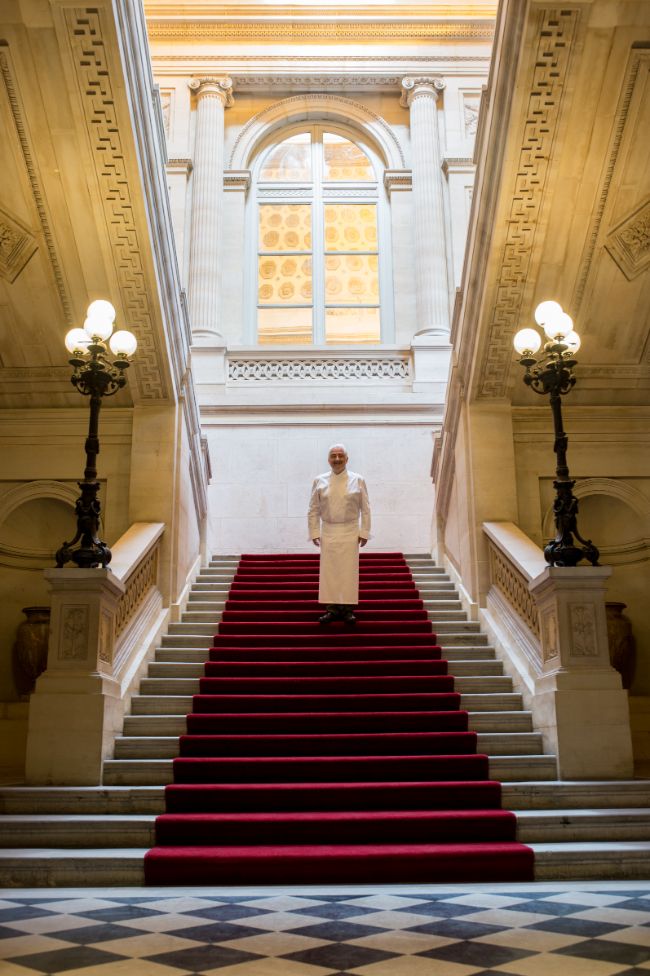 Established in 864 by Charlemagne's grandson, known as Charles the Bald, Le Monnaie is not only the oldest institution in France, but also the oldest operating factory in Paris – producing items such as shiny commemorative coins and honorary medals in the ground floor space. Buy them in the boutique.
In the meantime, enjoy Sabayon of cabbage and caviar. A sea symphony of lightly cooked and raw lobster, tender coral, sweet spices. Truffles, endive confit and root vegetables, the little black dress of dishes! Superb creamy dreamy signature artichoke and truffle soup with warm brioche for dipping, bien sûr. Red mullet, matching wines by Sylvain Nicolas, astringent and delightful desserts by Guillaume Godin whose award winning Paris-Londres  – an apple tarte tatin with Darjeeling tea mousse, topped with Chantilly cream – was proudly served at the French Residence in London and the British Residence in Paris.
Nobody knows, or understands, the reason for the loss of the third Michelin star. The powers that be chez Michelin never reveal their decisions, but, having tested a divine dejeuner one day last week, I confirm that there are reasons to be cheerful in the Jean-Michel Wilmotte designed space. "Vive la gastronomie française," Savoy says.
DETAILS
Monnaie de Paris
11, Quai de Conti, 6th
Metro: Pont Neuf
Tel: +33 (0)1 43 80 40 61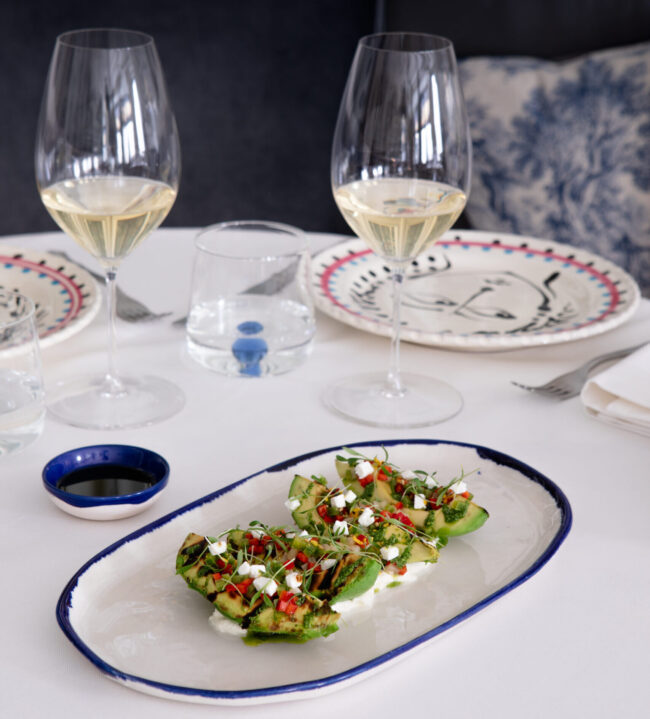 This new hotel of 59 rooms and 15 suites is housed inside an 18th-century private mansion. Located in a picture-perfect courtyard, the sumptuous ground-floor restaurant is named in homage to Pablo Picasso's iconic 1901 masterpiece. The menu suggests a Mediterranean journey featuring the freshest fish, seafood, and Iberian specialties.
Overseeing it all is Dani Garcia, the Michelin *** from Marbella, famous for announcing (in 2018/19) the transformation of his establishment to a steak house – three weeks after obtaining the holy *** star consecration!
La Chambre Bleue, in a delightful setting created by Spanish architects Lázaro Rosa Violán Studio, combines Andalusian and Mediterranean vibes, respecting the elegant architecture of this très Parisian mansion. It's open and airy in summer, cozy and warm in winter.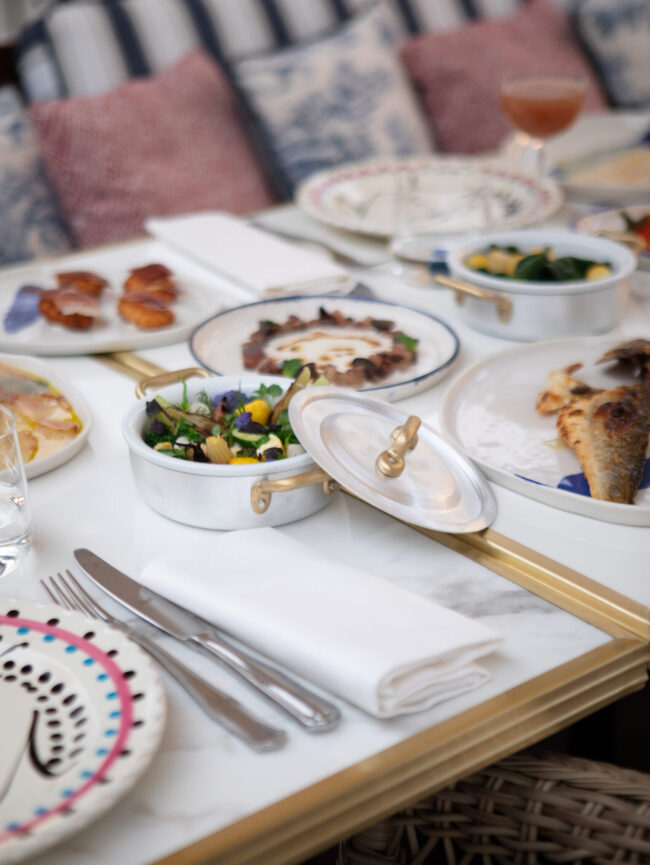 The open kitchen's adorned with ceramic frescos and cubist accents. The Delano bar (featuring cocktails named for Picasso paintings) is decorated with azulejos tiles from ArtAntic l'Alcora.
The cuisine plays land/sea symphonies: paella, octopus, oysters, baked sea bass, bluefin tuna, oysters. Starters from €15. Sea Food Platter €49. Perfect Paella to share from €70. Desserts (from €16) include "Tout Chocolat," and the wicked brioche "Tipsy Cake," drizzled with sherry sauce and crowned with vanilla bourbon ice cream.
From the open wine cellar choose French and Spanish wines, sherry, beer, and champagne. By the glass from €14, bottle from €50-€3,900 (Pomerol Petrus 1999). Garcia & Co. recreate the colorful beating heart of the Mediterranean in Paris.
DETAILS
4, rue d'Anjou, 8th
Metro: Madeleine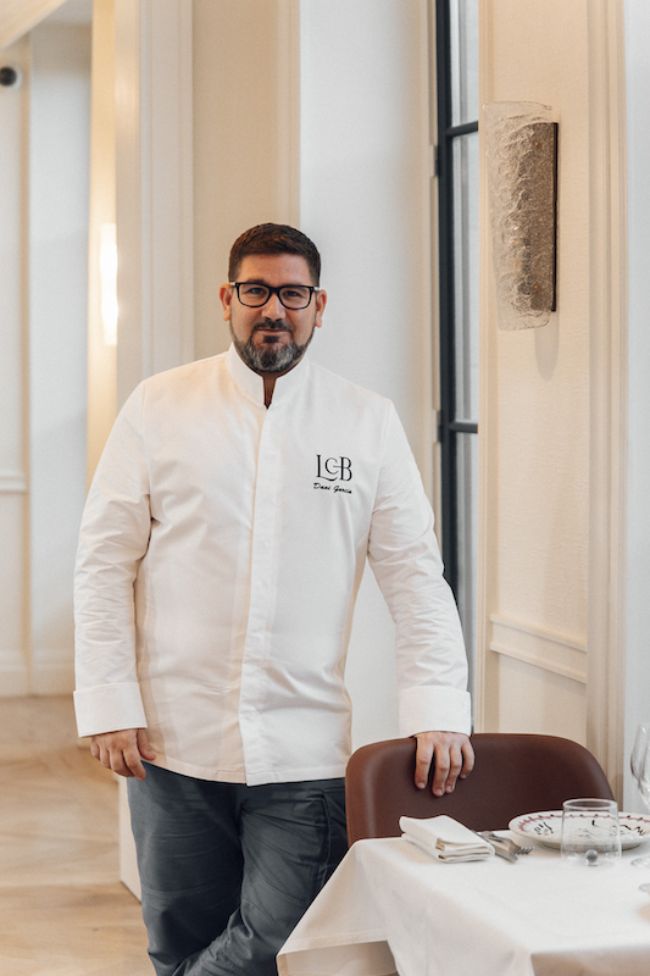 This is home to the prestigious annual Prix Goncourt Awards which recognizes the "best and most imaginative prose of the year" (written in French, naturellement). Prize winners are announced and celebrated at Restaurant Drouant, known for its conviviality, gastronomy and culture.
It's always exciting to eat chez Drouant (circa 1880). The good news is, they're proud to announce Sunday Brunch, showcasing prime French products and specialities. (€78) And because, "All grown-ups were once children" (to quote Saint-Exupery, who never actually won the prize!), there's a Brunch menu for Little Writers (€35) and a fun workshop upstairs "Les Ateliers de Macha."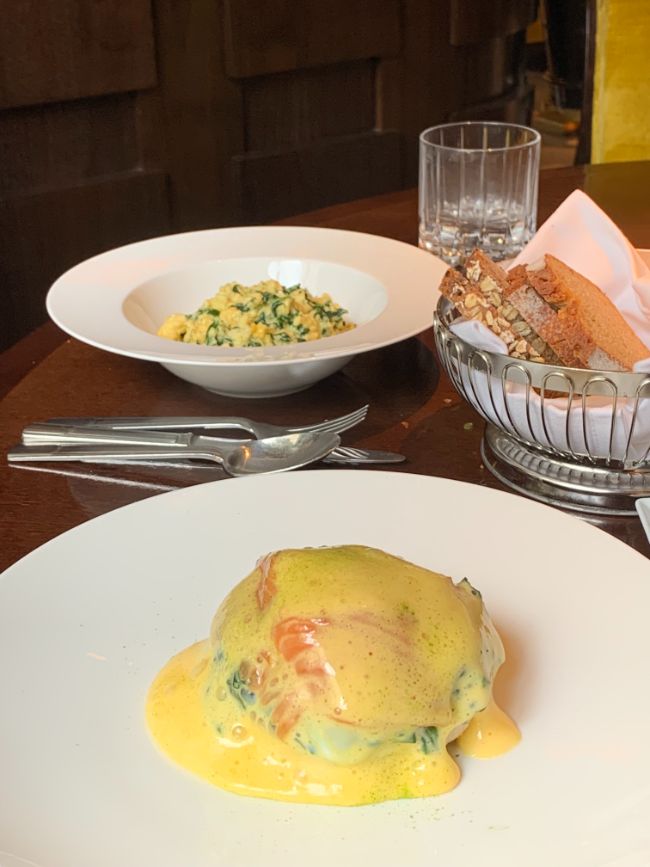 Here's what I found on the menu last Sunday (it's seasonal so will change accordingly).
-Romain Gary Caviar Tart ("before he became an award-winning writer, RG delivered caviar to Paris restaurants!)
-Charles Drouant Oysters.
-Freshly squeezed juices.
-Chilled Drouant champagne.
-Warm breads and croissants.
-Season's cheeses by Cyrille Hardouin Fromagerie.
Compose your hot or cold brunch from, say, paté en croute, mushroom ravioli, crispy langoustines, Eggs (Benedict, scrambled, fried – add truffles), Croque Monsieur. Make sure you finish with Tarte Tatin, raid the Treat Trolley, and don't ignore Proust's Giant Madeleine (in reference to the Goncourt winner in 1919 for In Search of Lost Time).
Who knows you may be inspired to compose a Goncourt-winning livre, après! Start writing on the beautiful terrace; it's inspirational.
Chapeau to Gardinier who acquired Drouant from the great chef Antoine Westermann in 2018.
DETAILS
18, rue Gaillon, 2nd
Metro: Quatre-Septembre
Tel: +33 01 42 65 15 16
Sundays at Le Lancaster ("Les Dejeuners du Dimanche") were created because "we noticed we had happy families on Sundays, so we decided to create a traditional Sunday lunch," explains Lydérick Jadaud, the charismatic Le Lancaster General Manager.
"Tap into fond memories of Sunday lunch when you were young," suggests Lydérick. "Le Lancaster will feature a different iconic dish each month -for example, blanquette of veal, leg of lamb, cassoulet or Beef Bourguignon."
This emblematic residence, just off the Champs Elysées, is the address where families stay from generation to generation. The evolution continues with the chic bar (and luxurious rooftop spa), now an outpost of the trendy CopperBay bar.
Thought for the day: Jane Fonda, Marlene Dietrich, Taylor & Burton, John Huston, Sir Alec Guiness all stayed here, as did Burt Lancaster. "But the hotel was not named for him," laughs Lydérick.
So, at Restaurant Monsieur, Chef Sébastien Giroud invites you to rendezvous with family and friends over a dish or two. "Imagine English pubs and their legendary Sunday Roast", suggests chef Sébastien. "Le Lancaster opens their season of Sunday lunches with Beef Wellington served with truffled dauphine potatoes and sauce Périgord."
Around the elegant table, share Fines de Claire Oysters as a starter, terrine of game birds and artichoke and, for dessert, the delicious "Paris Brest".
For Easter it's tradi/seasonal "leg of lamb", in May roast free-range chicken, June roast John Dory fish and ratatouille, July the famous Bouillabaisse. In August the restaurant closes, but, from September to prolong the summer, "stuffed vegetables Niçois". For October the unbeatable cassoulet, November's beef bourguignon, and  December the un bon pot au feu. See you there! On the terrace? Yes. (Price €70)
DETAILS
7, rue de Berri, 8th
Metro: George V
Tel: +33 01 40 76 40 18
"You can only cook well with exceptional products", claims chef Matthieu Garrel. A  passionate, Brittany-born chef, he began cooking, in England, at the Bell Inn Hotel, Aston Clinton with Kevin Cape, then with Jean-Pierre Crouzil in Plancoët, Brittany. Arriving in Paris in 1993, Garrel worked with MOF Gérard Besson, then cooked at Potel & Chabot, before becoming Chef de Cuisine on the Yachts de Paris. Then, "I missed dry land," he jokes. So he threw anchor at Le Bélisaire, in 2001. Located on a quiet street in the Saint-Lambert 'hood, between Vaugirard and Convention, here's your typical French bistro, with a tiny terrace, zinc bar, original fixtures and fittings, and oodles of atmosphere.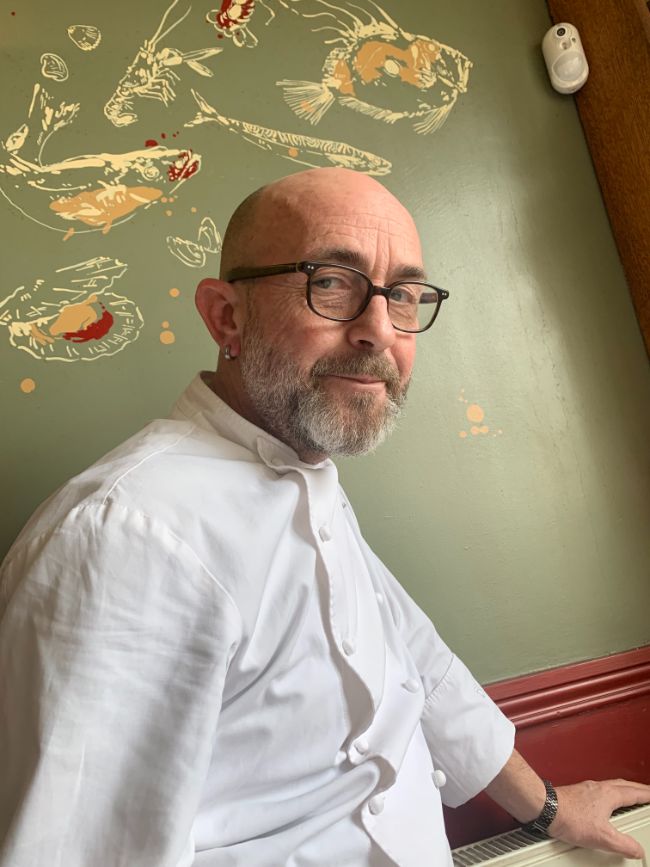 The dishes terre-mer are light and imaginative, chalked on a daily blackboard. Eggs Mimosa and Madagascar caviar, divinely decadent. Celeriac and Iberian ham velouté, Morbihan oysters, Bélisaire sea urchins or seaweed ravioli with langoustines and shellfish cream. John Dory fillet is roasted, served with mashed potatoes, spinach, drizzled with Champagne sauce; haddock's tasty and basil-crusted, risotto's creamy with rich lobster sauce, or according to the catch, roasted cod and potato purée, supreme of chicken marries well with polenta, parmesan, and virgin sauce; pork belly's sauce gribiche, beef pot au feu style plus vinaigrette. And during the hunting season there's superb hare à la Royale.
Clean your palate with cheese, a glass of red, then, say, light floating island; or Garrel's version of Tarte Tatin, in a glass or fruit gratin.
DETAILS
Lunch & Dinner €38-€42
5-course Menu Surprise €55
2, rue Marmontel, 15th
Metro: Vaugirard/Grenelle
Tel: +33 01 48 28 62 24
Closed Saturday & Sunday
Lead photo credit : Drouant - Facade © Julie Limont
More in Guy Savoy, Hotels, Le Belisaire, Margaret Kemp, Monsieur Restaurant x Le Hotel Lancaster, Restaurant Drouant, Restaurant reviews
---
---