Restaurant News: Confinement Cuisine Chez Vous
"At the heart of my cooking there's carefully curated ingredients we work with technique, mastery and love, chopping, cooking, seasoning. Because, for me, that's the job of a cook." –Jean-François Piège
Although restaurants are closed because of the pandemic, chefs are using their initiative to keep the culinary conversation brewing in various ways. Lockdown 2 seems more relaxed. "There are people on the streets and more shops are open compared to last time," explains my neighbor Sylvie. If you're feeling trapped at home, relax; your favorite chefs are still cooking!
"It's better to eat in a restaurant that takes all the precautions than at home; you go to your local supermarket, people are bumping into each other, touching the fruit, and not everybody is wearing masks," the chef told Agence France-Presse. Ducasse's restaurants have 17 Michelin stars – the most of any chef in the world. "We adapted to lockdown 2 so that you can enjoy our signature dishes at home. Take a voyage with Alain Ducasse," the chef told us. Experience Italy with dishes from Cucina, like the burrata served with multi-colored beetroots, horseradish, and sorrel. Or how about the spice route with Buttered chicken New Delhi? You'll find that Chez Spoon. Or head to "the belly of Paris" chez Champeaux for Cod and Chips and Rum Baba Chantilly – matching wines available include the Pinot Noir Gevrey Chambertin Albert Bichot 2015.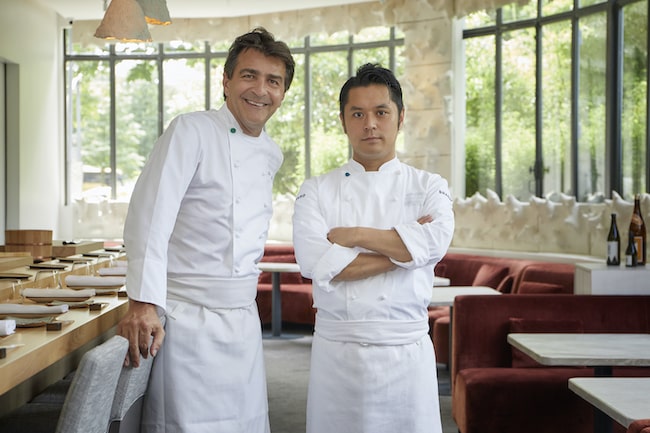 Since October * Michelin star Pavyllon and **Michelin star L' Abyss have compiled menus showcasing their favorite dishes. They're cooked and beautifully packaged at the ***Michelin star Pavillon Ledoyen; customers just need to reheat following Yannick Alléno's instructions. "Here's the opportunity to (re)discover our dishes and especially to have fun with our food at home during this strange epoch; choose from the many à la carte dishes, and match with Allénothèque wines at cellar prices," says the chef. And, for sweet treats, Aurélien Rivoire, Pavillon Ledoyen's brilliant pastry chef – suggests "Manon's Tea" — delivered or available to-go — inspired by his lovely daughter.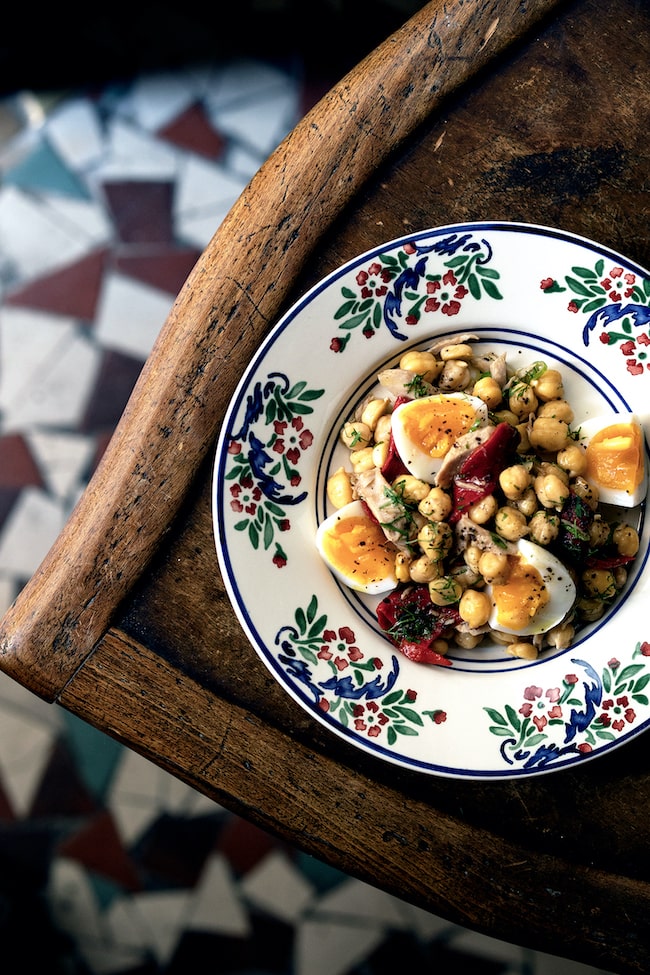 With five shuttered restaurants, chef Jean-François Piège delivers via "click and collect." The service called "Jean-François Piège à la maison" offers a weekly menu of seasonal dishes, carefully chosen wines and homemade desserts. We love the pâté en croûte from À l'Epi d'Or, the Prime rib with pepper and bearnaise sauce from Clover Grill and/or Shepherd's pie from La Poule Au Pot. Don't ignore grilled Landes duck foie gras in a terrine or Salers prime rib, béarnaise sauce, leaf spinach and creamy potato mousseline. To finish: the XXL chocolate eclair. What else?
Order from 9:30am to 3:30am and pick up at Clover Grill restaurant, 6, rue Bailleul, 1st. Tel: 01 53 05 00 05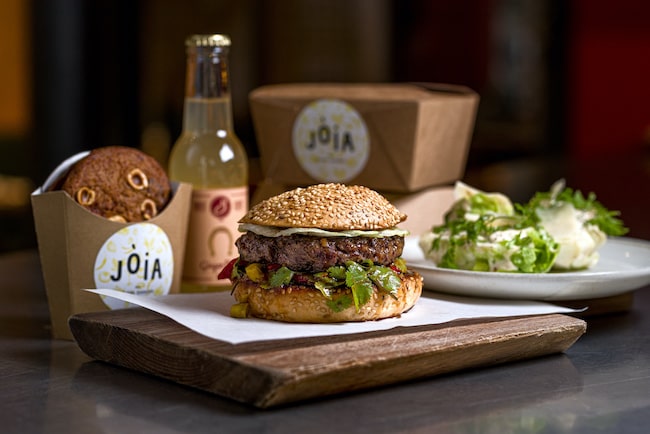 "It's with great pleasure that I present my Jòia burgers. As soon as the restaurant opened, two years ago, we talked about serving, at the window, "street food" that could be eaten with your hands, at the office or at home," Ms. Darroze told us. Choose from six burgers, salads, a la carte dishes and desserts. The Burger Jòia (€15) is made with a warm bun with "house" sesame seeds and "house" ketchup, pimientos del piquillo, guindillas, fresh coriander, Angus ground beef steak, spiked with "Jòia" spice blend, crunchy salad available…. via Deliveroo or from the restaurant: 39, rue des Jeuners in the 2nd arrondissement.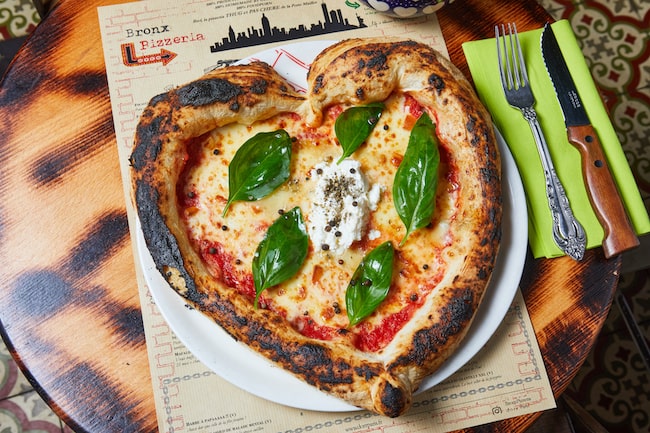 #Dorr Paris
Welcoming woke addresses, Garry Dorr's Brooklyn-inspired, chic, Italian trats offer customers the opportunity to Click & Collect their favorite bio pizzas and pastas as well as items like: Focaccia Genovese maison (€3); Burrata pugliese crémeuse Murgia (€9); Insalata Big Star Caprese (€14); Pizza Margherita  (€5); Linguine Testa Rossa picante (€12); Vegan poke bowl twisté "à notre façon" (€15); the bestseller Hot like fuck pepperoni (€14); Burratissima (€16); Tiramisu classico (€8); Nutella dessert pizza (€7).
Order by phone, via Uber, or on the spot. From 11am – 2.30pm and 5pm to 9pm. Quality, price, it's extraordinary, efficient, and such fun.
Where ?
The Brooklyn Pizzeria – 33 Boulevard Beaumarchais, 3rd
Tel: 01 48 87 98 92
Broadway Caffe – 112 Boulevard du Montparnasse, 14th
Tel: 01 43 20 71 01
Madison Caffe – 10 Chaussée de la Muette, 16th
Tel: 01 45 03 14 84
The Little Italy – 5 Place Clichy, 17th
Tel: 01 42 93 61 34
Manhattan Terrazza – 107 avenue de Villiers, 17th
Tel: 01 47 63 32 77
Bronx Pizzeria – 275 Boulevard Pereire, 17th T : 01 45 74 33 32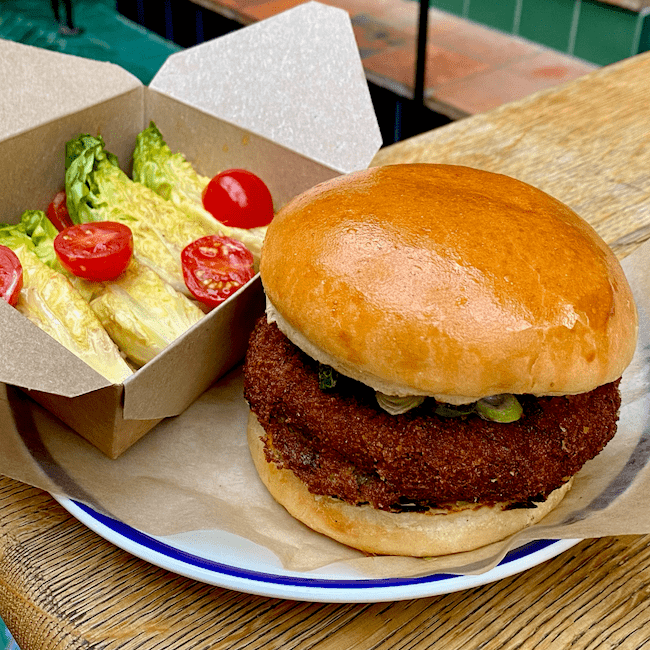 Created by Moma Group in April 2019, La Gare – Chaussée de la Muette (16th) reinvents itself during lockdown 2 with home delivery, via the Deliveroo platform. A comforting menu created around the small dishes that have made its reputation: ham croquetas, chicken empanadas served street-food style, ceviche and salmon tartare. From the charcoal grill, order the mouthwatering BIG Cheeseburger or perfect spicy salmon skewers. The head mixologist's  4 cocktails "At Home" (one's a mocktail) are for sharing (or not). From Monday to Friday, there's a fixed lunch menu, starter – main course or main course – dessert, including drinks for €24.50. From Monday to Sunday, there's also a three-course option for lunch and dinner (€29.50 for starter – main course – dessert)
The Kids Box (€10.50) includes La Gare signatures in mini-portions.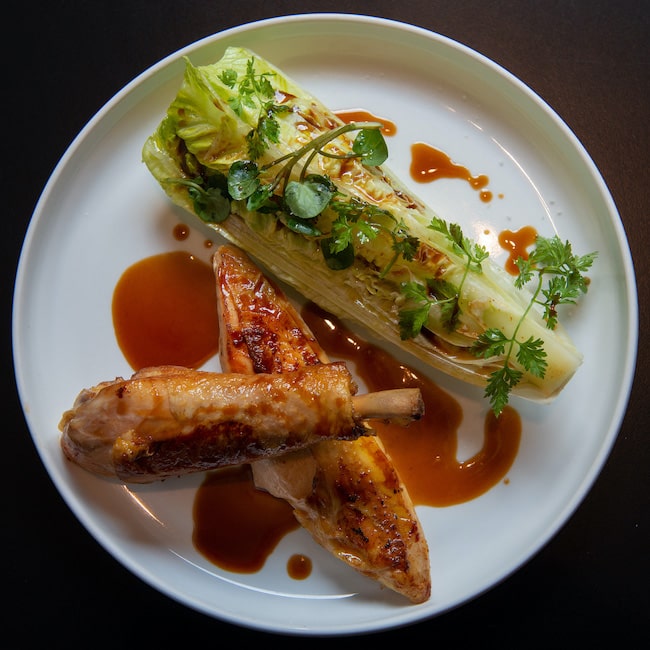 Sébastien Monceaux and Frédéric Claudel, Fauchon executive chefs, cook daily, just for you. Pick up your order at Fauchon Hôtel Paris, place Madeleine. At noon, try the iconic Koulibiac Fauchon, Roast Chicken or opt for the Croque Monsieur, Croque Salmon, salads etc. In the evening, choose the chef's signature dishes of the day. From aperitif to dessert, discover the exciting variety of Fauchon products. Available Monday to Friday from 11am to 8pm. And, if you're a hotel guest, luxurious in-room service is available 24/7.  For delivery, call: 01 87 86 28 23.
Need to Know:
#platderesistance – top addresses by the quirky Le Fooding (6 million followers, now part of Group Michelin). Just fill in your addy on the site and top restos in your 'hood pop up. You'll find those which are open and participating in Click and Collect.
Want to be inspired by more French foodie experiences and enjoy classic French food, wine and recipes? Head to our sister website on Taste of France here.
Lead photo credit : Ducasse Champeaux Service. Photo © Pierre Monetta
More in Paris restaurants, Restaurant reviews
---
---