Paris Restaurants: Where to Eat in February 2022
"Great is the fortune of he who possesses a good bottle, a good book and a good friend". — Molière (1622-1673)
Looking for a winter warm-up? Here's the latest restaurant news from Paris. We're dishing up a selection of tried-and-tested restaurants for your eating pleasure.
Here's a belle brasserie that ticks all the boxes, located across from the magnificent Palais Galleria (the city's fashion museum) and next door to Cyril Lignac's La Patisserie Chaillot. We greedily buy croissants, éclairs, babas and, being France, enjoy them guilt free, on the terrace, with a perfect espresso or a pot of Earl Grey tea. Meanwhile, take a look at the menu by Eric Poaty and his brigade; it's all A La Carte. Among the starters, you'll find iconic egg mayo with beets and lettuce (€8); housemade terrine with onion compôte (€8.50); Salmon, smoked by Le Galliera, with chunky country bread (€18). There are super salads – for the ladies who do – priced between €15 and €17. Try the hot Perche goat cheese from Lethielleux, cut with honey and pear. There's also a Poké Bowl with chicken or "Comme en Italie" for vegetarians. Fish dishes might include the parmesan-crusted wild pollock (lieu) served with risotto-style spelt (€22) – excellent. Carnivores adore 300grams of Salers rib steak with Béarnaise and fries (€26). The free-range "granma's recipe" chicken arrives with homemade smashed potatoes (€17) or truffle-spiked ham coquillete shells (€18.50). Among desserts, enjoy tiramisu (€7.50); chocolate crisp with crème anglaise (€9,50); and the dessert du jour (€8,50). Or Cyril's just next door!
15 avenue Pierre 1er de Serbie, 16th
Metro: Trocadéro/Boissiere
Closed Sundays
Tel: 01 47 20 8206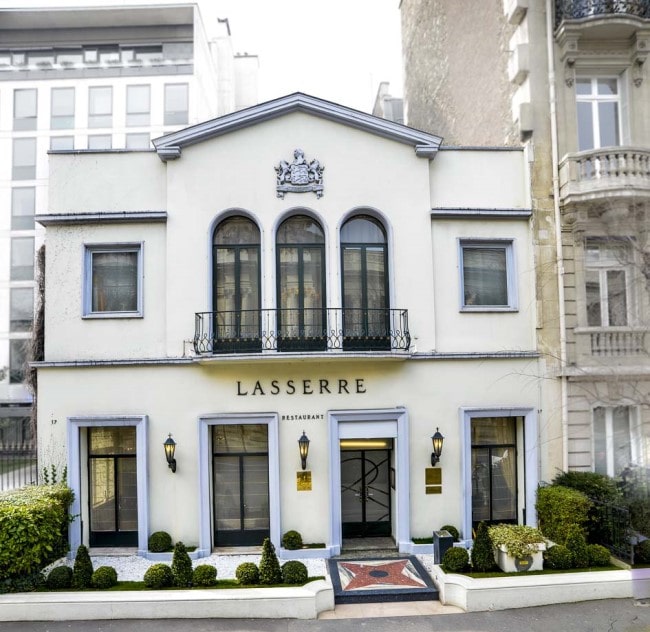 Lasserre x Jean Louis Nomicos
An elegant reference, and historic monument, to French cuisine and savoir-faire, with theatrical decor and the drama of the roof opening onto the Paris sky. You returned time and time again for the cuisine by superchefs Christophe Moret, Michel Roth, Adrien Trouilloud, and Nicolas le Tirrand. For nine years, Jean-Louis Nomicos helmed the kitchens (from 2001 to 2010); his signature macaroni with truffles, foie gras, artichoke and parmesan won rave reviews. Good foodie news is Nomicos is back as consultant and together with his second chef Umberto Ascione, plus pastry chef Alexandre Béquin, they're combining dishes from yesterday and today making sure that "Lasserre becomes Lasserre again." Find Nomicos, the nicest of chefs, at his eponymous restaurant and also at Le Franck, the airy eaterie at the Franck Gehry-designed Fondation Louis Vuitton.
Lasserre, dinner only from Tuesday-Saturday
17, avenue Franklin Roosevelt, 8th
Tel: 01 43 59 53 43
Metro: Champs Elysées Clemenceau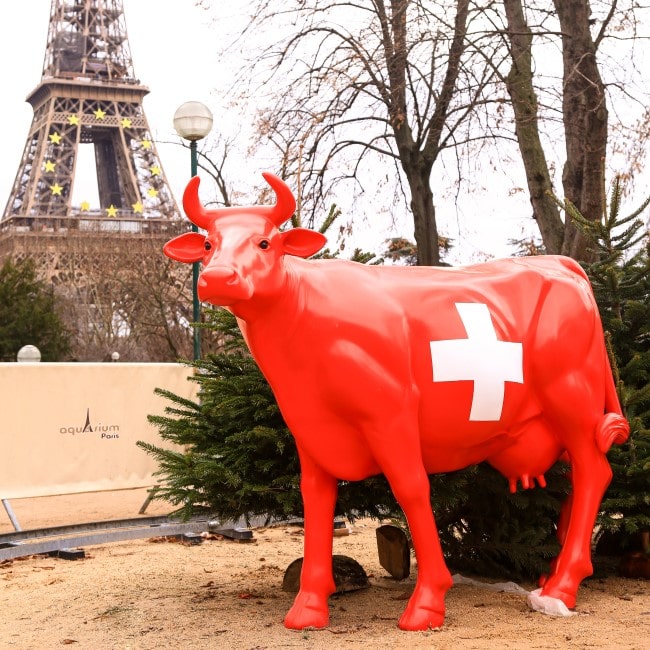 La Place Suisse
Until February 28th, the Paris Aquarium terrace takes you on a journey (no passport or tests required) to the heart of an authentic Swiss village – in full view of the Eiffel Tower! Here's a fun experience with food trucks and a Swiss, street-food attitude by the chalet/restaurant called Chez Kucku. Go for the Saint-Niklaus Swiss raclette and fondues, rosti, fat hot dogs, viande de Grisons and mulled wine to keep the winter chills at bay. Wooden chalets can be privatized for parties, dinners, cocktails. And the miniature train will excite young travelers.
Jardins du Trocadéro
Metro: Trocadéro
5 avenue Albert de Mun, 16th
Open 7/7 from 12 noon- 10 pm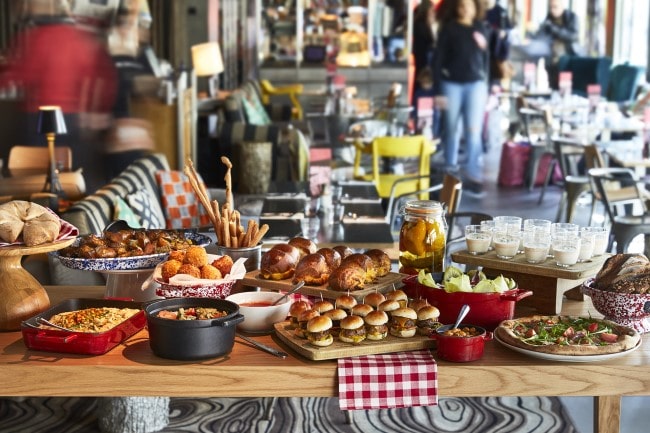 Brunch at Mama Shelter Paris East
For quality/price, the hotel brand Mama Shelter takes the prize. "Mama's waiting for you" on Saturday and Sunday with cocktails/mocktails and a gargantuan buffet brunch table creaking under the weight of house made soups, cocotte eggs of the day, salmon tartare, tabbouleh, mini croque-monsieur, smoked salmon, and salads. On the hot buffet, you'll find Duck parmentier, pasta of the day (with truffles in season), salmon steak with vegetables, meat, and a poultry dish of the day. There are also classics like scrambled eggs, bacon, sausages, pastries, breads, and cereals. Worth saving space for are the almond fruit tarts, petit fours, chocolate tarts, seasonal fruits, pancakes and waffles, cheesecake, financiers, cookies… Not to mention the excellent cheeses!
Mama Loves You. (And opens a new outpost in March at La Défense)
109 rue du Bagnolet, 20th
Tel: 01 43 48 45 45
Metro: Gambetta
The brunch is €44 and €22 for children up to 12.
Food For Thought
Have you seen Boiling Point? Released in Paris on January 19th as The Chef? it was adapted by writer/director Philip Barantini from his 2019 short film of the same name. Stephen Graham stars as Andy Jones, the overworked head chef at an edgy Dalston eatery in London (sex, drugs and soufflés). The action takes place on one of the busiest nights of the year, and in one single continuous shot we watch wide eyed, tense and spellbound as Jones' shift becomes increasingly chaotic, juggling a surprise visit from a health and safety inspector, his former boss, a celebrity restaurant critic, tension within his brigade and some very odd customers.
The feel good UGC romcom Tendre et Saignant also arrived in French cinemas. I admit to a personal interest; my grandfather was a butcher. I worked for him during school holidays! Yikes!
And foodie movie watching got me thinking about foodie films I've salivated over throughout the years. I'm listing a few delicious experiences; which are yours?
La Grande Bouffe
Babette's Feast
Sideways
Eat Drink Man Woman
Step Up To The Plate
El Bulli Cooking in Progress
Andrea Arnold's Cow
Butter
Bottle Shock
Tampopo
Chocolat
No Reservations
Julie & Julia
Ratatouille
And a few more trailers below:
Haute Cuisine
The Elysée Palace
After serving for two centuries as HQ for the French Navy, the Hotel de la Marine recently reopened as a museum following a meticulous four-year renovation. (For more information, see our article here.) The handsome, column-lined complex also houses the Foundation to the Memory of Slavery, The Al Thani Collection, gift shop, restaurants and offices, making it the perfect destination to feed body and soul.
When Benjamin Patou, CEO of Moma Group, visited Hotel de la Marine, about 20 years ago, he was fascinated by a portrait of Jean-François de Lapérouse (1741-1788), a Royal Navy officer and French explorer.
Subsequently, in tandem with entrepreneur Antoine Arnault, who heads communication at Groupe LVMH and is CEO of Maison Berluti, they planned to market the Lapérouse magic globally.
Café Lapérouse, at Hôtel de la Marine, is the first of a brand that will be exported to ultra high networth locations. After Paris (Hôtel de la Marine and Printemps Haussmann) and Saint-Tropez, the next outposts could be in New York, London, Singapore or Miami- a trip which Le Comte Jean François de Lapérouse would surely give his nod of approval.
Overlooking Place de la Concorde, the Café Laperouse is achingly chic. It's a restaurant, bar, wine cellar, grocery chic, and glacier-chocolatier all in one, serving breakfast, lunch, tea time, aperitif drinks on the terrace, dinner etc.
For the décor, Cordélia de Castellane – artistic director of Dior Maison and Baby Dior – was inspired by the travels of the explorer from whom the restaurant took its name. The sumptuous decor combines 18th-century influences, variegated prints and Art Deco touches, an eclectic blend of genres.
2 place de la Concorde, 1st
Metro: Concorde
Tel: 01 53 93 65 53
Lead photo credit : © Le Galliera
More in film, French news, museums, News
---
---