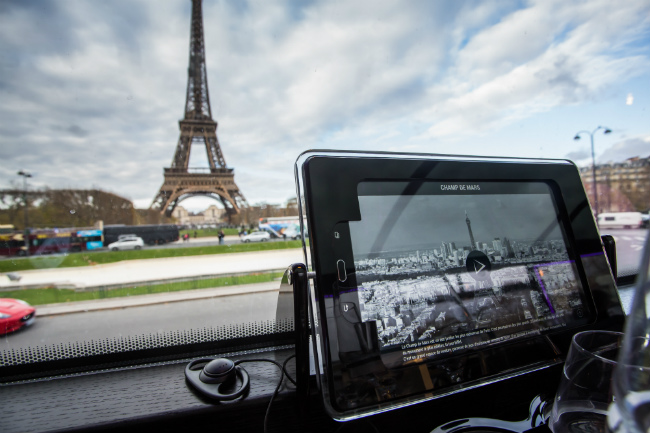 "Tell me what you eat and I'll tell you who you are."  —Brillat Savarin
LE BUS TOQUÉ
Stéphane Cirette and Vincent Durand are cousins, foodies, and entrepreneurs extraordinaire. They grew up not only together but also with the aroma of flour (from the family pâtisserie) and good food created by the families' famous Cirette Traiteur brand (in Rouen since 1885). You may know Vincent because you're a petrolhead and meet and eat chez Auto Passion Café at the Porte d'Orléans.
"We love the city and want to show it off, combining sightseeing and excellent cuisine," they explained at the launch of BUS TOQUÉ a magnificent project and, they add, "the best placed table in Paris."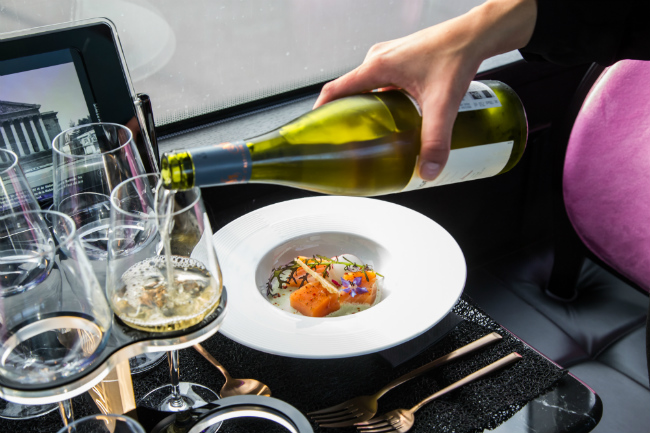 We loved the superb panoramic views, and BT can be privatized (from €3,000) if you wish. Each table has a video guide tracing the route (the wi-fi's free), with a multi language commentary on the locations visited.
There's four formulas (or create your own route, discuss with Stéphane and Vincent). Lunch (65€), Apéritif Parisien (€59), Dîner Parisien (€69), Paris by Night (€89) + wine. If you have allergies or are vegetarian/non gluten/kosher preferences, tell them when booking and chef Nicolas Perrot – formerly at AG Saint Germain – will take delicious care of you. 
Place de la Concorde, 8th. (Parked at the foot of the big wheel). Metro: Concorde. Tel: +33 (0)6 21 40 20 41. Email: [email protected] Website: www.bustoque.fr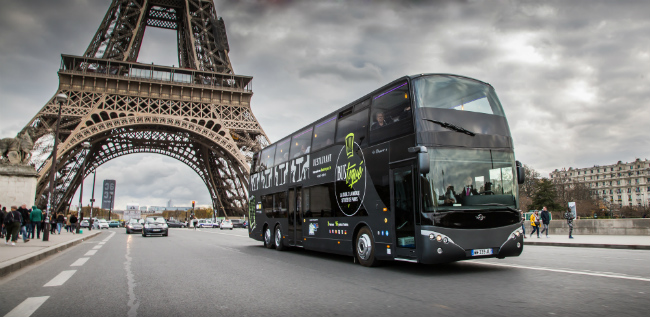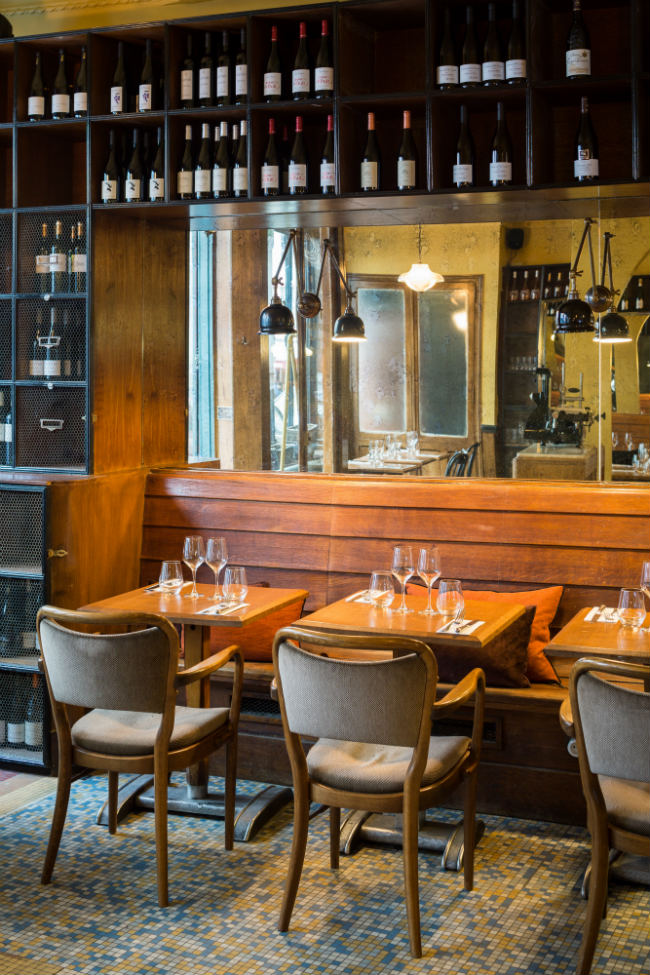 VIN DES PYRÉNÉES
In the heart of the Marais, on rue Beautrellis, this iconic eatery was created in 1905 by a Catalan engineer who made his fortune inventing a tank that prevented wine from oxidizing.
Charles Baudelaire and Jeanne Duval once lived at No. 22 – where Paul Cézanne also had his studio – and Jim Morrison (American singer, songwriter and charismatic front man of psychedelic rock group The Doors) lived at No. 19. Surprisingly there are no plaques in homage to these illustrious celebrities.
Recently acquired by new owners, following a few months of work, the bistro reopened last October. On the 1st floor, the addition of Bar 1905 (with private entrance) creates not only a hip cocktail bar but also a bucolic terrace and elegant cigar lounge.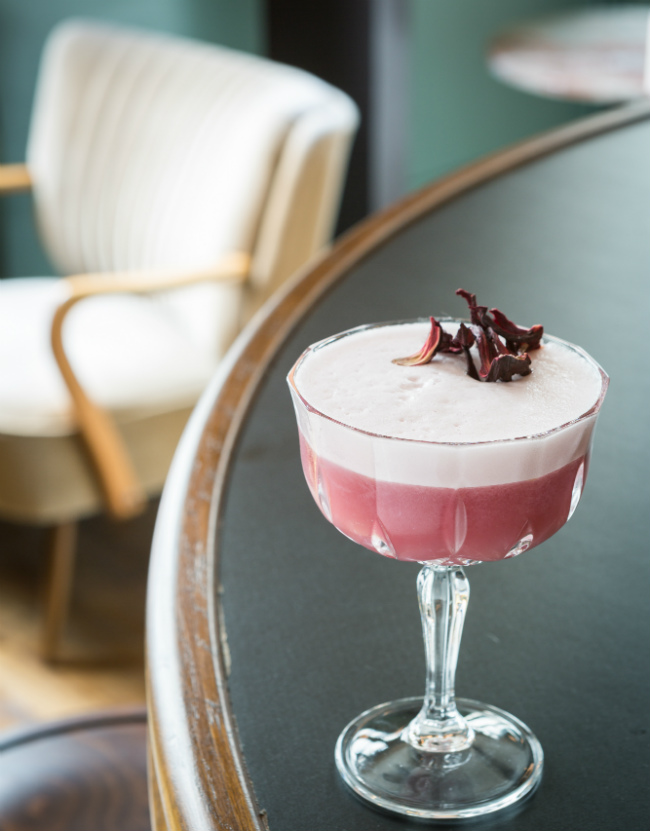 Wearing the whites, chef Jimmy Reffet (ex- Brasserie du Louvre, Le Baudelaire *, Saturn * and Terroir d'Avenir) sends out bistro dishes with his modern twist (blackboard formula 17€-22€ or A La Carte).
Look for golden croquettes of seven hour baked lamb; leeks vinaigrette ravigote with hazelnuts; stuffed squid; and creamy Croque Monsieur with truffled gouda; followed by home baked desserts such as meringue topped tangy lemon tart or brioche perdue (French toast) with caramel, salty butter and whipped cream.
"With its history, wines are very much part of the Pyrénées DNA," says main man Florian Cadiou. We chose Pacherenc de Vic Bilh sec "Petit Gaston" 2013 (€24 or €5 per glass) and from Domaine Yann Chave, red Crozes Hermitage BIO 2014 (€52- €12 glass).
25 rue Beautrellis, 4th. Metro: Saint Paul/Sully Morland. Tel: +33 (0)1 42 72 64 94. Open 7/7. Bar 1905 from Tuesday – Saturday 6 pm- 2 am. Website: http://www.vinsdespyrenees.com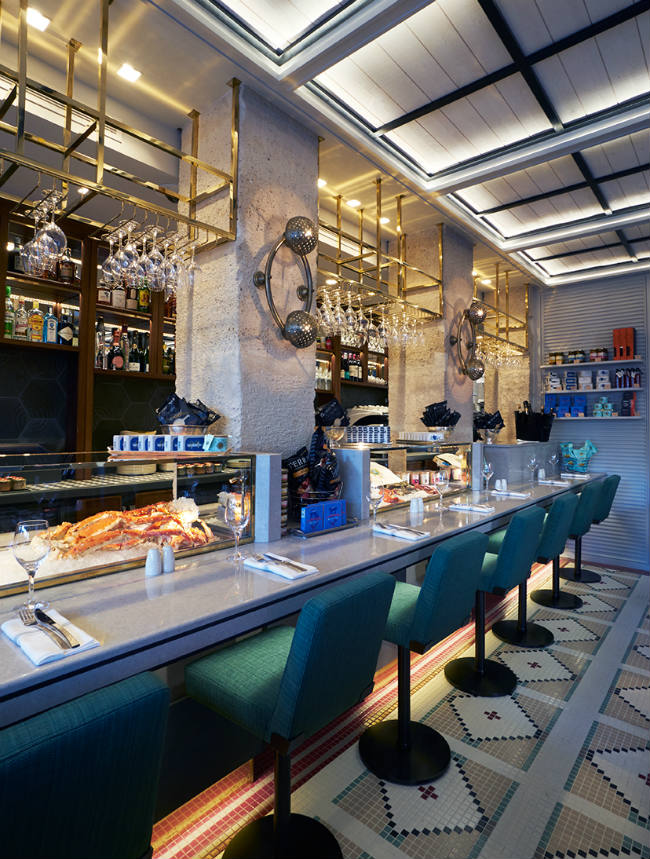 CRABE ROYAL
"Rolls et Bières" (food and beer pairings) is Crabe Royal's tribute to its' first anniversary. Read very informal eating (in house, take out or delivered to your door) of delicious Crab Roll & WIM Belgium beer (€21). Lobster Roll & WIT Norweigian beer with aromatic hints of honey (€39). Salmon Roll & FANO (€21)– that's Danish craft beer recalling camomile and orange peel. Which one will you choose? Cheers dears!
19 place de la Madeleine, 8th. Metro: Madeleine. Tel: +33 (0)1 81 69 96 70. Closed Sunday. Website: http://craberoyal.com/en/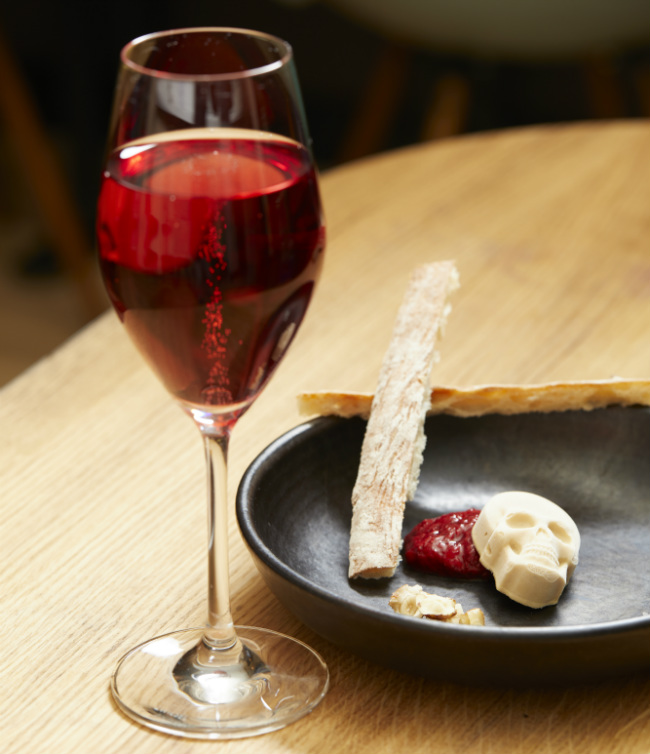 WIM A TABLE
You already love Wim Van Gorp's "Comme Chez Maman", inspired by his world travels and his Belgium roots. So now head straight for his new rough-chic "gastronomy de bar" in the Batignolles district. His second address, a former greengrocers, has been transformed into a slick space (wall painting by local artist Joann Sfar). Accents are on sharing dishes made with market fresh seasonal produce. Don't miss  "La Wim," the chef's own Belgium brew – perfect en aperitif (€7) or throughout lunch/ze after work/or dinner. The blackboard announces the day's specials – from the excellent wine card by glass about (€8) or try Bio red fruity Madiran "Le Sens de la Vie" or white Maçon-Prissé (39€). Average spend from 19€ lunch, A La Carte 30€.
45 rue des Moines, 17th. Metro: Brochant. Tel: +33 (0)1 42 29 10 41. Open 7/7. Website: https://wim-a-table.com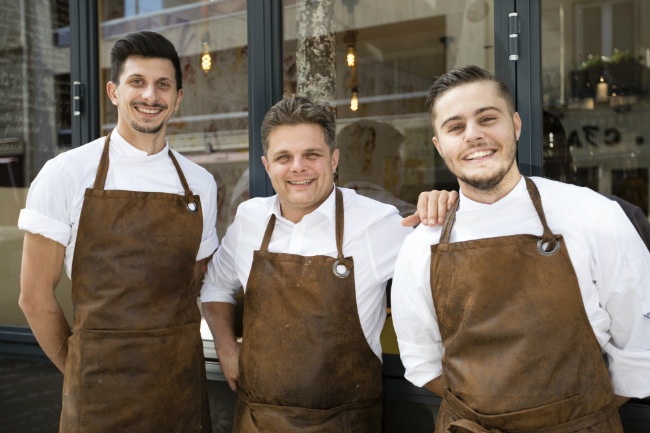 CAFE JAMIN
Hervé Rodriguez didn't sleep last night. "I had a flash about my starters for tomorrow and cooked them in my head all night, I fell asleep around 5am – it was nearly time to get up!" He didn't look tired, just happy that his restaurant's full, the clients delighted with his "Suggestion du Jour Menu" (€25-€28) add excellent A La Carte suggestions – you're spoiled for choice.
Rodriguez was born to chef; he went to Hotel School in Dijon aged 14 (he's 50 now) and, having worked with the great and the good, is also chef-owner (with Sophie, his wife) of the Michelin-starred MASA in Boulogne Billancourt.
Jamin was a challenge for Rodriguez. "When I heard it was for sale I didn't sleep for weeks," he admits. The address was originally Joel Robuchon's flagship, until Robo moved on to conquer the culinary world, and has since seen several owners.
The imposing centerpiece of the restaurant is a magnificent range, designed by Rodriguez and made for him by Leo Fourneau, Clermont Ferrand.
Blackboard daily specials are €25-28. Last week there was: Jardins de Courances vegetable soup; Oven grilled lobster; Stuffed Bresse chicken; Mikaël Lebouc's "Snickers" dessert. And the chef's passionate about Cambodia, so expect tributes to chef's favorite country (after France) with dishes such as "Pho/Feu Vietnam"– "which I make my way with lots of different fish," he explains. Expect to have fun chez Hervé – here's hoping he gets some sleep soon!
32 rue de Longchamp, 16th. Metro: Trocadéro – Boissière. Tel: +33 (0)1 45 53 00 07. Valet Parking. Terrace. Closed Sat-Sun. Website: www.cafe-jamin.fr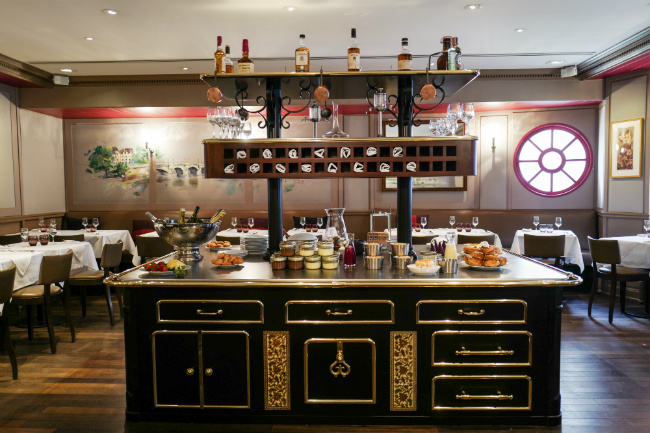 COMPTOIR 43
Located between rue de Rivoli and Faubourg Saint Honoré, Valerie Guinfolleau invites you to tastings of organic wines and products, a Tour de France of indie passionate producers. Where else can you stock up on Perigord cèpes powder, snails eggs from the Drome region or cosmetics from Bleu de Blancard? Pop in Wednesdays from 6 pm – until late to meet Valerie who's waiting to share the bounty of bio France with you.
43 rue de l'Arbre Sec, 1st arrondissement. Metro: Louvre-Rivoli. Tel: +33 (0)1 42 60 81 58. Closed Sunday – Monday. Website: www.facebook.com/lecomptoir43