A Local's Guide to Paris Neighborhoods: 17th Arrondissement, Batignolles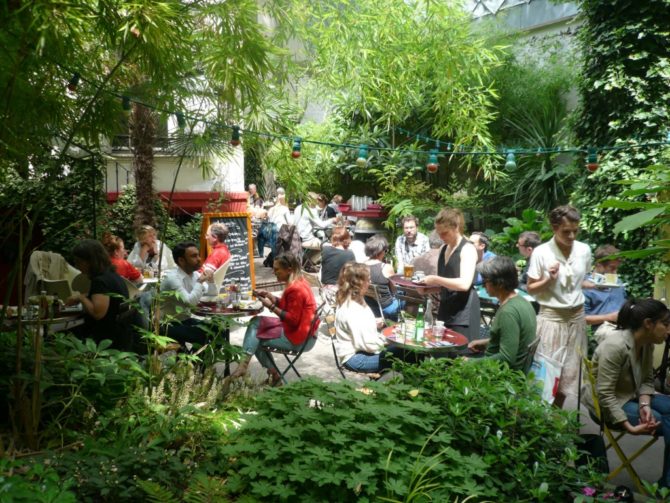 One of the largest arrondissements in Paris, the 17th is like a series of villages. In a previous article, we focused on the Ternes-side, and now we introduce the other side of the 17th, north-east of the Boulevard Malesherbes. This is the slightly younger, hipper, more culturally mixed, and certainly up-and-coming side of the residential arrondissement that borders the bustling Pigalle and Montmartre areas. The lively area was once the stomping ground of artists and writers such as Henry Miller, Émile Zola, and Édouard Manet.
See
Square des Batignolles A very pretty little park with a lake full of ducks, geese and myriad other waterfowl; a waterfall; and a carousel and benches for relaxing, as you are not allowed to sit on the grass. It is a little oasis bordering the bustling the Place du Docteur-Félix-Lobligeois, lined with the impressive church Sainte-Marie des Batignolles, and numerous bistros and cafes.
Cité des Fleurs (between Avenue de Clichy and rue de La Jonquière). You know those 'villas' you keep seeing in every residential area, those lovely little places with small gardens, houses hidden in other peoples' courtyards, and always behind huge locked gates? Well, this one is even more beautiful than most, and you are allowed to wander through and pick out your dream home. Each residence is different, from small to large, all with gardens, and all seemingly a world away from noisy Paris. (Open daily, Mon-Sat 7am to 7pm, Sun 7am to 1pm)
Cour St-Pierre (corner of Avenue de Clichy, nr. Metro stop La Fourche). This is a small dead-end residential street, locked, although the gate usually opens without problems, developed from earlier mews, i.e. stables. Now converted into artists residences and studios, it is quite a cute hideaway which is certainly worth a peek.
Not unlike rue Poncelet on the Ternes side of the 17eme, Rue de Lévis is a bustling street full of cafes, restaurants, shops and market stands. Reportedly the street served as the 17th century thoroughfare between the town of Batignolles and the village of Monceau, and today it offers a fun, bustling insight into residential living in this part of the city.
Eat/Drink
Le Bistrot des Dames (18 rue des Dames). Part of Hotel Eldorado, this bistro is a little gem. The colorful main restaurant is lovely enough, but wind your way past the kitchen and you'll find a courtyard garden that is simply perfect for extended lunches. But do make sure you book. The menu changes with the seasons, but if you find the 'semi-cooked tuna with Thai salad' on yours, then don't miss it.
For pre-dinner drinks try the cocktails at La Legende Bar (100 rue Legendre). Tiny, with people spilling out onto the pavement, the most space is taken up by the drinks cupboard, and that can't be bad.
Le Bouchon et L'Assiette (127 rue Cardinet, Tel: 01 42 27 83 93) is the result when two well-trained and experienced chefs get together to bring their food creations and hospitality to the public at affordable prices. Make sure you book, as it is a small place that is always busy.
Shop
What better than a hot cookie? They don't come much better than from Scoop me a cookie (72 rue Legendre). An amazing variety and choice of freshly baked cookies, and all of a size that is perfect for 'just having one'.
Café Lanni (125 Avenue de Clichy) is a tiny little shop easily overlooked on the bustling avenue, but go inside and find a wealth of teas and coffees from around the world. A must for coffee addicts.
If you're after some special lingerie, not the type you find further down the road toward Pigalle, but exquisite couture-worthy custom-made items, try Louise Feuillère (102 rue des Dames). You can even visit the workshop on request and sign up for corsetry courses.
Photo credit: House in the Cité des Fleurs by Siren-Com/Wikipedia
Lead photo credit : courtesy of Le Bistrot des Dames
More in Paris neighborhood guides, Paris sightseeing
---
---
Comments