October Restaurant News in Paris
"Tell me what you eat and I will tell you what you are." — Jean Anthelme Brillat-Savarin, 1755-1826
Autumn is here! Looking for somewhere fabulous to eat in Paris? Here are some of my recommended addresses for this glorious season.
Albert Corre's bistro chic just off the posh Avenue Foch has new owners but continues the delightful theme of presenting not only fabulous food but also contemporary art and sculptures. There's an eclectic collection (for sale!) by the likes of Warhol, César, Arman, Peter Anton, and David LaChapelle.
"What goes around comes around," says new owner Alexandra Damas who was Albert's sommelière at Le Pergolèse, the classic gastronomic restaurant next door to Petit Pergo, 30 years ago! Since then, she's tapped into the impressive cellars chez Alain Passard at L' Arpège, L'os à Moelle, Square Trousseau and recently, with husband Serge Charbit, at Le Moulin à Vent, in the 5th arrondissement.
"We've kept lots of Albert's dishes; our regulars would be distraught if we changed everything", says Alexandra. "And that includes Thierry the restaurant manager."
We return time and again for the superb starters of pan fried frogs legs Provençal (€36); Lobster salad with truffle dressing (€29); House made foie gras (€18). Then, say, cod roasted with charred endives and orange (€28); Pan-fried sea bass and mashed potatoes with C. Aznavour olive oil (€34). (Aznavour was a frequent diner until his death in 2018.) Other highlights: Calf sweetbread with penne and morel mushroom cream sauce (€35); Pan-fried Châteaubriand with pepper cream sauce (€34) or creamy truffle risotto (€30). And to finish: seasonal cheeses (€15), Tarte Tatin (€15) or the mind-blowing Grand Marnier soufflé (€17). Wine by the glass €8-€10 from the beautiful wine card. My favorites: White Clos Alfred "Bourgogne", 2018 (€43) and the intense Red Côtes de Rhone 2016 from Domaine de la Vielle Julienne (€42).
Further information
38, rue Pergolese, 16th
Tel: +33 (0)1 45 00 23 66
Metro: Argentine/Porte Dauphine
Closed Saturday & Sunday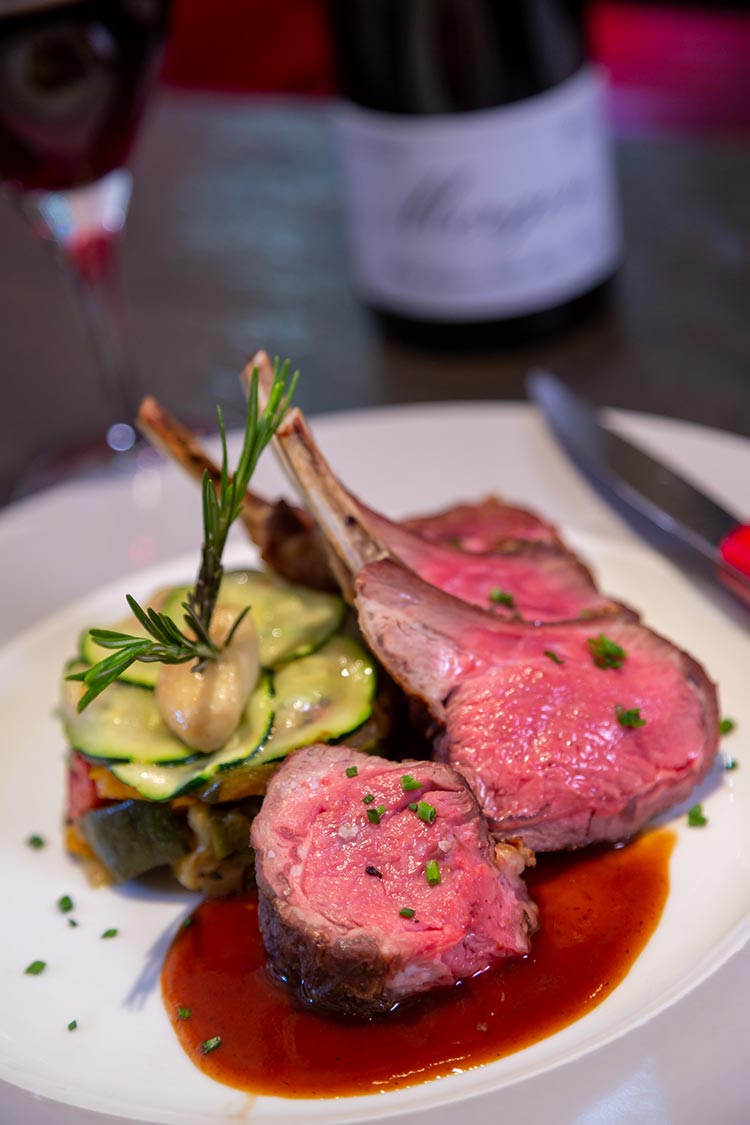 This small Paris bistro is owned and run by two alumni of the restaurant of legendary chef Guy Savoy: Michel Roncière at the "piano" (stove) and sommelier Éric Mancio in the front of house ("vins").
Behind the white facade, the simple minimal masculine decor goes well with the dishes. Chef Michel sends out delicious bistro cuisine and his menus change every week. "No fuss, simple but tasty dishes," he says. A few examples: creme de crustacés broth, cocos de Paimpol, fresh herbs; salmon carpaccio, herb salad and crispy pancake; pan-fried Burgundy snails, baby potatoes, bacon, parsley coulis; duck foie gras, oven-baked Jerusalem artichoke; roast Challans guinea fowl, spinach, salsify, anointed with cooking juices. For dessert, try the pink praline rice pudding and/or chocolate ganache with orange cream.
Eric Mancio (passionate about wine) will help you discover excellent organic wines from his cellar. I enjoyed the fantastic cherry, cranberry and red fruit notes of the Côte de Feule Arbois Pupillin from Hughes Beguet Côtes de Jura Winery (€32).
Lunch €37
Discovery Menu – €55
Grand Menu (7 servings) €67 + wine
A La Carte about €50
Further information
47 rue Trousseau, 11th
Metro: Ledru-Rollin
Tel: +33 (0)7 83 69 02
Closed Sunday & Monday
Head to the 18th arrondissement to (re)discover the most enchanting and romantic 19th-century townhouse in a garden setting. Perched on the heights of Montmartre, L'Hôtel Particulier has slick new decor and Le Grand Salon's new menu celebrates traditional French cuisine: Burgundy snails with parsley, Périgord duck foie gras, artichoke salad, sole meunière from the Ile d'Yeu, creamy homemade mash, 7-hour shoulder of Auvergne lamb and mouthwatering vanilla mille-feuille! Why not stay the night in a gorgeous suite? Or, a glass of champagne in Le Tres Particulier, the late-night bar, is a chic endroit for a flute or two.
Further information
23 avenue Junot Pavilion D, 18th
Metro: Lamarck/Caulaincourt
Tel: +33 (0)1 53 41 81 40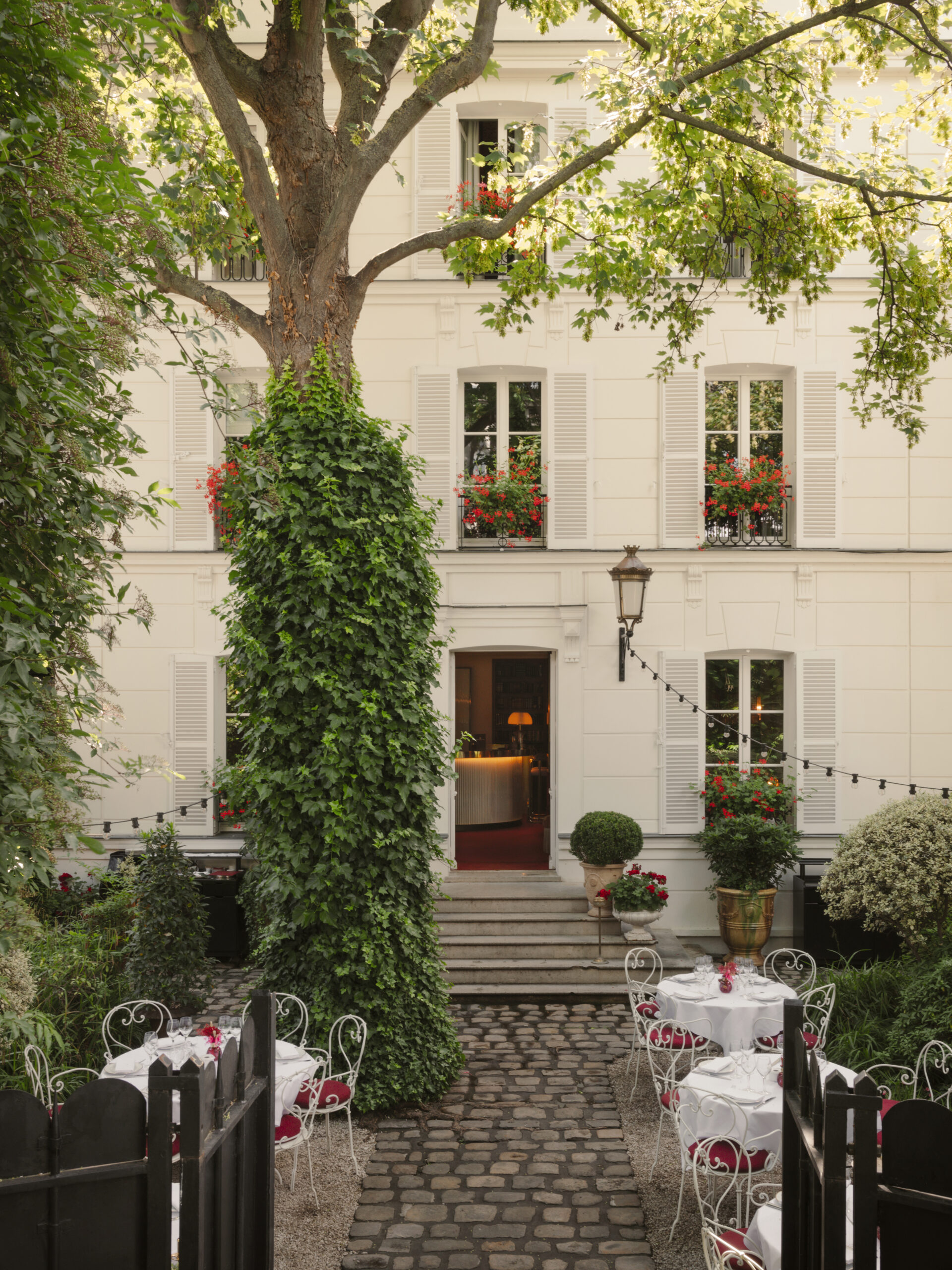 You may have met Matan Zaken when he was in the kitchens of Greg Marchand (Frenchie Covent Garden), Christian Lesquer (Le Cinq) and Sven Chartier's now closed Saturne. Then, having cheffed under the code name Nhomade (don't ask!) for Dior, Givenchy and Alaïa, the young talent's now cooking up a storm near the Palais Royal gardens. His cave-like space (designed in collaboration with Le LAD) has just 20 covers – it all takes place around a single and spacious table d'hôte. Exciting.
Further information
Dinner only from Tuesday to Friday
Tasting menu €105 + €59 with wine pairing
41, rue Montpensier, 1st
Tel: +33 (0)1 89 33 48 43
Metro: Palais Royal
Souvenirs of Sicilian holidays are alive and deliciously well on the first floor of the Salle Pleyel Concert Hall, newly decorated by Laura Gonzales. It's a tribute to the baroque town of Noto, its palaces and piazzas.
After a sunny St. Tropez summer spent at Noto, place des Lices, chef Emilio Giagnoni (ex sous-chef to Simone Zanoni at the Four Seasons George V) is helming the cucina at Noto, Paris. "We're inspired by the convivial cuisine that plays with simplicity and the great classics. Noto's a love letter to Italy and its seasonal cuisine," explains Sardinian born Emilio.
Fish Carpaccio, fried calamari, vitello tonnato, saffron or sea bass risotto, linguini with bottarga, trofie al pesto, Noto Burger, classic tiramisu, baba au rhum or mousse al limone… "We want guests to travel from Venice to Palermo via Puglia and Naples, taste the best of Italy in the heart of Paris."
Starters, from €18. Mains from €24. Desserts from €12. DJ Friday & Saturday and concerts.
Further information
252bis rue du Faubourg Saint-Honoré, 8th
Metro: Ternes
Tel: +33 (0)1 86 95 96 60
Closed Saturday lunch & Sunday
Bruno Verjus, the former food writer, radio show host and blogger, decided in 2013 to open his own restaurant. So, the self-taught chef created Table», rue de Prague, 12th with open kitchen, a chez moi vibe, and two Michelin stars. At the pianos of Verjus' impressive new addy are executive chef Christian Stradaioli and his pastry chef brother Kevin Stradaioli. The menu's a journey around the Mediterranean: South of France, Italy, Greece, Lebanon, Morocco. The vibrant 50s decor is signed by architect Lisa-Benhamou-Marciano and takes inspiration from Gio Ponti's Villa Planchart, Venezuela.
Further information
Open 7/7
71 Avenue Paul Doumer, 16th
Metro: Trocadéro
Tel: +33 (0)1 40 50 91 17
Last week chef Yannick Alléno launched the "Antoine Alléno Association" in loving memory of his beautiful 24-year old son, who was killed by a crazy drunken driver, with no permit, on avenue Bosquet (7th) last May. The mission is to prevent acts of violence against young people and support victims and their relatives in dark situations. "This," he said, "will be so that Antoine did not die in vain."
Luckily the chef has plenty of work to take his mind off the tragedy. He has *** Michelin at Ledoyen, Paris and at the Cheval Blanc in Courchevel, and also manages the **table at the Hôtel de Pavie, Saint-Emilion, Pavyllon at the Métropole de Monaco, and also culinary interests in Italy, Dubai and Korea.
Closer to home, Alleno has redesigned the menu at Prunier, Victor Hugo. The magnificent, listed, Art Deco restaurant on avenue Victor Hugo, created by Emile Prunier, is celebrating its 150th anniversary. The new YA-signed carte/bill of fare was unveiled on October 3rd and has reopened at Beaupassage, 53-57 rue de Grenelle, 7th. (Tel: 01 84 74 21 21) with bright, contemporary new decor and the best burgers in town.
Further information
Prunier Restaurant & Boutique
16 Avenue Victor Hugo, 16th
Metro: Victor Hugo/Etoile
Tel: + 33 (0)1 44 17 35 85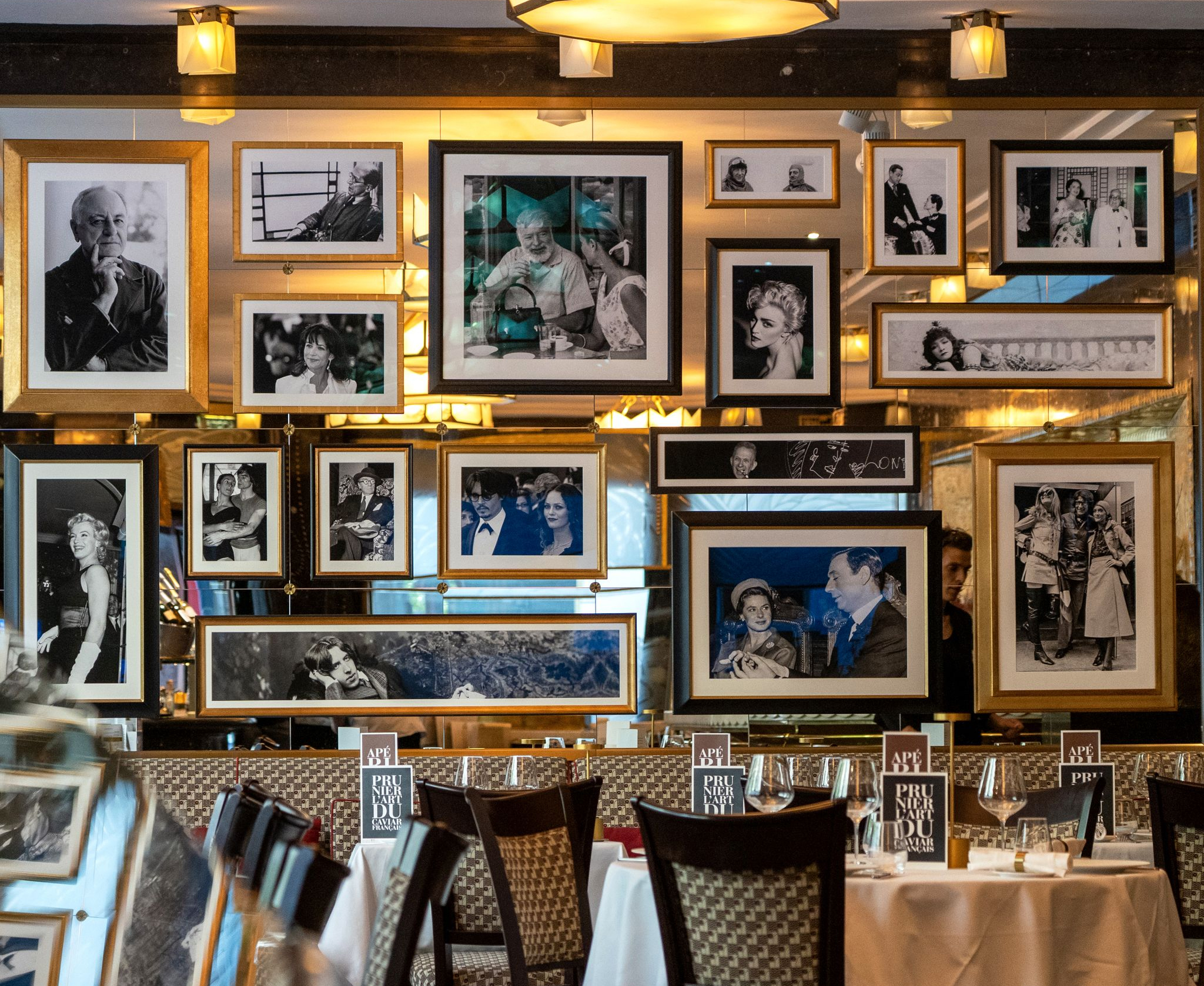 Lead photo credit : Vibrant dining courtesy of Le Petit Pergolese
More in Café Prunier, cavalieri, Nhome, noto, Paris: Best Places to Eat in September, pianovins, Where to eat in October in Paris, Yannick Alléno
---
---