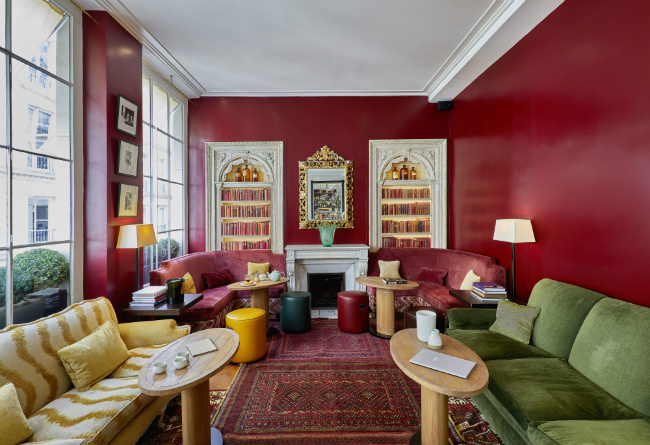 The breezes taste of apple peel. The air is full of smells to feel… — John Updike, September
Alain Ducasse launches his electric dream boat
About five years ago Alain Ducasse told BP he was creating an incredible project on the Seine. "Wait and see," he promised, "it's going to be amazing."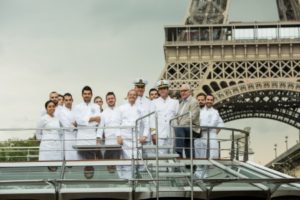 Fast forward to September 2018 as the sleek 40-meter, multi-million euro,
eco-friendly Ducasse Sur Seine — designed by naval architect Gérard Ronzatti commenced– its maiden voyage and Monsieur Ducasse proudly told BP:
"Of course, there are plenty of city river cruises to choose from but we are the first to offer a 100% electric boat that glides on the water, silently." And certainly the first to have a well stocked wine cellar!
There are two dining rooms and a chef's table. Book lunch (€100 +wine) or dinner (€150 + wine pairings). Executive chef Francis Chauvel and a brigade of 36 prepare everything sur place – showcasing seasonal locavore menus that include Champignons de Paris and syrupy local honey.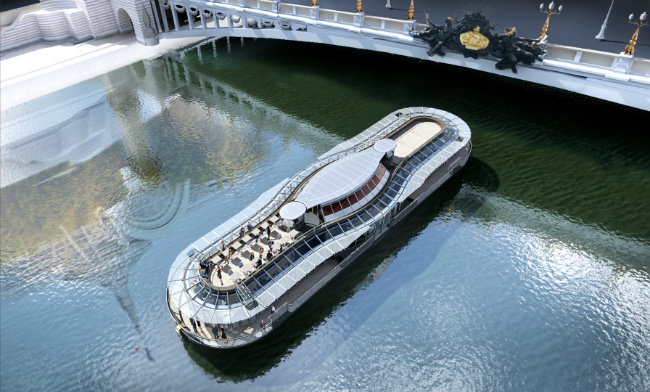 Signatures include warm guinea fowl and foie gras paté; The Cookpot, a luscious vegetarian Ducasse classic; and Roasted yellow farm chicken with herb butter. Pastry chef Louis Taine sends out praline crispy chocolate cake, baked figs, fig leaf ice cream.
And, between cruises, from 4-6pm, the boat anchors at Porte Debilly for a pause gourmande and unique view of the Eiffel Tower.
Alain Ducasse's Electric Dreamboat looks certain to become the first Seine river cruiser to snag Michelin stars.  "This is haute gastronomy – not a snack bar," insists Monsieur Ducasse.
Watch this space.
Port Debilly, 16th. www.ducasse-seine.com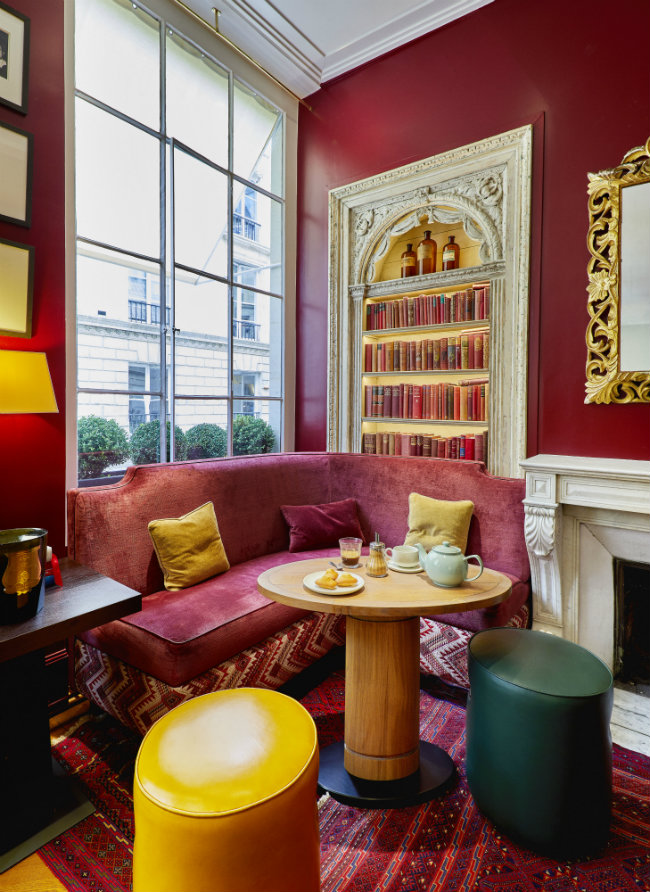 Jóia
With the left-bank flagship closed for a complete transformation, Hélène Darroze crosses to the right bank and launches Jóia (joy in the Basque language) in the two story, airy space that was formerly Rae's Italian, on rue des Jeûners, in the heart of the buzzing Sentier district.
On the ground floor, designer Guy Oliver has created an open kitchen, with a long sharing table, but plenty of private seating for those not wishing to make NBFs over lunch, dinner and – coming soon – brunch.
Climb the winding staircase to the elegant first floor lounge, another open kitchen, and restaurant. The perfect place to wait for your date, sip something from the mainly "women only winemakers" card. Try Nathalie Falmet's sparkling Champagne NV (€15) or Valerie Rousselle's 2017 Provence rosé Château Rubine (€10).
You're chez Hélène and friends including Kirk Whittle, Saïd, Flor, Stephanie, the brigade – and some fledglings from Ecole Ferrandi making their mark.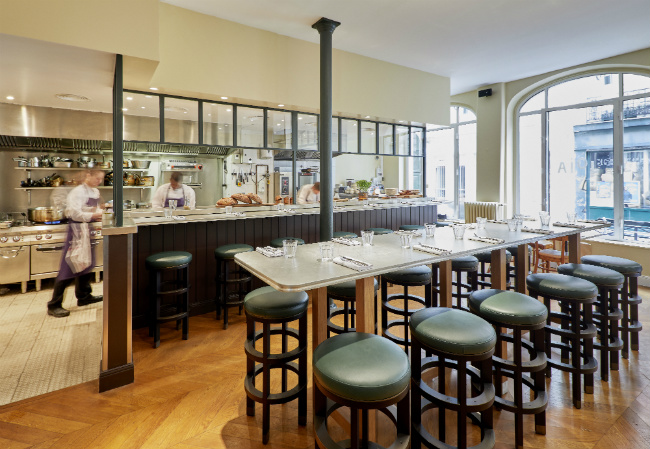 From Monday to Saturday "Le Semainier" menu changes daily (€24-€29), or choose A La Carte (about €55). Dishes are an homage to the chef's home in southwest France with a nod and a wink to Les Niacs – sharing bowls of, say pop-corn perfumed with black truffles.
Starters include a perfectly seasoned plate of wood mushrooms and foie gras crowned with an egg yolk "as served chez Amata" in San Sebastian. Continue with mouth-watering roasted Merlu (hake) from Saint Jean de Luz or La fameuse "short rib" of aged Angus beef. And, chipiron (small calamari) and wood mushroom stuffed Rouget Grondin (Red Mullet) with the best roast potatoes in town.
And, to finish, mille-crêpes au thé matcha — our "dessert of la rentrée" definitely deserving of its own Instagram page. Layers of delicate wafer thin green pancakes made with stone ground matcha tea leaves, sandwiched with a fine mascarpone cream, that must take days to assemble. And don't ignore the red fruit Pavlova, Coffee Profiteroles or poached Sollies figs sangria, cassis and thick cream, either!
39 rue des Jeûneurs, 2nd
Metro: Bonne Nouvelles
Tel: 01 40 20 06 06
www.helenedarroze.com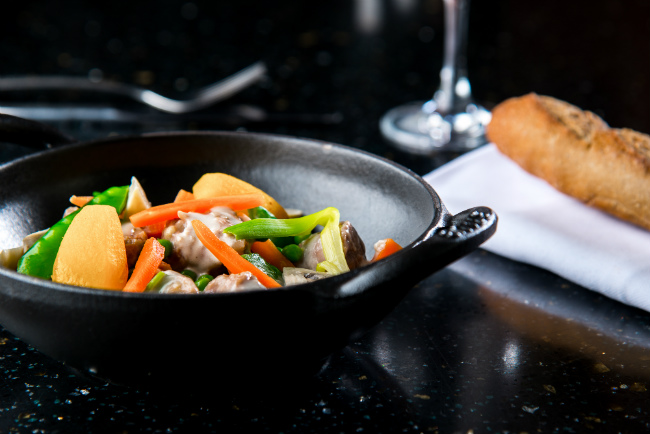 BBM
An acronym for "Bistro Buci Mazarine," this is the bistro chic by 2-star Michelin chef Alain Dutournier– famous for his gastronomic Carré des Feuillants— on rue de Castiglione, near place Vendôme. And, yes, you know and love Trou Gascon, Dutournier's original Paris address in the 12th arrondissement.
So, think of BBM as the hip, left bank, laid back, "ready to eat" outlet when you don't want to splash the cash but are looking for an honest meal and a good bottle/glass of wine; there may even be tastes from Dutournier's vineyard in his native southwest France. Certainly worth noting is Caves de Marly, the chef's treasure house of wines located at Port-Marly just outside Paris in the Yvelines region.
BBM signatures include the traditional Provençal dish of braised artichokes and snails in a warm and slightly tangy white-wine broth. Fresh goat's cheese roulade, perfect with a glass of Viognier 2015 – le Versant (€5).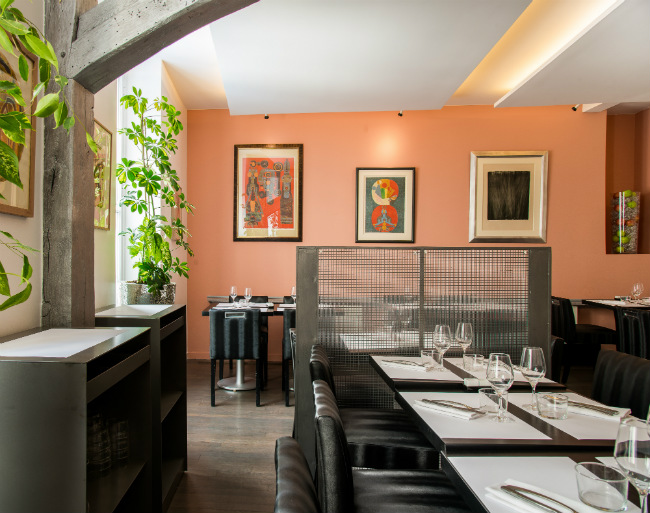 Mains could be rare red tuna, seasonal vegetables, jus, or pavé of Chalosse beef, topped with tarragon butter, crispy parsley sprinkled roast potatoes, leaves of tangy sucrine matched with Pic Saint Loup 2015 (€7).
Difficult to resist the tome de brebis de Gabas with its house made quince/piment jelly, and do not leave without sharing the perfect Tarte Landaise crowned with Prune-Armagnac ice cream.
82 rue Mazarine, 6th
Metro: Odeon/Mabillon
Tel: 01 43 54 02 11
Closed Sunday & Monday
Lunch formula €25, Dinner €35, A La Carte about €40 + wine
http://www.alaindutournier.com/wp/mangetout/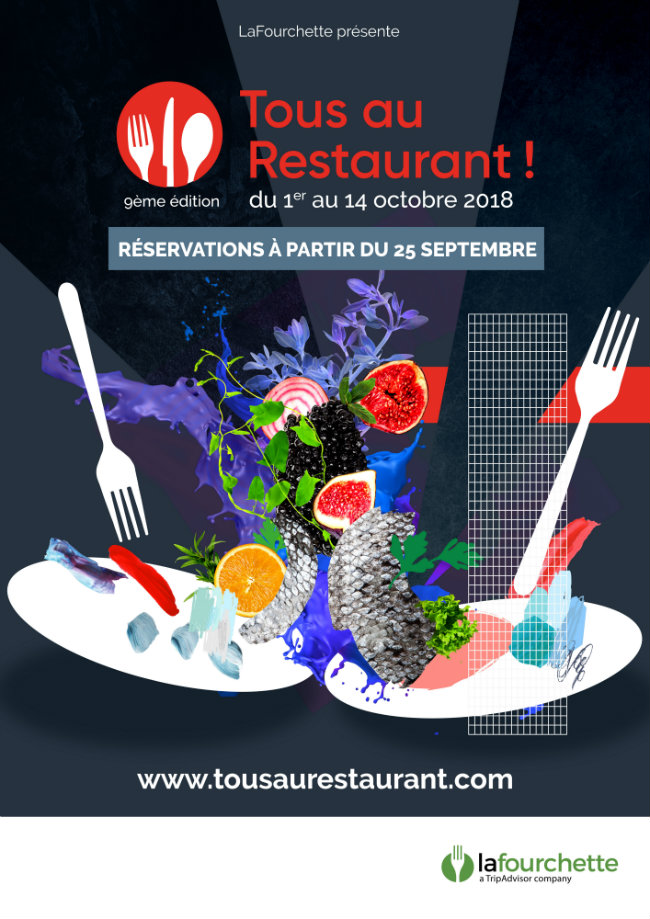 Save the date: Tous au Restaurant
Edition 9 of Tous Au Restaurant, 1-14 October
Bookings are open from 25th September at 10am for the annual celebration throughout the hexagon, with 1,500 participating restaurants, which means that "your guest is our guest." Order one meal – get one free.
"I've been associated with this delicious concept since the beginning and look forward to welcoming guests to my four Paris restaurants, along with so many of my colleagues," says superchef Guy Savoy. See you there! www.tousaurestaurant.com
Korean Gastronomy
On October 5th, 6th and 7th, Korean gastronomy will be showcased at the charming Chalet du Lac, Orée du Bois de Vincennes in the 12th arrondissement.
On the program of the K-Food Red & Hot Festival:
– Cooking demonstrations and tastings
– Cooking workshop (for both children and adults)
– Restaurant area
– Korean Cocktail Bar
– Animations and Games: K-Pop, costumes & traditional games
– Korean grocery
– Street food stands …
Entrance 5 euros / free for children under 12
Hours: 11h – 20h
For more information www.kfood-fete.fr