Millesimes 62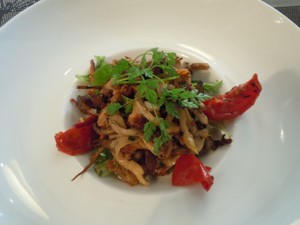 Discreet, behind bay and olive trees, you'll wish you'd discovered Millesimes  62 seven years ago when Stéphane and Sarah Savorgnan took over. He's from Mountauban, ex- Moulin de Mougins with Roger Vergé : Potager du Roi, Versailles, Chez Georges. Sandra's ex- Vasarely Foundation, Aix : Hotel Lauriston : Hotel Montalambert etc.
« We always wanted to work together, this is our dream come true », say the adorable couple who take great pride in their « home-made » concept, many dishes fashionably « sans gluten ». The Savorgnan's are founder members of the prestigious Maître restaurateurs. Also en cuisine, David Ditte of Buddah Bar and Domaine de Bellesbat etc.
Millesimes 62, as the moniker indicates, and the discreet new décor showcases, has a great selection of wines well priced and perfectly served.
Sunny, generous, dishes take inspiration from points south, the daily changing menu plays to packed house midi et soir with the likes of : Gateau d'Aubergines, tapenade, tomatoes. Friaîcheur d'écrivisses, pomelos. Fricassé of fresh mushrooms and chanterelles : Tartare of Saumon : Ceviche : Salad (for the ladies who do). Generous mains of Bar a la Plancha, sauce vierge, wok de legumes : Risotto/parmesan/salmon : Gambas a la plancha : Beef Tartare.
Then Tarte aux Figues : Fruit Clafoutis : Dessert Gourmande (a taste of everything) with Maison Pedone sorbets and ice-creams.
13 place de Catalogne, 14th
M : Montparnasse
T : 01 43 35 34 35
Terrace
Formula Bar Lunch 16.50
Gluten Free Menu 30€
Menu du Marché from 19.90-30€
Lunch and Dinner A La Carte about 37€ + boissons
Menu Prestige includes aperitif/wine/coffee 39€
Shut : Saturday lunch-Sunday
Le Royal Monceau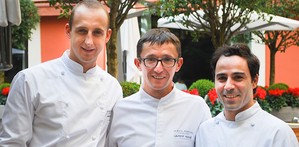 Ask Laurent André, Royal Monceau Michelin * chef what is his greatest extravagance ?  He says, « eating in a different restaurant every day ». And it's possible, under one roof, at Royal Monceau.
Begin at Le Bar Long, buzzing with the beautiful pipole, order Cocktail Ispahan and tapas.
Choose, the Michelin * Il Carpaccio, with Sicilian style decor, where Naples born chef Roberto Rispoli's new collection includes Alba Truffles : Aubergine rôtie au four, caviar de cèpes, toasted oregano-baba followed by feather light Ravioli « Al Plin » stuffed with burrata and slow cooked guinea-fowl.
Or book, the Michelin * La Cuisine to taste Hans Zahner and Laurent Andre's perfect Poularde Jaune from Mr Tauzin the white roasted, the legs slow cooked with variations on the theme of cèpes. For dessert look no further than über pâtissier Pierre Hermes' seasonal spin on chestnuts or XXL signature Millefeuilles minute.
The Philippe Starck designed Royal Monceau has become an exciting  meeting and eating place, with all the trappings of the Palace it is plus excellent restaurants, boutique, spa, cinema, La Fumée Rouge Cigar Bar, spacious areas to sit, read, stare, the perfect Paris address.
And, don't forget to « Ask the Concierge » they've been known to book  private jets to St. Tropez at the drop of a Birkin, because Paris weather was too grey ! Of course, no names, but Madonna, Beyoncé and Robert de Niro have their habitudes.
Le Bar Long, La Cuisine, Il Carpaccio,
The Restaurants of Le Royal Monceau Raffles Paris,
37 avenue Hoche, 8th
M : Charles de Gaulle Etoile,
Valet Parking,
T : 01 42 99 88 00
Plants & Herbs are not just for cooking!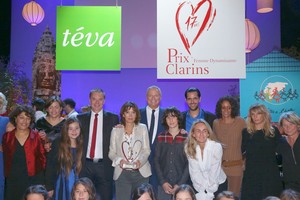 It was the pure passion of one man, Jacques Courtin-Clarins, that lead to the creation of Clarins in 1954. His pioneering idea:  take beauty seriously. Clarins developed unique face and body treatment methods, created luxury products made exclusively from plant extracts. The brand soon became a skin care leader in France (1980) and then Europe (1990). To-day, still family run by Olivier & Christian Courtin Clarins and, for 17 years, in 14 countries Clarins have "put something back" with, among many charities, "Le Prix de la Femme Dynamisante". Last night at L'Opéra Comique, Paris, the 2015 prize was awarded to Tina Kieffer founder of Toutes A L'Ecole. Read all about it here.
50 Shades of Petrossian A Wish List :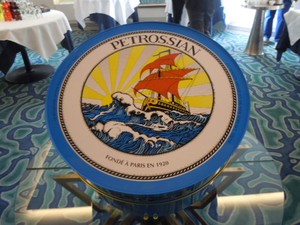 Make one before they run out, the new Winter products are so exciting you'll want them all : now.
Why not order La Nevidenno, the outsize Petrossian logo tin filled with the caviar of your choice, or a combination of caviar, smoked fish and les grandes nouveautes de la fin de l'annee: Jewels of the Sea, as in Blue Lobster Eggs (48€): Le Koshka de Crabe Royal (165€ kilo) : L'Essence Grenade, to give that je ne sais quoi to your poisson grillé (35€).
Don't forget the just open caviar lifestyle right-bank boutique.
At lunch taste the sizzling signature, Croque Monsieur Au Caviar, during the afternoon a chariot is loaded with delicious pâtisserie and the boutique becomes a salon de thé. Don't rule out « Afterwork » or « Early Dinner ». And, before leaving pick up a pot of pepper : not exactly but Armen Petrossian's La Fleur de Caviar, made to a top-secret recipe, to add a *** Michelin touch to your Picards ! The only limit chez Petrossian is your Christian Grey imagination. Bien a vous !
Petrossian (Maison fondé 1920)
18 Boulevard de Latour Maubourg, 7th
M : Latour Maubourg
Valet Parking by Monsieur Serge (since 1998)
T : 01 44 11 32 32
Once Upon a Time :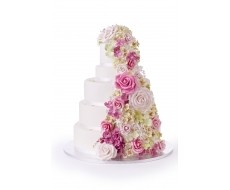 There were two best friends, mad about pastry. They travelled the world, finding inspiration, for one day, their Fairy Godmother predicted they would open a pastry boutique in Paris, like no other.
Deborah Levy and Susan Harb  « Cake Fairy Start-Ups » subsequently created a niche market for their mini-pastry jewels, delicious spins on classic French favourites. Working with their Prince Charming Eddie Benghanem, Executive Pastry chef at Le Trianon Palace, Versailles, who they met via Linkedin, each season produces a sublime collection, gluten free if you wish. Wedding Cakes a speciality.
Pop into their fairy-grotto near Centre Pompidou, for bewitching bite-size chocolate bars, les croquants, wonderful Wizard of Oz büches, mini- macarons, les pates `a tartiner etc.
And, find the Cake Fairies on stand C23 Salon du Chocolat, 29 October-2 November
Les Fées Pâtissières,
21 rue Rambuteau, 4th
M : Rambuteau,
T : 01 42 77 42 15