Perugino, Maitre de Raphael / Perugino, Raphael's master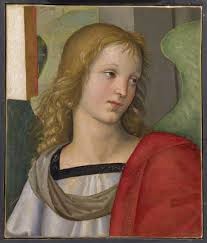 Raphael's angel painting A superb exhibition on Italian Renaissance master Perugino is currently being hosted by the Jacquemart-André Museum in Paris. Piero di Cristoforo Vannucci was born circa 1445-1450 in Citta della Pieve, a small city near Umbria's capital, Perugia; his artistic training began here. By 1470 he was in Florence, working in Verocchio's prestigious studio. The artistic climate was in full ferment; fellow students included da Vinci, Ghirlandaio, Botticelli and Lippi. Vannucci's talent, revealed in assured draftsmanship and a refined, elegant style, melded vivacious colors and graceful poses in a serene and beautifully constructed setting. Lorenzo di Medici praised his work, saying 'even his skies are spiritual', and there is indeed something particularly ethereal in his atmospheric renderings. St Bernardetto heals the ulcer of the daughter of Giovanni Antontonio Petrazio da Rieti, 1473 An early monumental work depicts St Romain and St Roch, full-length portraits with beautifully rendered costumes posed on either side of a medallion of God the father: the composition is a joy to behold. Instead of the traditional narration of scenes from the lives of the saints in the predella, the lower panel, the artist features a warm-hued view of Deruta, the setting of a deadly plague in the 15th century.  The intercession of saints Romain and Rocco were invoked during a deadly plague; Rocco points to a wound from which he miraculously survived. A gilded tapestry acts as backdrop, infusing the scene with a theatrical touch.  Santi Romano e Rocco 1477 In 1480, called to Rome by Pope Sixtus IV, Vanucci creates fresco panels for the Sixtine Chapel. Multitudinous commissions then flowed from religious orders, the nobility and the wealthy. Documents reveal that he was an extraordinary businessman and a master of publicity, with a flair for attracting clients and stockpiling commissions. Now known as Perugino, he opens workshops, in Perugia and in Florence; students flocked from France, Spain and Germany to learn from his pleasing and popular style. His fame spread throughout Italy and beyond; he fulfilled commissions for patrons in France and Spain. Nearly all of his oeuvre was religious; paintings corralled from museums of the Vatican, the Louvre, Washington, London and Florence include numerous, languorous Madonna and Child paintings. Yet one of the great surprises of the exhibition is Perugino's extraordinary portrait of Francesco dell Opere done in 1494. Hung alongside work by contemporaries Rosselli and Botticelli, Perugino's painting gleams through its psychological insight and perfect resemblance. The finesse of the rendering of hair, clothing and fine feathery trees, also make one easily understand why Perugino was the highest paid and most acclaimed painter of his generation. Delle Opere holds an unfurled scroll reading 'Fear God', a reference to Dominican friar Girolamo Savonarola's fiery sermons. Portrait of Francesco delle Opere 1494 Perugino visited Venice in 1494 and 1496; an exotic influence radiates in his Mary Magadalen, with its golden touches on halo and clothing, a new interest in details of furs and brocades, and the introduction of watery landscapes. He achieved his glowing, translucent skin tones by adding powdered glass to pigments. Mary Magdalen, 1500 Savonarola's exhortation for a 'language of devotion', simplified and without ornamentation, will find artistic echo in Perugino's serene, pared-down landscapes such as found in his fine Fano predella depicting the Assumption of Mary.  A mandorla is punctuated with tilted cherubs' heads, while a pair of delicate angels skate in on small clouds.  Twelve apostles robed in ravishing colors converse, pray and adore against a Tuscan backdrop of hills and trees. Retable de Fano 1497 To his soft and sweet 'dolce' manner- Perugino adds quirky stylistic touches: charming headdresses adorning Mary were inspired by his wife Chiara, who enjoyed wearing hair ornaments. She posed for him on several occasions; Perugino himself would arrange her hair. The exhibition poster portrays Chiara as a pensive Virgin wearing an elaborate blue hair ribbon, holding the Christ child against a delicate cityscape. Vierge a l'Enfant, 1501, © Courtesy National Gallery of Art Washington We see this touch again in the Madonna della Consolazione, where Mary wears an elaborate white hair sash, trailing against a luminous sky.  Angels scoot about in prayer on purposeful small flat clouds: one with fantastic crimson wings, both figures robed in colorful draped garments. Madonna della Consolazione, 1496-98 These artistic conceits do not conceal a lack of innovation in composition, and a clumsy sense of proportion: kneeling monks are awkwardly portrayed in the background, out of scale with the large angels (whose design was most likely re-used from old drawings) and the Virgin.  Perugino's artistic evolution stalled toward the later part of his 30-year career; the profuse production of his workshops was often marked by insipid and repetitive scenes. He had reduced the theory of his craft to a set style which gave all his figures the same expression. Nonetheless, convinced of his genius, in 1500 the artist pompously inscribed his self-portrait: 'Pietro Perugino, eminent painter: Even were the art of painting to have become lost, here by the distinguished Pietro of Perugia was it restored; had it nowhere yet been devised, at this level he gave it to us'.  But soon after, Michelangelo slammed him as a 'goffo dell arte', a clumsy fool of a painter; now wealthy from his art, Perugino no longer challenged himself, adhering to artistic conventions now surpassed. The exhibition includes a low-relief sculpture from Verocchio's school, as well as work by Perugino's contemporaries and students, Pinturrichio and Raphael.  Raphael would go on to transcend Perugino: the last room of the exhibition features a few of his paintings. Master and student maintained an excellent relationship of mutual teaching, and continued to collaborate on commissions. Perugino died of the plague in 1523 and is buried in Perugia. The 1573 Pietro Vannucci Fine Arts Academy of…
SUBSCRIBE
ALREADY SUBSCRIBED?
BECOME A BONJOUR PARIS MEMBER

Gain full access to our collection of over 5,000 articles and bring the City of Light into your life. Just 60 USD per year.

Find out why you should become a member here.

Sign in

Fill in your credentials below.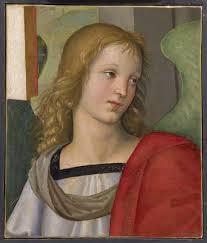 Raphael's angel painting
A superb exhibition on Italian Renaissance master Perugino is currently being hosted by the Jacquemart-André Museum in Paris. Piero di Cristoforo Vannucci was born circa 1445-1450 in Citta della Pieve, a small city near Umbria's capital, Perugia; his artistic training began here. By 1470 he was in Florence, working in Verocchio's prestigious studio. The artistic climate was in full ferment; fellow students included da Vinci, Ghirlandaio, Botticelli and Lippi. Vannucci's talent, revealed in assured draftsmanship and a refined, elegant style, melded vivacious colors and graceful poses in a serene and beautifully constructed setting. Lorenzo di Medici praised his work, saying 'even his skies are spiritual', and there is indeed something particularly ethereal in his atmospheric renderings.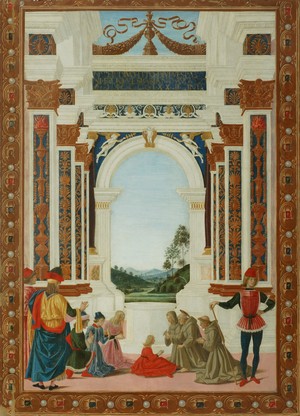 St Bernardetto heals the ulcer of the daughter of Giovanni Antontonio Petrazio da Rieti, 1473
An early monumental work depicts St Romain and St Roch, full-length portraits with beautifully rendered costumes posed on either side of a medallion of God the father: the composition is a joy to behold. Instead of the traditional narration of scenes from the lives of the saints in the predella, the lower panel, the artist features a warm-hued view of Deruta, the setting of a deadly plague in the 15th century.  The intercession of saints Romain and Rocco were invoked during a deadly plague; Rocco points to a wound from which he miraculously survived. A gilded tapestry acts as backdrop, infusing the scene with a theatrical touch.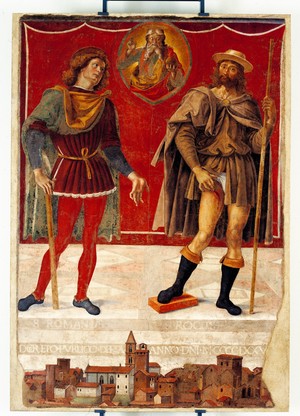 Santi Romano e Rocco 1477
In 1480, called to Rome by Pope Sixtus IV, Vanucci creates fresco panels for the Sixtine Chapel. Multitudinous commissions then flowed from religious orders, the nobility and the wealthy. Documents reveal that he was an extraordinary businessman and a master of publicity, with a flair for attracting clients and stockpiling commissions. Now known as Perugino, he opens workshops, in Perugia and in Florence; students flocked from France, Spain and Germany to learn from his pleasing and popular style. His fame spread throughout Italy and beyond; he fulfilled commissions for patrons in France and Spain.
Nearly all of his oeuvre was religious; paintings corralled from museums of the Vatican, the Louvre, Washington, London and Florence include numerous, languorous Madonna and Child paintings. Yet one of the great surprises of the exhibition is Perugino's extraordinary portrait of Francesco dell Opere done in 1494. Hung alongside work by contemporaries Rosselli and Botticelli, Perugino's painting gleams through its psychological insight and perfect resemblance. The finesse of the rendering of hair, clothing and fine feathery trees, also make one easily understand why Perugino was the highest paid and most acclaimed painter of his generation. Delle Opere holds an unfurled scroll reading 'Fear God', a reference to Dominican friar Girolamo Savonarola's fiery sermons.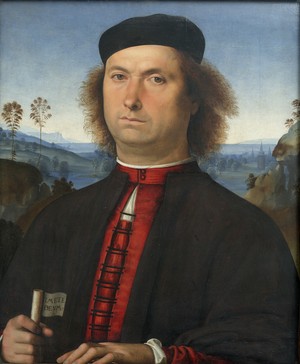 Portrait of Francesco delle Opere 1494
Perugino visited Venice in 1494 and 1496; an exotic influence radiates in his Mary Magadalen, with its golden touches on halo and clothing, a new interest in details of furs and brocades, and the introduction of watery landscapes. He achieved his glowing, translucent skin tones by adding powdered glass to pigments.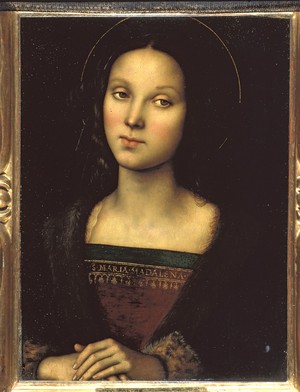 Mary Magdalen, 1500
Savonarola's exhortation for a 'language of devotion', simplified and without ornamentation, will find artistic echo in Perugino's serene, pared-down landscapes such as found in his fine Fano predella depicting the Assumption of Mary.  A mandorla is punctuated with tilted cherubs' heads, while a pair of delicate angels skate in on small clouds.  Twelve apostles robed in ravishing colors converse, pray and adore against a Tuscan backdrop of hills and trees.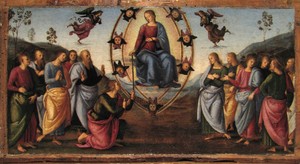 Retable de Fano 1497
To his soft and sweet 'dolce' manner- Perugino adds quirky stylistic touches: charming headdresses adorning Mary were inspired by his wife Chiara, who enjoyed wearing hair ornaments. She posed for him on several occasions; Perugino himself would arrange her hair. The exhibition poster portrays Chiara as a pensive Virgin wearing an elaborate blue hair ribbon, holding the Christ child against a delicate cityscape.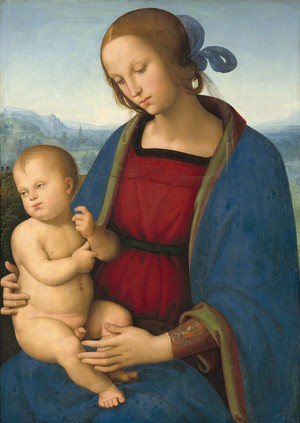 Vierge a l'Enfant, 1501, © Courtesy National Gallery of Art Washington
We see this touch again in the Madonna della Consolazione, where Mary wears an elaborate white hair sash, trailing against a luminous sky.  Angels scoot about in prayer on purposeful small flat clouds: one with fantastic crimson wings, both figures robed in colorful draped garments.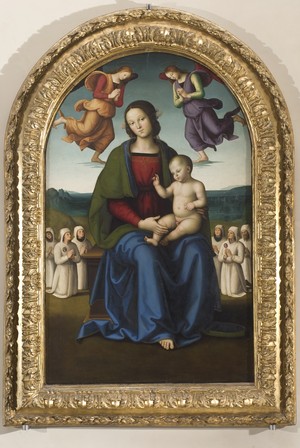 Madonna della Consolazione, 1496-98
These artistic conceits do not conceal a lack of innovation in composition, and a clumsy sense of proportion: kneeling monks are awkwardly portrayed in the background, out of scale with the large angels (whose design was most likely re-used from old drawings) and the Virgin.  Perugino's artistic evolution stalled toward the later part of his 30-year career; the profuse production of his workshops was often marked by insipid and repetitive scenes. He had reduced the theory of his craft to a set style which gave all his figures the same expression.
Nonetheless, convinced of his genius, in 1500 the artist pompously inscribed his self-portrait: 'Pietro Perugino, eminent painter: Even were the art of painting to have become lost, here by the distinguished Pietro of Perugia was it restored; had it nowhere yet been devised, at this level he gave it to us'.  But soon after, Michelangelo slammed him as a 'goffo dell arte', a clumsy fool of a painter; now wealthy from his art, Perugino no longer challenged himself, adhering to artistic conventions now surpassed.
The exhibition includes a low-relief sculpture from Verocchio's school, as well as work by Perugino's contemporaries and students, Pinturrichio and Raphael.  Raphael would go on to transcend Perugino: the last room of the exhibition features a few of his paintings. Master and student maintained an excellent relationship of mutual teaching, and continued to collaborate on commissions.
Perugino died of the plague in 1523 and is buried in Perugia. The 1573 Pietro Vannucci Fine Arts Academy of Perugia honors his memory.
Jacquemart-Andre Museum, 158 boulevard Haussmann, Paris 75008, until January 15th 2015. Exhibition hours: 10AM-6PM; 'till 8:30PM Mondays and Saturdays.
Rosemary Flannery is an American writer, artist and tour guide, based in Paris since 1989. Her passion for the history and architecture of the city led to the creation of her book, Angels of Paris: An Architectural Tour through the History of Paris, soon to be available in French as Les Anges de Paris. Rosemary's articles on art and architecture have been featured in travel, lifetstyle and architecture magazines and blogs worldwide. Angels of Paris is available at bookstores or on Amazon. For her varied and fascinating tours of Paris, please visit her website.
More in exhibition, Paris art exhibits, Paris exhibitions, Perugino
---
---