Rossi & Co : Carton Rouge : When Prunier Met Betjeman & Barton : Stop Press Musical Chefs & Bûche of the Week
Rossi & Co Sure, there's a menu at Rossi & Co, located in a tiny side street off rue Montorgueil, but, no dishes are listed just a bit of useless info « Menu Decouverte/Menu Degustation » and very reasonable prices (see below). Marco Rossi, locavore chef, meltingly handsome, Naples born (same village as S. Loren !) chef/owner at Rossi & Co sources his produce from little suppliers and, of course, Joël Thiébault. You may bump in to one of them rushing a wooden box of earthy just picked mushrooms to the open kitchen, or a panier of fresh fish on ice, direct from Brittany or Saint Jean de Luz. He's a crazy guy, look at him and wonder why he's not starring in a film by Cedric Klapisch (Un Air de Famille etc.) or still walking for Givenchy, which he did when he needed money to finance his ristorante. « I'm passionate », he explained one Indian Summer Day last week. « You have to be to work 18 hours a day ! » Don't go to Rossi & Co for pizza & pasta, but to discover a unique talent, who cooks daily inspired by his organic produce. The first dish may be succulent beef carpaccio wrapped around soft burrata, topped with a nasturtium leaf and cinnamon espuma. From the tiny open kitchen Rossi, in black whites, sends out a stand-out dish which he dubs : « Homage to Pierre Soulages » Black : except the interior of the perfectly flashed pink salmon- trout, crusted with black sesame, squid ink, liquorice (Rossi's secret weapon). Add burnt aubergine cream and verbena. Trust me : if you love Soulages (and who doesn't ?) you'll adore this daring dish. Sip zesty white
Colle Stefano
2013 Les Marches (30€) Bright white merlu (hake) follows, on a bed of chanterelle mushrooms, a suspicion of orange. So far no pasta (or pizza) but Rossi's take on both must be straordinario. It is : Al dente, Linguine, yellowed from simmering with organic yellow beetroot, he adds a few girolles, parmesan shavings and  generous gratings of white Alba truffles. Talk to hip head-honcho garçon Fabio Ture who may suggest Calabrian red Chora Grenache noir 2012. Dessert's, cardamom panacotta, a touch of cauliflower (« well it's a flower and I love it », he grins) red fruits, a dab of bitter Sardinian honey. Wild ! Coffee, and warm financiers, from Naples, comes in pretty earthenware Neapolitan cups, little hat's keep it warm. Ask for a table near the tiny open kitchen (there's only space for 26 inside) then you can watch the movie that is Rossi & Co unfold. Apparently Marco does a stunning smoked mozza soufflé : his latest fetish is kale. « Brad & Angelina en mangent parce que ça fait maigrir ! » he laughs. PS : In a hurry, or need something for tonight ? Rossi's deli opposite ticks all the boxes. 10 rue Mandar, 2ndM : SentierTerrace Lunch 18 – 24€ – Tasting Menu 48€Dinner 29-36-48€Shut Sun-MonT : 09 54 96 00 38
Facebook
Carton Rouge What do I know about
football
? I do know a red card (carton rouge) means the player's sent off the field, banned for the rest of the match, automatically out for his team's next game. Chez Carton Rouge, near the magnificent church Notre Dame de Lorette, owner, Jean-Guillaume Hazeaux is a confirmed fan who's eyes light up at the mention of Ibrahimovic, Maradona, Zidane, Bianci, Rossi (not the above mentioned chef). "I love football, good food and good wine", he admits. "And I also think we must keep a sense of humour in life, no?" "And, it's a yes from me. And, from Carton Rouge chef David Gutman (ex-Metropolitan, Place Mexico: L'Instant d'Or: Napoleone, Champs Elysées). I'm more into les arts martiaux", he admits. So, no messing with chef Gutman, who creates bright Marché du Jour dishes such as: Crème de potiron au lard, tiny herbed mascarpone dumplings. Tomato millesfeuilles, goat's cheese, sauce vierge. Creamy burrata's paired with artichoke purée. Foie-gras with astringent granny apples. Followed by Carton Rouge Burger & Frits Maison. Chicken, gratin de macaroni: Slow cooked shoulder of lamb: Cod with crispy skin, pommes charlotte, olives, capers and peppercorns. House ripened cheese and Crème de Marron façon Mont Blanc etc. The space is very welcoming, décor's modern flea market finds, walls punctuated with Arnaud Fatôme's beautiful black and white photos of Paris. There's a comprehensive wine card, custom cheese cabinet, zinc bar for a glass of 30 year Port or Bollinger Rosé. Or, just stop by on the way to Montmartre, for a nice cup of tea from La Route de Comptoirs Bio. It's all good. So, no red card for Carton Rouge then. Goal ! 9 rue Mauberge, 9thM : CadetT : 01 45 26 89 41Shut Saturday lunch-Sunday Menu du Jour 20€A La Carte : 3 courses about 36€ + boissonsTapas Menu from 18-20h
Facebook
Caviar + Tea – Mais Oui ! HRH Prince Charles' Tea Merchant of choice is
Betjeman & Barton
in Paris since 1919. Together with Prunier (since 1872) the duo suggest a slick combination of their finest salmons and caviars to match B & B's rare teas. Prunier Café Chef Renata Dominick says its time to evolve from her signature lobster sandwich, although still available, and concentrate on, say, tartare de saumon mixed with light fromage blanc, black pepper, salmon eggs, herbs. B & B match chef Renata's tartare with Thé Noir de Chine Fumée Lapsang Souchong.  There are six Prunier/B & B combinations available. And, diarise 11-23 December for #caviarshot at Café Prunier boutique where « caviar-girl » will tickle your tastebuds and a 10g tin costs just 10€ 20g-€20. Boutique –
Café Prunier
,15 place de la Madeleine, 8thT : 01 47 42 98 91Shut Sunday Musical Chefs : Christophe Moret, at the pianos of Michelin ** Lasserre four + years, is off to replace Philippe Labbé at
Le Shangri-La
in January 2015. Jean Louis Nomicos chef/owner at Les Tablettes, avenue Bugeaud, 16th,  stays put and is heading the state-of-the-art kitchen of « Le Frank », 60-seater restaurant/terrace/bar/ at the soon- to-…
SUBSCRIBE
ALREADY SUBSCRIBED?
BECOME A BONJOUR PARIS MEMBER

Gain full access to our collection of over 5,000 articles and bring the City of Light into your life. Just 60 USD per year.

Find out why you should become a member here.

Sign in

Fill in your credentials below.
Rossi & Co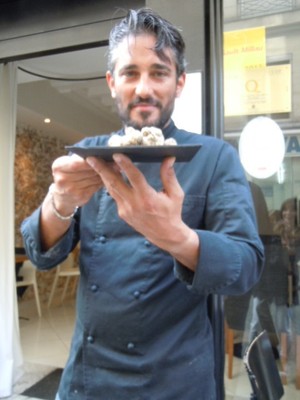 Sure, there's a menu at Rossi & Co, located in a tiny side street off rue Montorgueil, but, no dishes are listed just a bit of useless info « Menu Decouverte/Menu Degustation » and very reasonable prices (see below).
Marco Rossi, locavore chef, meltingly handsome, Naples born (same village as S. Loren !) chef/owner at Rossi & Co sources his produce from little suppliers and, of course, Joël Thiébault. You may bump in to one of them rushing a wooden box of earthy just picked mushrooms to the open kitchen, or a panier of fresh fish on ice, direct from Brittany or Saint Jean de Luz.
He's a crazy guy, look at him and wonder why he's not starring in a film by Cedric Klapisch (Un Air de Famille etc.) or still walking for Givenchy, which he did when he needed money to finance his ristorante. « I'm passionate », he explained one Indian Summer Day last week. « You have to be to work 18 hours a day ! »
Don't go to Rossi & Co for pizza & pasta, but to discover a unique talent, who cooks daily inspired by his organic produce.
The first dish may be succulent beef carpaccio wrapped around soft burrata, topped with a nasturtium leaf and cinnamon espuma.
From the tiny open kitchen Rossi, in black whites, sends out a stand-out dish which he dubs : « Homage to Pierre Soulages » Black : except the interior of the perfectly flashed pink salmon- trout, crusted with black sesame, squid ink, liquorice (Rossi's secret weapon). Add burnt aubergine cream and verbena. Trust me : if you love Soulages (and who doesn't ?) you'll adore this daring dish. Sip zesty white Colle Stefano 2013 Les Marches (30€)
Bright white merlu (hake) follows, on a bed of chanterelle mushrooms, a suspicion of orange. So far no pasta (or pizza) but Rossi's take on both must be straordinario. It is : Al dente, Linguine, yellowed from simmering with organic yellow beetroot, he adds a few girolles, parmesan shavings and  generous gratings of white Alba truffles.
Talk to hip head-honcho garçon Fabio Ture who may suggest Calabrian red Chora Grenache noir 2012.
Dessert's, cardamom panacotta, a touch of cauliflower (« well it's a flower and I love it », he grins) red fruits, a dab of bitter Sardinian honey. Wild !
Coffee, and warm financiers, from Naples, comes in pretty earthenware Neapolitan cups, little hat's keep it warm.
Ask for a table near the tiny open kitchen (there's only space for 26 inside) then you can watch the movie that is Rossi & Co unfold.
Apparently Marco does a stunning smoked mozza soufflé : his latest fetish is kale. « Brad & Angelina en mangent parce que ça fait maigrir ! » he laughs.
PS : In a hurry, or need something for tonight ? Rossi's deli opposite ticks all the boxes.
10 rue Mandar, 2nd
M : Sentier
Terrace
Lunch 18 – 24€ – Tasting Menu 48€
Dinner 29-36-48€
Shut Sun-Mon
T : 09 54 96 00 38
Facebook
Carton Rouge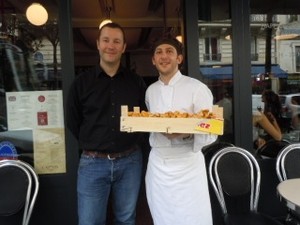 What do I know about football? I do know a red card (carton rouge) means the player's sent off the field, banned for the rest of the match, automatically out for his team's next game.
Chez Carton Rouge, near the magnificent church Notre Dame de Lorette, owner, Jean-Guillaume Hazeaux is a confirmed fan who's eyes light up at the mention of Ibrahimovic, Maradona, Zidane, Bianci, Rossi (not the above mentioned chef). "I love football, good food and good wine", he admits. "And I also think we must keep a sense of humour in life, no?"
"And, it's a yes from me. And, from Carton Rouge chef David Gutman (ex-Metropolitan, Place Mexico: L'Instant d'Or: Napoleone, Champs Elysées).
I'm more into les arts martiaux", he admits. So, no messing with chef Gutman, who creates bright Marché du Jour dishes such as:
Crème de potiron au lard, tiny herbed mascarpone dumplings. Tomato millesfeuilles, goat's cheese, sauce vierge. Creamy burrata's paired with artichoke purée. Foie-gras with astringent granny apples. Followed by Carton Rouge Burger & Frits Maison. Chicken, gratin de macaroni: Slow cooked shoulder of lamb: Cod with crispy skin, pommes charlotte, olives, capers and peppercorns. House ripened cheese and Crème de Marron façon Mont Blanc etc.
The space is very welcoming, décor's modern flea market finds, walls punctuated with Arnaud Fatôme's beautiful black and white photos of Paris. There's a comprehensive wine card, custom cheese cabinet, zinc bar for a glass of 30 year Port or Bollinger Rosé. Or, just stop by on the way to Montmartre, for a nice cup of tea from La Route de Comptoirs Bio.
It's all good. So, no red card for Carton Rouge then.
Goal !
9 rue Mauberge, 9th
M : Cadet
T : 01 45 26 89 41
Shut Saturday lunch-Sunday
Menu du Jour 20€
A La Carte : 3 courses about 36€ + boissons
Tapas Menu from 18-20h
Facebook
Caviar + Tea – Mais Oui !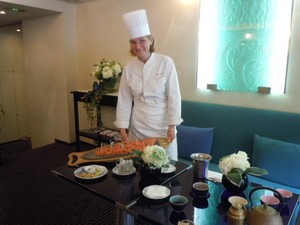 HRH Prince Charles' Tea Merchant of choice is Betjeman & Barton in Paris since 1919. Together with Prunier (since 1872) the duo suggest a slick combination of their finest salmons and caviars to match B & B's rare teas.
Prunier Café Chef Renata Dominick says its time to evolve from her signature lobster sandwich, although still available, and concentrate on, say, tartare de saumon mixed with light fromage blanc, black pepper, salmon eggs, herbs. B & B match chef Renata's tartare with Thé Noir de Chine Fumée Lapsang Souchong.  There are six Prunier/B & B combinations available.
And, diarise 11-23 December for #caviarshot at Café Prunier boutique where « caviar-girl » will tickle your tastebuds and a 10g tin costs just 10€ 20g-€20.
Boutique – Café Prunier,
15 place de la Madeleine, 8th
T : 01 47 42 98 91
Shut Sunday
Musical Chefs :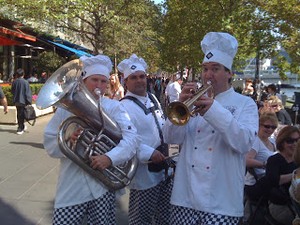 Christophe Moret, at the pianos of Michelin ** Lasserre four + years, is off to replace Philippe Labbé at Le Shangri-La in January 2015.
Jean Louis Nomicos chef/owner at Les Tablettes, avenue Bugeaud, 16th,  stays put and is heading the state-of-the-art kitchen of « Le Frank », 60-seater restaurant/terrace/bar/ at the soon- to- open futuristic (27 October) Frank O. Gehry designed Fondation Louis Vuitton, Avenue Mahatma Gandhi, 16th
And, leaving his copper casseroles to Yannick Alleno at Ledoyen, 3-star chef Christian Lesquer will wear the whites at Le Four Seasons Hotel George V (from 28 October) replacing Eric Briffard who seems to have received a red card !
Are chefs becoming like pro-footballers ? Probably, but news of transfer fees are kept as tight as peas in a pod. Stay tuned.
Cool Yule Log of the Week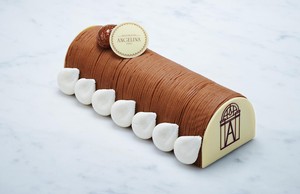 Head pâtissier Christophe Appert and the chefs at Angelina (Maison Fondée 1903) play with the classics for years' end. Bûche Mont-Blanc's a spin on the signature chocolat chaud, for which there's always a chic queue on rue de Rivoli, even in summer. Don't ignore the Galettes des Rois with hidden lucky trinkets and crunchy topped neo- Brioches.
More in Betjeman & Barton, Carton Rouge, Paris restaurants, restaurant, Restaurant reviews, Rossi & Co
---
---