From Budapest to Lyon: Michelin Guide Main Cities of Europe
"If you don't have a seat at the table, you're probably on the menu."
— U.S. Senator Elizabeth Warren, quoted in New York Magazine
The 37th edition of Michelin Guide Main Cities of Europe launched at a star-studded gala in Budapest on 27th March. The guide covers 36 cities in 20 countries – listing a total of 2,108 restaurants. In France, Paris and Lyon feature.
Making headlines this year is Onyx, Budapest's first-ever two-star restaurant. Opened in 2007, the restaurant won its first star in 2011. "Chef Ádám Mészáros is very much a 'home grown' talent who brings classic Hungarian dishes up to date," says Michael Ellis, International Director of Michelin Guides. "Onyx is a most elegant dining experience – on the plate there's refinement, maturity, every dish bursting with originality."
In addition to the newly awarded Budapest two stars, the Hungarian capital also sees a new Bib Gourmand awarded to the exciting Stand 25. "Classic menus list fresh, rustic, well-executed dishes," report the anonymous Michelin inspectors. "The chefs' signatures – goulash and potato casserole – are mainstays," they add.
Michelin Guide Main Cities of Europe 2018 also highlights the dynamism of Vienna's culinary scene with one new two-Michelin-star restaurant and four new one-star addresses. 

Four years after it received its first star, Konstantin Filippou's wins a second. "With creative modern cooking chef Filippou, who trained in a number of famous restaurants around Europe (Gordon Ramsey, London; Le Gavroche, London; Arzak, San Sebastian) offers his customers a sophisticated cuisine, well balanced flavors and plenty of finesse – a cuisine well worth the detour!" continues Michael Ellis.

 In Vienna, four new restaurants were awarded one Michelin star: Blue Mustard, Das Loft, Pramerl & the Wolf and SHIKI.
Fifty-eight European restaurants notch 1-Michelin star, raising the total to 380 one-star restaurants in this year's guide. 

As well as the stars, 59 new Bib Gourmand eateries have been added to the 2018 guide, bringing the total to 295. 

Michelin Guide Main Cities of Europe is aimed primarily at business travelers who regularly journey throughout Europe, but is also ideal for foodies wishing to discover Europe's most romantic and culturally stimulating cities. 

Two new awards were announced at the ceremony.
The Michelin European Mentor Award went to Christian Constant for launching the original "bistronomy" concept and having trained numerous chefs – dubbed "Generation Constant", read: Eric Frechon, Yves Camdeborde, Jean Franҫois Rouquette, Alain Pégouret, Thierry Faucher, Didier Varnier, Thierry Breton, Jean-Franҫois Piège, and Christian Echtebest.
Today Christian Constant helms restaurants in Paris, Toulouse, Montech, southern France and Porte de Geneve, each with its own identity and chef. Mission statement "Etre constant un jour – c'est etre constant toujours".
"It's an interesting journey being married to CC – never a dull moment!" grins Catherine, the chef's British wife.
And Michelin "Young European Chef Award" went to Niall Keating of The Dining Room at Whatley Manor, Malmesbury, England. "Keating's cooking balances contemporary and classic styles and features some intriguing Asian influences."
Guide available from April 16th, 2018 (€23.90) or download the app.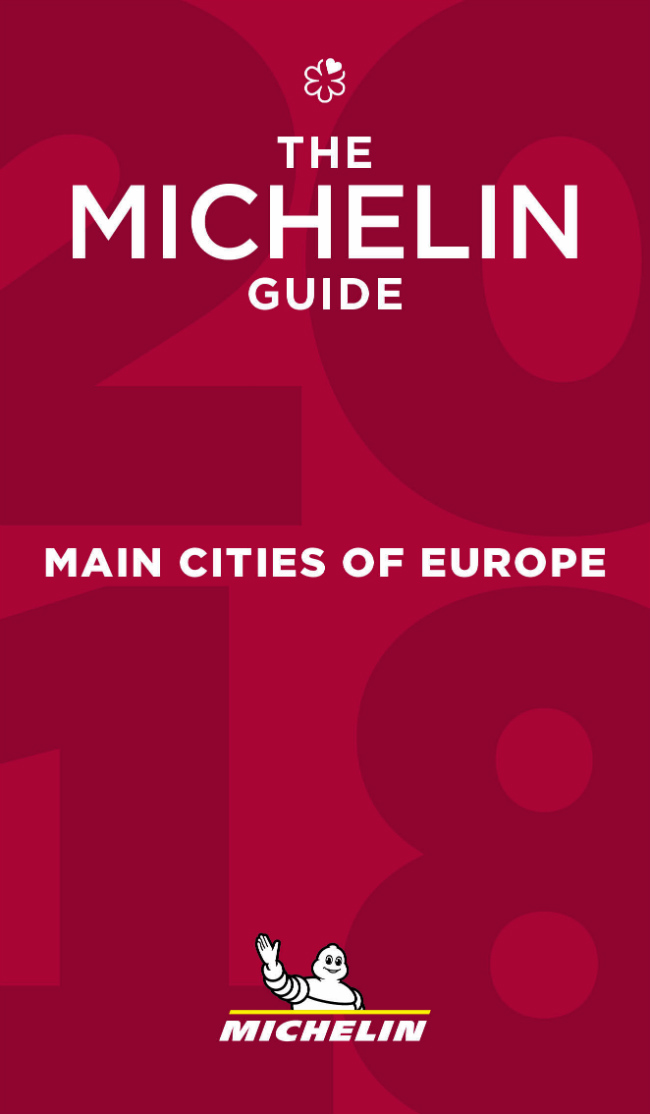 Lead photo credit : Chefs Christian Constant and Georges Blanc
Leave a reply
Your email address will not be published. Required fields are marked *