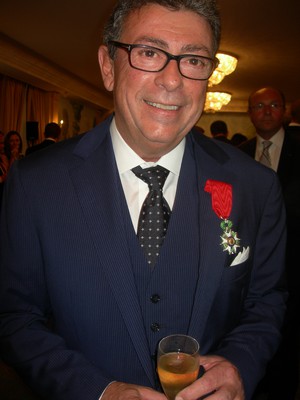 "I was in the bath, the phone rang and they told me I was getting the Legion d'Honneur, I nearly drowned", said Christian Constant last night at Le Bristol, Paris.
All clean and very handsome in a three-piece Ralph Lauren whistle and flute (suit), the talented chef had the Ordre de Chevalier de la Légion d'Honneur pinned on his lapel in a moving cermony led by Jean-Luc Petitrenaud.
Petitrenaud is an author and gastro-critic extraordinaire, famous for Les Escapades de Jean-Luc Petitrenaud on French TV. You'll often find him in the kitchens of Constant's restaurants; he's a tall, rangy guy given to using his arms a lot. He could hardly contain his joy as he described Constant's southwestern childhood and his family's love of "la bonne bouffe". There's no doubt that CC was inspired to cook by his mother's excellent "daube de boeuf"; her influence is very clear in all his menus. Christian's mother is "the Marie-Antoinette de la daube", said Petitrenaud.
Standing proudly by was Constant's entire family, including his two daughters from a first marriage and Charley without brother Benjamin, away on an ecological school trip. "Catherine my wife, how lucky she is, whoops, how lucky I am. We met on the QE 11, which was enemy territory", joked Constant. And of course there was lots of joshing about his southwest accent and Catherine's soft Scottish burr. "I've tried to make my mother's daube like she does, but it's never as good", sighed Constant.
Eric Frechon, who received a Légion d'Honneur award recently, created a buffet around which were gathered Generation Constant chefs, including Frechon—not only the chefs formed by Constant but also the chefs trained by the chefs. No wonder the gossip is that they're changing the name of rue Saint Dominique, where Constant's restaurants are located, to rue Christian Constant.
The Légion d'Honneur was established by Napoleon Bonaparte in 1802 to recognise oustanding service to France. Now le très beau Chevalier Constant joins the likes of Auguste Escoffier, Paul Bocuse, Roger Vergé, Dominique Bouchet, Daniel Boulud, and Georges Blanc to have been honoured. "Christian is a talented and delightful man. I'm proud to be his friend", said Alain Senderens, also Légion d'Honneur. Senderens, who famously returned his three stars to Michelin, was joined by Yves Camdeborde—"I'm Christian's spiritual son", he said. Hmm, bet he doesn't have to wait six months for a table at Le Comptoir! And it seems like a cast of thousands have come to acknowledge the talent, humility and patience of their Master: Jean Franҫois Rouquette, Alain Pégouret, Thierry Faucher, Didier Varnier,Thierry Breton, Jean-Franҫois Piège, Christian Echtebest. Last word goes to David Bottreau who, with Sebastian Gravé, now owns Les Fables de la Fontaine, the superb fish bistro originally created by CC. "Etre constant un jour, c'est etre constant toujours".
Karen Fawcett, President of Bonjour Paris, and the entire team send sincere congratulations to Christian and Catherine Constant on this memorable day.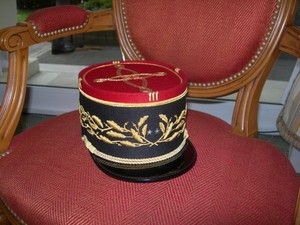 Visit Chef Constant at one of his many locations in Paris or stop in at the Musée Nationale de la Légion d'Honneur to find out who else has been selected for this prestigious award.
Paris Shuttle is the leading provider of pre-bookable airport transfers in Paris. Book your airport transfer with Paris-Shuttle.com and save up to 30%.