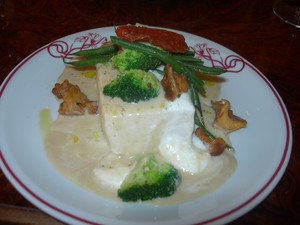 L'Assiette gets mixed reviews, chef David Rathgeber is a young maverick trained and trusted by Alain Ducasse to set up Benoit, Paris, NYC and Japan. He's done time at the Plaza Athénee and Aux Lyonnais and then set up his Assiette (plate) in a former butcher's shop famous for Lucette Rousseau aka Lulu's cooking and for Mitterand often eating at Table 4.
Rathgeber launched L'Assiette in September 2008, keeping the retro 1930's feel of the place. His talent is that if he's in a good mood you'll get his inspired riffs and re-interpretations on tradi assiettes such as Pot-au-Feu, Pieds Paquets, Pavé d'Escolier (a black skinned, white fleshed fish, best cooked in thick slices, think white tuna) en blanquette. Tȇte de veau ravigote and excellent Cocotte de legumes or Bourride de poissons l'aioli.
Rathgeber's always in his small open kitchen, obviously loves being his own boss and has a faithful equipe in the shape of suave Maitre d'hotel Patrick Rihouey and savvy sommelier Christophe Godet. There's an interesting blackboard of daily dishes and "natural" wines such as the delightful Le Temps des Cerises from the Languedoc region (26€). Godet will steer you in the right direction.
Last week's lunch of above-mentioned L'Escolier and Ris de Veau, with starters of Filet de Sardines en escabéche, Escolier en tartare (see what a flexible fish it is) was Rathgeber at his best. Crème Caramel au beurre salé and Nougat glacée both had his touch, the first served in a generous cocotte, the other with tangy passion fruit.
The point is chefs are just like you and I. They have off days, but as a chef you need to be running on all cylinders 24/7.  The sudden death of a friend, aged just 54, knocked him out last week. Thierry de la Brosse, former director of OM (Olympic Marseille football team), co-owner of Aux Lyonnais with Alain Ducasse and owner of L'Ami Louis was a great friend and inspiration.  "I'll miss him", sighs Rathgeber. "So what will happen to L'Ami Louis now", I enquire. "I don't know, it's early days and we're all too shocked. There were 1,000 people at the church Saint-Pierre de Chaillot for Thierry's funeral; he would have loved it. Maybe Monsieur Ducasse will take over, perhaps that's the solution". And with that he wipes his eyes with a tea-towel and heads back to the kitchen.
181 rue du Chateau, 14th
Metro: Mouton Duvernet/Gaite
T: 01 43 22 64 86
Shut Mon-Tues
Lunch formula 23€ – Starter -Main- or Main-Pudd
includes coffee.
A La Carte Average Spend – 45€  + wine
Alert readers will recall that Jean Philippe Laffron is a "one off" chef. Until eight years ago he had no idea what he really wanted to do in life, apart from training to be ball-trap champion of France (I dont know either darling) and follow the rugby team of his choice, Racing Colombes. He just knew that whatever he did it would be with his wife Sophie who had experience working with the greats and being supportive to her best friend, the chef Flora Mikula.
"I suppose I always had the feeling that one day I'd have a "putain de restaurant" but I didn't know how to cook. When I had the chance to take over this space I thought, well, OK, I'll buy some books, I know how to read".  His first cookbook was Larousse des 500 Recettes Faciles, an excellent choice. Don't forget Laffron has a CAP in butchery, so with his contacts he decided to launch AOC and it's really all about the beef/chicken/game—no gimmicks, just well prepared dishes, trencherman portions served in a scrubbed table atmosphere with red check cloths and a great wine list.
"Seasons, it's all about seasons", he's learned. To be fair, he has friends who are chefs and at the beginning they came down in the kitchen and helped out with advise. "You learn a lot travelling. In Morocco I got lots of inspiration from Meryam Cherkaoui at her restaurant La Maison Gourmet, Casablanca". "Next weekend I'm going to Paul Bocuse, want to have a meal there before he goes to that great cuisine in the sky, it's pure theatre chez lui", he says. Paris restaurants the Laffrons love include Philippe Detourbe's L'Ampere, Le Severo, La Fontaine de Mars, Flora and Yam Tcha chez Adeline Grattard.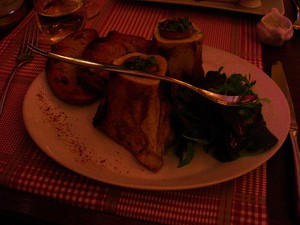 How generous to give all those names; isn't he worried we'll dash off there rather than to AOC? "No, there's room for us all", he grins. Sure there is when you can taste the likes of Laffron's Terrines de l'AOC et sa confiture d'oignons. Tartine de chèvre, jambon de Truie de montagne. And the melting Os à moelle rôtis à la fleur de sel, pain Poujauran frotté à l'ail. Satisfying mains from La Rôtisserie such as Poulet Pattes Noires de chez Mr Barreau, pommes sautées sing out loud: Cochon de lait rôti, pommes rissolées and always a fine fresh fish like Daurade with baby vegetables from Joel Thibault. Perfect cheeses include Mere Richard's Saint Marcellin and a pur Brebis de l'Abbaye de Belloc, ripened by the monks. Add some spectacular desserts such as Tarte Tatin, a bon bottle of Saint-Emilion 2006 "Roc de Calon" and you're in AOC heaven.
What does AOC stand for:
The certification granted to certain French products such as meat/poultry/cheese/wine, even lavender, lentils and honey. It's all controlled under the auspices of the government Institut National des Appellations d'Origine (INAO) which dates back to the 15th century when Roquefort cheese was regulated by a parliamentary decree.
14 rue des Fossés Saint-Bernard, 5
Metro: Cardinal Lemoine/Jussieu,
T: 01 43 54 22 52
Shut Sunday
Valet parking at night
Lunch formula 21€ – A La Carte and formulas from 29-33€
With their exclusive selection of handmade French chocolates, zChocolat will redefine what you consider to be chocolate.
Please post your comments or questions and let them flow. Register HERE to do so if you need a Bonjour Paris user name and password.