Michelin 2015 France : Brunch at Le Safran and News from Christian Constant
The Little Red Book :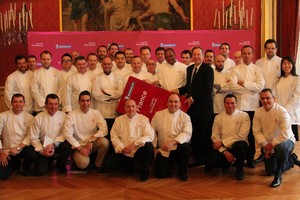 The Michelin Guide, first published in 1900 was free until 1920.  Created by tyre mavens André and Edouard Michelin for the Paris Universal Exhibition to steer motorists (at the time there were less than 3000) in the right direction to garages and restaurants throughout France.
The iconic star rating concept was developed in 1926,  and, in 1931 came the 1, 2 or 3 star classification still used today : keeps chefs up all night !
The 2015 vintage France (24€) has 503 * star restaurants and 37 new : 80 ** restaurants and 7 new & 26 *** 2 of which are new.
In Paris Yannick Alleno snags ***. He's over the moon, says it's the best thing thats happened since the last time he won *** at Le Meurice, Paris ! You'll have to travel to the little village of Saint-Martin-de-Belleville and La Bouitte to taste the new *** star father & son cuisine of René & Maxime Meilleur's father « an ode to the Savoie region ».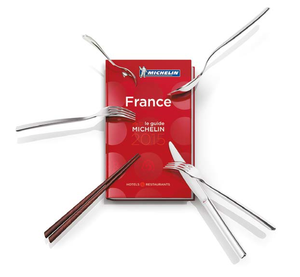 Also in Paris Christian Lesquer has ** at Le Cinq as does Alain Ducasse at Le Plaza Athénée. The new Paris * toques are : Les Climats : David Toutain : Penatti al Baretto : La Table d'Eugéne : La Table du Lancaster and fish/seafood restaurant Helen.  Out goes « Paris » at Le Lutetia (shut for transformations) La Cuisine at Le Royal Monceau and, just outside the city, Les Magnolias.
Follow the guide on twitter @guidemichelinFR
Sunday in the park with George :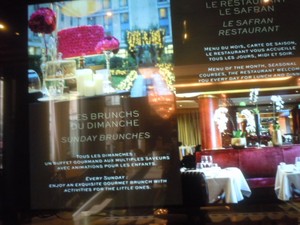 Here's a good plan for a BCBG right-bank Sunday Brunch just across from Park Monceau, constructed in the 17th century, under the orders of the Duke of Chartres, who obviously needed some space to walk his hounds, exercise the horses. Today it's one of the most elegant parks in Paris, great location for photo-shoots, movies.
Paris, Je T'Aime, was a collaboration of the work of 20 filmmakers each given five minutes to tell the story of an amorous encounter in the city. In Alfonso Cuarón's vignette, Nick Nolte and Ludivine Sagnier walk and talk around the Parc Monceau area. You can too.
In through the magnificent golden gates, snap selfies in front of the statues. The Renaissance archway comes from Paris City Hall, centuries old trees, impressive variety of birds, a large pond and great "pipole" watching. So French :  So Paris.
Parc Monceau's surrounded by luxury Haussmann style buildings, magnificent mansions, one of which is the divine Musée Cernuschi (Museum of Asian Arts).  Another the posh Auction House Cornette de Saint Cyr.
Now you're ready for L'Hotel du Collectioneur's big Brunch. Recently completely transformed, décor's gorgeous "Normandie Paqueboat Style" by architect/designer Jacques Garcia, surrounded by floral terraces, a transparent bulle for cocktails/tea etc, outsize leather sofas and handsome club armchairs. You'll probably want to get a room (see below).
Head for Le Safran restaurant where Bonpoint clad children are entertained in a pretty salle, can paint, draw, sing, dance and make NBF's with whom they'll keep in touch and eventually come for Sunday Brunch 2020.
An incredibly generous and delicious spread, everything you want to taste:
From amazing pâtisserie via eggs any style, fresh juices, crêpes, pancakes, waffles, pain perdu. A taste of France/American style with traditional seafood plateaux: sushis: makis: perfectly ripe cheeses. The Buffet Sucré's laden with seasonal fruit tarts, fruit salad, mousses, yogurts, financiers, brownies. You get the picture.  Post-brunch you'll need another trot round the park, but it's worth it!
L'Hotel du Collectioneur,
51 rue de Courcelles, 8th
M : Courcelles
T : 01 58 36 67 00
Valet Parking
Le Safran Sunday Brunch from 65-75€
Under 4 years free – then 28€ from 12 years.
Rooms & Suites from 299-789 + 35€ breakfast
Need to know :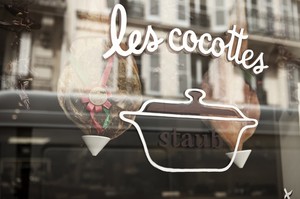 Les Cocottes de Christian Constant is shut for a bit of a face-lift until 18th February.
In the meantime, take advantage and reserve at chef Constant's Michelin * flagship restaurant « Le Violon d'Ingres » where the three-course lunch, including his signature `œufs de poule mollets roulé à la mie de pain, toasts de beurre truffé, will cost you just 35€.
135 rue St. Dominique, 7th
M : Ecole Militaire
T : 01 45 55 15 05
Open 7/7
Leave a reply
Your email address will not be published. Required fields are marked *