Maison Amerique Latine: Tea-Time at Le Shangri-la & Le Vieux Chalet
La Maison Amerique Latine,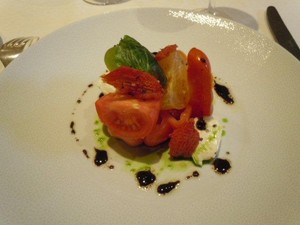 Located in two handsome Hôtels Particuliers, on Boulevard St. Germain, La Maison celebrates the arrival of chef Thierry Vaissière (ex-Maison Blanche, Paris & Casablanca : La Rôtisserie des Artistes, Las Vegas : Tour d'Argent, Paris etc).
Chef's summer concept creates cuisine du soleil, to be taken without moderation, on the shady terrace of the magnificent manicured gardens of Maison Amerique Latine, which, from an idea by General de Gaulle in 1947, has become a cultural showcase for the 20+ Latin American republics. Read, art exhibitions, an elegant location for events, perfect for weddings. To visit is to share in an elegant cross cultural experience from Argentina to Venezuela via Peru & Uruguay.
« I really want to see more ladies who lunch in my restaurant », admits Vaissière. « My Mediterranean inspired starters include : organic herb and tomato salad with goat cheese : Œuf bio, cooked at low temperature, Oursin + Oysters : Fish Tartare, soja a touch of wasbi : My mains may be : Grilled daurade, barigoule of Artichokes : a dazzling white chunk of Sea-Bass, thin oak cakes wrapped around crushed avocado or 7-hour lamb with salad and purée. Matched with a glass of Fantelli Family, Argentine red or white, I think they'll be delighted ».
Jean-Pierre Galmisch, Director du Salle/Jardin, spoils the ladies rotten, insisting they try a delicate dessert of Strawberrys – Tarte Au Citron Version 2014, Chocolate Grand Cru Guanaja or, « a taste of them all with a Cafe Gourmand ».
La Maison Latine Amerique,
217 Boulevard Saint-Germain, 7th
M : Solferino/Rue de Bac
T : 01 49 54 75 10
Open Mon-Fri
Average Spend 40-59€
ARTea Time at Shangri-La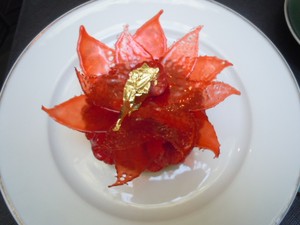 Following the success of the recent ARTea Time, dedicated to Georges Braque, Shangri-La continues with "Josephine" in synch with the expo at Musée de Luxembourg. And, also, because Hôtel Shangri-La is located in the magnificent former home of Prince Roland Bonaparte, Napoleon's great-nephew.
"Josephine's favourite flower was the rose, so I've created a dessert I think the Empress would adore", explained François Perret, Shangri-La's young talented chef pâtissier, at teatime, one day last week. "Not too sugary, it's a pastry base filled with  passion fruit, raspberry, the delicate opaline petals represent the rose".
Served before or after warm scones, Devon cream and home-made jams, seasonal pastries, chocolates. For savory tea-timers there's mountains of finger sandwiches, champagne, teas, and fresh herb infusions. Delightful!
ARTtea Time: Play Empress every Wednesday afternoon under the glass dome of La Bauhinia until June 25th 3.30.5.30. How much? 49€ which includes a "Beat The Queue" ticket per person for the Exhibition:
Best to book : 01 53 67 19 91
10 Avenue Iena, 16th
T : 01 53 67 19 98
Who knew?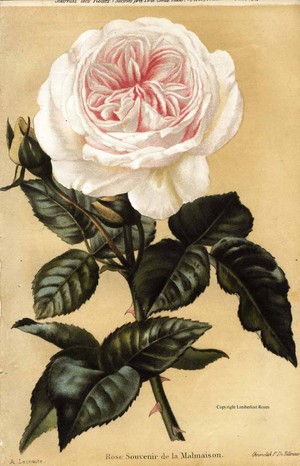 Marie Josepe Rose Tascher de la Pagerie (named Josephine by Napoleon) was born June 23 1763 (died 1814 outside Paris) on the Caribbean island of Martinique. Her wealthy father Joseph Gaspard Tascher de la Pagerie, owned a sugar plantation on the island. However, Napoleon never set foot on Martinique. "Remembrances of Josephine," the beautiful rose, can be seen in the Rose Garden at Château de Malmaison, the Empress's last residence.
Joséphine Exhibition.
Musée de Luxembourg,
19 rue de Vaugirard, 6th
M: Saint-Sulpice/MabillonUntil 29 June, 2014
Connaissez vous Le Vieux Chalet, Montmartre ?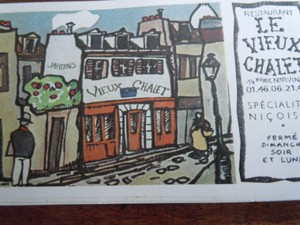 Located on the cobbled street (leave the Louboutins at home dear) near Place du Tertre,  Vieux Chalet, circa 1903, has a hidden entrance you'd walk past if you didn't know it was there. Push the door, you're in the real Montmartre, welcome to Monsieur Robert's charming flower filled dining room ; at the rear the walled garden.  The tables are set and a trestle-table is loaded with fresh fruit and veg, from Le Marché Lepic, transformed in the tiny kitchen by chef Tommy, brought to table by the very able Abel.
Here nothing has changed (not even the toilet, an unseemly unisex hole in the ground, there's a Starbucks nearby !) since the restaurant was created by Mere Adèle, former owner of the legendary Lapin Agile.
« My parents took over in 1948. Mother cooked Nice and Mediterranean specialties and I've carried on the tradition », explains Monsieur Robert still agile aged 80.
Quality/price this is the perfect address for : Egg Mayo : Salade Niçoise : Poulet Rôti : Frits (too salty) Steak de bœuf Grillé. Escargots : Excellent wine list, a tour de France, and prices you won't see elsewhere. Château Maucaillou « Moulis » 2010 (44€).
Atmosphere, wow ! Any minute Picasso walks in – barefoot ! « Get up and paint and when the painting is done, eat, drink, enjoy your lover and your friends, and of course, party 'til dawn at the local hang".
Le Vieux Chalet,
14bis rue Norvins, 18th
M : Lamarck Caulaincourt
T : 01 46 06 21 44
Menu 18€ A La Carte Average Spend : 30€
Average spend
Open Tues-Sat Lunch & Dinner
Sunday 12.30-14.30
No site – No credit cards
Leave a reply
Your email address will not be published. Required fields are marked *