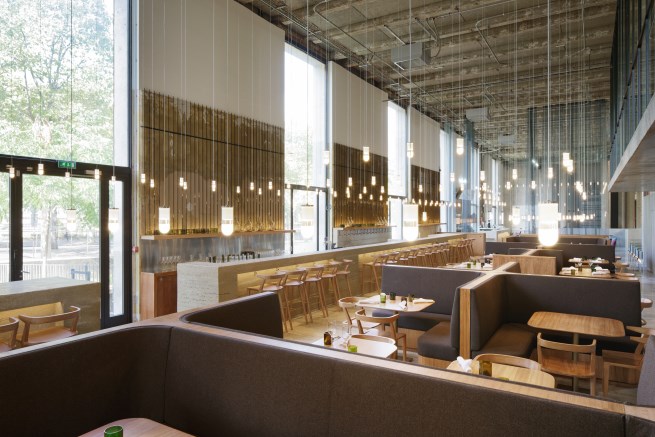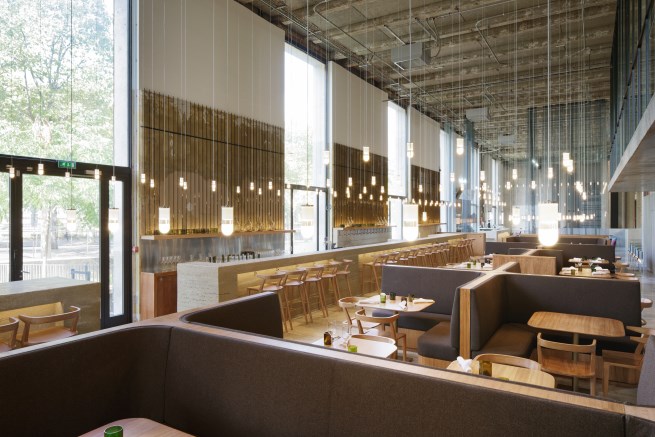 Remember Palais de Tokyo's – Tokyo Eat? Well it's had a change of ID orchestrated by Carina Soto Velasquez, Adam Tsou and Joshua Fontaine of Quixotic Projects, and it opened last week.
The architecture by Lina Ghotmeh is impressive "mineral" style – airy for the 170 seat space – with the bold "conversation piece" 13 meter long bar/chef's table where cocktails, mocktails and fresh juices are mixed, shaken and stirred with panache, and dedicated to The Smiths, Daft Punk, Proverbs "L'Habit Ne Fait Pas le Moine", Aimé Jacquet (iconic former football coach), Oscar Wilde, Dave Skylark, Radiohead etc. It's fun, the wait staff are well versed and friendly– overseen by Daniella Illebrand. Mediterranean style freebie amuses stay on site throughout the meal – nice touch that they're not snatched away as is often the case – the sourdough's addictive.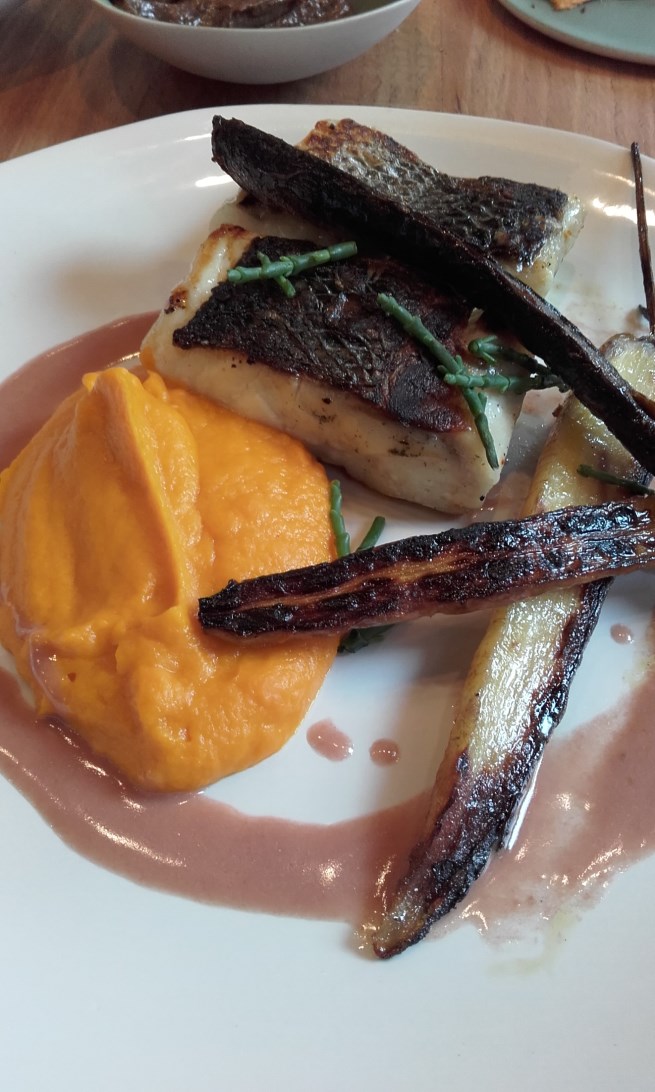 Book Table 70 for a view of the Eiffel Tower, sit back and choose from American talent Preston Miller's (ex-April Bloomfield, NYC : Bar Sajor, Seattle and Ruka Boston) eclectic market driven seasonal menu including starters of Samphire (the "it" vegetable of the moment) and Mackeral salad (12€); chopped vegetable fatoush, pita, lemon and house grown herbs (10€); Mussels with parsley butter and vadouvan spices (15€); Daily catch with herbs, roasted carrots, red current butter (23€); and desserts of grilled peaches, yogurt cashew ice-cream, fenugreek honey, coriander (8€); chocolate sumac cake with rose meringue (€8) matched with a Cocktail Sumac if you like. "Nothing is wasted here, we are seriously into sustainable development", says chef Preston. Or just pop in for "dish of the day" (13€).
We enjoyed the fresh tasting Chardonnay Nature "La Bardette" 2014 (60€) from Julien Labet's La Domaine Labet in Southern Jura.
Sit at tables or the monumental bar/chef's table overlooking Avenue President Wilson and opposite the beautiful at present paying homage to Dalida.
Don't miss this address – it's fabulous! Open 7/7 Brunch Saturday and Sunday 10 am to 4 pm – Cocktail bar open very late……see you there !
3, Avenue du Président Wilson Paris, 16th
M : Alma-Marceau
T : 01 85 53 03 61
www.palaisdetokyo.com