Le Gaigne : Dom Perignon @ Le Royal Monceau Raffles Paris : The 100-Foot Journey
Le Gaigne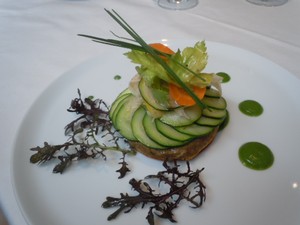 Shutting their tiny side-street bistro in Le Marais, behind Le BHV, Mickaël and Aurelie Gaignon re-launch Le Gaigne on rue de Vienne, in the former Le Sarlardais, which showcased cuisine from Le Perigord.
Bright new décor, leaving the signature faux tree/standard lamp in the centre of the restaurant, Mickaël together with Aurélie, three-month daughter Ines, and two very capable Jeeves style English-speaking servers, have been open since 23 July, a cool addy if you're looking for authentic French food, or a romantic date-night setting.
Mikaël is delighted with his new kitchen, where he could actually swing a cat if he had one. "We change the menu every week, sometimes every day", he shrugs. No signature dish with such a market driven kitchen, but note that the exquisite Nuage (cloud) of Munster fermier on a cumin shortbread cookie is still available before desserts of, say, Verbena marinated watermelon-millefeuille with verbena sorbet: Moelleux au Chocolat de la Maison Pralus, creamy myrtille filling.
Starters include Brittany skate cannelloni stuffed with baby leeks, garden salad. Chilled velouté of Paimpol white beans, squid, Iberian chorizo, coriander. Tarte fine au courgettes, caviar d'aubergine, marjolaine, crispy vegetable chips.
Mains, and Mikaël's portions are generous, include: thick cut of roasted John Dory, cauliflower and broccoli semolina, zucchini flowers stuffed with bulgur wheat. Herb-roast rack of organic lamb, romaine lettuce polenta, tomato confit: Cuisse of prune stuffed lapin, marjoram spiked vegetables.
Drink wine by the glass (8€) or, from the reasonable, comprehensive, card: Chablis Vielles Vignes Massale 2010 (35€). Gamay Red Moulin-A-Vent 2008 Hervé Longefay 21€.
Leaving Le Gaigne, just opposite, on Square Bergson is the maison where critic/author Prince des Gastronomes Maurice Edmond Sailland-Curnonsky lived. He would have adored this place, writing it up in Cuisine et Vins de France, which he founded (1947) as well as the Confrérie de la Chaîne des Rôtisseurs. To honour his 80th birthday, eighty French restaurants marked his favourite table with a copper plaque. There's respect !
Curnonsky's advise to chefs: "Et surtout, faites simple!" 1872-1956.
Le Gaigne,
2 rue de Vienne, 8th
M: Saint Lazare/Europe
T: 01 45 22 23 62
Shut Saturday lunch – Sunday
Menu Découverte – 33-42€
Tasting Menu – 75€ – 110€ with wine pairings
Lunch 33€ (2 courses)
Dinner 42€ (3 courses)
A La Carte average spend – 63€
"Come quickly ! I'm tasting stars!"
Dom Pierre Perignon, French Benedictine Monk, (1638 – 1715) on first tasting his newly created champagne.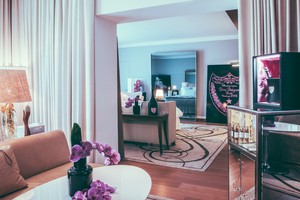 "This celebration is all about "Creative Combustion" showcasing the creativity ignited by Dom Pérignon Rosé and its ability to inspire", explained Raffles Royal Monceau Michelin star chef Laurent André. "We have created dishes that pair perfectly with this incredible champagne".
The menu, served at La Cuisine, was created during a world summit of 9 super-chefs, working their love and respect for Dom Pérignon (one of the flagship brands of LVMH) including Laurent André. Each dish complements the extremely complex bouquet of Rosé Vintage 2003, silky and spicy, with notes of ripe fruit, fig, violets and vanilla, and salt and mineral persistence.
Salmon salad, rabbit and hazelnut butter by Chef Matteo Baronetto, Turin, Italy:
Marinated Wild Sea-Bass topped with Oscietra Caviar, champagne jelly, pickled cauliflower and Lemon confit by Renald Epié : Al Mahara, Hotel Burj Al Arab. Dubai UAE. "There is so much complexity to this Dom Pérignon Rosé", he said.
Hamachi sashimi ceviche, crispy rhubarb and scallops St. Jacques from Chef Oliver "Ollysan" Lange, London, England:
Pike Dumplings with black truffles, lobster sauce (Chef Laurent André, Paris, France),
Vichyssoise crunchy pea carbonara with duck breast, fig sauce cocoa (Karim Lakhani and David Deshaies, New York, USA)
And the dessert : Strawberries, figs, guava and vanilla and blackcurrant violet by Pierre Hermé Paris, France).
"Rarely has a Rosé Vintage expressed the spirit of Dom Pérignon so precisely", says Dom Perignon Cellar Master Richard Geoffrey. "It calls for an equally bold and provocative menu to respond to its extreme challenge".
Get A Room:
Bag the pop-up Starck designed Junior "Dom Perignon" suite, transformed, until mid-October, into champagne heaven, complete with Jeff Koons two-foot tall take on the 25,000 year old fertility symbol, Venus of Willendorf, cradling a bottle of Dom Pérignon Rosé Vintage 2003. While there, compose a guitar riff, there's one in every room; nip down to My Blend by Clarins Spa, have a swim, or take advantage of a once in a lifetime trip to Les Caves de Dom Perignon, with lunch at 1* La Briqueterie
Tout est possible !
Le Royal Monceau Raffles Paris,
37 Avenue Hoche, 8th
M: Charles de Gaulle-Etoile,
T: 01 42 99 88 00
Until October 12th
La Cuisine
Menu Rosé Paradox 5 dishes 130€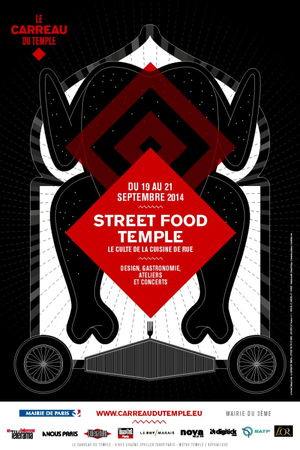 Love is the spice of life: 'The Hundred-Foot Journey'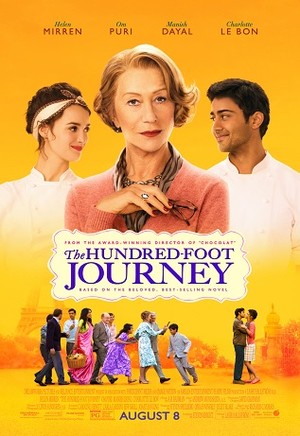 Helen Mirren, Om Puri, Manish Dayal, Charlotte de Bon star in Dreamworks' feel-good film, based on Richard C. Marais's book of the same name, dubbed "Les Recettes du Bonheur" in French. Follow the Kadam family as they launch "Maison Mumbai", in a bucolic French village, which the owner of the nearby Michelin-starred eatery finds tough to digest.
How many stars does Michael Ellis, Michelin's International Director give 100-Foot? "I can't do that, I do food not film", he says.  "But I can say that it's a delicious movie and Michelin are proud to be associated with it", he said prior to a special presentation last Sunday at Gaumont Champs-Elysées Marignan.
Leave a reply
Your email address will not be published. Required fields are marked *