La Nuit Blanche; an Artistic Stroll in Paris
This year La Nuit Blanche will be a celebration of contemporary art designed to transform the city by incorporating public spaces. José-Manuel Gonçalvès, the Directeur Artistique, has organized a grand artistic promenade in the city of Paris on October 4th. More than fifty international artists will be participating to help provide installations in the public spaces and parks within the city. The concept is both geographical and international. Street art and interactive art will join the many museums in Paris that open their doors to the public on this festive night. The heart of the "randonnée", or long promenade, will be at the Hôtel de Ville where Motoi Yamamoto will have a bigger than life labyrinth installation. Yamamoto lives and works in Tokyo. He is known for his installations using patterns such as a carpet of leaves to express meditative beauty through designs. He patiently kneels for hours while he traces with salt (a symbol of life and purification) large drawings in a gesture similar to the repetitive mantras of a monk. He will be drawing such a piece in the salle des Tapisseries de l'Hôtel de Ville for a metaphysical and fascinating experience. A few steps from the Hôtel de Ville is BHV where a video will be projected by the cinematographer, Tsai Ming-liang. In close proximity to these events are nearly twenty other installations under the title of "les futures composés" in the 4th arrondissement. The other focal points for your enchanted evening stroll are the Pantheon in the 5th, parc Montsouris in the 14th, Montparnasse and Hôpital Necker in the 15th, Parc Georges Brassens in the 15th and along the Seine between Gare d'Austerlitz and Gare Masséna in the 13th. The theme for the area around the Pantheon is humanity with the title of "ceux que nous sommes". Be prepared for some very interesting sculptures as well as provocative presentations of dance and music. The area stretching from Gare d'Austerlitz to the ancient Gare Masséna will be dominated by young artists. The title for this section is "open musée street art contemporain". International favorites will be participating as Swoon, SpY, Borondo and Tristan Eaton. I am particularly looking forward to seeing what Jan Vormann will be doing. Vormann is a German artist known for traveling the world and repairing crumbling monuments with Lego blocks. Parc Montsouris will be all about lights blending nature with art. The title for this part of the program is "à la lumière des arbres". During the Second Empire (1852) a small rail line was built around Paris for freight and passengers called the Petite Ceinture. The old track lines have been transformed into public green spaces and are just a few paces from the lovely Parc Georges Brassens in the 15th. This section of the walk is called "je perf' ils perfs'… nous dansons" and will offer artistic experiences through new artistic concepts. The area near Tour Montparnasse will be dedicated specifically to families. However, please do not disregard this section thinking that it will be just be for children. Jean Tossan will have an amazing installation of cylindrical lights and François Morellet will have a light installation that promises to be equilly exciting. Paris has long been a center of art and La Nuit Blanche reinforces the ongoing presence of our lovely lady within the art world. So save the date, the 4th of October, and enjoy the night and the promenade during La Nuit Blanche. For more information, go
here
. Date: October 4th, 2014 at 7:00 PM. Photos courtesy of Heymann Renoult Associées, Paris. Loui Franke is author of
Parisian Postcards: Snapshots of Life in Paris
.
SUBSCRIBE
ALREADY SUBSCRIBED?
BECOME A BONJOUR PARIS MEMBER

Gain full access to our collection of over 5,000 articles and bring the City of Light into your life. Just 60 USD per year.

Find out why you should become a member here.

Sign in

Fill in your credentials below.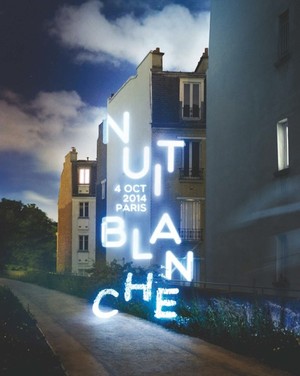 This year La Nuit Blanche will be a celebration of contemporary art designed to transform the city by incorporating public spaces. José-Manuel Gonçalvès, the Directeur Artistique, has organized a grand artistic promenade in the city of Paris on October 4th. More than fifty international artists will be participating to help provide installations in the public spaces and parks within the city. The concept is both geographical and international. Street art and interactive art will join the many museums in Paris that open their doors to the public on this festive night.
The heart of the "randonnée", or long promenade, will be at the Hôtel de Ville where Motoi Yamamoto will have a bigger than life labyrinth installation. Yamamoto lives and works in Tokyo. He is known for his installations using patterns such as a carpet of leaves to express meditative beauty through designs. He patiently kneels for hours while he traces with salt (a symbol of life and purification) large drawings in a gesture similar to the repetitive mantras of a monk. He will be drawing such a piece in the salle des Tapisseries de l'Hôtel de Ville for a metaphysical and fascinating experience.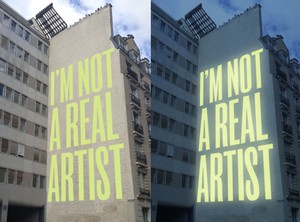 A few steps from the Hôtel de Ville is BHV where a video will be projected by the cinematographer, Tsai Ming-liang. In close proximity to these events are nearly twenty other installations under the title of "les futures composés" in the 4th arrondissement.
The other focal points for your enchanted evening stroll are the Pantheon in the 5th, parc Montsouris in the 14th, Montparnasse and Hôpital Necker in the 15th, Parc Georges Brassens in the 15th and along the Seine between Gare d'Austerlitz and Gare Masséna in the 13th.
The theme for the area around the Pantheon is humanity with the title of "ceux que nous sommes". Be prepared for some very interesting sculptures as well as provocative presentations of dance and music.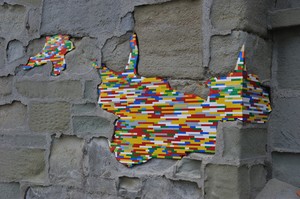 The area stretching from Gare d'Austerlitz to the ancient Gare Masséna will be dominated by young artists. The title for this section is "open musée street art contemporain". International favorites will be participating as Swoon, SpY, Borondo and Tristan Eaton. I am particularly looking forward to seeing what Jan Vormann will be doing. Vormann is a German artist known for traveling the world and repairing crumbling monuments with Lego blocks.
Parc Montsouris will be all about lights blending nature with art. The title for this part of the program is "à la lumière des arbres".
During the Second Empire (1852) a small rail line was built around Paris for freight and passengers called the Petite Ceinture. The old track lines have been transformed into public green spaces and are just a few paces from the lovely Parc Georges Brassens in the 15th. This section of the walk is called "je perf' ils perfs'… nous dansons" and will offer artistic experiences through new artistic concepts.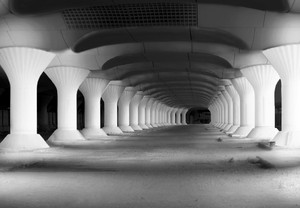 The area near Tour Montparnasse will be dedicated specifically to families. However, please do not disregard this section thinking that it will be just be for children. Jean Tossan will have an amazing installation of cylindrical lights and François Morellet will have a light installation that promises to be equilly exciting.
Paris has long been a center of art and La Nuit Blanche reinforces the ongoing presence of our lovely lady within the art world. So save the date, the 4th of October, and enjoy the night and the promenade during La Nuit Blanche.
For more information, go here.
Date: October 4th, 2014 at 7:00 PM.
Photos courtesy of Heymann Renoult Associées, Paris.
Loui Franke is author of Parisian Postcards: Snapshots of Life in Paris.
More in exhibition, Nuit Blanche, Paris exhibitions
---
---