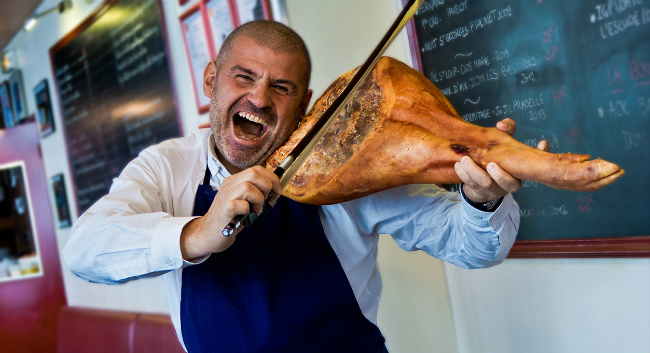 Here's a chic culinary end-of-year delight! Chef Christian Etchebest showcases Caviar d'Aquitaine throughout December in his six Parisian addresses (La Cantine du Troquet).
A gregarious giant of a man, Etchebest is one of the Generation Constant, that talented band of chefs who trained under chef Christian Constant. Following a stint at Le Crillon with chef Constant and Dominique Bouchet, this rugbyman from the Basque region set up his first (no reservations) Troquet (slang for bistro or bar) on rue de L'Ouest in the 14th arrondissement and, along with other Generation Constant chefs such as Yves Camdeborde and Thierry Breton, created La Bistronomie, a culinary movement. (Read: hip new wave eating.)
Etchebest likes to surprise his customers, "who don't really associate a troquet with caviar." With this in mind he's selected caviars in collaboration with The Caviar Association of Aquitaine.  And, during the month of December, the six Cantine du Troquets are using the black gold from four producers, members of the ACA, in the form of original recipes.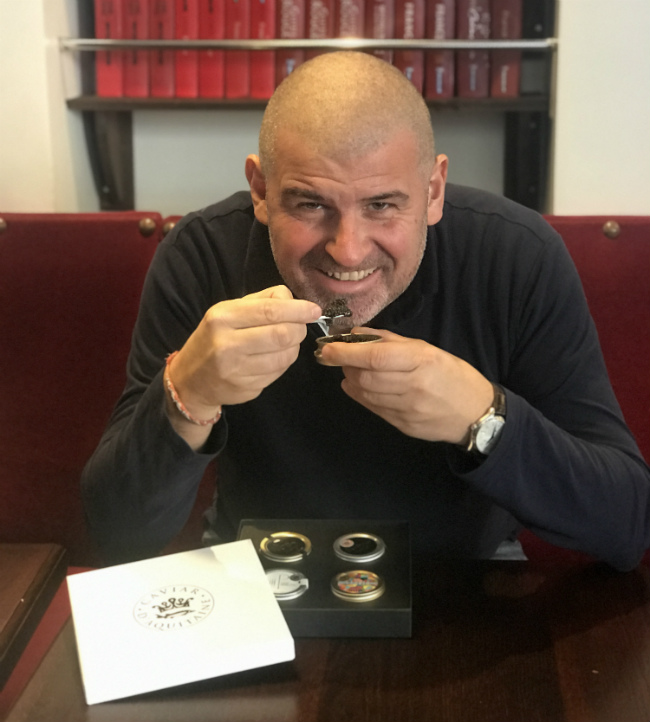 At La Cantine de Troquet Dupleix, there's Cod, pigs feet, combawa (thai lime), caviar d'Aquitaine, crab jus (€39) by chef Thierry Larralde. Fancy a trip to La Cantine du Troquet Rungis? Stéphane Bertignac proposes carpaccio of Saint-Jacques, topped with caviar d'Aquitaine as a starter (€29) and at Troquet Daguerre (in the heart of the buzzing street market), Mathieu Métais offers (€39) Roasted seabass, cauliflower cream, horseradish and Aquitaine caviar. And at Cherche-Midi in the 6th arrondissement — my favorite –- you can enjoy jacket potato, scrambled eggs, double cream, smoked oil and caviar d'Aquitaine (€29).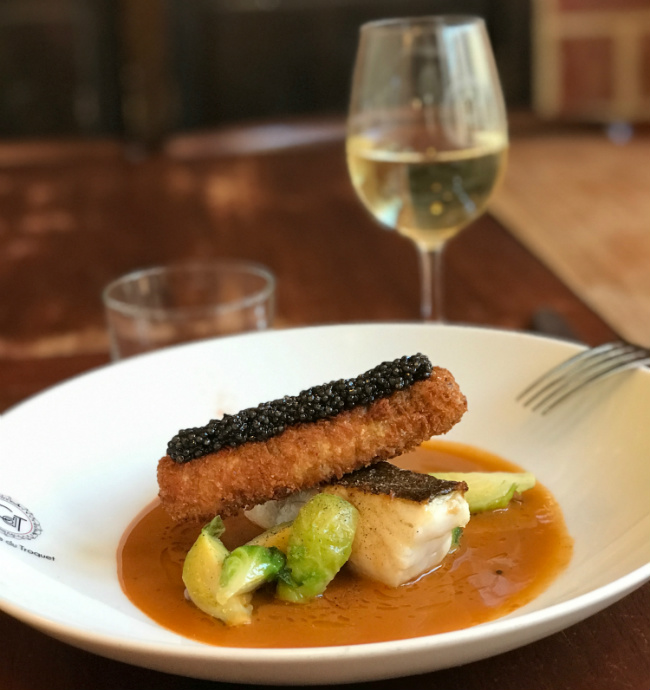 For the first time this year ACA launched a limited edition Christmas set of four tins of caviar from the four different producers. This gave Echtebest the idea of creating a recipe for each caviar.
The types are Black Pearl Caviar, Caviar Ebene, Caviar-Perlita or Caviar Sturia Vintage. "It should be noted," says Echtebest, "that Aquitaine caviar is composed of unfertilized sturgeon oocytes (eggs) from the South-West belonging to the species Acipenser Baerii – farmed in the Dordogne, the Gironde and the bordering department of La Chare."
Until 15th December – for a chance to win a coffret of the four caviars (valued at €149) in each of the six Troquets go to: www.facebook.com/lacantinedutroquet 
And for all of La Cantinue de Troquet's addresses, visit http://www.lacantinedutroquet.com/en/home.html