Joel Robuchon & Sushi Shop : Gateaux Thoumiex Opens : L'Initial & News from Thierry Marx
Joel Robuchon & Sushi Shop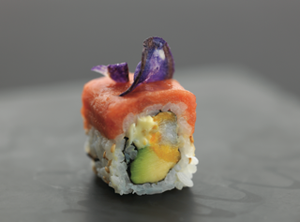 Each year Sushi Shop give carte blanche to a sleb to create an eponymous menu. After Kate Moss, Cyril Lignac, Thierry Marx, Jean-François Piege it's an obvious, but nevertheless brilliant, idea from the Sushi Shop suits to ask Joel Robuchon.
Influenced by Robuchon's Japanese experiences and the sublime sushi served at his Yoshi, Monaco address, deffo worth the trip to the Principality.
So, for 2014, JR's sushi story evolves. There's 75 (+) boutiques in Paris so pop in to your nearest and taste the likes of :  Homard Crispy : Spicy Tuna : Hawaian Roll : Spicy EBI Roll (see photo) Sushi St. Jacques snackée : Tartare de Saumon New Style and Cut n'roll. Fans include Lou Doillon, Virginie Ledoyen, Thomas Dutronc, le tout Paris darling. But what about dessert ? Mini-Tarte Tropezienne bien sur. YUM!
Gâteaux Thoumieux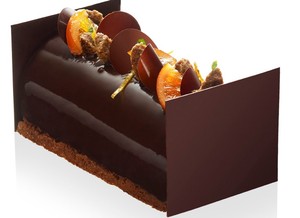 « In my world this is the cherry on the gâteau », grins Jean-François Piege proudly opening the doors of his pâtisserie/bakery opposite « Thoumieux Towers » which includes the 2-star gastronomic restaurant, the Brasserie & Hotel Thoumieux. All designed with contemporary cutting-edge elegance by architect India Mahdavi.
At the ovens is chef-pâtissier Ludovic Chaussard former Sous-Chef Pâtissier at La Tour d'Argent. Plenty to take away, the concept, « tartes and gâteaux de voyage ». Consider Le Saint-Dominique, which would definitely be history by the time you got to the station!
« Celebrating our first Noel, we've created two beautiful bûches, one is a Swiss-style roll with chestnut and rum marinated orange zests. It's decorated with chantilly cream and morceaux of marrons confit et d'éclats de nougatine. The other (see photo) is chocolate/orange/ginger with a streusal almond and Valrhona pur Equateur 66% chocolate biscuit base ».
Also check out the delicate cassis, violette, La Toulousain, dedicated to Mme Piege with love and kisses.
Order now on 01 45 51 12 12 Both priced at 28€ x 4 people 40€ x 6.
58 rue Saint Dominique, 7th
T : 01 47 05 79 79
Shut Tuesday
L'Initial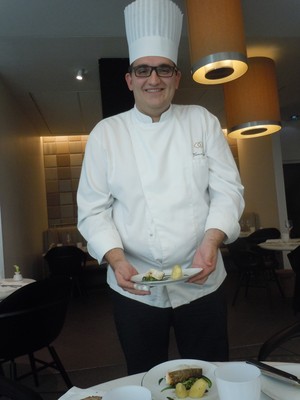 I like everything about L'Initial except the name! Surely the suits at Sofitel could have come up with a title that doesn't remind every Brit of Initial Services which, « as one of the world's largest business facilities services companies, work with our customers to deliver a wide range of essential support services", read, door mats, floor mats, clinical waste, laundry etc.
Honestly, ignore the name darling, it's a terrific address, just behind the Champs Elysées, within walking distance of Parc Monceau.
L'Initial's located in the Sofitel, Arc de Triomphe, tout beau, incredible brand new décor by Studio Putman with Agence IGLOO. The 64- seater L'Initial's bright and airy, full of interesting international jet setters, eating interesting looking food by chef Thomas Bruno.
Freshly squeezed to order, vegetable and fruit juices (rare in Paris). Celery and Granny Smith soup: Wonderful salads for the ladies who do. Bio-Burger frites and ketchup maison: Roast Beef and gratin dauphinoise: Lotte de Bretagne (monkfish) in a dish that has 398 calories! Fromages bio from Fabre and Madame Quatrehomme. Desserts to die for. Excellent wine card includes bottles from Argentina: Chile and the USA.
Le Bar's the perfect meeting place with day-long, snack suggestions by Da Rosa mouthwatering choice of patisserie by top Paris pastry chefs: Jean-Paul Hévin: Angelina: Sadaharu Aoki: Pâtisserie des Reves etc.
And, if you don't feel like going home, get a fragrant room. There's 124 including 31 suites, with luminotherapy (I don't know either, but it's good for you!) hammans, perfumed candles by Rami Mekdachi, huge sexy bath tubs, Hermes products, wi-fi, Bose sound systems lovely MY-BEDS. Then work off the calories in Le SoFit techno gym.
14, rue Beaujon 8th
M: Charles de Gaulle-Etoile
Valet Parking
T: 01 53 89 50 90
Menus : 39- 45 €
Average spend A La Carte : 70-90 €
Shut Sat-Sun
On your Marx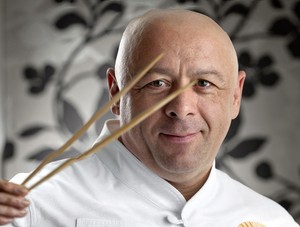 Shopping on the Faubourg? Note Thierry Marx's Sur Mesure has a new lunch concept : Sur Mesure par Thierry Marx : in line with the innovative style of the 2-star restaurant, located in a Jean-Michel Wilmotte designer bubble, inside the Mandarin Oriental, Paris.
4-8 dishes such as the signature soja risotto : the new and astonishing spaghetti de ris de veau and the very seasonal moelleux potimarron. All can be matched with organic wines by the glass (or bottle bien sur) at 10-18€, selected by David Biraud : Gault Millau Sommelier de l'année 2013.
Sur Mesure,
251 rue St.Honoré, 1st
M : Tuileries
Open Tues-Saturday,
From 60€-120€ + wine
T : 01 70 98 73 00
Leave a reply
Your email address will not be published. Required fields are marked *