The Annual Paris Horse Show 2013 Edition – Nov 30 to Dec 8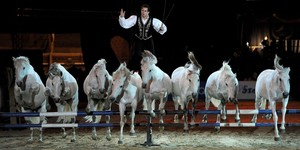 Lorenzo and his team of horseswill be part of "La Nuit du Cheval" Once upon a time This year, like each year since 1972, the Salon du Cheval, the big Paris Equine Fair, is taking place the first week of December.  From November 30th through December 8th, 2013 the numerous pavilions are housing stands and selling everything from gloves, sticks and other riding gear, to books, videos, food, (for both horses and humans), equine beauty and health products as well as trailers, horse vans and combined camping cars. But participants are also sharing information concerning the various equine breeds in France and Europe, the practice of activities from horse ball to horse-drawn carriages, the presentation of associations assuring the safeguard to animals in danger, vacation opportunities for children and adults alike, in short, something to satisfy virtually every horse lover's taste.  More exciting still are the multitude of exhibition rings featuring live horses in action, at least one of which even allows visitors to ride for free.  As usual there will be an international show jumping competition bringing together the world's top riders from around the world.  You'll find all of the information you need concerning hours, admission and prices for additional events
here
. The birth of a myth For those who have not seen or heard of either of "Jappeloup", or of Christian Duguay's film by the same name, you will find a synopsis
here
.  The story of rider Pierre Durand and his companion embraces all of the classical myths so dear to France.  Champion of France at age 7, Jappeloup's small size (15.5 hands) and his origins — half thoroughbred, half trotter — were not his only handicaps.  His mischievous and fiery nature made him all too unpredictable.  Ironically it was there very shortcomings that would make this coal black gelding an icon to both children and adults alike. Duo in Black and White, Jappeloup and Milton The story begins with the 1984 Olympic Games in Los Angeles.  After a near fall during the
first round
, a sudden refusal by Jappeloup in the 2nd round sends Pierre Durand flying over the obstacle and onto the ground, still holding the reins. Jappeloup pulls back until his bridle breaks free and the horse disappears gleefully backstage to the paddock leaving Durand standing alone before millions of onlookers, bridle in hand.  Crowning embarrassment for a rather overly proud rider, but a feat that would propel Jappeloup into the hearts of horse lovers for generations to come. Duo and duel in black and white Still Jappeloup and Pierre Durand are only half of the myth.  Another Pegasus would captivate one of France's national sports for over a decade, Jappeloup's biggest rival, a Dutch warmblood by the name of Marius Silver Jubilee or simply "Milton".  Standing at 16.2 hands, and ridden for the UK by John Whitaker, the grey gelding stressed easily and so hated being braided that his caretakers finally gave up trying to do so and left his mane free.  If his simple grace and potency were not enough, Milton's free flowing mane gave this double World's champion an added impression of floating on wings.  To judge for yourself, you can watch Milton in action
here
. The Gucci " Masters Cup" brings the world's top show riders to Paris It is said that Jappeloup might never have won the 1988 Olympic Gold Medal had Milton been present.  Despite his 49 international victories and over £1 million in prize money, Milton's absence at all of the Olympic Games was not an accident.  Caroline Bradley and her father bought the horse in 1977, when he was only 6 months old for £1 000 and Caroline, already an internationally renowned rider, set out to prepare him for the Olympic Games.  She trained him and narrowly missed being selected for the 1976 Olympics prior to her untimely death on the field, due to heart failure, during a jumping competition in 1983. Following their daughter's death, the Bradleys sold all of their horses, with the exception of Milton, and asked John Whitaker to ride the gelding.  At first Whitaker declined the offer, but finally accepted to take Milton into competition.  The rest is history, but, because of their daughter's non-selection, Milton was only seen once under an Olympic banner, that of Barcelona in 1992.  At a time when his health was already failing, the Spanish heat was too much for the now aging grey and he failed in the final match. My daughter and I were present at the Paris Salon du Cheval when both Milton and Jappeloup's made their last performances the same evening.  To top things off, we found ourselves seated in front of a group of professionals joined by Pierre Durand.  The group commented the entire evening together to our great delight. Jappeloup died three months into retirement in 1991. Darling of the crowds and especially remembered for his leap into the air at the end of each victory, Milton passed away on July 4th, 1999.  Like Seabiscuit in the US, both are still remembered today in France as icons of their time. Getting to the Salon du Cheval Formerly held annually Porte de Versailles, since 2009 the Salon's new headquarters are located half an hour north of Paris at the Parc des Expositions in Villepinte.  To reach the Salon by public transport take the RER line B direction Aéroport Roissy Charles de Gaulle, Station "Parc des Expositions.  About a 30 minute trip from Châtelet-Les-Halles, there is a train every 7 minutes from 7 am to 8 pm. Or by car, with a 14,000 space parking lot available, take either the A1 via Porte de la Chapelle or the A3 from Porte de Bagnolet, then the A104 direction Soissons and exit at the Parc des Expositions. Entrance fees to the Salon du Cheval: Adults Monday through Friday, €14, (weekends €18) Children 6-12:  €8. Under 6:  free. The "Nuit du Cheval" performances and the international jumping competition are not for every…
SUBSCRIBE
ALREADY SUBSCRIBED?
BECOME A BONJOUR PARIS MEMBER

Gain full access to our collection of over 5,000 articles and bring the City of Light into your life. Just 60 USD per year.

Find out why you should become a member here.

Sign in

Fill in your credentials below.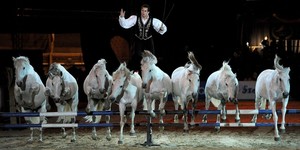 Lorenzo and his team of horseswill be part of "La Nuit du Cheval"
Once upon a time
This year, like each year since 1972, the Salon du Cheval, the big Paris Equine Fair, is taking place the first week of December.  From November 30th through December 8th, 2013 the numerous pavilions are housing stands and selling everything from gloves, sticks and other riding gear, to books, videos, food, (for both horses and humans), equine beauty and health products as well as trailers, horse vans and combined camping cars.
But participants are also sharing information concerning the various equine breeds in France and Europe, the practice of activities from horse ball to horse-drawn carriages, the presentation of associations assuring the safeguard to animals in danger, vacation opportunities for children and adults alike, in short, something to satisfy virtually every horse lover's taste.  More exciting still are the multitude of exhibition rings featuring live horses in action, at least one of which even allows visitors to ride for free.  As usual there will be an international show jumping competition bringing together the world's top riders from around the world.  You'll find all of the information you need concerning hours, admission and prices for additional events here.
The birth of a myth
For those who have not seen or heard of either of "Jappeloup", or of Christian Duguay's film by the same name, you will find a synopsis here.  The story of rider Pierre Durand and his companion embraces all of the classical myths so dear to France.  Champion of France at age 7, Jappeloup's small size (15.5 hands) and his origins — half thoroughbred, half trotter — were not his only handicaps.  His mischievous and fiery nature made him all too unpredictable.  Ironically it was there very shortcomings that would make this coal black gelding an icon to both children and adults alike.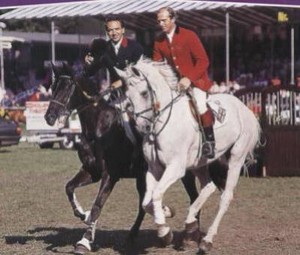 Duo in Black and White, Jappeloup and Milton
The story begins with the 1984 Olympic Games in Los Angeles.  After a near fall during the first round, a sudden refusal by Jappeloup in the 2nd round sends Pierre Durand flying over the obstacle and onto the ground, still holding the reins. Jappeloup pulls back until his bridle breaks free and the horse disappears gleefully backstage to the paddock leaving Durand standing alone before millions of onlookers, bridle in hand.  Crowning embarrassment for a rather overly proud rider, but a feat that would propel Jappeloup into the hearts of horse lovers for generations to come.
Duo and duel in black and white
Still Jappeloup and Pierre Durand are only half of the myth.  Another Pegasus would captivate one of France's national sports for over a decade, Jappeloup's biggest rival, a Dutch warmblood by the name of Marius Silver Jubilee or simply "Milton".  Standing at 16.2 hands, and ridden for the UK by John Whitaker, the grey gelding stressed easily and so hated being braided that his caretakers finally gave up trying to do so and left his mane free.  If his simple grace and potency were not enough, Milton's free flowing mane gave this double World's champion an added impression of floating on wings.  To judge for yourself, you can watch Milton in action here.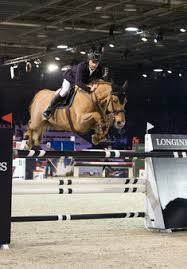 The Gucci " Masters Cup" brings the world's top show riders to Paris
It is said that Jappeloup might never have won the 1988 Olympic Gold Medal had Milton been present.  Despite his 49 international victories and over £1 million in prize money, Milton's absence at all of the Olympic Games was not an accident.  Caroline Bradley and her father bought the horse in 1977, when he was only 6 months old for £1 000 and Caroline, already an internationally renowned rider, set out to prepare him for the Olympic Games.  She trained him and narrowly missed being selected for the 1976 Olympics prior to her untimely death on the field, due to heart failure, during a jumping competition in 1983.
Following their daughter's death, the Bradleys sold all of their horses, with the exception of Milton, and asked John Whitaker to ride the gelding.  At first Whitaker declined the offer, but finally accepted to take Milton into competition.  The rest is history, but, because of their daughter's non-selection, Milton was only seen once under an Olympic banner, that of Barcelona in 1992.  At a time when his health was already failing, the Spanish heat was too much for the now aging grey and he failed in the final match.
My daughter and I were present at the Paris Salon du Cheval when both Milton and Jappeloup's made their last performances the same evening.  To top things off, we found ourselves seated in front of a group of professionals joined by Pierre Durand.  The group commented the entire evening together to our great delight.
Jappeloup died three months into retirement in 1991. Darling of the crowds and especially remembered for his leap into the air at the end of each victory, Milton passed away on July 4th, 1999.  Like Seabiscuit in the US, both are still remembered today in France as icons of their time.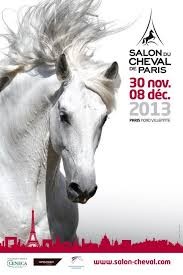 Getting to the Salon du Cheval
Formerly held annually Porte de Versailles, since 2009 the Salon's new headquarters are located half an hour north of Paris at the Parc des Expositions in Villepinte.  To reach the Salon by public transport take the RER line B direction Aéroport Roissy Charles de Gaulle, Station "Parc des Expositions.  About a 30 minute trip from Châtelet-Les-Halles, there is a train every 7 minutes from 7 am to 8 pm. Or by car, with a 14,000 space parking lot available, take either the A1 via Porte de la Chapelle or the A3 from Porte de Bagnolet, then the A104 direction Soissons and exit at the Parc des Expositions.
Entrance fees to the Salon du Cheval:
Adults
Monday through Friday, €14, (weekends €18)
Children 6-12:  €8.
Under 6:  free.
The "Nuit du Cheval" performances and the international jumping competition are not for every budget adults.  But let's not forget, folks, Christmas, like the Salon du Cheval, only rolls around once a year!  Sometimes you just feel like splurging?
Photos:
Pierre Durand and John Whitaker
More in horses, Paris Equine Fair, Salon du Cheval
---
---